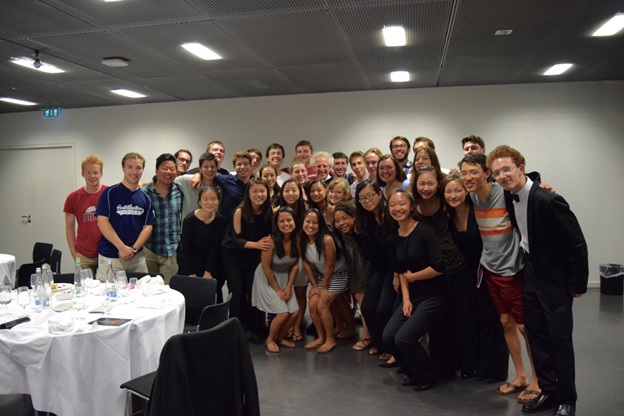 Photo from the 2015 BPYO Tour of Maestro Benjamin Zander and all BPYO members who have been a part of the orchestra since its founding in 2012, including Laura Dynes.
The Boston Philharmonic Youth Orchestra's impact extends beyond the concert halls and rehearsal rooms. Although the focus of the program remains to cultivate the highest caliber of musical talent, we also focus a great deal of time on making certain that the musicians are able to grow as citizens of the world. To that end, BPYO members are asked not only to master their parts and to gain a deep understanding of the musical score, but also to compete weekly leadership assignments from Mr. Zander. Musicians engage in dialogue with Mr. Zander through "white sheets" each week, where they are invited to share their thoughts on all aspects of the music and the rehearsal process, as well as offer feedback and reflections about the leadership assignments and their musical and life experiences. These white sheets often initiate ongoing individual conversations with Mr. Zander through email, phone calls, and rehearsal time.
Read the white sheets from the 2015 tour by clicking the link at the bottom of the page, and see Laura Dynes's white sheet "history" of BPYO below.
Sometime between Monday 29 June and Tuesday 30 June 2015
Mr. Zander,

Allow me to tell you a story.

Once upon a time, there was a girl. Let us call her Nora Lines. Nora was trapped in a world full of steps and judgments and whispers and competition. (She also quite often fell asleep in her orchestra rehearsals.) But then, one day, she was given the chance to take a break from that world in a building by a water wheel. (I think. Can't remember.) There, she met this amazing man with a brilliant shock of hair and the most enthusiasm she had ever seen. Let's call him Mr. Bander.

Mr. Bander was very welcoming and he spoke of a magical yet completely attainable realm of POSSIBILITY. Nora was intrigued and very excited to take part. Subsequently, she joined Mr. Bander's brand new orchestra (the BPYO, shall we say). And she started on the journey of a lifetime.

That first year, every Saturday was the highlight of her week. She joined in at LMIT (okay, sure) with 119 other young musicians, aged 12-21 and played incredible music: Strauss, Mahler, Elgar. She fell in love with music again and saw life beyond comparisons. Nora and her 119 fellow musicians played to prove themselves and played to spread possibility. Nora could hardly believe Mr. Bander had allowed her this incredible opportunity! Simply being in the room was better than she could ever imagine.

But then, it got even better.

Mr. Bander had done the unthinkable and was bringing the BPYO on tour to Holland! Its very first year! And they were playing in the Concertgebouw! (Holy s**t!) And there was much gasping and wowing to be heard throughout the 1/3 scale model of Symphony Hall in LMIT. Who would've though! And with only 4 chaperones.

So Nora went with her friends and had the time of her life. She learned so much on that tour, from music to culture to exactly how little sleep she could function on. So much of that trip stays with her as she goes through life even though she has trouble remembering her age. (She's 15 at the time.) And Holland was beautiful and she loved traveling and Mahler 2 is still one of her favorite pieces ever.

And then tour ended and the orchestra was family and everyone cried the last night. But not Nora. She was going back to BPYO the next year.

The next year was great, too. Shostakovich, Mahler, Barber, Strauss, Ginastera, and more amazing pieces. (She absolutely adores Mahler 5 and Shost. 5 both!) And, to top it off, Mr. Bander achieved the unthinkable again! He brought PBYO to Carnegie Hall in New York City! With 4 chaperons! Holy crap! How does the man do it?

And Nora had the time of her life playing such a brilliant orchestra hall and wandering around the city with her friends. And she thanked Mr. Bander with all of her soul for letting her in that first year. And they finished the year playing Don Quixote with the astounding Noah Bellsworth. And people cried. But not Nora. For she was going back next year.

And so we come to Nora Lynes's third year with Mr. Bander and the PBYO. It would also be her final as she would be attending college in the fall. And this year was magnificent. Shostakovich, Dvorak with Natalia Gutman, Bartok, Schoenberg, many amazing concertos played by her peers, Ravel. Wagner's Siegfried. OH MY GOD. This year was incredible! Nora enjoyed every rehearsal and adored every concert. She grew immensely as a person and a musician under Mr. Bander's instruction. (This was despite the fact that she sometimes thought he was mental for trying to play all of the stuff.) And she was so so so thankful he had let her in that first year. Because she couldn't imagine her life without it, it had changed her so much for the better.

But Mr. Bander's gifts didn't stop there. Once more he had pulled off the unthinkable. He was bringing PBYO on a 17 day tour to Europe. 3 countries. 8 concerts. 120 musicians. 4 chaperones. And Nora had the time of her life. She met at least 40 new people. She played so many of her favorite pieces (she really adores the Ravel) for so long with so many amazing people in so many wondrous places. And she thanked Mr. Bander so many times for letting her in that first year. Because it led to all this.

And on the last night, the last concert in Luzern, people cried. Nora cried as well. Because she was about to leave her family and home of three years. And she would come back to visit but it wouldn't be the same. Later that night, as Nora sat down to write on three years of experiences, she realized that there was absolutely no way she could do it. Because three years of incredible experiences is several lifetimes too much for words to even try to describe.

What I guess I'm trying to say is thank you for letting me in that first year.

The second movement of Dvorak sounds like heaven. And to be able to listen to heaven played every night, live by incredible musicians, is more than I could ever ask for. I have no idea if I could every repay you for all of this or where I would start. Thank you for letting me in that first year. I had the time of my life. Thank you.

Love,

Laura Dynes