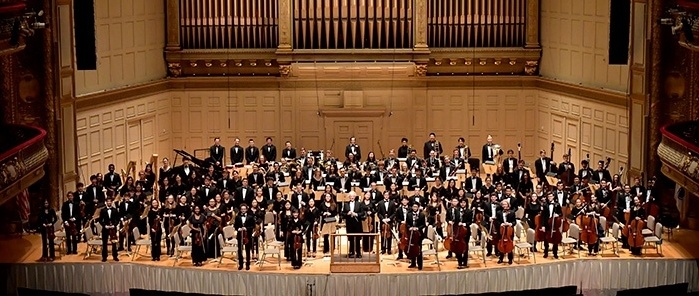 "I HAD TO KEEP ASKING MYSELF IN WHAT WAYS THIS SPECTACULAR ENSEMBLE FELL SHORT OF MAJOR ORCHESTRA STANDARDS, BUT IN THE AFTERGLOW OF AN UNBELIEVABLE ACHIEVEMENT FROM EVERY SECTION AND EVERY SOLOIST, THAT WILL HAVE TO REMAIN AN UNANSWERED QUESTION."-Lee Eisman
The Boston Philharmonic Youth Orchestra opened its season on November 7 at Symphony Hall to a full house that gave standing ovations to violinist In Mo Yang's beautiful performance of Sibelius' Violin Concerto and the orchestra's passionate rendition of Prokofiev's Fifth Symphony. The concert also opened with a special Music:Eyes animation guiding listeners through the BPYO's performance of Sibelius' Finlandia.
The Boston Musical Intelligencer, in a review written by Lee Eisman with contributions from pianist Clemens Teufel, summed up the acheivements of this orchestra in their first concert of the season:
"THE CONNECTION OF THE ORCHESTRA AND [VIOLIN SOLOIST IN MO] YANG WAS INEXTRICABLY AND ALMOST CHAMBER MUSIC LIKE AND GIVEN THAT THIS MOVEMENT IS PROBABLY ONE OF THE MOST BEAUTIFUL WORKS OF SIBELIUS, IT WAS A DREAMLIKE MUSICAL MOMENT."
Read the rest of their insights in the Boston Musical Intelligencer:
From Lightshow to Enlightenment
The Boston Musical Intelligencer
The Boston Philharmonic Youth Orchestra next performs in Sanders Theatre on February 12 with a world premiere by Michael Gandolfi and performances by winners of the BPYO's Concerto Competition.
The Boston Philharmonic Orchestra presents cello sensation Zuill Bailey in Dutilleux' cello concerto "Tout un monde lointoin…" November 17-20.
---
Photo: Paul Marotta