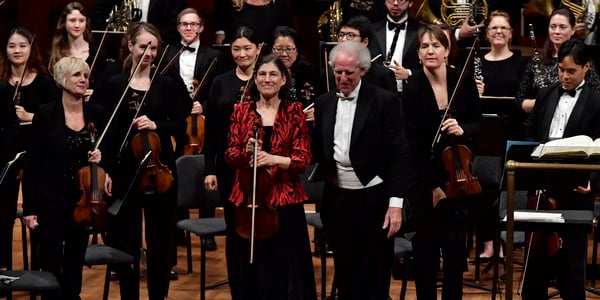 Maestro Zander and Kim Kashkashain take a well deserved bow after the Thursday night performance of Berlioz's Harold in Italy and Sibelius's Symphony No. 2.
[Photo credit: Paul Marotta]
The reviews are in and the critics agree:
this weekend's Boston philharmonic performances are a smashing success! don't miss your chance to catch this orchestra's final two performances of the year.
VIOLIST, CONDUCTOR AND BAND ALL BYRONIC
Perhaps the rarity of Berlioz's Harold in Italy on the concert stage is due to the misperception that violists don't make compelling soloists. All the more reason to get to Jordan Hall Saturday or Sanders Theater Sunday to hear Kim Kashkashian play the hell out of it with the Boston Philharmonic, in a perfect marriage of piece, soloist, ensemble and conductor. Benjamin Zander banished the dust, dullness, and sluggish tempos of middling performances, revealing the musical equivalent of a freshly cleaned Sistine Chapel. This successor to Symphonie Fantastique possesses all the drama, storytelling, and rich orchestral color that mark that far more famous work.

Zander told us how in 1834, Berlioz was approached by Paganini to commission a concerto to show off his brand-new Stradivarius viola. Berlioz happily accepted and wrote an unusual work in which the viola is both part of and a commentator on the orchestral action. This is not a concerto in in which the soloist shows off his chops, and the orchestra answers and supports. The melody of the viola is woven into the sonic fabric in a new way, as Berlioz described it, reminiscent of Byron's Childe Harold, on a trip to Italy. In long stretches of the work, the viola is either silent, or indistinguishable in the orchestral textures; in moments when the instrument shines out, sometimes its sound is reinforced doubling from the French horn or bassoon—a brilliant technique in pre-amplification days! Paganini hated the piece and never performed it, nor did he pay the promised commission, and Harold in Italy premiered disastrously with another violist. William Primrose and the Boston Symphony made the first-ever-recording in 1944.
---
Postcards from Italy, with the boston philharmonic
"You may have the universe if I may have Italy," sings the Roman general Ezio in Verdi's "Attila." And for reasons you don't really need me to spell out, many composers across music history seem to have agreed. For evidence we need only point to the fruitfulness of the various Italian sojourns undertaken by composers ranging from Handel to Mendelssohn, Tchaikovsky to Bizet.

Count Berlioz and Sibelius on this list, too. And while their relationships to the place were not uncomplicated, both created abiding masterworks indelibly linked to their time spent under Mediterranean skies: Berlioz's "Harold in Italy" and Sibelius's Second Symphony. On Thursday night, conductor Benjamin Zander and the Boston Philharmonic Orchestra paired both of these scores on the ensemble's second program of the season, with repeats Saturday, in Jordan Hall, and Sunday, in Sanders Theatre.

Read MORE of Jeremy Eichler's review

---
Rare Berlioz and cornerstone Sibelius from the Boston Philharmonic
Italy has long been a destination for composers who wish to escape the trials of life. Tchaikovsky, Strauss, and Mendelssohn ventured there and returned with serenades and symphonies recalling its lush landscapes. Even Sibelius traveled to the peninsula to cope with a bout of depression. Moved by what he saw, he wrote that it was a land "where everything is beautiful, even the ugly."

Hector Berlioz captured his love for Italy in a number of works, yet none more vividly than in his Harold in Italy. Though it possesses rich textures and attractive orchestration, the work doesn't crop up on orchestral programs that often. But Thursday night at Sanders Theatre, Benjamin Zander and the Boston Philharmonic brought Berlioz's creation new and much deserved life. Sibelius' Symphony No. 2, written on the composer's Italian visit, rounded out the program.
BOSTON PHILHARMONIC ORCHESTRA

Benjamin Zander, conductor

Kim Kashkashian, viola

Saturday November 11, 2017

NEC's Jordan Hall

8:00pm | Guide to the Music, 6:45pm

BOSTON PHILHARMONIC ORCHESTRA

Benjamin Zander, conductor

Kim Kashkashian, viola

Sunday November 12, 2017

Sanders Theatre

3:00pm | Guide to the Music, 1:45pm