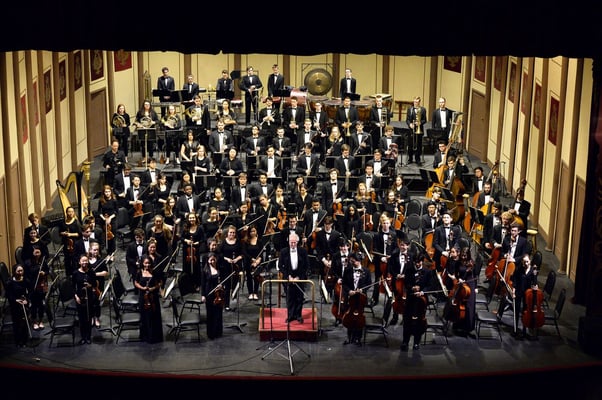 Photo Credit: Paul Marotta

Montevideo, Uruguay - One of the things conductor Benjamin Zander was put on this earth to do is to conduct youth orchestras.
I know this because I have experienced many concerts by Zander with two youth orchestras, and I have also tagged along for tours that took them to China and various countries and prestigious concert halls in Europe. He has interesting musical ideas and a tirelessly inquiring mind. After half a century before the public, he knows a lot, but he also still seeks out informed people who can tell him more about what he wants to know. His energies remain youthfully abundant and he can express complicated concepts with rare verbal clarity. For him every rehearsal and concert is a work-in-progress, a journey, and he knows how many individual and collective contributions musicians sixty years younger than he is can make to every performance. He is not abashed about admitting that if anything goes wrong, it is usually the conductor's fault. He doesn't just listen to the way the members of the orchestra play, he listens to what they have to say, and after every rehearsal he asks and even requires every player to submit a "white sheet" of suggestions, reactions, ideas, and feelings.
After decades of experience, Zander has built a substantial repertory of works he has often led, but he is also constantly stretching himself by striking out in new directions. Mahler has been with him for years, Bruckner is a relative newcomer. He has never conducted a complete opera, as far as I can remember, but in recent years he has led large swatches of Wagner including the entire third act of Siegfried, and returned to the Verdi Requiem. And some of his most significant work has been with the Youth Philharmonic Orchestra at New England Conservatory and since then, in recent years, with the Boston Philharmonic Youth Orchestra.
Another thing Zander was put on this earth to do is to teach conducting, which is something he now does in the summers in London's Guildhall School of Music or at the Royal Northern College of Music in Manchester. I have witnessed this aspect of Zander's activities only once before, at a masterclass in Holland a few years ago, so his meeting with three young conductors in Montevideo on this summer's tour in South America was particularly interesting. Beforehand, Mark Churchill, who has observed many Zander conducting master classes, remarked, "It always happens - the improvement in the young conductors is immediately evident."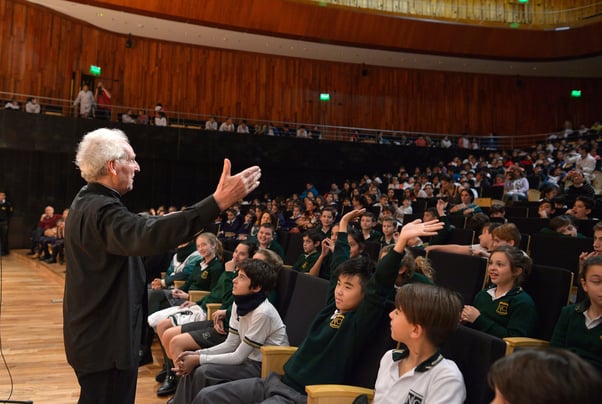 Photo Credit: Paul Marotta
The class took place in a rehearsal room at SODRE – an acronym for the Official Service for Broadcasting, Television and Entertainment in Uruguay. Founded in 1929 SODRE incorporates a symphony orchestra (one of two that are active in Montevideo), a ballet company, a youth orchestra, adult and children's choruses, and a chamber-music ensemble. The ballet company is said to be the finest in Latin America, and its current director is the now-legendary Argentinian premier danseur Julio Bocca, who was a star at the American Ballet Theater for two decades and also appeared with nearly all of the major international ballet companies.
In 1971, the 19th-century theater which had become the headquarters of SODRE for 40 years was destroyed in a raging fire. It was from that building that Marian Anderson once broadcast a recital – the recording of that event captures all three dimensions of her extraordinary 360-degree voice, which is something that too many of her official RCA recordings conspicuously fail to do. It took SODRE 38 years to clear all the political, cultural and financial obstacles and open a new building on the old site. And a handsome building it is, with a major 2000-seat auditorium for opera, ballet and symphonic concerts as well as rehearsal rooms, a spacious, light-filled lobby, a smaller hall for chamber music, offices and support facilities. I asked the very helpful woman from SODRE who served as liaison with BPYO what the organization had done during its 38 years without a home. "We used old movie theaters and any other space we could find," she said, drawing an unexpected analogy. "Just like Sarah Caldwell in Boston." I told her that the Boston Opera House was torn down in 1957 and there has been no completely satisfactory venue for opera in the subsequent sixty years and the Boston Lyric Opera is currently homeless and migratory the way Miss Caldwell was.
The BPYO which is full of good sports served as the orchestra for the conducting masterclass and the music on the stands was for Tchaikovsky's overture-fantasy Romeo and Juliet. There was only one row of chairs for guests, and several dignitaries including Martin Garcia, the conductor of the SODRE Symphony Orchestra, stood throughout.
There were three young conductors from Garcia's class at the conservatory. The first of them was in the unenviable position of having to lead off the piece, which opens with slow, sustained music in the bassoons and clarinets, a kind of chorale that sounds more Russian Orthodox than Italian Catholic. Tchaikovsky intended the music to represent Shakespeare's Friar Laurence, whose efforts on behalf of the young lovers unwittingly bring about their deaths.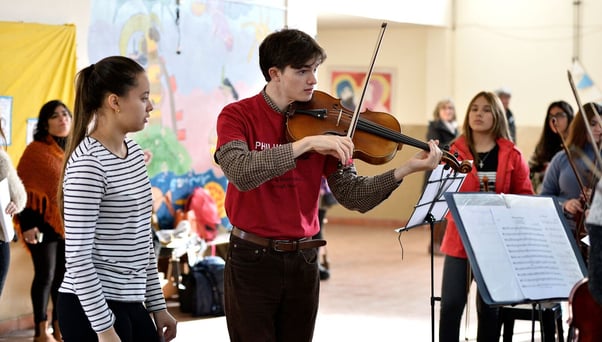 Photo Credit: Paul Marotta
The student seemed immobilized by the challenge and afraid of his own body – because he couldn't get it together, the orchestra couldn't either. Nevertheless Zander was unfailingly encouraging and pointed out that there are at least two different ways to interpret this opening music. "Is it an organ playing?" he asked, demonstrating a strict, even rigid, rhythmical approach. "Or is it a choir singing?" The student preferred the idea of a choir, so Zander demonstrated how to create a more flexible rhythmic flow using a horizontal wide-armed technique and shaping the sustained musical line as if there were chanted words. As Tchaikovsky characteristically builds a crescendo through stabbing accents which pass from cellos to violas to violins, Zander became more and more passionately involved, and the young conductor was trying harder and harder to match him.
In my opinion the most promising of the three was the second, Ignacio Fernandez, who turned up a day later as a first-stand violist in the SODRE youth symphony. He's a young man whose unrelenting intensity doesn't always serve his musical purposes – instead it freezes him up. But he does know - and feel - that this is a very passionate piece and he did have the more grateful task of leading off the feverish music representing the conflict between the Capulets and the Montagues and the rough street-fighting. Fernandez took a traditional approach and sped this violent music up in order to create even more excitement.
Zander advanced his own contrary theory: he believes that Tchaikovsky wanted this music and the contrasting love music to be played at the same tempo because at the end the composer combines them, forcing the conductor to speed up the love music and slow down the conflict music so that they can meet somewhere in between. So whenever the fight music is at the fore, Zander sang the love music at the same speed – and vice versa. In his hands (and voice), this idea sounded completely convincing.
He worked very carefully through the love music keeping it subdued but passionate and letting it unfurl completely only at the climax of the piece when, as he put it, Juliet "is no longer a virgin" as the horns throb. "This is the greatest depiction of sex in Western music," he said. (Take that Tristan und Isolde! - although I did remember Toscanini's joke about how Italian lovers would have grandchildren before Wagner's legendary archetypes lovers finished talking!). He urged Fernandez to think of the first person he loved.
It does seem to matter less and less. Soviet historians of music and biographers of Tchaikovsky could not mention the composer's sexuality although the floodgates have since opened and now it is routine for the writers of program notes to mention that the rapturous love theme in Romeo and Juliet was inspired by Tchaikovsky's passion for a young Moscow Conservatory student named Eduard Zak whose suicide four years later devastated the composer. At the time of Romeo Tchaikovsky was fantasizing about marriage to the Belgian soprano Désirée Artôt with whom he was briefly infatuated – he may have worked her initials into his score. Tchaikovsky's mentor the composer Mily Balakirev suggested the subject of Romeo and Juliet and even the layout and structure of the score, and Balakirev did think Artôt was the inspiration as Tchaikovsky may have meant him to. Balakirev wrote to Tchaikovsky, "[The music] is full of tenderness and the sweetness of love . . . When I play it I imagine you are lying naked in your bath and that Artôt herself is washing your stomach with hot lather from scented soap."
(Montevideo, for all of its old-world ambience, is a very contemporary , cosmopolitan and inclusive city. There is a public monument to sexual diversity which has become a popular, much photographed tourist attraction.)
The third aspiring conductor took over for the closing pages. He did not lack self-confidence but he seemed to have difficulty in communicating emotion through his eyes, face, arms and hands - not to mention the point of a stick. Zander said this was some of the most tragic music ever composed, and he seemed to be urging the student to find and unleash the necessary feelings within himself, the way an actor would. Zander himself said there is no one "right" way, and proved it by reciting the opening of Hamlet's soliloquy "To be or not to be" in several different ways, as an actor might.
He must have been at least as exhilarated and exhausted by this session as the students were, and the BPYO was certainly intrigued. I was touched that two of the conducting students had been invited to join the BPYO for dinner and pleased that they were surrounded by the Spanish-speaking contingent of the orchestra, seven or eight of them in lively and inquistive interchange.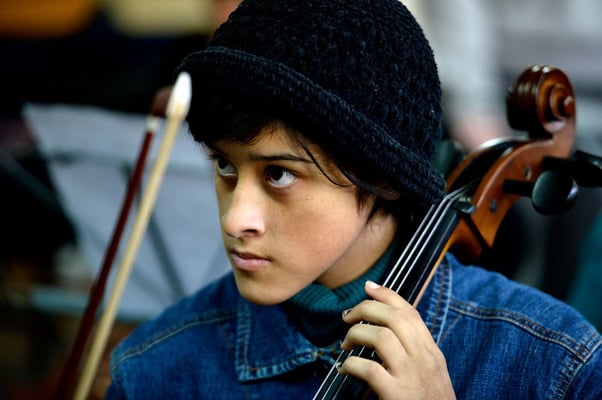 Photo Credit: Paul Marotta
Not speaking Spanish myself, I found myself at a disadvantage and fell uncharacteristically silent during this high-speed volley interchange and wished I could have expressed my wish that there could have been an additional session devoted to a strongly contrasted work that would call for different and equally important conductorial qualities - a Haydn or a Mozart symphony; a spacious Bruckner Adagio; an atmospheric Debussy piece like "Les parfums de la nuit" from Iberia, or Strauss's bubbly overture to Die Fledermaus. In some respects light music is more difficult to conduct than "heavy" music because there is so much the conductor must convey that is not notated and printed on the page. Passion is a major tool for any conductor, especially if the music is passionate; other pieces require other approaches.
The final side-by-side event found the BPYO playing together with the Orquesta juvenil de SODRE in the lobby of the SODRE building rather than in the splendid auditorium upstairs that Martin Garcia was gracious enough to show me. He speaks excellent English - part of his professional training took place in Colorado, he told me; unexpectedly he also told me that he had created a specialized orchestra devoted to historically informed performance of baroque and classical music in Montevideo.
The lobby, which is flanked by wide staircases on each side that lead up to the auditorium, is on a grand scale, and every inch of it was filled by players, instruments, and music stands except for a few rows of chairs for an audience, which also spread out on the staircases - there were more than 200 people in the orchestra, but there wasn't room for anything like that in the audience. This was not an acoustically advantageous space and the lobby doors opened on the street filled with noisy rush-hour traffic. Zander had nevertheless expressed the hope that that this would prove the finest concert of the tour and the audience did indeed get a first-class thrill.
There was only one joint rehearsal for Sibelius's Finlandia and Tchaikovsky's Romeo and Juliet, so from the technical point of view the performances weren't everything Zander had hoped for. But the players were thoroughly engaged with the music, and with each other; these were exciting and meaningful accounts of the music. A prominent member of the Boston Symphony Orchestra once told me that the thing he hated the most was to end a concert in a dry shirt; this was definitely a wet-shirt concert.
And the BPYO was certainly aware that this was the last time many of them would be playing together. Zander intended to rehearse the BPYO's traditional encore, Elgar's "Nimrod" from the Enigma Variations, but at the close of the rehearsal, one of the violinists Ilya Yudkovsky spoke for many of his colleagues by requesting that they not be asked to perform the piece again. The night before, in the Teatro Solis, playing "Nimrod" for what they thought was the last time together had brought the musicians to one of the peak collective emotional experiences of the tour. Yudkovsky said he simply couldn't imagine playing it again so soon. Zander listened, heard and agreed.
I spoke with an elderly and courtly Russian gentleman who had attended all the Montevideo events, Joseph Wainkrantz, who told me he was "only" an amateur violinist but adding that he was an amateur violinist who loves music. His single, heartfelt word for the BPYO was "miracle." In many ways it was, and is, but the word is also slightly inappropriate because it implies something beyond the natural, something supernatural, which it isn't at all. This music making is so profound because it is so richly human.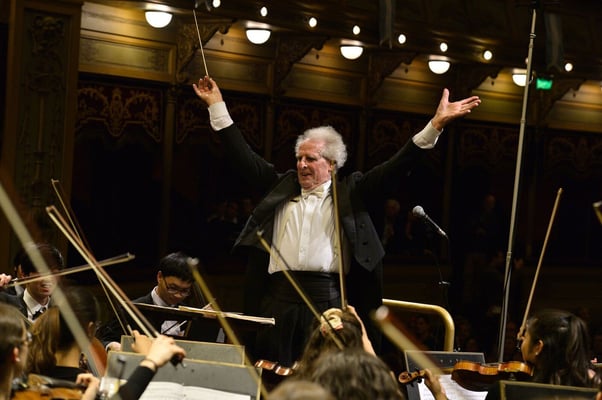 Photo Credit: Paul Marotta
After this last almost-impromptu concert, the players climbed onto the busses which took the group to its farewell dinner at La Casa Violeta, which overlooks the La Plata river, although it was dark by the time we got there so there wasn't much to see. But the ambience was pleasant there was certainly a lot to eat, and it was probably the best food we found on the tour - everyone rounded a resplendent salad bar before the attentive waitstaff repeatedly circled the tables with multiple skewers of the renowned Uruguayan meats and poultry. Even though my appetite is usually gargantuan, I had to declare defeat long before the last skewer of prime rib made its appearance. There were some delightful surprises - a skewer of savory chicken hearts, for example.
Then Zander delivered his traditional acknowledgements to individual musicians and sections of the orchestra and to the most frequent soloist, violinist In Mo Yang, as well as trumpeter Elmer Churampi who had left the tour early to meet responsibilities in North America. Zander moved on to the staff that made the tour possible, as well as to the guests who were documenting the tour - among them the ever-affable videographer and sound recordist Dave Jamrog; the visionary still photographer Paul Marotta, who played clarinet in the orchestra back in his student days (and he's now preparing a photo-essay book on a year in the life of the BPYO); the cameraman Douglas Lowe, who was shooting a video documentary about the tour - he hoisted a huge rack containing camera and sound equipment but didn't ever look encumbered as he smoothly glided around and through events like the nimble ballroom dancer he used to be.
Zander also spoke of the extraordinary chaperones who maintained an accurate headcount at all times, checked at night to make sure everyone was observing curfew, checked in the morning to make sure everyone was awake. Plus all of them provided comforting shoulders to cry on, helpful advice and morale-boosting humor. They included tour veterans like the perpetually upbeat and cherishably maternal Kysha Bradsaw and the ubiquitous and wryly humerous John Helyar, jack-of-all trades and currently curator of a new "Zander legacy" website that is under construction and the winsome and deep-souled mezzo-soprano Elizabeth Eschen. Among the newcomers is Derek Beckvold, saxophonist, conductor, composer, former personal assistant to the late Gunther Schuller. Beckvold is a wandering minstrel who has taught music in Sri Lanka, Afghanistan, India, Palestine, and now serves as director of community outreach and education for the Boston Philharmonic. Trombonist Zach Haas, a graduate of BPYO, had rejoined the orchestra to play bass trombone and doubled as a chaperone; Kens Lui is now in the process of leaving the trombone behind before he embarks on graduate studies in conducting.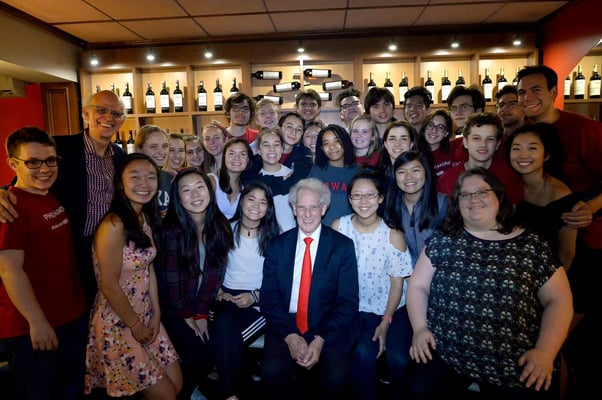 Photo Credit: Paul Marotta
Special mention must be made of Peter Sheckman, physician and cellist, and his wife Maryanne, a nurse, who have accompanied several tours carrying their pharmacy of remedies in a large cubical box and dealing with sore throats, upset tummies, allergies and other ailments in an unfailingly caring, personal and personable manner; they treated the musicians as if they were members of their own family.
And then came the musical staff. Kristo Kondakçi, the conducting fellow, serially gave his undivided attention to every single person on the tour. I didn't have the opportunity to observe him conducting, but he is definitely a people person. Former conducting fellow Benjamin Vickers joined the tour at the last moment to lend Zander the support of his extraordinary ear for detail - at one point he noticed that one of the bass players, who was using a rented five-string instrument, had closed a piece by adding a sepulchral note an octave lower than written Vickers was also completely equipped to take over any concert if Zander became ill - and that ear of his makes him a natural mimic with a deadly aim. Nathaniel Meyer served as Zander's personal assistant - a former trumpet player in the orchestra he is now training as a conductor; on the Holland tour a few years ago he had stepped out of the orchestra to conduct his colleagues in a swatch of Romeo and Juliet in a Zander master class on short notice and demonstrated a natural and communicative gift for the podium. He is a complete Wagnerite, and looking forward to attending the Bayreuth Festival this summer.
Finally there were two key members of the staff. Mark Churchill, formerly dean of the preparatory division of New England Conservatory, has been a close friend of Zander's since Zander came to teach there in 1967. In a sense he is Mr. Youth Orchestra because he has conducted so many of them in Europe, Asia, and North and South America, and co-founded two of them, the Youth Orchestra of the Americas and the BPYO; he was also a key figure in spreading the El Sistema music-education program around the world and particularly in the United States. An avuncular figure, not easily flustered, Churchill has many and diverse functions within the organization, and he probably finds new ones nearly every day. He is a flowing fountain of ideas and obstacles are meaningless to him.
Elisabeth Christensen is the detail person who makes things happen - and happen as smoothly as possible, and when there is a crisis, small or large, she takes care of it - whether its a matter of three people leaving their passports in a hotel or a cello that's gone missing (it was found in the driver's sleeping compartment in one of the busses) or only one harp for rent in Rosario, Argentina (the two BPYO harpists took turns playing the movements in Prokofiev's Fifth Symphony). Everyone besieges her with questions and requests throughout the day and well into the next morning, and she invariably has a ready answer. She and Churchill travelled to trace the entire tour route in advance in order to check out hotels and food options, confirm bus reservations and other details - she calculates that there were 34 bus rides on the tour. But the group travelled on three busses - fun to think that there were 102 busses! It is important that Elisabeth also knows how to go with the flow when there is no other option.