Stories from the Road - Volume 3
Boston Philharmonic Youth Orchestra
2017 South America Tour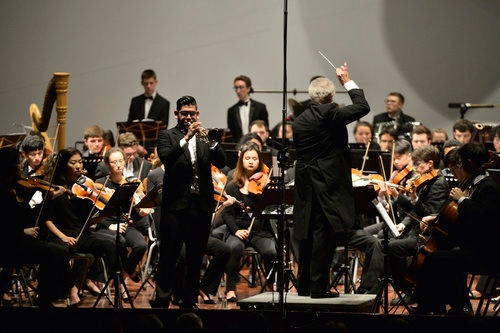 Photo Credit: Paul Marotta
Lima, Peru - It's time to talk about the first two public concerts the Boston Philharmonic Youth Orchestra played in Lima.
The first of took place Saturday in the Auditorio Santa Ursula which is in the Pontificia Universidad Catolitca de Peru. The university has reached its 100th anniversary and this concert was part of a year-long series of celebrations. It was free for students, faculty and staff, and most of the more than 1000 seats in the auditorium were filled. Dominating the rear wall of the stage was the school's motto, in Latin, which translates as "And the Light shone in the Darkness."
The program began with Hindemith's "Symphonic Metamorphosis" – all four movements this time – and continued with Alexander Arutiunian's Trumpet Concerto and ended with the Franck Symphony.
The Hindemith piece went well. I personally find this work brilliant and entertaining, which it was meant to be, but also an exhausting workout to conduct, play, and listen to, which Hindemith probably didn't mean to happen. It may have proved equally exhausting to compose, even for Hindemith. What most of the piece lacks is the depth and resonance of the composer's greatest works – this one has moods but not emotions. Of course Hindemith was a great all- round musician – he was a virtuoso violist, an outstaning superb chamber-music player, an adventurous conductor and a prolific composer with an astonishing mastery of all the established techniques of the art. His talents were matched by self-discipline; to prepare himself to write for orchestra he learned to play ALL of the orchestral instruments at a professional level. In fact he composed sonatas for 14 different instruments and he could perform all of them himself. This work is incredibly dense in detail and texture; Hindemith was prodigiously inventive and he couldn't stop himself – it is full of clutter and counterpoint that the ear cannot possibly take in.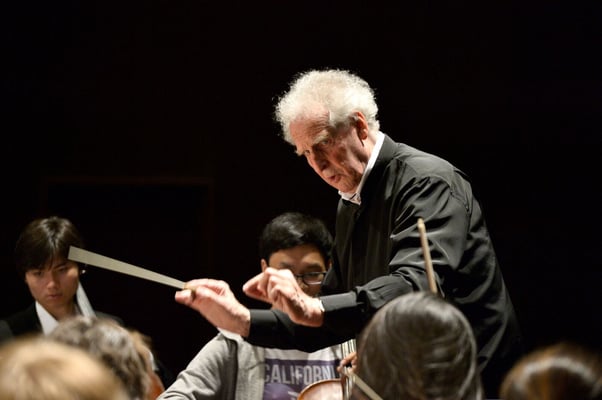 Photo Credit: Paul Marotta
That said, I do really like the middle two movements. One of them is a scherzo named "Turandot" – the theme comes from Weber's incidental music to Gozzi's Turandot, a stage play which Puccini's opera was also based on. The theme is authentically Chinese – Weber took it from Rousseau's Dictionary of Music. Hindemith has a lot of fun with the theme, tossing it around and playing musical games with it; it becomes for the ear what Shanghai acrobats are to the eye, vaulting, flying and tumbling in every direction. The slow movement exhibits simplicity and charm and the end, a protracted obbligato response for solo flute, is very beautiful. The whole performance was energetic, quirky and delightful although sometimes not quite transparent enough; the flute of BPYO flutist Carlos Aguilar can organize a spray of notes into patterns that are meaningful as well as decorative; he can make neatness, pinpoint intonation, and accuracy feel like a form of eloquence.
The Arutiunian Concerto is a showpiece for BPYO's principal trumpet Elmer Churampi, who is only 20 but well on his way to becoming a superstar in his native Peru, with the rest of the world likely to follow. The son of a busking street trumpeter in Lima, Elmer started playing at the age of 4, joined the National Youth Orchestra at 8 – by that point he had already appeared as soloist with the National Symphony, playing the Arutiunian Concerto for the first time at 9. In 2010 he came to North America to play at the National Music Camp in Interlochen, Michigan and remained there for further study at the Interlochen s Arts Academy before coming to Boston to work with the Boston Symphony Orchestra's principal trumpet, Thomas Rolfs, at New England Conservatory – and join BPYO. He's still only 20 and just before this tour became a finalist for the principal position in the Pittsburgh Symphony.
The concerto has a Boston connection – the American premiere was at the Boston Pops, where it was conducted by Arthur Fiedler and the soloist was the Boston Symphony's legendary Roger Voisin, who was a prodigy comparable to Churampi. This was back in the days when the Pops stood for something beyond entertaining affluent adults with the pop music of their youth.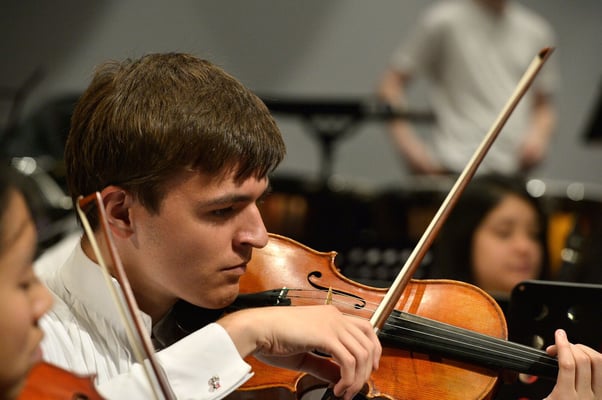 Photo Credit: Paul Marotta
The concerto is tuneful showpiece enabling the soloist to show everything he can do in the way of speed, dexterity, range, articulation, and breath control. Arutiunian was Armenian and the melodic shapes and gestures are based in Armenian traditions, although they also sound French and Hispanic, and there are touches of jazz and blues in the slow sections. Rooted in native soil, it flowers into a very cosmopolitan concerto. Churampi plays it magnficently balancing brio and subtlety. His tone is superb at every dynamic level and there are stupefying crescendos which never become shrill or forced. The agility never becomes inarticulate: Arutiunian slips "blue" notes into his passagework and even when Churampi is going full speed ahead, he makes each of those notes colorful and telling. He is at his best in the slower, quieter music; the glory of his playing is how he can infuse a musical line with soul.
His stage manner is informal and engagingly shambling; it's as if he doesn't quite believe what is going to emerge from his innermost self – but that's what does happen.
He was hailed as a conquering hero so of course there was an encore – the "Libertango" by Astor Piazzola. This dates back to a recording the composer made with his own ensemble back in 1974 and it has become one of his most popular works recorded by artists as diverse as Grace Jones and Yo-Yo Ma. Retrofitted with lyrics it has also become a song, but it was a deep song all along. The title is a portmanteau word, combining "Liberty" and "Tango" – it has both political and artistic implications because in this piece marked Piazzola's move into a new style of tango-writing.
Tangos, like the blues, transmute pain into passion, mourning into celebration and triumph, and Churampi's vocal phrasing and plangent tone embrace and communicate every dimension of this – melody becomes rhythm and rhythm becomes melody. No praise would be too high for Zander's pointed leadership and the collaborative work of Churampi's friends and colleagues in the orchestra, beginning with the muted trumpets in the orchestra that lead it off; it is a delight to watch the percussionists function as a rhythm section – they always do that, of course, but in this piece you can see it in their eyes and shoulders and swaying bodies as well as hear it.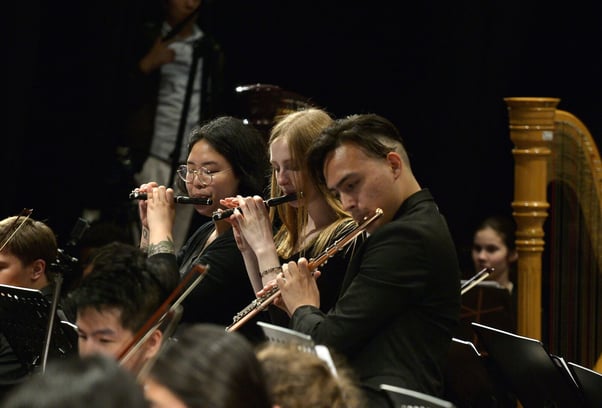 Photo Credit: Paul Marotta
Boston audiences have long known what to expect from Zander in composers from Beethoven to Mahler because he knows exactly what he's going to do and he's done it many times – it's a matter of curious investigation, insight and experience. To watch this process unfold in the Franck Symphony in rehearsal in a time frame of two weeks was very interesting. Zander began with an interesting idea and wound up with something almost exactly opposite.
Franck's marks his score with frequent instructions that the conductor and players should maintain the same tempo; the meters change, the way the tempo is divided, but the speed should remain the same. Zander had decided to follow these directions to the letter, and throughout, always maintaining the sam tempo. It was an experiment worth making and worth pursuing again at some future point, but Zander came to feel he was strapping the music into a straitjacket. He listened to many and various interpretive approaches by conductors of the past and tried some of them on, even though he felt some of them were too extreme and gummy and pulled about in tempo. He found an old recording by Paul Paray and the Detroit Symphony revelatory for its transparency and "Frenchness." He discovered on YouTube a film of a pupil of Franck's playing a work Franck's on the organ in St. Clothilde in Paris, the same instrument that Franck himself had played so regularly and so often. Zander the sent the link to the players, suggesting that they should listen to this sound world and try to recreate it in the orchestra.
At the time of the premiere the established musical world in Paris detested the symphony; Franck's own pupils, the new generation, adored it. Zander seemed piqued by the most negative reaction of all when I told him about it. The fiercest critic of all was the composer's own wife, who found the symphony far too sensuous, too passionate, even too erotic; to her, it was indecent. That seemed a promising direction to go in.
The Sanders Theater performance was conducted and played with passion and conviction, but Zander was not yet satisfied. The symphony does open with a direct quotation from Beethoven's last string quartet where the composer had written a question above the notes – "Must it be?" – but to my mind the whole performance sounded too much like Beethoven – full of inner life, yes, but falling into sections and arguments, abruptly interrupting itself, a rough ride. As he rehearsed it in Peru, Zander moved in another direction, not discarding the results of his earlier views and experiments, but assimilating them, and he emerged in this performance with something quite persuasive. This was a performance about almost imperceptible transition. Each theme or episode emerged from within the one before, while simultaneously generating the next. It built to an overwhelming climax which Franck created by assembling all of the main melodies and combining them in triumph.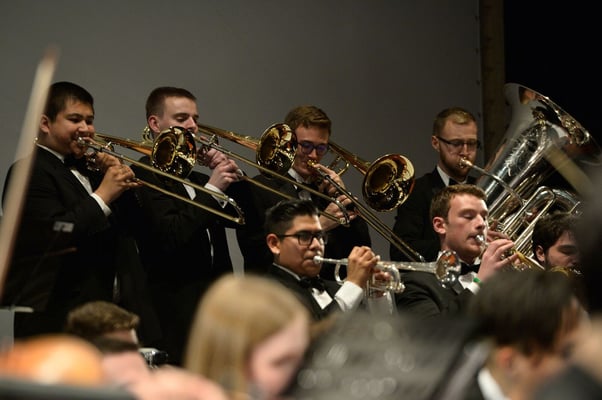 Photo Credit: Paul Marotta
No praise would be too high for the BPYO players who entered whole heartedly into the process aspect of developing this performance of a work which is itself about the process of development. The performance was powerful, passionate and, yes, sexy and the audience went wild; afterwards Zander was careful to give solo bows to individuals and entire sections. Andrew Van de Paardt played the prominent English horn solo in the middle movement with beautiful tone and with a haunting heartfelt emotion.
Sunday's concert was in the Gran Teatro Nacional, an imposing new 1500-seat multi-purpose facility with a huge, towering stage house. The place is used for dance, theater, opera, and other genres of performance as well as orchestral concerts. It was a very inviting place to sit in although the actual sound in the morning rehearsal felt distant rather than immediate. The visual situation may have affected hearing, actually, because the orchestra was seated behind the proscenium and separated from the audience by platforms covering the substantial pit in front of the stage – in a sense the orchestra was not in the room. This problem was to a substantial extent mitigated in the concert itself when the pit cover was lowered and additional row of seating installed; the presence of an audience also changed and enhanced the acoustic.
There was an audience of little people for part of the morning rehearsal – a group of several hundred uniformed and well-behaved schoolchildren who filled the main floor. Zander was careful to rehearse sections of the program that would appeal to this age group. He tried out a potential encore to lead off – the orchestra had been clamoring for him to do the main theme from "Star Wars." The arrangement of John Williams's music proved surprisingly ineffective so I doubt we'll be hearing it. And Zander's antennae caught any suggestion of restlessness, so he would quickly call a halt and move on to something else. He danced the tango at one point, which was fun to watch, although it was rather contrary to the complex mood of Piazzola's music. But at the end of the segment of the rehearsal devoted to the kids, they unleased all their enegies and thronged forward to surround Zander and request autographs.
At the evening concert, the house was by no means completely full of people although Zander and the orchestra soon made it full of enthusiasm. The program was unusual because it began with Prokofiev's Fifth Symphony and continued with two concertos after intermission, the Sibelius Violin Concerto with InMo Yang as soloist, and the Arutiunian with Churampi again.
There will be more to say about the Prokofiev later on, because three more performances remain on the tour, but the position of the symphony, opening rather than closing the concert, which is how it is usually programmed, did make a difference in the response to it. Suffice it to say for now that the performance itself was one of assured and idiomatic excellence.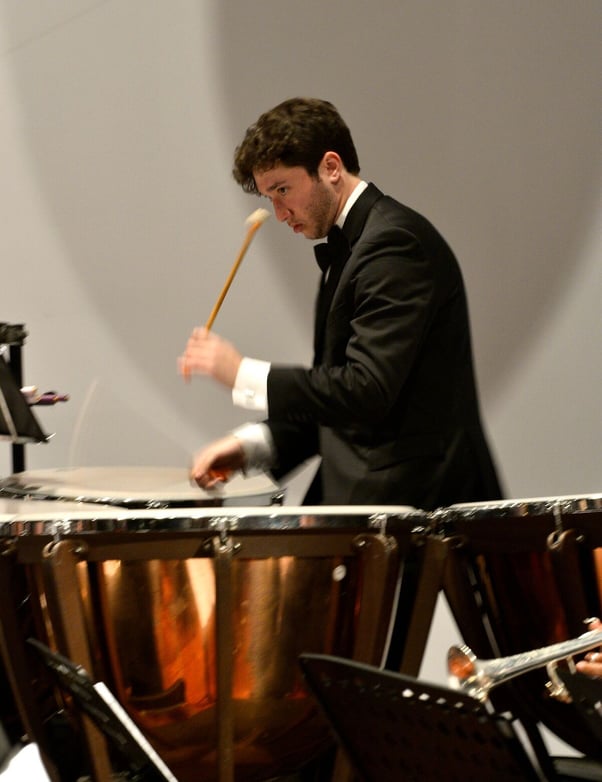 Photo Credit: Paul Marotta
Churampi repeated triumph with additional impact, emotion, edge and depth this time because his parents and other family were present along with his trumpet teacher, and many lifelong friends who cheered him on. The entire audience gave him standing ovations after the concerto and the Piazzola encore, and there was also abundant applause for the teacher and parents when Zander announced their presence and invited them to stand – applause and also tears of pride and joy all around.
At the reception after the concert members of the orchestra were still distressed about a moment in the second movement of the Sibelius Concerto ran off the rails for a bit; that's all they could talk about. No one could be sure about what led to the accident although a cellphone loudly erupting in the audience may have been involved. But to me what mattered was how quick the recovery and how interesting the overall performance was.
All reviews are by their very nature subjective, but a useful review must also rest on the facts – a performance is either in tune or out of tune, idiomatic or unidiomatic, completely together or ragged and falling apart. Subjectivity clicks in to tell us whether or how much this matters. Too many reviewers today do not discuss the facts – may not even hear them so the reader does not know what the reviewer actually saw or heard that created or supported his opinion. It is possible to say either that "the performance was so out of tune that it was impossible to listen to" or "despite the fact that the performance was frequently out of tune, the conviction and passion of the players carried them through." What should not be possible is failure to notice that that performance is out of tune.
So there was an ensemble problem in the Sibelius Violin Concerto but to me it was as momentary and unimportant as a brief memory slip in a solo recital. No musician, ever, has gotten through a career without a memory slip. And in the context of what was otherwise happening in this performance, this glitch didn't come close to spoiling it.
Born in Korea in 1995, InMo Yang has been earning prizes and winning competitions since he became old enough to participate in them. Most recently he won the Paganini Competition in Genoa, Italy – the first time in the last 10 years that the jury has bestowed a first prize. More significant than his list of prizes is the fact that he does not perform like a competition winner – there is nothing superficial and glitzy about him and he does nothing to "sell'' the music to the audience beyond generously sharing the inner life of the music, and his own inner life with it. Most competition winners perform in-your-face; InMo Yang invites you to come to him – he draws you in and invites you to share his sense of the music, even if the music is a daredevil piece like Paganini's 24th Caprice, it does have an inner life.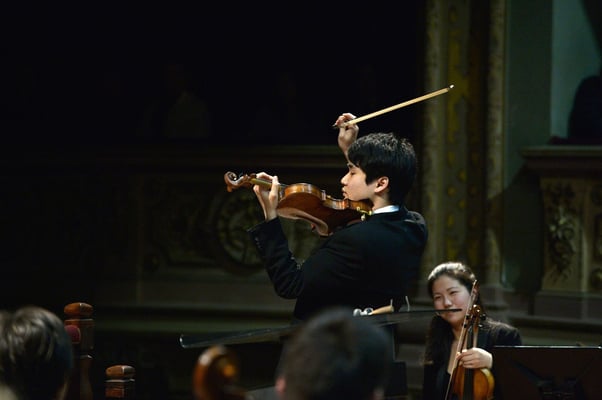 Photo Credit: Paul Marotta
In Mo Yang has great beauty of tone that isn't merely about itself – it is a tool of expression in his infinitely refined, elegant and subtle manner of playing. He exposes himself to the danger of not reaching the audience and after he played the concerto with the BPYO earlier this season (which I didn't attend), I heard his performance described as "blank." On the basis of what I heard in Lima, I wouldn't agree. His interpretation may not have conveyed every untamed, wild, keening and "bardic" aspect of the Sibelius concerto, but in its own way the performance was infinitely compelling in its detail and sensitivity and poetry. His technique is both unobtrusive and totally commanding. The finale contains strings of double notes that require extreme virtuoso abilities, but InMo Yang did not use them to show off – instead he made them sound like music that is so exuberant that it sweeps extra notes into the whirlwind. Zander and the orchestra were exceptionally alert to what InMo Yang was doing while also creating the unusual sound world of this concerto which depicts a complex natural landscape, majestic, awe-inspiring, harmonious, full of bizarre sounds and happenings, and threatening in its complete indifference to what humans think about it.
InMo Yang's encore was the Paganini 24th Caprice - a set of variations that have inspired countless other sets of variations by Liszt, Brahms, Lutoslawski and other composers. Earlier in the day he had given a master class for some members of the Sinfonia por el Peru, and at the end Mark Churchill had asked him if he would play another "little something." A little something was not what the young violinist wanted to hear – they asked for the Paganini. InMo Yang hesitated for a bit – it was still morning and he hadn't practiced yet. But then he played it. By the evening concert he was firing on all cylinders – it was dazzling and thrilling, oh yes; the speed and accuracy were breathtaking, but so were the subtlety, imagination and command he brought to every variation. Bravo.
After Churampi's Piazzola encore, the orchestra bade farewell with "Nimrod." The audience didn't what to leave, and who could blame the people. Zander and the orchestra had offered them a rich and varied and delicious banquet and everyone had feasted. Later, he remarked that he feels an audience should ENJOY a concert and have a rewarding and enjoyable time – that's what makes them come back for more.
I agree. In the 19th and early 20th centuries, a time of more limited "entertainment" options, people went to concerts to laugh and cry and swoon with emotion. I enjoy and profit from high seriousness too, but I think one reason the public audience for classical music is dwindling is that there is too much high seriousness. Every musician wants to display his command of all the longest and most demanding repertory – the "music director" repertory. No one wants to play or program a variety of shorter pieces that would evoke a different range of equally human emotions and experiences. John Williams once mentioned to me that he couldn't understand why every composing fellow at Tanglewood that summer wanted to compose Bach's St. Matthew Passion. Of course anyone would be justly proud of creating such a comprehensive work of musical genius and human feeling, but more modest and fulfilling goals do exist and there are days when I would rather hear a Grieg Lyric Piece or a Mendelssohn Song Without Words or a Smetana Polka or a Waltz by Johann Strauss, Jr. rather than the St. Matthew Passion. It's important to remember that Bach wrote charming little preludes and fugues for his children to learn too.
One of the worst things that has happened to the greatest works is to cheapen them by repetition and excessive familiarity – or to rip them out of context and use them as background music for television commercials. Too much can arrive at enough already too soon.