Stories from the Road - Volume 2
Boston Philharmonic Youth Orchestra
2017 South American Tour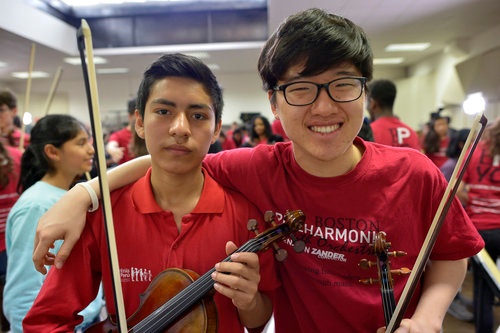 Photo Credit: Paul Marotta


Lima, Peru - Mark Churchill and Benjamin Zander have collaborated on 22 tours, so far, and this tour to South America is Elisabeth Christiansen's 11th. A characteristic feature of all these tours is a collaborative rehearsal at which the BPYO joins a local youth orchestra. There were two such "side-by-sides" here in Lima, Saturday and Sunday mornings respectively, and they provided a fascinating study in contrasts. The Sinfonie por el Peru works from the bottom up, assembling talented but often disadvantaged children as early in their lives as possible, teaching them music, instrumental techniques and orchestral disciplines. The National Youth Orchestra of Peru, on the other hand works from the top down; it is part of a large-scale government project for developing and sustaining the arts and the best talents from all of the disciplines, music, folk music, dance, etc., come to Lima from all over the country Peru to work and learn together.
No one from BPYO got to bed in Lima before 2 AM on Saturday but by 8:30 AM the groups had eaten breakfast and climbed onto busses headed for the Teatro Municipal, home of the Sinfonia por el Peru, a youth orchestra founded on the platform of El Sistema, the celebrated program of musical education that has served the cause of social justice in Venezuela since 1975 and subesquently spread to many other countries throughout the world. Currently El Sistema, one of the Venezuela's most influential exports, has come under siege like everything else in the troubled nation where it originated. A new center of gravity for El Sistema consequently seems to be developing in Peru. Several of the adult musicians, mentors and teachers who were active in Venezuela are now working in Peru.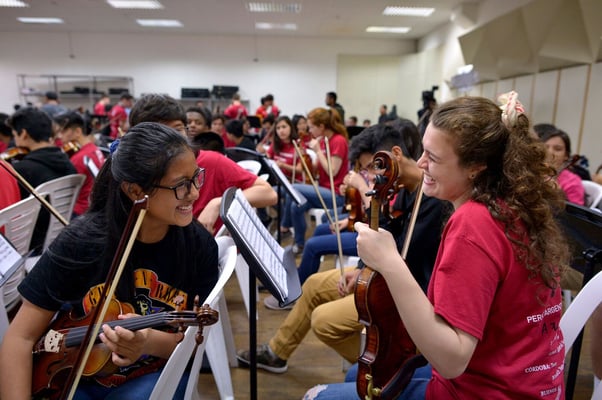 Photo Credit: Paul Marotta
The two orchestras met in a shabby upstairs rehearsal room in the century-old theater, much of which has recently been renovated after a devastating fire that left the main auditorium in rubble for more than a decade; there was quite a melee as the musicians tried to claim their territories, two players on every stand, one from each orchestra. Leading off was a charismatic young Spanish conductor named Hugo Carrio who began the encounter by reading through Tchaikovsky's "1812" Overture with the combined forces. There was not an extra square inch of spare space in the room crowded with more than 200 young musicians and their instruments and music stands, but no one could complain about the surround sound. Listening to this passionately urgent and very loud reading was a sensational experience – and it afforded an unusual opportunity to experience Tchaikovsky's masterly craftsmanship at point blank range, or up close and personal.
Carrio didn't talk much, but he didn't need to – the music pulsed through his entire body and emerged through his hands and arms and eyes. Every move he made radiated joy and purpose and his eyes positively shone. He visibly loved every moment of the music as he enabled and allowed it to tell its story, and that's what made the musicians and the small staff audience love it too. One cannot predict a great career for a conductor after hearing him conduct the "1812" Overture only, but Carrio is clearly already leading a rich and useful life in music. No film depicting Napoleon's defeat at the Battle of Borodino that I have seen summoned as much blood, thunder, and patriotic thrill as this simple but knowledgeable and deeply-felt runthrough.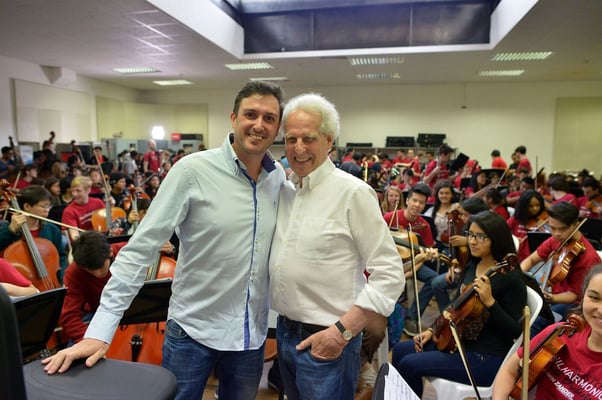 Photo Credit: Paul Marotta
The Telefonica corporation in Spain sponsored this event – and the tiny audience in the Teatro Municipal rehearsal room was augmented by one in Spain, watching through a satellite relay. Telefonica should feel justly proud of this particular example of its philanthropy. A founding patron of this orchestra of eager youngsters is the most prominent Peruvian opera singer of his generation, Juan Diego Florez. Zander remarked that the one thing these assembled musicians had in common is music, and that seemed more than enough. It was wonderful to watch the faces of the stand partners from north and south America as they played together, and at one point Zander proclaimed, "Stand up and hug your stand partner." The encounter was as much a matter of smiles, glances, and shared endeavor as it was of words. And as the morning went on Zander presented more and more invitations for a wider range of hugs – and one young Peruvian woman emailed him to tell him the hugs were the best part of her day.
The BPYO all on its own then offered the first movement of Symphonic Metamorphosis of Themes by Carl Maria von Weber by Paul Hindemith. In the 1940s the composer, whose music was anathema to the Nazis, arrived in America where he composed the piece. The title suggests a ponderous and academic work, but it isn't – the music is a strut-your-stuff showpiece for a virtuoso orchestra, written by a great musician who was strutting and showing off his own virtuoso composing chops. In this movement Hindemith takes an unassuming little march Weber wrote for domestic use as a piano duet early in the 19th century and turns it into a scintillating romp with jagged mid-20th century edges. It's like a dry champagne that tingles the tongue and tickles the nose. The BPYO had a blast playing it and their Peruvian colleagues seemed to have a blast listening to it.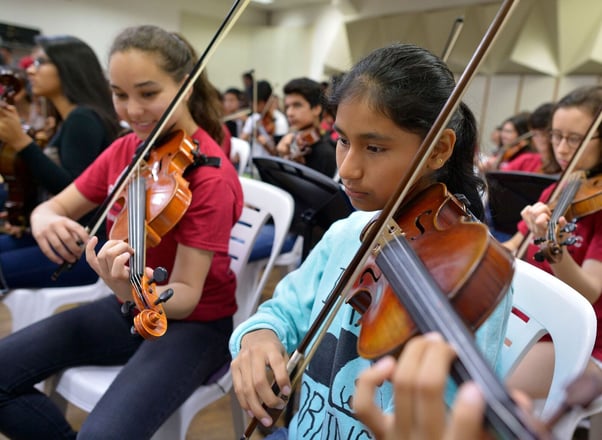 Photo Credit: Paul Marotta
Zander then led the assembled orchestras in both Sousa's "The Stars and Stripes Forever" – he brought this piece along as a tour encore not because it depicts the American flag but because it celebrates "youth and optimism and warm-heartednesss, freedom, justice, brotherhood, inclusion, and joy in life," he says. "Sousa meant this for all of humanity and not just for the United States; it's about Peruvians as well as Americans. I want to you to think for a moment about all the young people who don't have what you have. Music has more power to make people happy than any other existing substance."
He moved on with Sibelius's "Finlandia," another work he has brought along from last season. He said a few things about the history of the piece, explaining that it is about the Finnish revolt against the occupying Russians ("the Russians are good at oppression," he remarked) and ends in a hymn which became the Finnish national anthem. And his players responded by digging in to it with fervor. "Was it too slow?" he asked, and then he said something few conductors would admit to, "If it was too slow, whose fault was that?" he asked. "You know as well as I do that when something goes wrong it is always the fault of the conductor." The orchestras were delighted to hear it. Then the young musicians played the BPYO theme song and inevitable encore, the "Nimrod" variation from Elgar's "Enigma" Variations.
You never know what you are going to learn from Zander. This time he created an acoustical demonstration. He likes to begin the variation with the violins playing as softly as possible. He asked the concertmaster to play a quietly as she could and then, stand by stand, all the rest of the strings came in. The sound grew rounder, deeper and richer in color but the ear did not perceive it as a single decibel louder. Who knew? How many other conductors instruct an orchestra to play as softly as possible? I thought of Schumann's direction in the Second Piano Sonata – "louder and faster than possible." That's more common and conductors don't even need to ask for it. Some of them wouldn't even know how to stop it!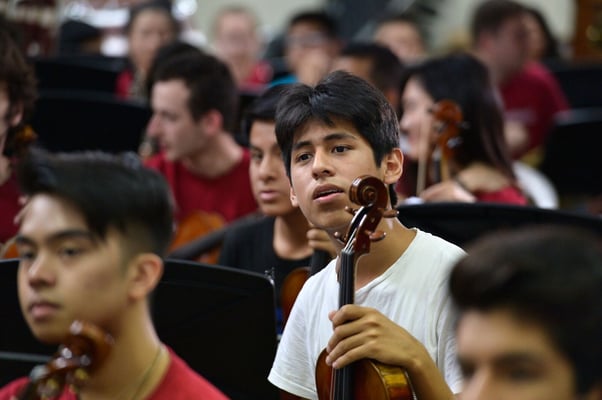 Photo Credit: Paul Marotta
Sunday's meeting was with the National Youth Orchestra, the ensemble sponsored by the government which even guarantees all the players a small salary – as it does with dancers and folk musicians and artists working in other genres. The National Youth Orchestra has 60 players on its roster, but fewer than half of them were able to attend this side-by-side, which took place in in more opulent surroundings than the Sinfonia por el Peru enjoys – a large, handsome, wood-panelled rehearsal room in the imposing Gran Teatro Nacional which opened in 2012. The technical level of the musicians was probably higher than that of the Sinfonia, although it was hard to be certain about that because so many players were absent because this was Father's Day, a major holiday in Peru. Also the orchestra had a performance in the afternoon – a new opera by the Italian composer Pierangelo Valtinnioni based on the Pinocchio story.
Music director Pablo Sabat talked to me about his orchestra in the hallway afterwards – he speaks excellent English and some of his studies were at the Hartt School of Music at the University of Hartford in Connecticut. His orchestra is drawn from the best young players from all regions of Peru, rehearses three times a week and gives concerts every month. An accomplished and experienced pianist, he sometimes conducts concertos from the keyboard; the orchestra has also worked with prestigious international soloists like the violinists Sarah Chang and Gil Shaham. He would love to add another dozen players so he could program a larger repertory of bigger pieces, but there are financial constraints. He also hopes to begin touring beyond Peru. Sabat was so civilized that it was a pleasure to talk to him; I was disappointed to realize that there would be no further opportunity to experience him in action because he played no role in this particular side-by-side.
That said, Zander was having a very good morning. I've been attending his concerts for more than 40 years, and over the last decade I've spent a fair amount of time watching him rehearse, especially during tours. But he had really entered wizard mode on Sunday and put on his singing robes – he was so fired up he inspired everyone in the room.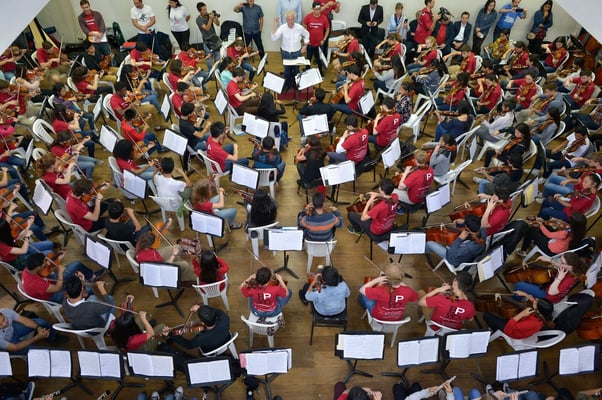 Photo Credit: Paul Marotta
After hearing a couple of run throughs of Sousa's "The Stars & Stripes Forever" – a tour encore – I had been tying to find a way to suggest to him, subtly, that it might prove helpful to rehearse this piece, which no organization actually rehearses very often because "everybody knows it already." The result is familiar – a piece that is meant to delight the audience snaps back, turns nasty, and barks and bites instead of wagging its tail.
It turned out that Zander was way ahead of me, and he really tore into the Sousa's march Sunday making suggestions about phrasing, articulation, dynamics, tempos, tone coloring and quality, nuance, detail and and everything else that makes all the difference. The result was a transformed experience both for the players and the listeners. A lesson in the importance of not taking anything for granted, something music is never about.
Then he went on to work through Tchaikovsky's fantasy-overture "Romeo and Juliet," a work he adores and returns to repeatedly in his conducting classes. In one sense there was no point in spending more than an hour working on a piece that neither orchestra is scheduled to perform in public. In another sense, there was every point. Zander feels that this is a perfect piece for young players; it is about their lives, and rehearsing the piece gives the players the chance to explore their feelings and experiences and apply what they have learned to the music. At one point he asked the players point-blank how old Juliet was supposed to be; none of the guesses I heard was correct. She is 14, still on the edge between innocence and experience. As he worked on a passage depicting Juliet's hesitancies and awakening feelings, he stopped in horror. "No, no NO," he exclaimed. "That's 16!" and the musicians howled with laughter.
He did begin by observing that music cannot tell a story; it can only express emotions. But soon he was stopping to ask – what happens in this phrase? "This is where Romeo sees Juliet for the first time." A timpani stroke signals the moment Romeo's dagger plunges into his heart. But Zander was right when he said music teaches us to recognize and understand our own emotions. He also promoted his own convincing theory the love music and the violently contrasted family-conflict music interact more powerfully (and ironically) when they are played at exactly the same tempo.
At the end of the class, Zander decided to stop working on small sections and play the whole piece through. By the end of this short piece I have known most of my life, I was exhausted and so were Zander and at least some of the players who had clearly given their all, drawing the passion and pain and rapture out of Tchaikovsky's music by pouring all of their own into playing it.