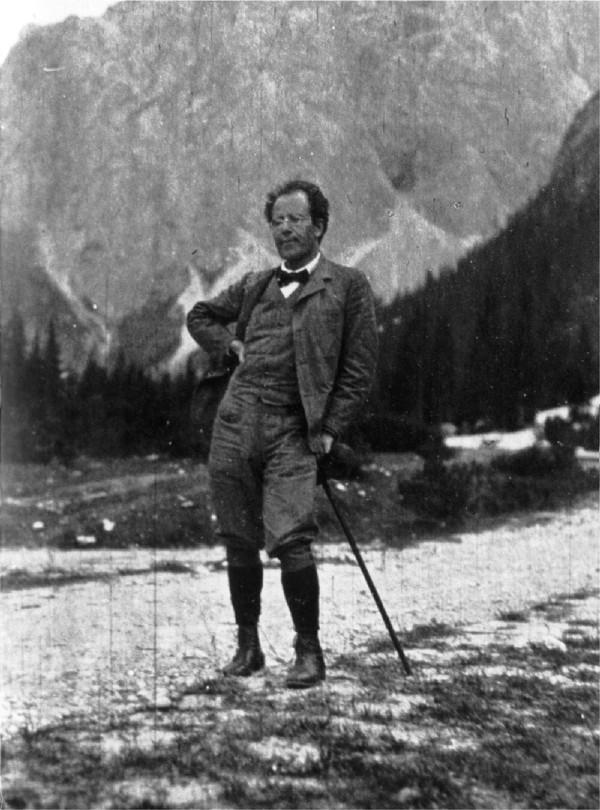 Mahler's Symphony No. 2 is today universally recognized as one of the most powerful pieces ever written. Conductor Benjamin Zander attests that "hearing a live performance of this vast and profoundly moving work is a communal experience, shared by the audience, the orchestra, the soloists, the chorus, and the awe-inspiring offstage horns and trumpets, which are positioned around the hall. For many people, their first hearing of the Mahler Second is one of life's landmarks. I have lost track of how many people have come up to me over the years after a performance, tears in their eyes, telling me they had just had the most moving and inspiring musical experience of their lives. I always give them a hug, and, to be honest, there are usually tears in my eyes too."
The complete Symphony No. 2 received its world premiere,
conducted by Mahler himself, on December 13, 1895.
Many of Vienna's ultra-conservative critics were bewildered,
but the audience was swept off its feet.
Mahler's sister Justine wrote: "Such enthusiasm is seen only once in a lifetime! Afterward I saw grown men weeping…it was indescribable!"
Composer Arnold Schoenberg declared "I was seized with an excitement that expressed itself in the violent throbbing of my heart…a work of art can produce no greater effect than, when it transmits to the listener the emotions which raged in the creator...And I was overwhelmed, completely overwhelmed." Schoenberg's student and colleague, Alban Berg, was also moved by Mahler's Second Symphony. "… I felt a sensation of complete solitude, as if there was nothing left but this music, and me listening to it."
At the American premiere on December 8, 1908,
with Mahler again conducting, the "Resurrection" Symphony was likewise praised for its impressive depth.
And one can also detect a note of bewilderment and consternation in these New York reviews, which can only raise a smile now that the work has come to be regarded as one of the pinnacles of the Western canon.
For the New York Times reviewer, Symphony No. 2 had passages of great power. "There are blood and iron in the music; there are tenderness and poetry of true elevation[…] in many respects a remarkable work, one that cannot fail profoundly to impress." The New York Tribune reviewer was also impressed with Mahler's ideas: "Beyond all doubt Mr. Mahler was deeply in earnest when he wrote this music, and of the beauty and insight of certain episodes there can be no doubt."
"A masterpiece as irresistible in its impact as the pyramids"
It is this profound and immediately perceived beauty that has, in the decades since, swept away early trepidation about the expansive scope of the symphony and ushered it into the ranks of the greatest orchestral achievements. A sampling of recent reviews demonstrates how wholeheartedly critics and audiences have embraced this work in all its monumental intensity. The New York Times has described the "Resurrection" symphony as "not so much a symphony as a vast acoustical and mystical environment." ("Bernstein's Conception Of Mahler's 'Resurrection'" by Donal Henahan, April 1, 1989) In 2011, Anthony Tomasini even identified Symphony No. 2 as "an ideal choice to help New Yorkers reflect, heal and persevere." Indeed, Zander asserts that the "Resurrection" Symphony is "a masterpiece as irresistible in its impact as the pyramids" and that it often replaces Beethoven's Ninth in memorial, celebratory, and festival concerts around the globe.
While the BPO's performance of Mahler's Symphony No. 2 on April 14 is sold out, you won't want to miss the Boston Philharmonic Youth Orchestra with Mahler's Symphony No. 6 on Sunday, April 23 at 3pm in Symphony Hall.