by Pablo Bardin
Bueos Aires Herald
originally published July 14, 2017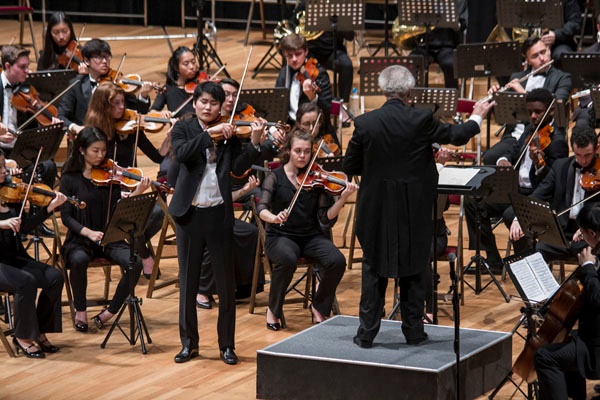 Buenos Aires, Argentina - Now, a grade A surprise: the marvelous BA début of the Boston Philharmonic Youth Orchestra under its venerable founder Benjamin Zander at the Blue Whale. They came in full force, 101 players between 12 and 21 years-old, and their playing was tremendously assured and beautiful throughout. A stirring Sibelius Finlandia was followed by his Violin Concerto, played with astounding precision by the 21-year-old Korean In Mo Yang, a major talent confirmed in his encore, a Paganini piece.
But what capped my feeling of exhilaration was a fantastic performance of Prokofiev's Fifth Symphony, a masterpiece; I have strong memories of high-calibre interpretations (Mitropoulos-New York Phil; Szell with the same orchestra; Ormandy-Philadelphia) and I have no doubt that this one belongs in such distinguished company. Discipline, capacity and hard work guided by the sure hand of a wise conductor. Zander communicated with the packed house with enthusiastic speeches showing his other side (he has often given lectures at Davos on leadership), a life committed to peace and artistic accomplishment.
Three encores: a perfect Stars and Stripes Forever (Sousa), queen of marches; Piazzolla's Oblivion with solo flute; and Elgar's noble Nimrod from the Enigma variations.
For the original review on the Buenos Aires Herald website, please click here.