When:

Saturday, December 9, 2017 | 10:00 am – 12:00 pm
Where:

Rabb Hall | Boston public library (central Branch)
Witness Boston's brightest young performers delve into the most inspiring aspects of music-making as conductor and renowned educator Benjamin Zander brings his musical interpretation expertise to an intimate and dynamic workshop setting.
We are excited to return to Boston Public Library's Rabb Hall for the fourth Interpretation Class of the 2017-18 Season and are grateful to them for hosting us.
Rabb Hall | Boston Public Library (Central Branch)
700 Boylston St.
---
Program
---
Alex Goldberg, violin
BACH Sonata in G Minor
Alex Goldberg, age 17, is a violin student of Donald Weilerstein at the New England Conservatory of Music, where he also studies chamber music. Alex has received his Young Artist Certificate from the San Francisco Conservatory of Music at age 11. During the past summers, Alex has attended the Accademia Musicale Chigiana di Siena (Italy) where he studied with Maestro Salvatore Accardo, received the Diploma di Merito and performed in Siena (Italy) during the Accademia Chigiana International Festival. He participated in the Aspen Music Festival & School and Music@Menlo where he studied violin and chamber music with teachers such as Sylvia Rosenberg and Robert Lipsett. Alex has had master classes with Ben Zander, Fang Mei, Ani Kavafian, Jorja Fleezanis, and Gilles Apap.
Alex made his debut as a soloist with the San Francisco Chamber Orchestra playing Vivaldi's Spring at age 8. As a first prize-winner of the American Protégé International Concerto competition, Alex made his debut at Carnegie Hall at age 11. A top prize winner in the Pacific Musical Society and the Menuhin-Dowling competitions, Alex was awarded first prize in a number of concerto competitions including those of the Palo Alto Chamber Orchestra (2008 and 2010), the Brockton Symphony (2016), and the Eleanor B. Nelson Concerto Competition (2017) which led to solo orchestra performances including Mendelssohn's E Minor Concerto with the Quincy Symphony Orchestra (May 2017), Sarasate's Carmen with the Brockton Symphony (scheduled for February 2018), and Kreisler's Praeludium and Allegro - orchestra version- with the Palo Alto Chamber Orchestra (Stanford, June 2010). Alex has performed more than 10 full solo recitals and has participated in numerous Chamber Music recitals. Twice a recipient of the merit scholarship from Music@Menlo, Alex was recently awarded the Robert E. Brown scholarship.
Sophie Applbaum, violin
BEETHOVEN Sonata No.4
Cellist Sophie Applbaum is a third-year student in the Harvard-New England Conservatory (NEC) dual degree program, continuing her studies with Natasha Brofsky. She completed the NEC Preparatory program where she won the Chamber Music Prize, String Department Prize, and Orchestra Prize. An avid chamber musician, Sophie has performed chamber music in Weill Hall, Merkin Hall, Jordan Hall, in Iceland, and in Italy. She has toured as principal cellist of NEC's Youth Philharmonic in Iceland and Argentina, and performed as concerto soloist with the New Philharmonia, Pro Arte Chamber Orchestra, Newton Symphony, NEC Baroque Chamber Orchestra, and Longy Orchestra. Sophie is currently a member of Highland Street, the 2017-2018 Honors Quartet at New England Conservatory.
Sophie began studying cello at the Longy School with Michael Bonner who taught her for nine years. She fell in love with chamber music at Kinhaven Music School. Other summer festivals include Music@Menlo, Heifetz Institute, National Arts Centre in Ottawa, the Quartet Program, Indiana Summer String Academy, Okemo Young Artists, Orford Academy, and Bowdoin International Music Festival.
Sophie grew up in Massachusetts and graduated from Winsor School. At Harvard, Sophie studies Social Studies, and served as the Artistic Director of the River Charles Ensemble during its 2016-2017 season. Currently, Sophie serves as the Partnerships Director at Y2Y Harvard Square, a student-run youth homeless shelter.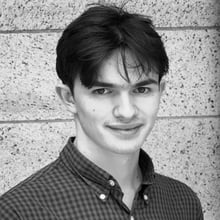 Dominick Douglas

,

viola
BRAHMS Sonata in Eb Major
Dominick Douglas is an up-and-coming violist from a small town in North Carolina. He has performed across the United States, in noted halls such as Symphony Hall, Jordan Hall, and Meymandi Hall among others. Now based in Boston, MA, Dominick is studying with world-renowned violist Kim Kashkashian at the New England Conservatory.
Dominick has performed at music festivals such as the Heifetz International Institute of Music and the Brevard Music Festival, having studied with Barbara Westphal, Martha Katz, Ilya Kaler, Amit Peled, and Atar Arad. In 2015, he was featured in the Institute's Celebrity Series. Dominick also participated in the Institute's first annual Ashkenasi-Kirshbaum Chamber Seminar, and was the youngest participant in this program's history.
In addition to his studies at NEC, he studied with Sheila Browne at the University of North Carolina School of the Arts, where he was a finalist in the Concerto Competition in 2014 and served as principal violist of the school's orchestras.
Having been educated in the public school system, Dominick is an avid believer in the power of music to deepen human communication. He strives to become a performer and teacher dedicated to sharing the all-encompassing capabilities of music.
Matthew Hill

,

violin
SARASTE Zigeunerweisen
Matthew Hill is pleased to be one of the new members of Boston Philharmonic Youth Orchestra, under the direction of esteemed conductor and pedagogue Benjamin Zander. Currently a sophomore at Conard HS in West Hartford, CT Matthew is also Co-Principal Second Violin of I Giovani Solisti (an internationally touring chamber orchestra made up of auditioned high school string students in the West Hartford Public Schools). This past summer Matthew was selected to perform in a masterclass given by Kyu-Young Kim (Artistic Director and Principal Violin of St Paul Chamber Orchestra), and was the second place winner in the Musical Club of Hartford competition in January 2017. Matthew is a student of Kyoko Horowitz in Boston.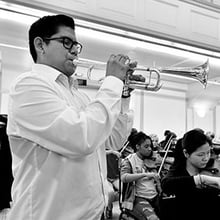 Elmer Churampi

, trumpet
MAHLER excerpts from Symphony No. 5
A native of Lima, Peru, Elmer Churampi began playing the trumpet when he was 4 years old with his father who is also a trumpet player. Elmer was invited to be part of the National Youth Orchestra of Peru when he was 8 years old. He played as a soloist three times with the National Symphony of Peru at the ages of 7, 8, and 9. Elmer played such pieces as Carnaval de Venecia, the Haydn Trumpet Concerto, and Arutunian Trumpet Concerto.
When he was 10 years old, he was accepted to the National Conservatory of Music from Peru. Elmer was invited to be part of the professional orchestra of the Conservatory of Peru as a second trumpet when he was 13. At the age of 14 he played concerts with the Opera Orchestra from Peru called Orquesta de los Reyes. When he was almost 15, he attended the Interlochen Summer Camp in 2010 with a full scholarship, playing first trumpet in every concert. Elmer was accepted to the Interlochen Arts Academy with a full scholarship in 2010, and studied for 3 years there with Ken Larson. During that time, Elmer won competitions such as the Young Artist in 2013, Jack Kent Cooke Award in 2013, and the Interlochen Young Artist Award in 2013. Elmer was also interviewed and featured on the radio program From the Top that year. He was also invited by Maestro Mark Gould and Jen Lindemann to perform at the Banff Center of Arts in the brass festival in Canada 2013.
In 2014 during his freshman year, Elmer won the concerto competition at New England Conservatory, and also won the MTNA brass competition in Chicago. In 2015 and 2016, Elmer won first place in the National Trumpet Competition in the undergraduate division. He also won the Young Artist brass award in Texas.
Currently Elmer is studying at the New England Conservatory in his 4rd year with Tom Rolfs, principal trumpet in the Boston Symphony Orchestra.
---

Dina Vainshtein, piano
Boston-based pianist Dina Vainshtein is known for her sensitive and virtuosic collaborations with some of the most promising musicians of recent years. Dina, a longtime Faculty Pianist for the Heifetz Institute, is the daughter of two pianists, and studied with Boris Berlin at the prestigious Gnessin Academy in Moscow. While there she received the Special Prize for the Best Collaborative Pianist at the 1998 Tchaikovsky International Competition. She came to the United States in 2000 to attend the Cleveland Institute of Music, where she worked with Vivian Hornik Weilerstein, and her husband, Donald Weilerstein.
Her talents vaunted her to numerous performing opportunities, from Alice Tully Hall and Weill Recital Hall in New York City, to the Caramoor Festival, the Ravinia Festival, the Music Academy in the West at Santa Barbara, not to mention tours of Japan, China, Europe and Russia. To this day, Donald Weilerstein regards her as "an extraordinary collaborator. She is an extremely fine musician and one of the most empathetic, dynamic and supportive chamber players I know." For nearly a decade Dina has been affiliated with the New England Conservatory and the Walnut Hill School in Natick, Massachusetts.
We are pleased to have her on staff as our piano accompanist for this series.