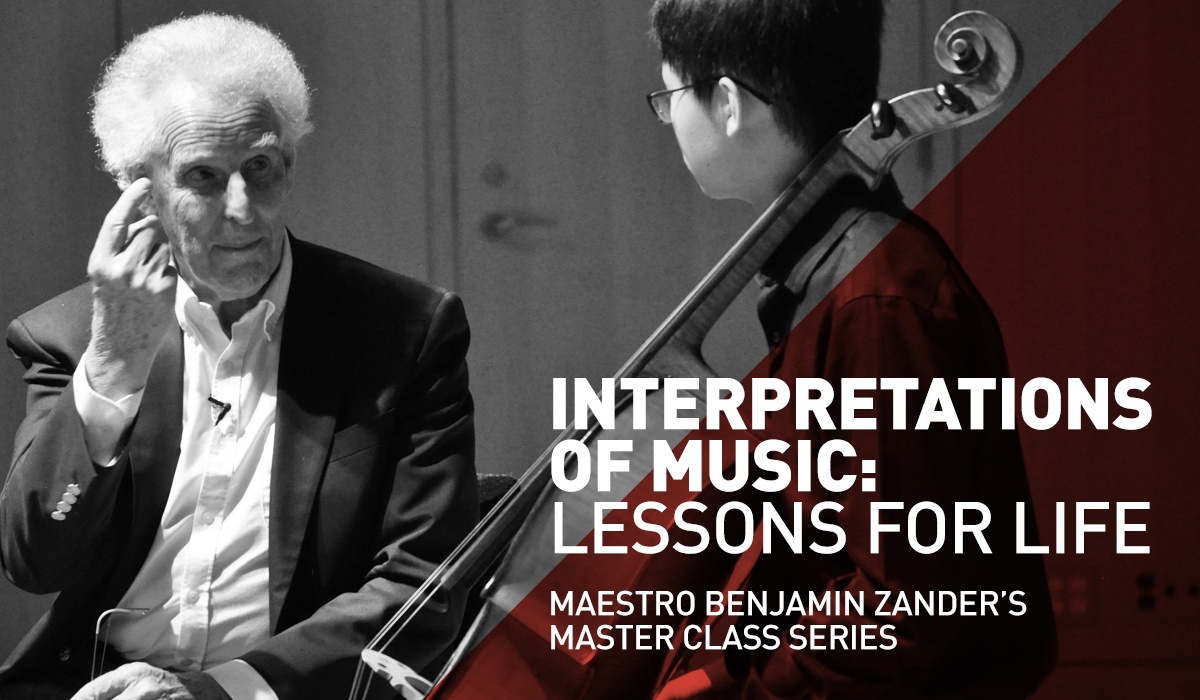 When:

Saturday, February 17, 2018 | 10:00 am – 12:00 pm
Where:

Rabb Hall | Boston public library (central Branch)
Witness Boston's brightest young performers delve into the most inspiring aspects of music-making as conductor and renowned educator Benjamin Zander brings his musical interpretation expertise to an intimate and dynamic workshop setting.
We are excited to return to Boston Public Library's Rabb Hall for the fourth Interpretation Class of the 2017-18 Season and are grateful to them for hosting us.
Boston Public Library (Central Branch)
Rabb Hall (Lower Level)
700 Boylston St.
---
Program
---
Highland Street String Quartet
HAYDN String Quartet Op. 76, No. 2 'Quinten'
Greta Myatieva,
Victoria Pan, violins
Sophie Applbaum, cello
Members of

Highland St. Quartet

first crossed paths as younger musicians, and are thrilled to reunite as a 2017-2018 New England Conservatory Honors Ensemble. Highland St. is grateful to be coached by Paul Biss, and has played in masterclasses for members of the Parker and Borromeo Quartets, Kim Kashkashian, Lucy Chapman, and Merry Peckham. Previous coaches include Ayano Ninomiya and Kris Tong. Individually, members of Highland St. have excelled in national solo and chamber music competitions, and have honed their chamber music skills at international music festivals. Highland St. is eager to pursue community outreach opportunities to increase the accessibility of chamber music in Boston. The quartet has collaborated on related work with From The Top, Music for Food, The Emerald Necklace Conservatory, and other Boston-area projects. In addition to their upcoming Jordan Hall recital, Highland St. will present a series of concerts in April in Cape Cod in collaboration with From The Top.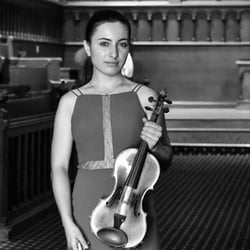 Sophia Szokolay, violin
SCHUMANN Violin Sonata No.1, Op.105
Canadian violinist, Sophia Anna Szokolay, made her international solo debut in 2013, touring with the Győr Philharmonic Orchestra and giving recitals throughout Hungary. Described by the Boston Musical Intelligencer as having "serene composure that [directs] her astonishing chops to the most satisfying musical ends," she has also appeared as soloist with the Toronto Sinfonietta, Etobicoke Philharmonic, Scarborough Symphony, Toronto Symphony Youth Orchestra and Boston Philharmonic Youth Orchestra. A passionate chamber musician, Sophia is a founding member of the Ivani Quartet, first prize winners at the 2017 Plowman International Chamber Competition and Bronze medalists at the Fischoff Chamber Music Competition. Mentored by Paul Katz, Merry Peckham and Barry Shiffman, the Ivani Quartet was invited this year to the Julliard String Quartet Seminar and Bowdoin International Music Festival.

Hailing from a family of musicians, Sophia began her violin studies at the age of 3. At 13 she became a pupil of David Zafer, Professor Emeritus of the University of Toronto and served as concertmaster of the Toronto Symphony Youth Orchestra. Sophia graduated from the Royal Conservatory of Music Taylor Academy under the tutelage of Barry Shiffman and Victor Danchenko in 2015, and is currently pursuing a Bachelor Degree at the New England Conservatory, studying with renowned violinist and pedagogue Miriam Fried. Sophia currently plays on a Jean-Baptiste Vuillaume violin, on generous loan from the New England Conservatory.

Arilyn Mitchell, harp
FAURE Une Chatelaine en sa Tour
Arilyn Mitchell, 17, is a member of the Boston Philharmonic Youth Orchestra. Currently a senior in high school, she studies with Carl Swanson in Boston. She has attended the Boston University Tanglewood Institute (2015), and the Pierre Jamet International Harp Festival in Gargilesse-Dampierre, France (2017). She has had the privilege to participate in masterclasses with Fabrice Pierre, Catherine Michel, Marie-Claire Jamet, Park Stickney, Isabelle Moretti, and Gabriella Dall'Olio. She has also studied with Emmanuel Ceysson, principal harpist for the Metropolitan Opera.
She has volunteered at hospitals and care facilities across the country, receiving two community service for her efforts at Newport Hospital, where she volunteers weekly. She also plays at Charlton Memorial Hospital, in Fall River. She was named one of the Top Ten Groundbreakers of Newport County (2017) by Newport Life Magazine, and the Outstanding Youth Volunteer (2017) by the Newport Daily News. She has performed in solo recital at the Redwood Library in Newport, as well as several of the Newport Mansions, including the Breakers and the Elms, and the Église Saint-Laurent-et-Notre-Dame in Gargilesse, as part of the final recital of the Pierre Jamet International Harp Festival.
The daughter of a recently retired US Navy chief, she has played in youth orchestras across the country, including the Bremerton Youth Symphony, the Bremerton Symphony, the Seattle Youth Symphony, various ensembles within the Milwaukee Youth Symphony, and the Boston Philharmonic Youth Orchestra. Because of her travels, she has performed in esteemed halls such as Benaroya Hall (Seattle), Symphony Hall (Boston) and the Centro Cultural Kirshner (Buenos Aires). She was the winner of the Junior Division of the Great Chicago Area Chapter of the American Harp Society's Scholarship Competition (2014), and was named one of the winners of the Stars of Tomorrow competition at the Boston Harp Festival (2015).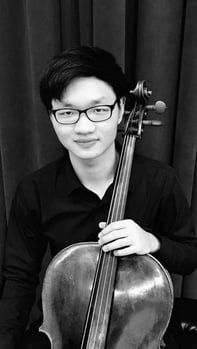 Aihao Zheng, cello
BARBER
Cello Concerto
Chinese Cellist Aihao Zheng, originally from Shanghai Conservatory of Music Middle School, China, has been studying and performing at New England Conservatory in Boston since 2013. Aihao is now pursuing his Bachelor of Music in Cello Performance at the New England Conservatory under Paul Katz of the Cleveland String Quartet. At age 14, he traveled to Germany to take part in an art exchange program. On May 9th, he held a recital at Shanghai Symphony Orchestra Rehearsal Hall. He was principal cello in the Shanghai Conservatory of Music Middle School orchestra. In 2012, he received a full scholarship for the Morningside Music Bridge Summer Program. He has had master classes with Mula Na, Luis Claret, Desmond Hoebig, Johanne Perron, Yeesun Kin, John Kadz, Andres Diaz, Gary Hoffman, David Strange, Pieter Wispelway, and Ralph Kirshbaum. In 2016, Aihao won the first prize of NEC Tecchler-Forster Cello Competition.
---

Dina Vainshtein, piano
Boston-based pianist Dina Vainshtein is known for her sensitive and virtuosic collaborations with some of the most promising musicians of recent years. Dina, a longtime Faculty Pianist for the Heifetz Institute, is the daughter of two pianists, and studied with Boris Berlin at the prestigious Gnessin Academy in Moscow. While there she received the Special Prize for the Best Collaborative Pianist at the 1998 Tchaikovsky International Competition. She came to the United States in 2000 to attend the Cleveland Institute of Music, where she worked with Vivian Hornik Weilerstein, and her husband, Donald Weilerstein.
Her talents vaunted her to numerous performing opportunities, from Alice Tully Hall and Weill Recital Hall in New York City, to the Caramoor Festival, the Ravinia Festival, the Music Academy in the West at Santa Barbara, not to mention tours of Japan, China, Europe and Russia. To this day, Donald Weilerstein regards her as "an extraordinary collaborator. She is an extremely fine musician and one of the most empathetic, dynamic and supportive chamber players I know." For nearly a decade Dina has been affiliated with the New England Conservatory and the Walnut Hill School in Natick, Massachusetts.
We are pleased to have her on staff as our piano accompanist for this series.