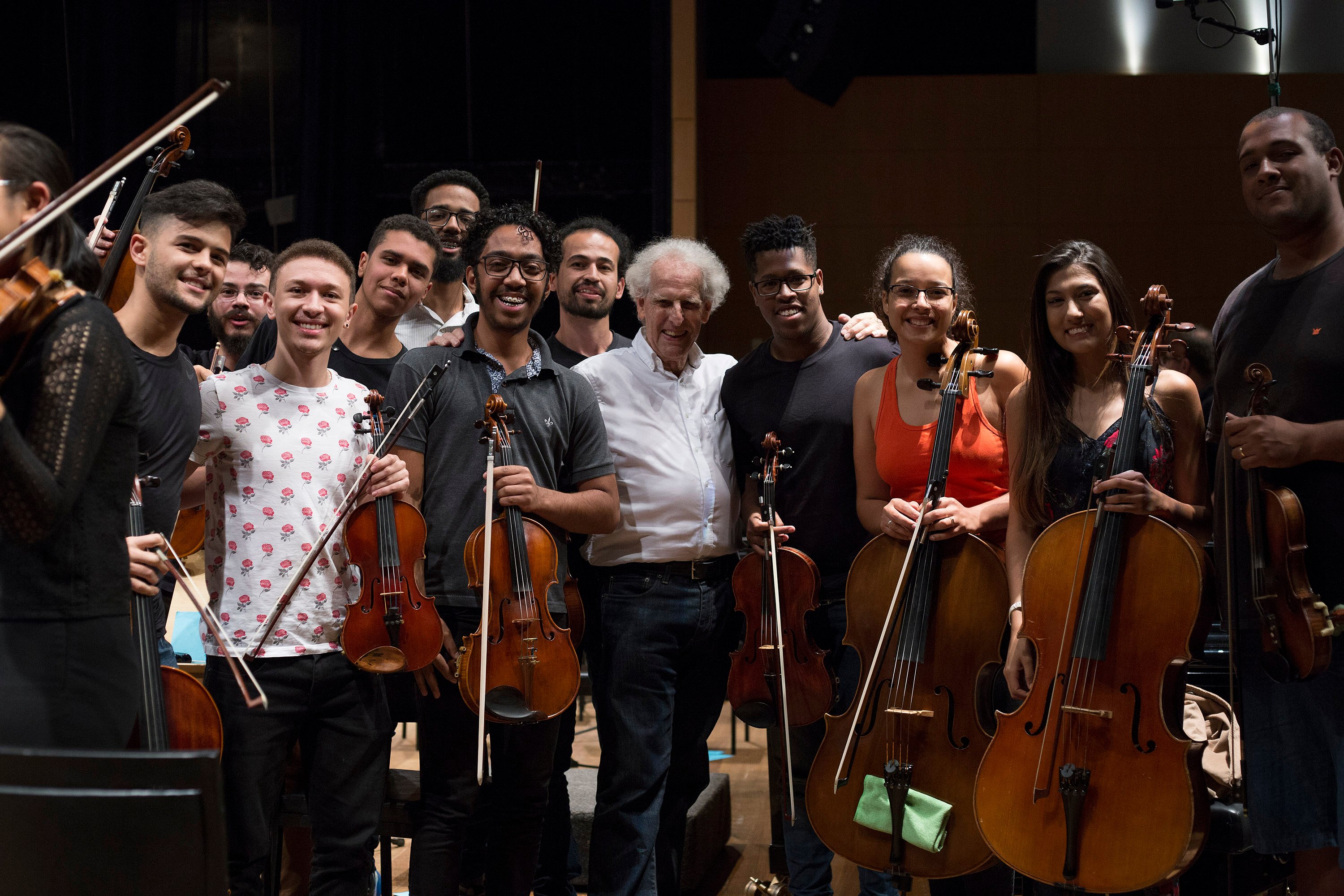 A Message from Our Music Director
It begins with a short video of my trip to South Africa in September, which was one of the most thrilling experiences of my life.
I came home so thoroughly re-inspired by the South African people and the extraordinary beauty of the landscape and the wildlife that I set my heart on bringing BPYO on tour to South Africa next summer.(June 13th to 30th)
Trip to South Africa: (5 minutes)

"What Does a Conductor Do?"- (1 minute 20 seconds)
During an unexpected encounter with a group of singers in Soweto, I offered a little unsolicited coaching.
I am often asked: What does a conductor actually do? Next time, my answer will be to show this little video.
Before and After:
BEFORE: the group singing with great enthusiasm, but without dynamics, nuance or much connection with each other.
AFTER: with dynamics, shape and character and it seems as though connected by a common purpose. Their shining eyes are the desired result.
Shining Eyes!
(Incidentally, I didn't know the song or the words, so of course I have no idea if the shaping I gave the piece was what it called for, but better the wrong shape than no shape at all!)
*******************
Both BPO and BPYO got more than their fair share of accolades and acknowledgements this year:
Most startling is that BPYO was named Boston Magazine's Best of Boston 2019 Best Classical Music Ensemble.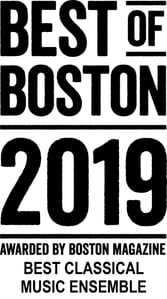 Boston Philharmonic
Youth Orchestra
What? Wait a minute! No one would ever think that a youth orchestra, even a very good one, could be "The Best Classical Ensemble" in a city with so many world-class musical groups.
Perhaps the Boston Magazine is pointing to something else.
In the world of Possibility, success is measured not in wealth or fame or power, but rather by the number of shining eyes we have around us.
If the eyes around us look dull, we can ask: 'Who am I being that the eyes aren't shining?'
Perhaps Boston Magazine, is suggesting that if shining eyes are the truest measure of success, the BPYO has earned this extraordinary accolade!
Pulitzer Prize winning critic Lloyd Schwartz, summing up the year of classical music in Boston, echoed that idea under the heading: The Best Of The Best.
"Benjamin Zander's final concert of the year showed his Boston Philharmonic Youth Orchestra in outstanding form, playing passionate and thoughtful versions of Verdi's Overture to 'La Forza del Destino,' Mendelssohn's famous violin concerto (with Stefan Jackiw proving that a familiar work doesn't have to be a cliché), and a riveting Mahler Symphony No. 1, showing that in the right hands even a group of talented kids can give us the best Mahler of the year."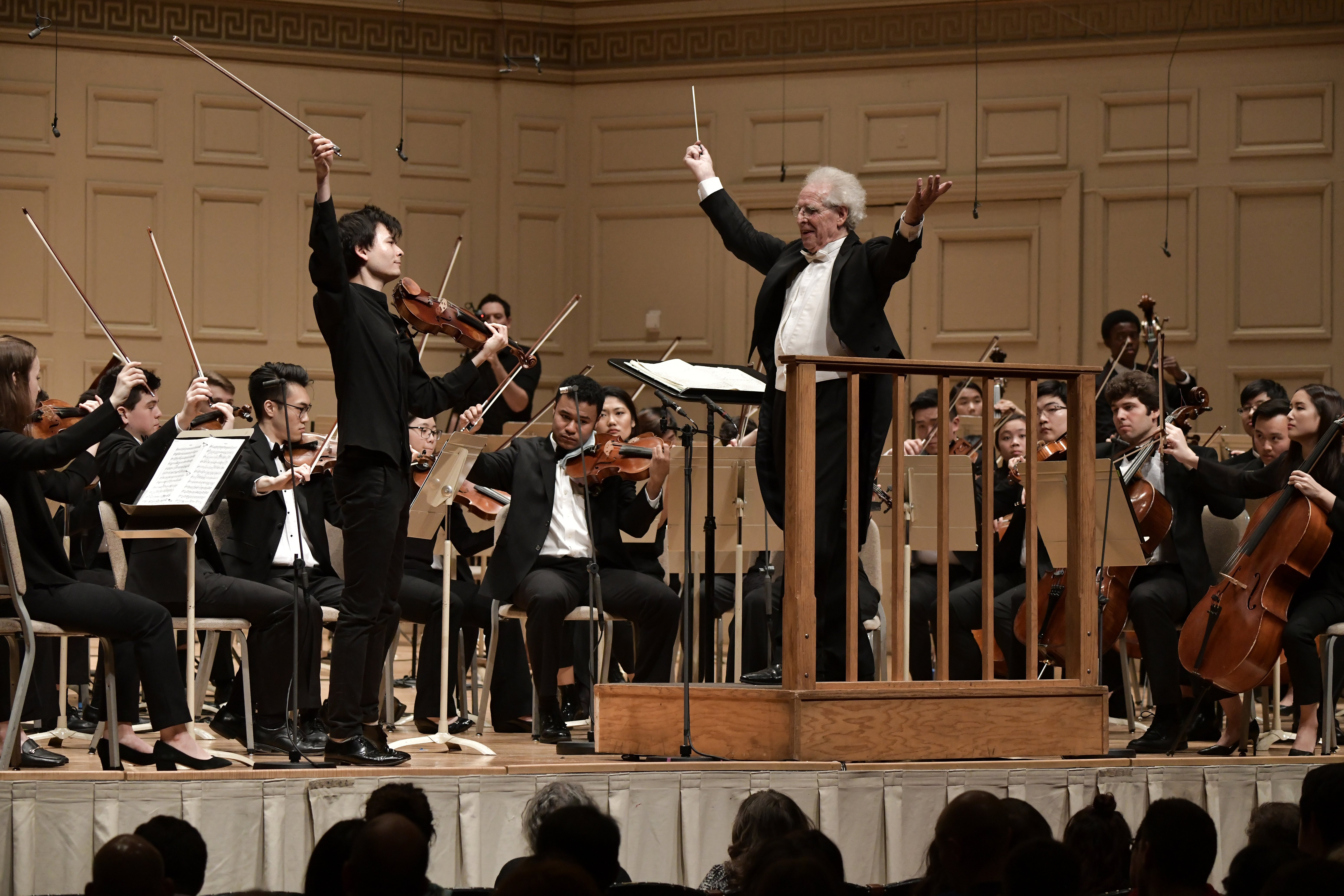 Violinist Stefan Jackiw performing with the Boston Philharmonic Youth Orchestra (BPYO). Photo: Paul Marotta.
Here is a recording of that complete concert from Symphony Hall, Boston, November 24th, 2019:
Verdi Overture to Forza del Destino (11/24/19 @ Symphony Hall) [BPYO]
https://soundcloud.com/boston-philharmonic/la-forza-del-destino-overture
Mendelssohn Violin Concerto [Stefan Jackiw] (11/24/19 @ Symphony Hall) [BPYO]
https://soundcloud.com/boston-philharmonic/mendelssohn-violin-concerto-stefan-jackiw-112419-symphony-hall-bpyo
Mahler Symphony No. 1 (11/24/19 at Symphony Hall) [BPYO]*
https://soundcloud.com/boston-philharmonic/mahler-symphony-no-1-talk-performance-mixmaster-1/s-c7G7i
*This is not actually the complete program as it was performed. We lost the dress rehearsal in Symphony Hall to another group, which resulted in an unacceptable version of the notoriously treacherous opening of the Mahler. The first minute you will hear is "audioshopped" from the BPYO's 2015 performance.
Boston Musical Intelligencer critic David Moran reinforced the idea that passion and all-out commitment are the most important things in music when he picked the BPO Beethoven 5th as one of his two Choice Performances of the Year.
"Benjamin Zander and the Boston Philharmonic celebrated their 40th with a properly propelled rendition which got the opening right rhythmically and proceeded powerfully from there: it rocked, it rolled, it unrolled, the ensemble ablaze. Each movement struck with the new force of this work as here structured and paced.… More than once during the concert I wished I had brought my children and grandchildren. Get the CD of Zander's Fifth, study his sermons, relearn this piece as fully as you can stand — as you already know, but as will be the more impressed upon you, this is Beethoven in peak 'grab you by the lapels' mode."
Here is that BPO performance of Beethoven's 5th (the first movement lasts just 6 mins and 40 seconds and is sure to shock you, as Beethoven intended.
Beethoven Symphony No. 5 (2/17/19 at Sanders Theatre):
https://soundcloud.com/boston-philharmonic/mahler-symphony-no-1-talk-performance-mixmaster
"Get the CD of Zander's Fifth, study his sermons..." — Here is the discussion from the Philharmonia album which David Moran is referring to.
Arts Fuse critic Jonathan Blumhofer chose not just one, but TWO BPO performances for his category Best Solo Performance.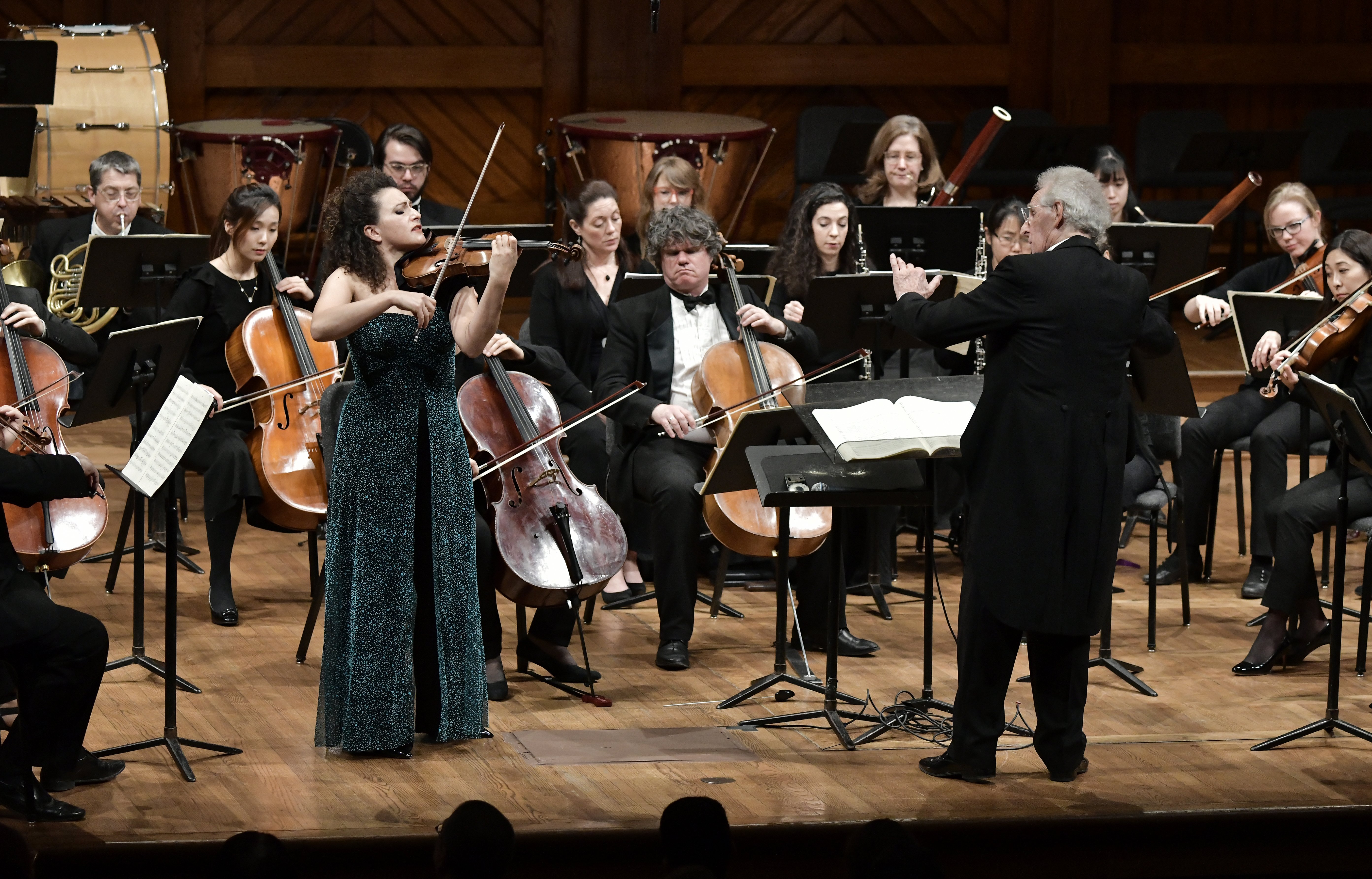 Violinist Liza Ferschtman performing with the Boston Philharmonic Orchestra (BPO). Photo: Paul Marotta.
Best Solo Performance
"For rapport between soloist and orchestra (and/or conductor), the fall of 2019 brought two mesmeric programs from the Boston Philharmonic Orchestra. My favorite of those – by a hair – was Liza Ferschtman's account of Beethoven's Violin Concerto in November. Augustin Hadelich played the same piece with the Boston Symphony in September. Then, it was beautifully done, but sterile: his interpretation took no risks; parts of it were even a bit sleepy. Ferschtman, on the other hand, brought the music to life with a panache and vigor that should be a model for all violinists navigating these well-trod pages."
BEETHOVEN VIOLIN CONCERTO, LIZA FERSCHTMAN AND BOSTON PHILHARMONIC, CONDUCTED BY BENJAMIN ZANDER (lecture and performance)
https://soundcloud.com/boston-philharmonic/beethoven-violin-concerto-pre-concert-talk-performance/s-15e4d
The runner-up in the category of Best Solo Performance was Alessandro Deljavan's Brahms 2nd piano concerto on October 20th in Sanders Theater.
Arts Fuse: "The BPO's October concert series featured Alessandro Deljavan in a full-bore, tempestuous interpretation of Brahms's Piano Concerto no. 2. Brimming with color, character, and an impeccable sense of musical shape, Deljavan's reading was bracing – which, given the sometimes-stultifying frequency with which the Brahms Second is played in these parts, says something'."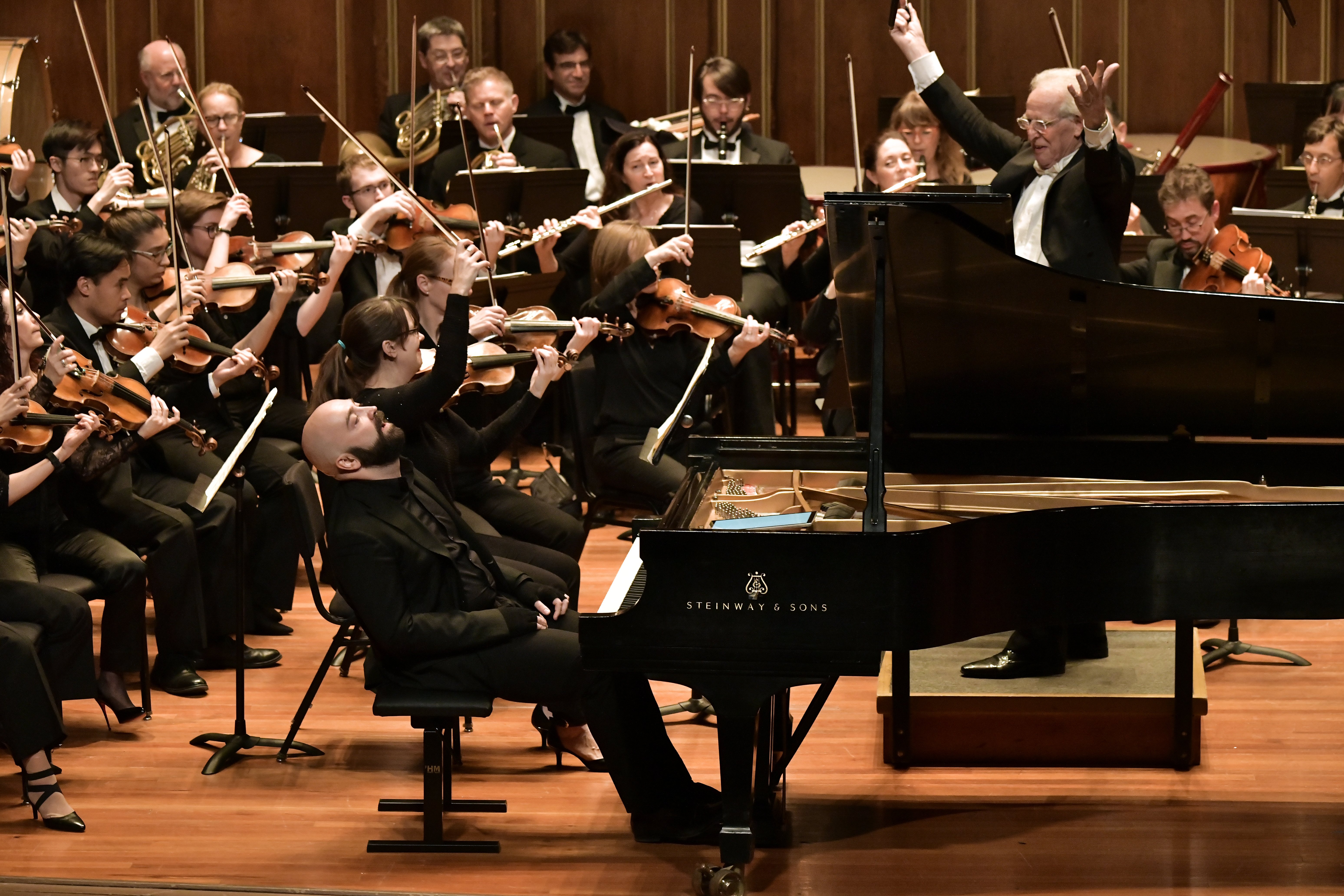 Pianist Alessandro Deljavan performing with the Boston Philharmonic Orchestra (BPO). Photo: Paul Marotta.
BRAHMS 2ND PIANO CONCERTO, ALESSANDRO DELJAVAN AND BOSTON PHILHARMONIC, CONDUCTED BY BENJAMIN ZANDER
https://soundcloud.com/boston-philharmonic/brahms-piano-concerto-2-with-alessandro-deljavan/s-fJuVE
Accompanying both the Beethoven violin concerto and the Brahms 2nd piano concerto was a deeply satisfying experience, because we were able to realize my long held dream to deliver performances of these works that faithfully follow what I believe were the composers's intentions. This is explained in the excerpts from the pre-concert lectures that accompany each performance.
The other work on that program was Bartok's Concerto for Orchestra, one of the pinnacle works in the repertoire and an ultimate test for any orchestra.
Bartok Concerto for Orchestra (10/20/19 @ Sanders) (Talk and Performance)
https://soundcloud.com/boston-philharmonic/bartok-concerto-for-orchestra-talk-performance
The Boston Musical Intelligencer: "Zander and his players fully met the task, displaying Bartok's humor, lyricism, deathly gravity and finally a sense of life-assertion."
Arts Fuse also commended a BPO performance in the category Best revival:
Arts Fuse: "Charles Ives remains a composer more talked about than played, so it was particularly agreeable that his Pulitzer Prize–winning Symphony no. 3 came to Symphony Hall as part of the last concert of the Boston Philharmonic's 40th-anniversary season. Benjamin Zander, who's known as a Mahler interpreter (and who led a scorching Mahler Five after the break that night), conducted a remarkably tight and impressively lucid reading of the Third: its layerings of quotations and disjunct rhythmic patterns came across with clarity. But most impressive was Zander's command of the music's structure. This was as cogent, coherent, and dramatic an Ives Three as anyone has conducted, its procession of hymn tunes building with inexorable momentum to a wistful, mystical apotheosis." (JB)
IVES THIRD SYMPHONY, BOSTON PHILHARMONIC, BENJAMIN ZANDER CONDUCTOR (lecture and performance)
https://soundcloud.com/boston-philharmonic/ives-symphony-no-3-pre-concert-talk-performance/s-LMzVe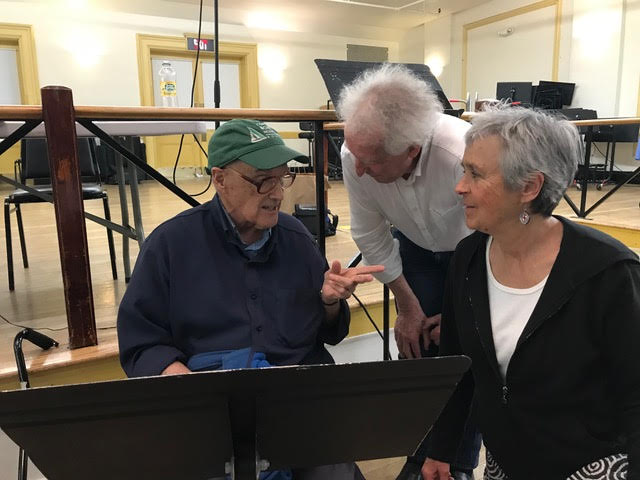 John Heiss channeling Ives for Ben and Peggy Pearson (principal oboe).
In our preparation of the Ives 3rd we were guided by the person who probably understands Ives's music better than anyone - John Heiss composer, flutist and NEC music guru for over 5 decades. John attended every rehearsal and coached almost every phrase. Our gratitude to John imbued the performance in unfathomable ways.
John said: "I have known and loved this piece for a long time. Now I know it better."
In the category, Best Orchestral Performance, Jonathan Blumhofer, after naming Andris Nelson's performance with the BSO of Shostakovich 15th and Rachmaninov's 3rd piano concerto with Danil Trefilov, conferred Runner Up status on the BPYO for the performance of Shostakovich 10 and Rachmaninov 2nd piano concerto with Anna Federova on tour in Brazil.
Arts Fuse: Runner up: In June, I followed the Boston Philharmonic Youth Orchestra on its nine-concert tour to Brazil. The third of those performances took place in the spectacular Sala São Paulo and it proved to be one of the BPYO's defining concerts of this – or any other – year. (JB)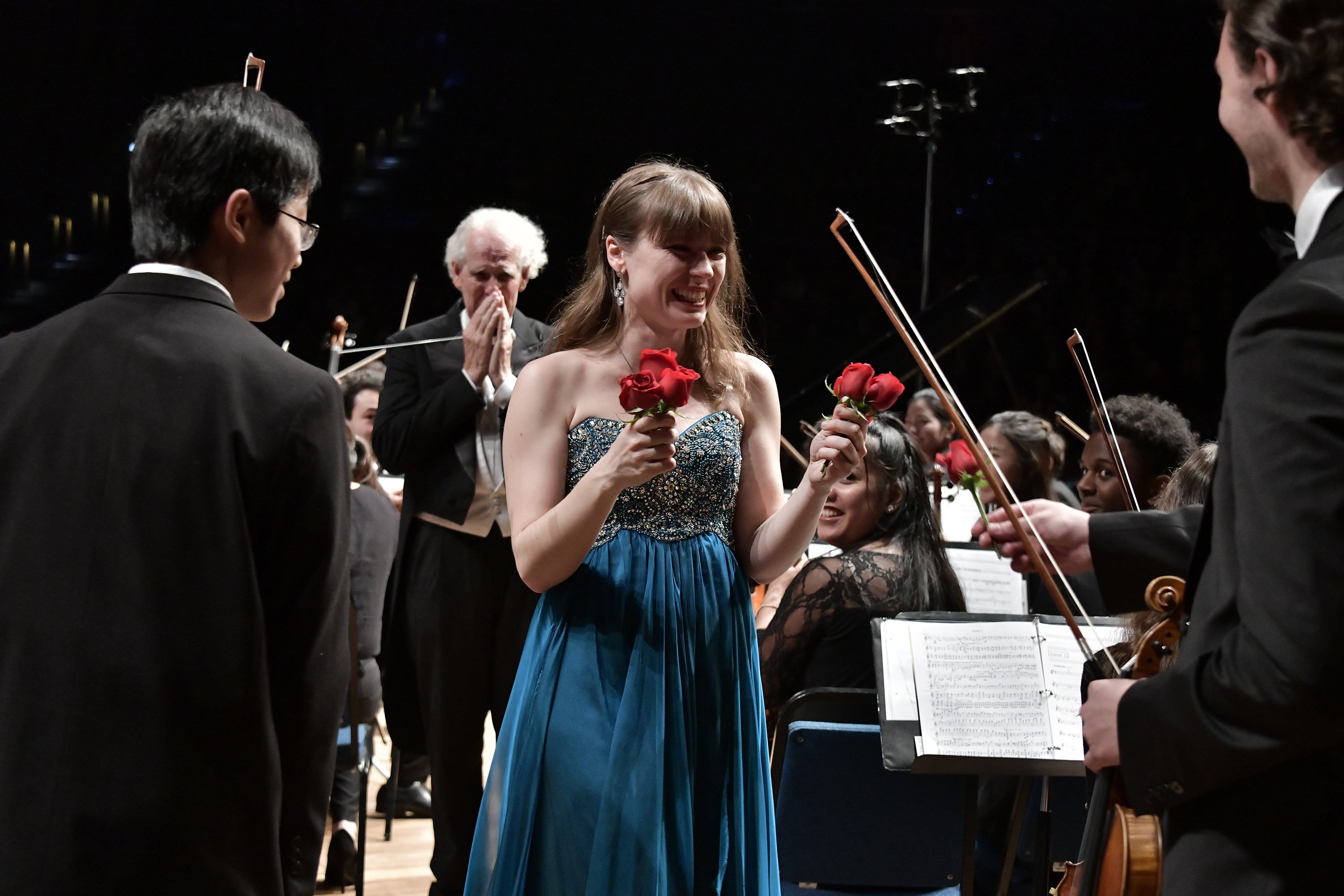 Anna receives a love rose from each BPYO violinist.
In the absence of a currently available recording of that performance, here is Anna Federova's impassioned performance of Rachmaninov's 2nd piano concerto from the final concert of the tour in Curitiba and the performance of the Shostakovich 10th recorded by the Grammy winning recording team at Symphony Hall.
RACHMANINOV PIANO CONCERTO NO 2, ANNA FEDEROVA BOSTON PHILHARMONIC YOUTH ORCHESTRA FROM CURITIBA, BRAZIL.
https://soundcloud.com/boston-philharmonic/rachmaninoff-piano-concerto-no-2-curitiva/s-AgzcR
SHOSTAKOVICH 10TH SYMPHONY BOSTON PHILHARMONIC YOUTH ORCHESTRA, BENJAMIN ZANDER CONDUCTOR, SYMPHONY HALL, BOSTON.
https://soundcloud.com/boston-philharmonic/shostakovich-symphony-no-10-talk-performance/s-kwqKQ
Finally, the BPO performance from this year that thrilled me the most and for which I think the orchestra can be most proud: Rachmaninov's Symphonic Dances.
Commissioned for the Fabulous Philadelphians, the greatest orchestra of the 1940's, Rachmaninov wrote the piece to test them to their limit. He considered it his finest composition and I have come to think he may have been right.
If you only hear one BPO performance I would want it to be this one, because it shows the orchestra as the super virtuoso ensemble it is nowadays.
It was especially exciting because of the discovery a couple of years ago of a clandestine recording of Rachmaninov playing the piece (or at least a lot of it) on the piano.
He was over at Eugene Ormandy's house showing him how the piece should go before the first rehearsal. Unbeknownst to Rachmaninov, someone secretly put on a tape-recorder in the next room while he played, stomped and sang his way through the piece.
The sound is awful, but what is abundantly clear is how freely Rachmaninov wanted the music to be played.
Here are a few minutes of Rachmaninov demonstrating at the piano (5 minutes)
Just hearing this short section of the tape at one a rehearsal inspired the BPO players to take astonishing risks with timing. The saxophone solo in the first movement is played by Phillip Stadlen who gets to the Russian heart of that poignant lament as well as any performance in my experience. (click here to read Jonathan Blumhofer's rave review of this performance)
RACHMANINOV: SYMPHONIC DANCES, BOSTON PHILHARMONIC CONDUCTED BY BENJAMIN ZANDER (lecture and performance)
https://soundcloud.com/boston-philharmonic/rachmaninoff-symphonic-dances-pre-concert-talk-performance/s-do4pl
———


Each week at BPYO rehearsals the players receive an assignment. Part of Shaping Future Leaders through Music, these assignments are designed to create new habits of thought and expression. I speak with Roz Zander, our coach, before each rehearsal. "Where are they in their journey?" she asks, but it turns out she is listening to where I am as well. Then she designs an assignment that fits where we all are in our progress through the year.
These are not ordinary-world assignments - they are non-linear, so both halves of the brain are brought into play.
There is no purely logical way of doing them. They call on creativity and the willingness to expand, not obedience or fulfilling an obligation.
BPYO Assignments Fall 2019
At the beginning of the new BPYO Season, when participation is ramping up, we want the members to redefine themselves as a "contribution" rather than being focused on success (and therefore also on failure).
THROW YOURSELF INTO LIFE LIKE A PEBBLE INTO A LAKE AND THEN WATCH THE RIPPLES
———
DISCOVER GRATITUDE
"The difference between Entitlement and Privilege is Gratitude"
———
A response to the Trump Presidency:
BE AMBASSADORS FOR WHAT THE WORLD NEEDS: BEAUTY, CIVILITY, CONNECTION
———
For the Thanksgiving Break:
WALK WITH SPIRIT AND LOVE
———
The Holiday Season:
BE LIFTED BY THE SPIRIT OF THE SEASON AND USE THE POWER OF THAT SPIRIT TO GENERATE JOY AND ENERGY AROUND YOU
———
The bad habit of lateness is creeping in:
BE EARLY
Be Early: What powerful little words! What an amazing rule! The player who lives by "be early" puts himself in charge of his life. It is virtually impossible to be on time, even though people will persistently aim for it, because the time allotted to "on time" is only a split second, whereas being early and being late have eons to play with. If you aim for being on time you will miss and veer to one side or the other and be out of control no matter which side you land on, because you won't be where you intended to be. If you decide to be early, you are always in charge; you will show up as a considerate person as well as a paragon of responsibility.
Pathways to Possibility: Transforming Our Relationship with Ourselves, Each Other, and the World by Rosamund Stone Zander, Penguin, 2016
Iverson, an undergrad cellist from Tufts, played the game:
Dear Mr. Zander,
I'm writing to you from the movie theater in the full spirit of this week's assignment. I have tickets for a 9:30pm showing of the new Star Wars movie, however this theater (Jordan's Furniture in Reading) you can't choose your seats in advance, so people line up to get in. I have arrived 4 hours early!! And sure enough there's already a line! Thanks for the perfect assignment :)
Love,
Iverson
During the week the President ordered the assassination of Major General Soleimani:
STAND UP FOR SOMETHING YOU BELIEVE IN AND BE VOCAL ABOUT IT
"Thank you so much for the assignment today, it's perfect. My life has gotten overwhelming lately and it's such a good idea to stand up for one's ideas in a clear and grounded way…" Katie Rumin, viola
*********************************************************************
This is the first page of my score of Mahler's First symphony.
Every note challenges us technically, emotionally and spiritually.
I invite the players to participate in the process of preparing the work, by writing comments on their "white sheets" or in e-mails.
Many of these involve technical questions or observations, others reveal how affected they are by the experience. Here are a few examples: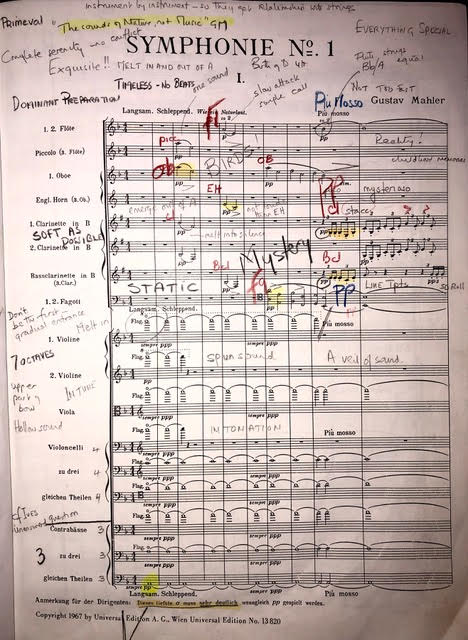 The first page of Ben's score to Mahler's Symphony No. 1
— — —
When it was posted on Facebook, it got over 28,000 views.
Imagine that number of people poring over a page of an orchestral score!
White Sheets: BPYO Rehearsals Mahler cycle
Dear Mr. Zander
The symphony is actually my favorite of Mahler's – the beauty in the simplicity, the striking contrast between angry outbursts and love-filled melodies. This has been a difficult semester for me emotionally but playing Mahler 1 every week has helped me put myself back together. I'm truly grateful to the BPO for this opportunity.
Karlie Roberts
(Principal viola, 1st year at NEC)
————————————————————
My experiences so far with BPYO have awakened a new, more passionate love of music in me. I have had a difficult semester, as my mother has been seriously ill. For me, playing with BPYO has also become a form of therapy. It's a place I can put my worries away and focus on the music, and where I can become a part of something bigger than myself.
Best,
Isabella Liu
(cello: Home Schooled)
————————————————————
I loved Hannah's white sheet because it validates all of those special feelings that I held for that performance and that recording. And I hope we can make an even better recording on Sunday!
I wanted to make another list of notes though, of things we're doing well. It's very rare in orchestras to call out people for doing their jobs well but there are certain moments that have stuck with me every rehearsal, tiny things that just make the whole texture brighter.
- The opening winds in the first movement are as good as I've ever heard them.
- Mark's piano trumpet playing is to die for
- Hunter has the perfect bird sound, you were right
- David's tuba entrance at Rehearsal 13 is so special, it gives me chills every time.
- The soft horn fanfares at Rehearsal 15 are so perfect!
- Changwon's playing at the end of the last movement is so fun to listen to
These are just a few of the things that make my rehearsal experience so great every week. I'm SO excited to play on Sunday. See you in church!
Love,
Iverson
Iverson, a 5 year veteran of BPYO, played in the orchestra's Carnegie Hall performance in 2015
————————————————————
Mr. Zander,
As I take time to relax during this Thanksgiving break at home with my family, I reflect on the many things in my life for which I am grateful, and among the health and happiness of those around me, the BPYO is one of the first things that comes to my mind. I cannot begin to express how much of a pleasure it has been for me to join this orchestra and be a part of a close-knit family even when I am so far away from home. This past semester has been a bit of a struggle for me mentally since none of my family are musicians and it is a bit un-traditional in my culture to pursue a career in the arts. I never knew quite how to answer my family as to why I'm studying to be a musician and not a doctor, engineer, or lawyer, considering I had the grades at school to pursue any other career. Nonetheless, it is the climaxes in the finale of Mahler 1, the sweet sound of a violin solo blossoming over a carpet of Mendelssohnian accompaniment, and the majestic brass interludes during La Forza del Destino that give me purpose. My heart tells me to dedicate my life to music, and I am overjoyed to do just that.
Regards,
Nikki Naghavi
(A violinist Freshman at NEC)
————————————————————
There are no words to describe how I feel about playing in Symphony Hall. If someone had told me a year ago I would be playing there tomorrow, I never would have believed it. I haven't even played in Costa Rica's national theater! It's been one of my greatest accomplishments so far and I'm really grateful for it. Thank you for everything you've done for us!
Best,
Carmela G.
(violin. Arrived six months s ago from Costa Rica)
————————————————————
Being in Project Step, Symphony Hall has been my home for the last 12 years. Although I have performed in all of the performance rooms and been through every single hallway, I have never actually played on stage. I'm so excited for this performance, and I am sure that I will never forget it!
Solomon Hearn
(Senior at Cambridge Rindge and Latin School)
————————————————————
Dear Mr. Zander,
It has been such a joy to rehearse this program with BPYO and it's something I look forward to every week. it has been such a privilege to play with other incredible young musicians and the sound we create is just magical to experience. I especially love playing with Stefan: his playing is so so inspiring and full of emotion and joy. Not being in conservatory, it has been such an incredible and valuable experience to play in BPYO.
Joanna Lau
(Freshman at Harvard, Flute)
————————————————————
Thanks to BPYO, the Mahler 1 is officially my favorite orchestral piece by far, especially the first movement. Thank you!
Sincerely,
Carter Namkung
(Bassoon. A senior at Weston High School)
————————————————————
Dear Mr. Zander,
We took a lot of time to work on the beginning of the Mahler, but it was definitely worth it. The sound of the chords is so delicate yet intricate, so much so that I feel I might break the sound if I move. It's going to be a great concert.
Love,
(Brendan Ho, violin, senior at Wayland High School)
————————————————————
Dear Mr. Zander,
I'm very excited for the concert tomorrow I'm glad I've invited so many of my friends from BU to come because I'm so proud of this final product. Well I've been worried about staying in tune with the first piccolo in the fourth movement, the orchestra has become something truly spectacular.
Grace Helmke
(flutist, Freshman at BU)
————————————————————
Dear Mr. Zander,
I am blown away by the talent and professionalism of this orchestra. I count it as an extreme privilege to be a part of this group. Thank you for generously supporting the orchestra with your time and finances. It has been my dream to play Mahler, and though Symphony 2 is my favorite, Symphony 1 has really touched my heart as well.
With gratitude,
Shaylen
(Harpist from New Hampshire)
————————————————————
Dear Mr. Zander,
Playing Mahler 1 in Symphony Hall is going to be both a joy and a sorrow at the same time for me. It is a joy because it is always going to be a joy to play any of Mahler's music, but departing from the piece will be very sad because the joy that I got from playing it every Saturday will not be there anymore. Also this will most likely be the last time I will play this in a long while. Mahler 1 has meant so much to me in terms of my musical development and maturity, along with the memories I have made. Thank you for giving me the opportunity to play this second time with your interpretation at Symphony Hall.
Thanks,
Ethen Shin
(violist)
————————————————————
Dear Mr. Zander,
I thoroughly enjoyed today's rehearsal. I'm not sure what it was, but it left my heart pounding still up until now while I'm writing this white sheet. I'm so excited to play in Symphony Hall tomorrow in my first concert with BPYO! It means so much to me to be a part of such an amazing orchestra. It's an honor!
Love,
Jesalina Phan
(Ninth Grader at Philip Exeter Academy)
————————————————————
Dear Mr. Zander,
I am so excited and unbelievably grateful to be playing this magnificent program at Symphony Hall with you and the orchestra tomorrow. The Mahler is such a journey – it starts from the beginning of the world almost (the forest coming to life!). There is so much joy and wonder in the first Movement, and the second movement is so energetic and it's almost bursting with youth. The third movement is so sad yet among the immense sadness, we can find a moment of refuge at number 10. I have never personally experienced such a deep sadness, but the relief and peace of that short section always brings tears to my eyes. And the fourth movement is simply glorious – I think ultimately it is a triumph of human goodness and life and happiness. Through the symphony, I have been able to experience emotions of a depth that I have never been able to in my everyday life.
Being given the extraordinary opportunity to play in BPYO is something I am so grateful for. In the short three months I have been with the orchestra, I have been so inspired every rehearsal. I try to apply your lessons to my life every week and I have truly seen a positive change in the way I view the world. Thank you again!
Sincerely,
Isabelle Kim (violin)
(1st year undergraduate at Amherst College)
————————————————————
Today I firmly believe that the ensemble has reached a level of musical understanding and playing that it has not reached before. Although the third movement was definitely a struggle to go through and learn, it was extremely rewarding to be able to hear such a special piece of music with characteristics that almost no other piece displays. Once we reached the end of the 4th movement I was absolutely stunned. Like you said, this is an extraordinarily life-changing movement, with some of the grandest sections and some of the most beautiful and touching moments.
Thank you,
Benjamin Fang
(cello, senior at Amherst Regional High School)
————————————————————
Mr. Zander,
I made an effort to "walk with spirit and love" last week. When my little brother was irksome and irritable, I spoke to him with a caring and warm tone. He wasn't calmed immediately, but once he was, he was moved by our exchange. I sometimes walk from Park Street to South Station on my way home during the week, and a lot of homeless people beg there. I remembered the assignment one of these days and gave change to each homeless person I walked past. They were all elated.
To be a pebble, I think I'll continue to give to the homeless, but also have a giving disposition to all I interact with.
This week's rehearsal was rewarding. I can almost feel the orchestra cohere.
Mahler will certainly inspire me to keep on with the spirit of love.
(percussion, junior at Boston University Academy)
Cole FitzGibbons
————————————————————
Dear Mr. Zander,
What a magnificent rehearsal: We sound amazing for 3 weeks in. Our ending of the symphony is already so triumphant and grand!
Matthew Zhou
(viola, Senior at Sharon High School)