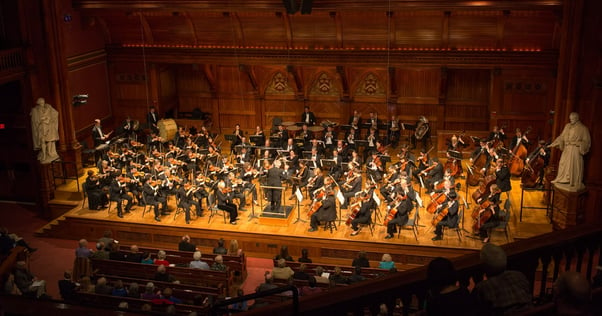 The Boston Philharmonic Orchestra, conducted by Benjamin Zander, will open its 2016 2017 season with an all-Russian program. This program spans three centuries of Russian music and features the Boston premiere of contemporary composer Lera Auerbach's Icarus and pianist Ya-Fei Chuang in Rachmaninoff's Rhapsody on a Theme of Paganini. Lera Auerbach will be present at one of the performances (date TBD).
The concerts will take place on:
Thursday, October 20 at 7:30pm (Discovery Series)
at Sanders Theatre, 45 Quincy St, Cambridge, MA;
Saturday, October 22 at 8:00pm with a Conductor's Talk at 6:45pm
at NEC's Jordan Hall, 30 Gainsborough St, Boston, MA;
Sunday, October 23 at 3:00pm with a Conductor's Talk at 1:45pm
at Sanders Theatre, 45 Quincy St, Cambridge, MA.
The concert opens with newly-appointed Assistant Conductor Benjamin Vickers leading the Boston premiere of Lera Auerbach's Icarus, a work of striking sounds and soaring themes that expands the Russian palette of dramatic and emotional orchestral music with the addition of theremin and glass harmonica to the ensemble. Auerbach's orchestral works have been performed by major orchestras around the world, but this is the first time one of her orchestra works is being presented in Boston. These concerts also mark the first time that a piece on a Boston Philharmonic subscription concert is being conducted by anyone other than Mr. Zander. Thorwald Jørgensen, who is one of the few classically trained theremin players in the world and who has performed Icarus in Europe many times, has flown to the United States especially for these performances. He will give a demonstration of the instrument during Mr. Zander's pre-concert talks.
Working backwards through music history, the BPO follows this bold opener with pianist Ya-Fei Chuang's debut with the orchestra in Rachmaninoff's beloved virtuoso masterpiece, Rhapsody on a Theme of Paganini. Ya-Fei Chuang is well-known to Boston audiences as a soloist and chamber player.
The concert closes with Tchaikovsky's passionate and tragic Symphony No. 6, the Pathétique, a work whose power to move the listener in an almost visceral way remains undiminished. The Pathétique was the centerpiece of the Boston Philharmonic Orchestra's debut concert in 1979 and is a work that Maestro Zander has returned to every 8 to 10 years; this will be its fourth presentation by the orchestra.
Maestro Zander explains his enthusiasm for this work: "Tchaikovsky is at the center of the orchestral repertoire and the Pathétique is the greatest of his symphonies. If anyone wants to become familiar with symphonic repertoire, this is the place to start!"
Tickets for the performance range from $25 to $105 with $10 tickets available for students. Tickets may be purchased by calling the box office at 617-236-0999 or by visiting bostonphil.org.
Born in 1973 in Chelyabinsk, a city in the Urals bordering Siberia, composer, pianist,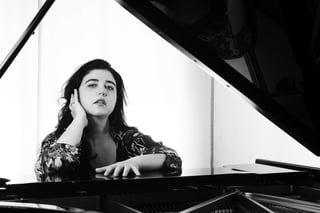 artist and poet Lera Auerbach became one of the last artists to defect from the Soviet Union, during a concert tour in 1991 while still in her teens. She subsequently earned Bachelor and Master's degrees from The Juilliard School. In 2002 she graduated from the prestigious piano soloist program of the Hannover Hochschule für Musik. Auerbach's compositions have been commissioned and performed by a wide array of artists, and orchestras including Gidon Kremer, the Kremerata Baltica, David Finckel, Wu Han, Hilary Hahn, The Tokyo, Kuss and Petersen String Quartets, the SWR Stuttgart, NDR Hannover and Düsseldorf Symphony Orchestras (Germany), the São Paulo Symphony (Brazil), Orchestra Ensemble Kanazawa (Japan), Concerto Budapest Symphony Orchestra (Hungary), and the New Century Chamber Orchestra (USA). Her music is available on Deutsche Grammophon, Nonesuch, BIS, Cedille and other labels. This fall Auerbach released Arcanum, a CD of her viola compositions and transcriptions performed by Kim Kashkashian on the ECM label.
In addition to her extensive orchestral and chamber works, Auerbach has written opera and ballet. Her opera, Gogol—for which she wrote both the libretto and music—was commissioned by the Theater an der Wien in Vienna and received its critically acclaimed premiere in 2011. This occasion marked the first time a major opera written by a female composer was produced in Vienna. Her groundbreaking sensory-immersive a cappella opera, The Blind, has received productions in Germany, Norway, Russia, the United States and Austria.
Auerbach has enjoyed a long-standing collaboration with renowned choreographer John Neumeier. Together they have created three highly popular ballets: Tatiana, The Little Mermaid, and Preludes CV. Other recent highlights include Auerbach's oratorio, In Praise of Peace, commissioned for the 20th anniversary of the Verbier Festival, the multilingual Requiem—Dresden Ode to Peace for the Staatskapelle Dresden, the string symphony Memoria de la luz, her Russian Requiem, three violin concertos, a double concerto for violin, piano and orchestra, Symphonies Nos. 1 (Chimera) and 2 (Requiem for a Poet), and Gallows Songs for chorus and saxophone quartet.
Auerbach is equally prolific in literature and the visual arts (especially painting and sculpture) and incorporates these forms into her professional creative process, simultaneously expressing ideas visually, in words, and through music. In 1996, she was named Poet of the Year by the International Pushkin Society. She has published three books of poetry in Russian and her first English-language book, Excess of Being—in which she explores the difficult form of the aphorism—was published by Arch Street Press in 2015. Her visual art has been included in several exhibitions and, in 2013, her first solo exhibition was presented in Norway. Her paintings are often exhibited at performances of her musical work and have been reproduced in magazines, CDs and books.
Pianist Ya-Fei Chuang first performed on television in her native Taiwan at the age of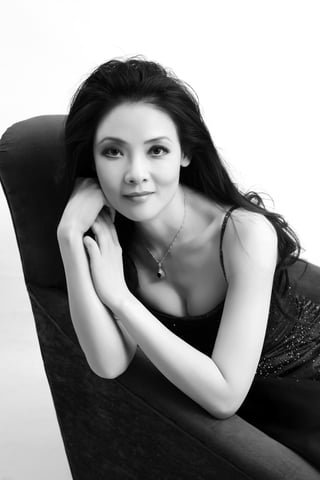 eight and gave her first public recital at age nine. She went on to win first prize at the National Competition (Taiwan) at age 11. The following year she received unprecedented fellowships and scholarships from several foundations in Germany and Taiwan that enabled her to pursue pre-college, undergraduate, and graduate-level studies at the Freiburg Conservatory (Musikhochschule). During this time she was awarded prizes including the Basel-Colmar-Freiburg Arts Prize and the Mendelssohn Prize in Freiburg. She subsequently concluded her studies at the Musikhochschule of Cologne. In 1993, Ya-Fei Chuang moved to the United States, where she earned a graduate diploma at New England Conservatory, with Russell Sherman.
Ya-Fei Chuang's mastery of the most challenging solo repertoire is complemented by extensive activities as a chamber musician and duo partner, and by her commitment to contemporary music. She has given the world premieres of works by John Harbison, Stanley Walden, Thomas Oboe Lee, and Pulitzer prizewinner Yehudi Wyner. She is on the faculty of the Boston Conservatory, New England Conservatory Preparatory Division, teaches a piano performance seminar for the Continuing Education; and gives master classes throughout the United States, Europe, and Asia, and annually a two week master class at the Mozarteum, Salzburg.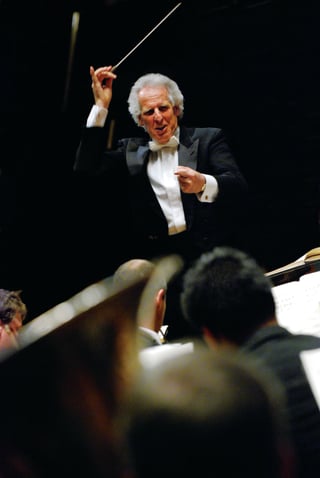 Benjamin Zander is the conductor of the Boston Philharmonic Orchestra and the Boston Philharmonic Youth Orchestra and a guest conductor around the world. With London's famed Philharmonia Orchestra he is recording the complete cycle of Mahler symphonies, recordings that have been received with extraordinary critical acclaim both for the performance and Zander's now famous full-length disc explaining the music for the lay listener. Their recordings of Mahler 9th and Bruckner's 5th Symphony were nominated for Grammys for Best Orchestral Performance. Their latest recording, Mahler's 2nd Symphony, was nominated for a Grammy in 2014.
In 1967, Mr. Zander joined the faculty at New England Conservatory, where he taught an interpretation class, conducted the Youth Philharmonic Orchestra, and conducted the conservatory orchestras. For 30 years he was the Artistic Director of the joint program between New England Conservatory's Preparatory School and The Walnut Hill School for the Performing Arts in Natick, Massachusetts.
Mr. Zander is one of the most sought after speakers in the world. He has given both the opening and the closing Keynote address at the World Economic Forum in Davos, where on another occasion he was awarded the Crystal award for "outstanding contributions in the Arts and international relations". In 2002 he was awarded the "Caring Citizen of the Humanities" Award by the International Council for Caring Communities at the United Nations. In honor of his 70th birthday, and 45 years of teaching, he was recently awarded an Honorary Doctorate by the New England Conservatory. His partner Rosamund Zander and he have collaborated on a best-selling book, The Art of Possibility which has been translated into fifteen languages.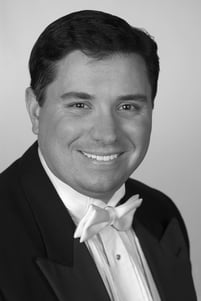 Benjamin Vickers is the recently-appointed Assistant Conductor of the Boston
Philharmonic for its 2016/2017 season. A native of New Mexico, he earned degrees in cello performance from the University of New Mexico and Arizona State University and conducting from the University of Michigan. Mr. Vickers was appointed Music Director of the Narragansett Bay Symphony in June 2014 after a year-long national search. In February 2015, he became music director of the Lincoln-Sudbury Civic Orchestra. Previously, he was Assistant Conductor at the Boston Landmarks Orchestra, and the Zander Conducting Fellow at the Boston Philharmonic Orchestra.
Program:
Lera Auerbach: Icarus (Boston premiere)
Rachmaninov: Rhapsody on a Theme of Paganini (Ya-Fei Chuang, piano)
Tchaikovsky: Symphony No. 6, Pathétique
About the Boston Philharmonic Orchestra:
The Boston Philharmonic Orchestra, founded by Benjamin Zander in 1979, features professional, student, and amateur musicians. One of Boston's premier orchestras, the Boston Philharmonic follows a vision of passionate music making without boundaries by presenting top-notch music in a manner that both aficionados and the casual listener can enjoy.
The orchestra's season includes performances at Symphony Hall, New England Conservatory's Jordan Hall, and Sanders Theatre at Harvard University. The Philharmonic performs with a wide range of soloists from highly gifted performers at the start of their international careers such as Stefan Jackiw, Gabriela Montero and Caitlin Tully, to world-famous artists like Yo-Yo Ma, Alexander Baillie, Russell Sherman, Jon Kimura Parker and Kim Kashkashian and legendary masters such as Ivry Gitlis, Denes Zsigmondy, Georgy Sandor, Leonard Shure and Oscar Shumsky. The Philharmonic has released five critically acclaimed recordings, including works by Stravinsky, Beethoven, Mahler, Shostakovich and Ravel.
The orchestra presents innovative pre-concert talks with the conductor, Benjamin Zander. Zander has a unique approach to explaining classical music, and his intense passion for the art form attracts hundreds of attendees for each talk.