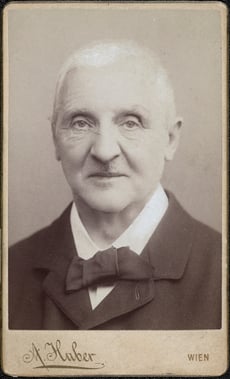 February 23-26, the Boston Philharmonic Orchestra will take on the monumental, yet unfinished, Ninth Symphony by Anton Bruckner.
While he is most often recognized as a leading interpreter of Mahler, Anton Bruckner is a composer that has an equal place in conductor Benjamin Zander's heart.
While Bruckner's expansive music holds an uneasy place in orchestral repertoire and is not always on the top of listeners' lists of works they are keen to hear in concert, Zander encourages everyone to come to these symphonies, and especially the Ninth with an open mind. "The orchestra loves to play Bruckner's music. Even if you don't think you will enjoy Bruckner, I think you will be surprised how much you will come to love it."
Benjamin Zander reflected further on the special effect Bruckner can have on listeners after a recent rehearsal with the BPO.
"This music has an extraordinary effect on the mind. [Everyone came out of that rehearsal] radiant, calm, and full of love. There are very few things you can do to create that nowadays."
Benjamin Zander finds Bruckner's music rejuvenating and particularly beautiful. "It makes you feel very healthy. It gives you access to a state of mind quite outside that of normal life that is especially needed in these anxious times."