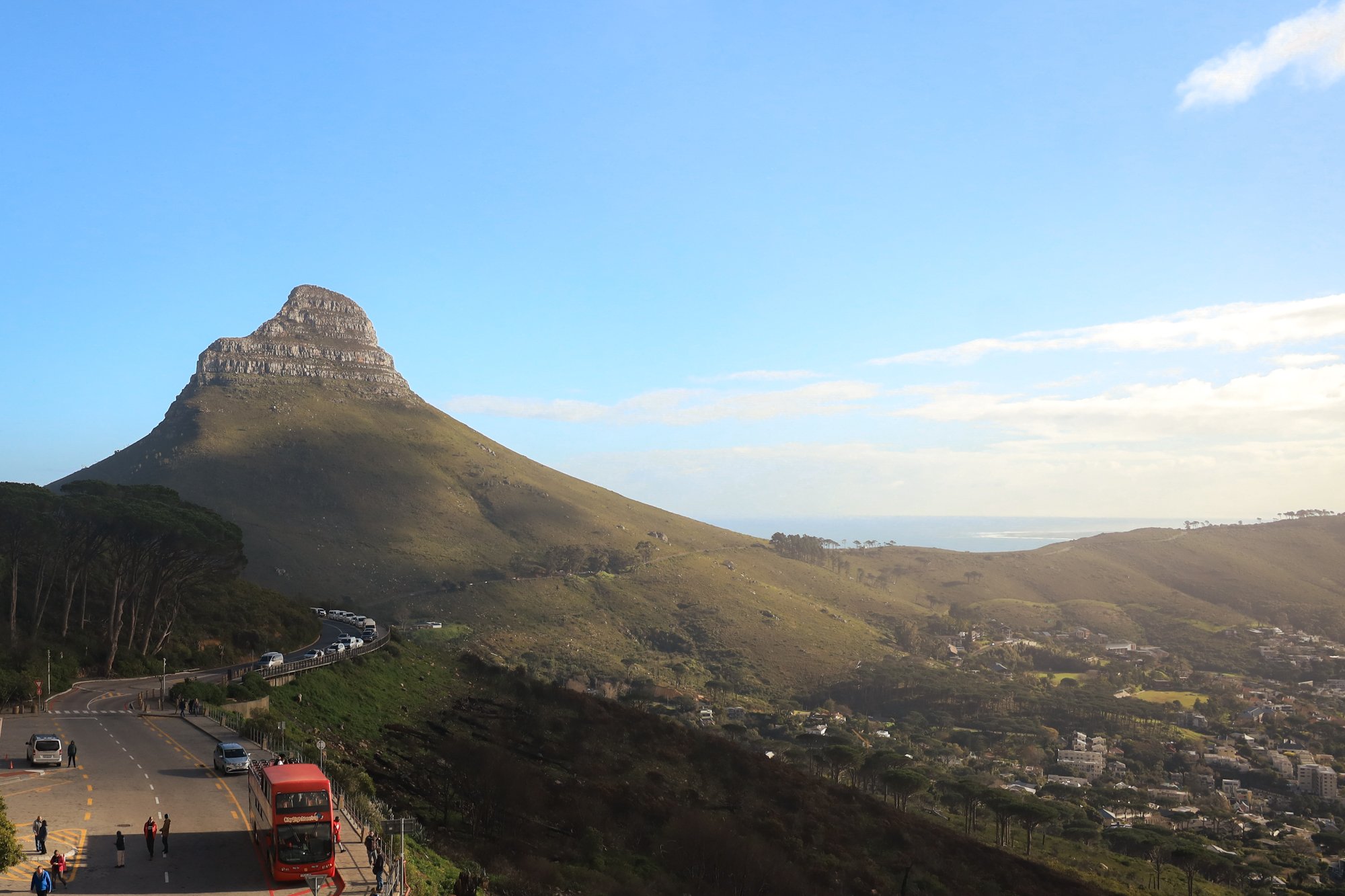 Lion's Head, as seen from Table Mountain in Cape Town.
Cape Town is, somehow, on and gone already; Makhanda and the final two concerts of the tour await; and now there's a bit of room to process these incredible last four days.
We flew here from Johannesburg on Sunday night, arrived after midnight, and were immediately confronted with a natural element rare to BPYO tours: rain. The fact that it's winter in South Africa had hitherto largely escaped notice. But down at the tip of the African continent, where one is faced, quite literally, with blustery winds from the Antarctic and the confluence of the Atlantic and Indian Oceans, the rawness of the season can bite.
Of course, South African winter isn't as severe as the New England version: highs were around 60 during our stay and the winds, though intense when we arrived, abated considerably by Tuesday.
Even so, the touristy portion of our excursion to Cape Town was thrown into a bit of disarray: Monday's trip to Table Mountain was pushed to Tuesday; upon our arrival atop the massif, a huge cloud descended, visibility was cut to zero, and what a whimsical Swiss signmaker in Luzern recently designated "confetti from heaven" soaked us to the bone. Most of the group passed our hour atop the peak in the gift shop.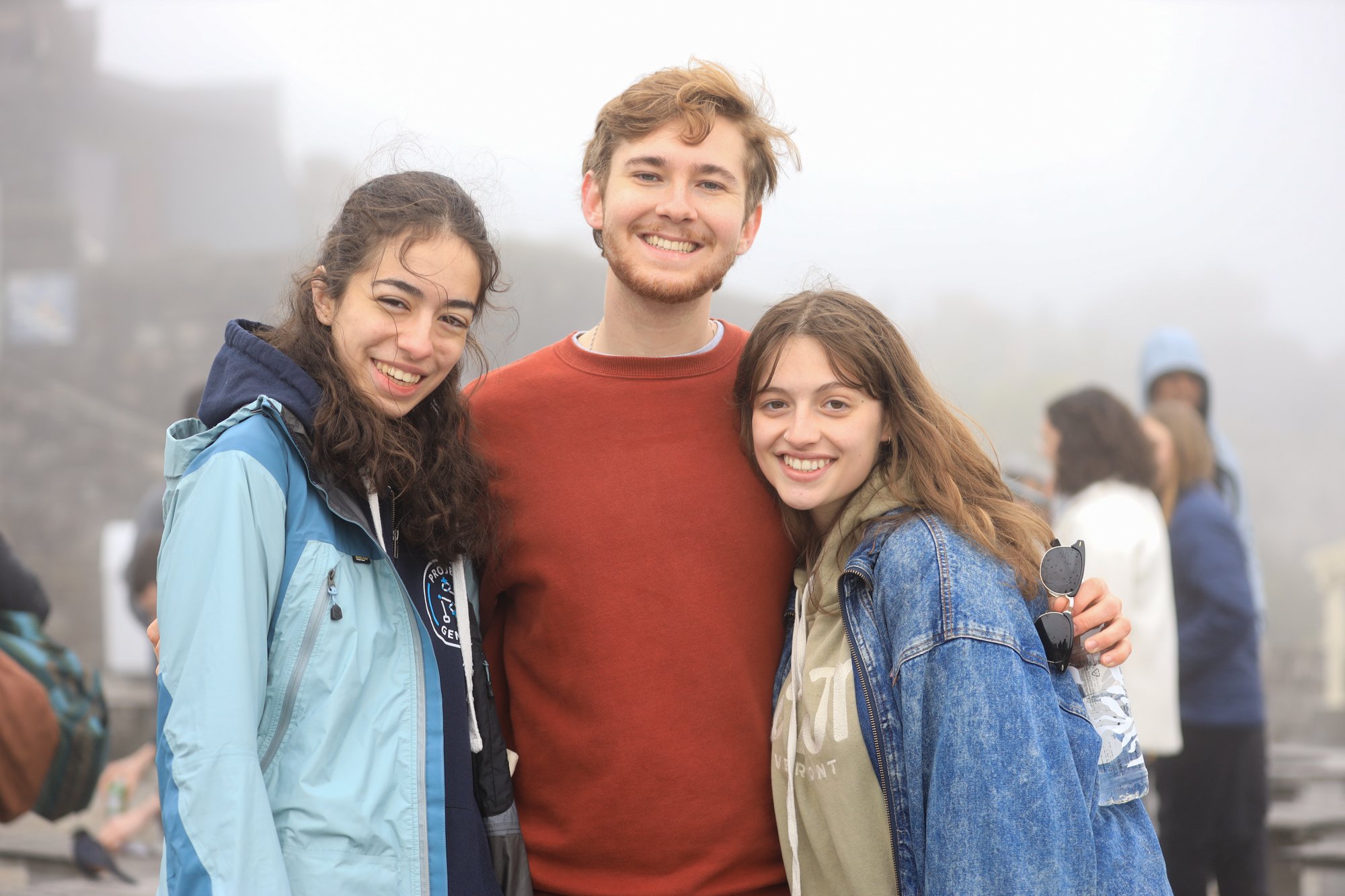 BPYO members Sophia Knappe (l), Cole Turkel (c), and Grace Helmke (r) in the mists atop Table Mountain.
Thankfully, inclement weather had no bearing on the orchestra's musical activities. These included a pair of side-by-sides with local ensembles. The first, held at the Athlone School for the Blind, was the tour's biggest, thus far, with somewhere around 300 musicians packed into a single room. The other prefaced Wednesday's concert. If neither exhibited the improvisational joie de vivre of exchanges in and around Soweto, the first ended with a mean jam session between brass and percussion and the second provided an extended time for BPYO players and local musicians to mingle.
The Cape Town concerts, though, promised to be the main events of our time in the city and they delivered.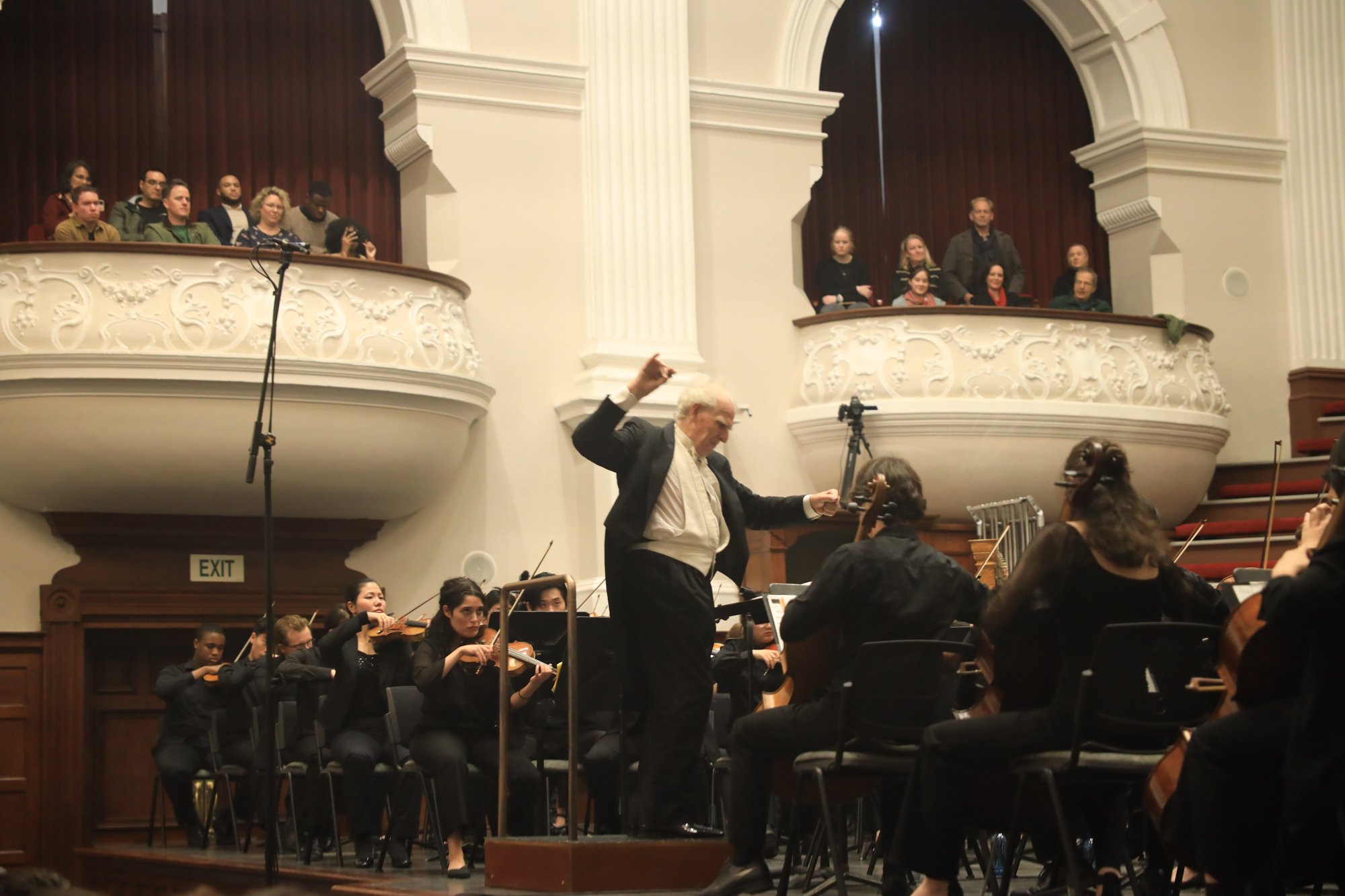 Benjamin Zander leading the BPYO in Mahler's Resurrection Symphony at Cape Town's City Hall.
Tuesday night's Mahler Second at City Hall followed on the heels of our unforgettable Soweto concert and a similarly pleasing – though not as emotionally fraught – rendition of the piece on Sunday in Johannesburg.
Benjamin Zander's overall interpretation of the work was largely unchanged from what he led the BPYO in during their May concert at Symphony Hall. Tempos moved smartly, though, when called for (like in the second movement), with a becoming degree of flexibility.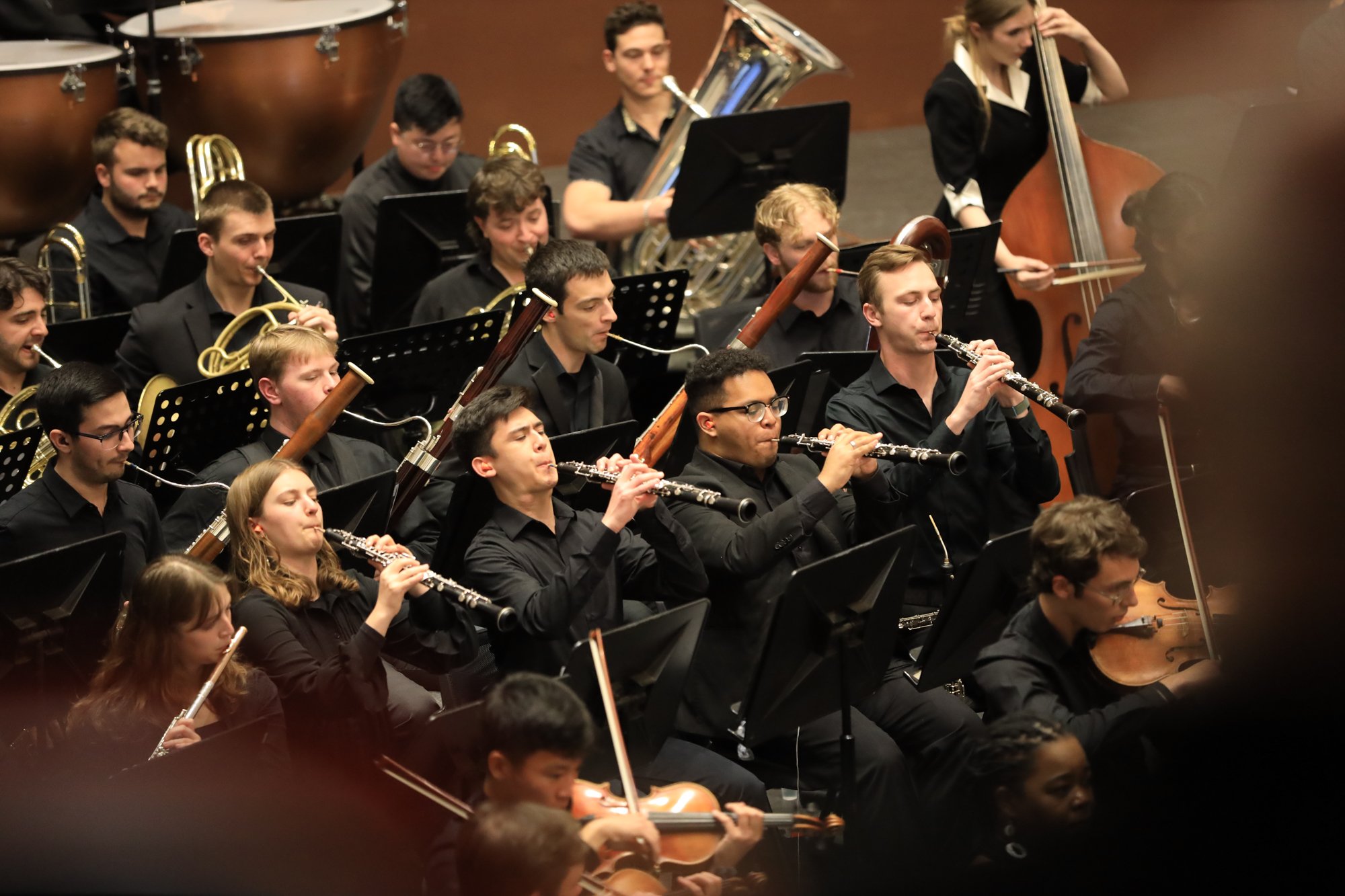 Schalltrichter auf!: the BPYO performing Mahler's Second in Cape Town.
The orchestra's confidence with the music was, in this, their final reading of it, truly invigorating. They played the first movement with furious intensity: its tremendous climax drew gasps from the audience (though, this time, no applause). Meantime, the stereophonic figures in the Scherzo danced and the BPYO provided a warm, singing accompaniment during the "Ulricht."
It was the finale, though, that carried all else before it, the music's spatial effects emerging precisely and the buildup to the Gauteng Choristers' final statement coming across with thrilling intensity. Ben, who had noted to the night's audience that this might be his last time ever conducting the symphony, earned the ensuing ovation as much as his players. To be sure, one hopes the man has a few more Mahler Seconds in him. But, if this indeed was his last go-around with the piece, it was fittingly grand and satisfying.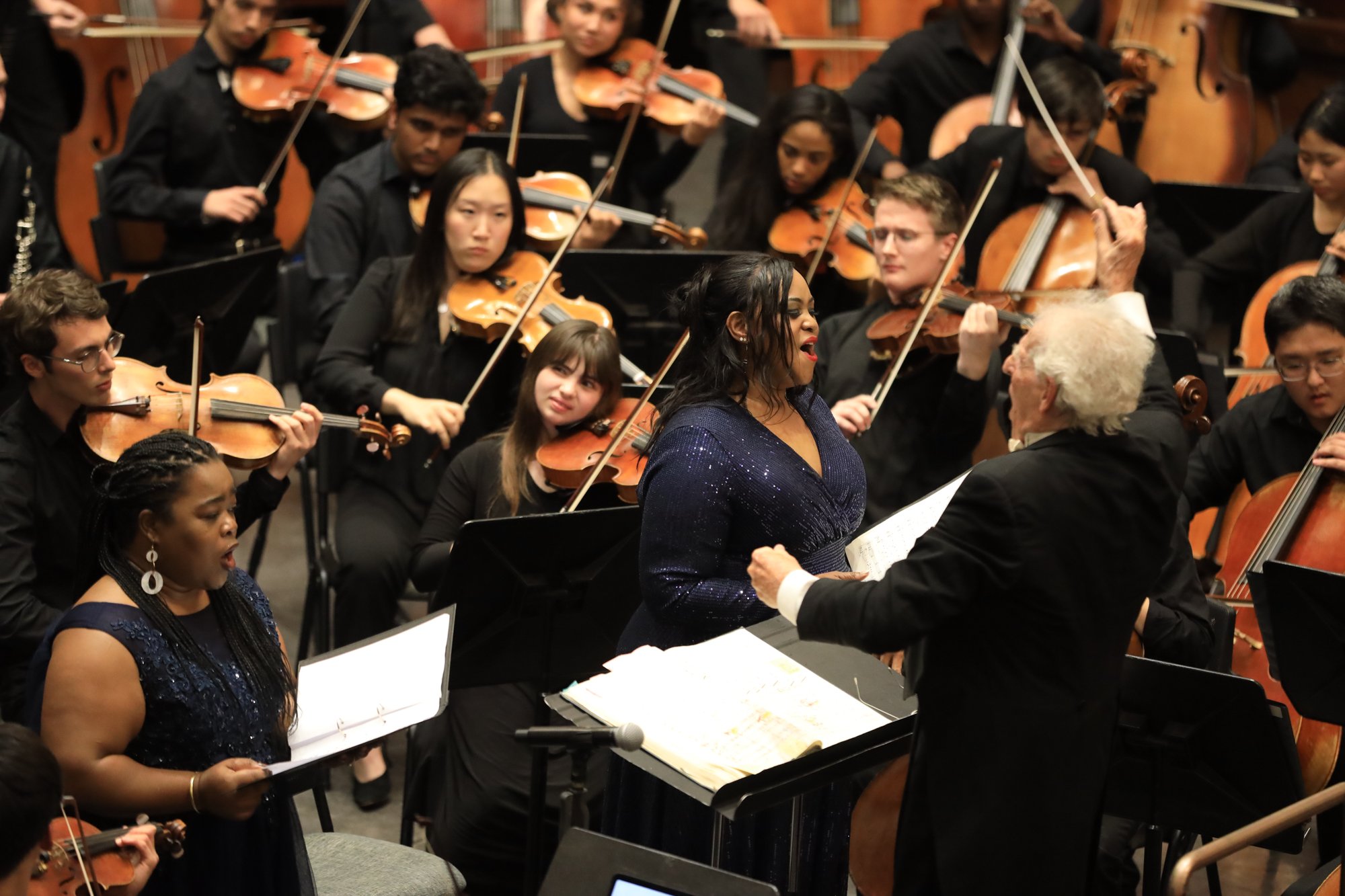 Mezzo-soprano Bongiwe Nakani Mcetywa (l), soprano Andiswa Makan (m), the BPYO, and Benjamin Zander (r) heading for the summit in Mahler's Second.
The following night, the BPYO convened at the Hugo Lambrechts Music Centre for the tour's fifth concert, which reprised their Beethoven-Strauss double-bill. This venue was a bit more compact than City Hall and, for selections demanding such massive forces, it promised a degree of sonic intensity that several of us feared would be unpleasing.
In the event, though, it was anything but. Ben has an uncanny sense of what makes this music work and it's not just a matter of tempo (important though that is); he's spent much time in rehearsal focusing on musical shape and character, too.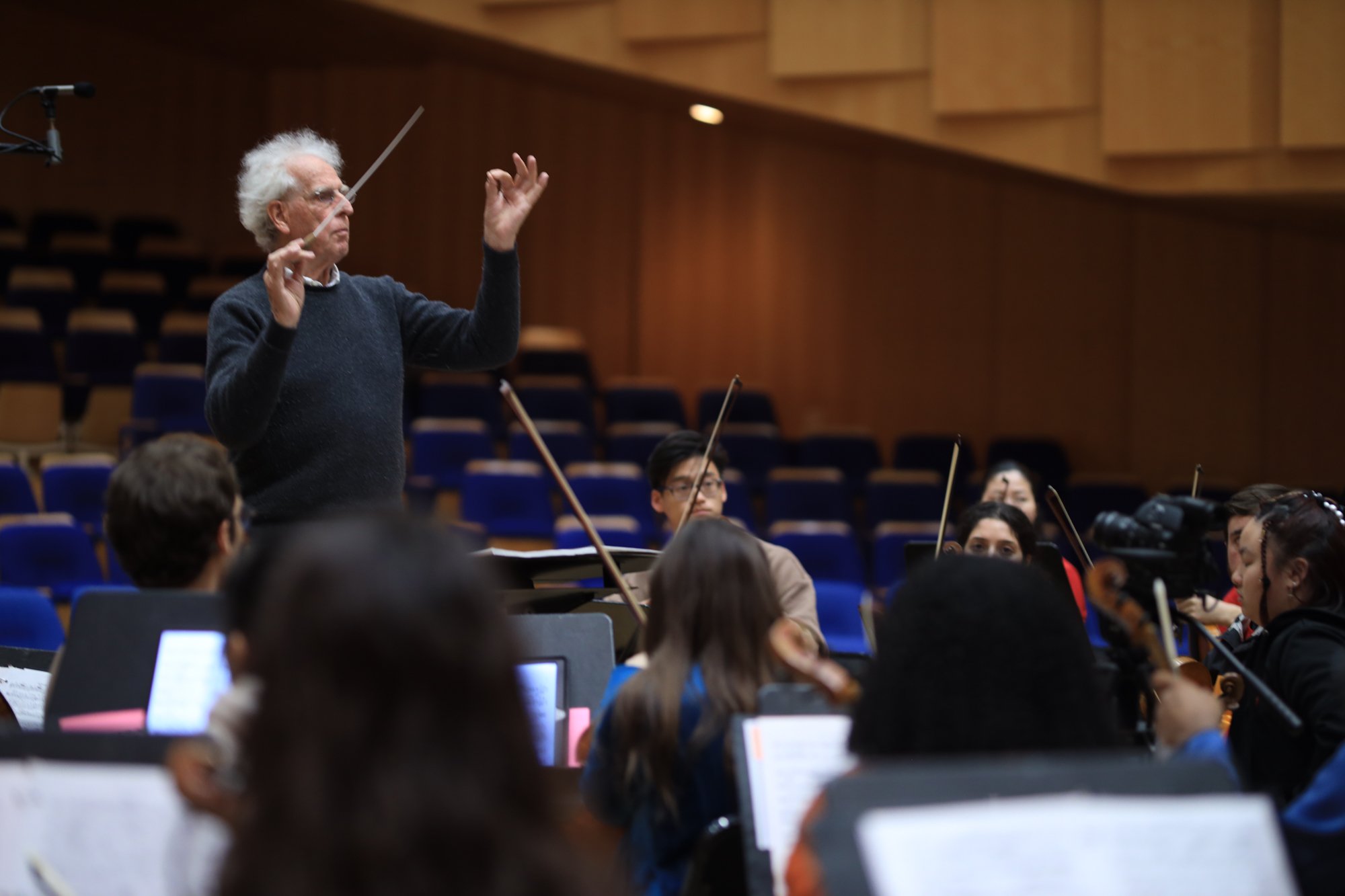 Benjamin Zander rehearsing the BPYO in Wednesday night's program at Cape Town's Hugo Lambrecht Centre.
Accordingly, the orchestra's account of Beethoven's Fifth, some issues of dynamics and textural clarity notwithstanding, was admirably focused and tight, especially in the outer movements. The finale, in particular, sounded resplendent, its closing piccolo runs skipping gaily.
The Strauss was, in many regards, as pleasing as last Wednesday's reading: shapely, secure, and swaggering (those high horn E-flats before "The Hero's Works of Peace" again landed spectacularly). The notable difference between this performance and the previous one was concertmaster Michael Fisher's solos. He'd spent time during the week working with chaperone (and BPO violinist) Sarita Uranovsky refining his approach to the music.
The efforts paid dividends: Wednesday's playing brimmed with passion, energy, and a huge range of colors. Also, a sense of freedom that hadn't been as evident in Pretoria. Afterwards, the house responded with thunderous applause and Ben led the orchestra in a beautifully shaped encore of "Nimrod" that, at its apex, flowed with radiant clarity.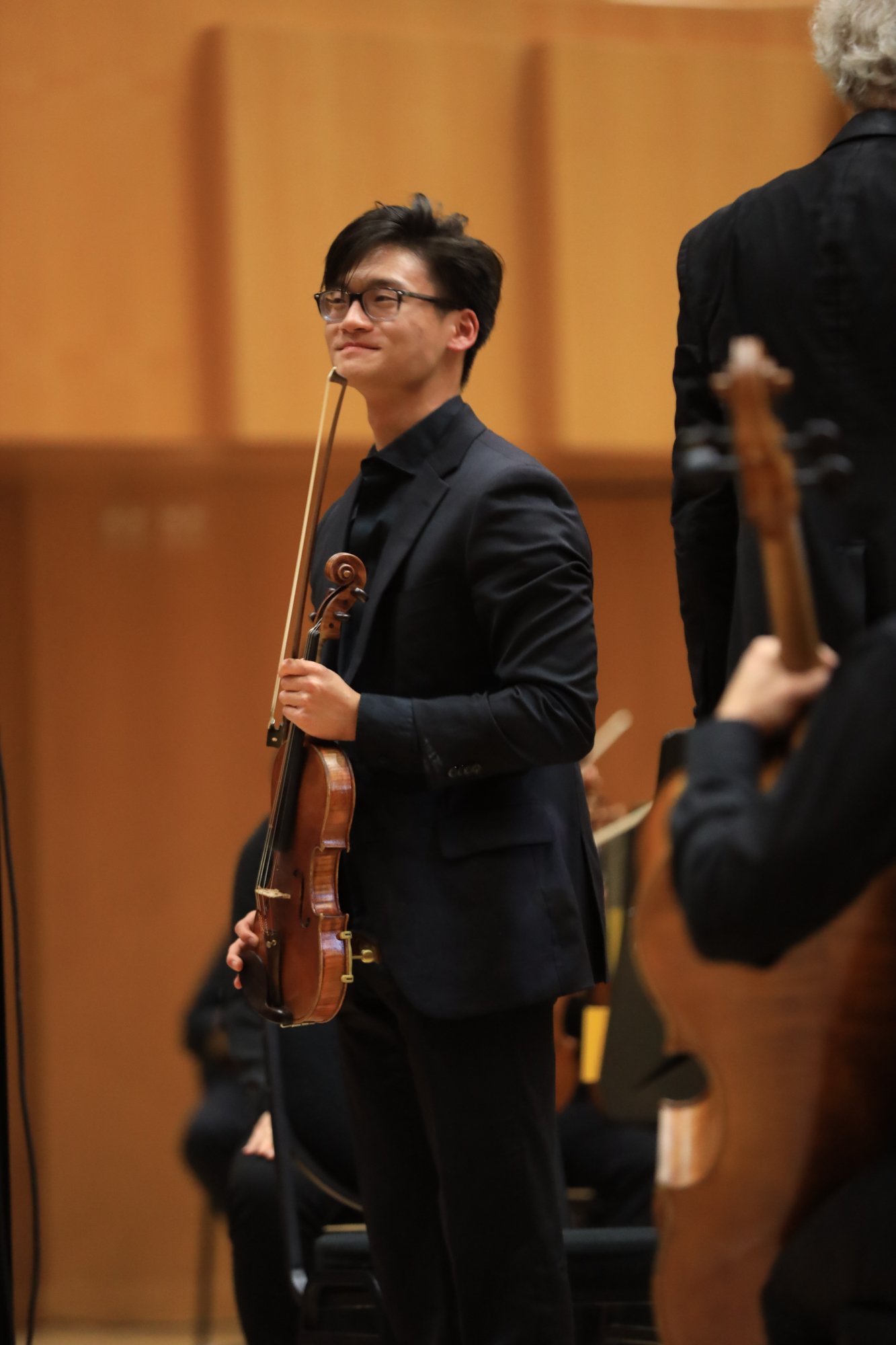 BPYO concertmaster Michael Fisher taking his post-Strauss bows.
That Elgar closer, in fact, has gotten better and better as the tour has gone on: warmer, more responsive, more deeply expressive. And it's always been received with intense appreciation. Mahler and Strauss are novelties in South Africa (largely because the orchestral scene here is smaller in scale and numbers than the BPYO). But theirs are also long, complex works. "Nimrod" is marvellously to the point, especially when understood – as Ben always makes a point of emphasizing – as music depicting friendship and love.
Those two characteristics seemed to come across from the stage very clearly during our time in Cape Town. What's more, they were palpably returned by the several thousand who got to hear and play with the BPYO over the last couple of days. That is a special phenomenon.
Granted, Ben and the orchestra weren't crossing the same cultural, economic, musical, and racial borders in Cape Town that they did in Soweto. All the same, they were clearly fulfilling an important mission for those with whom they did interact here (and in Johannesburg, for that matter).
There will be more on this to come, but to say that we've found in South Africa a strong desire to hear and experience what the BPYO has to offer is to put things mildly. Now, as we head into this unforgettable journey's home stretch, the exciting thing will be to discover the new and distinct ways in which this enthusiasm will next manifest itself.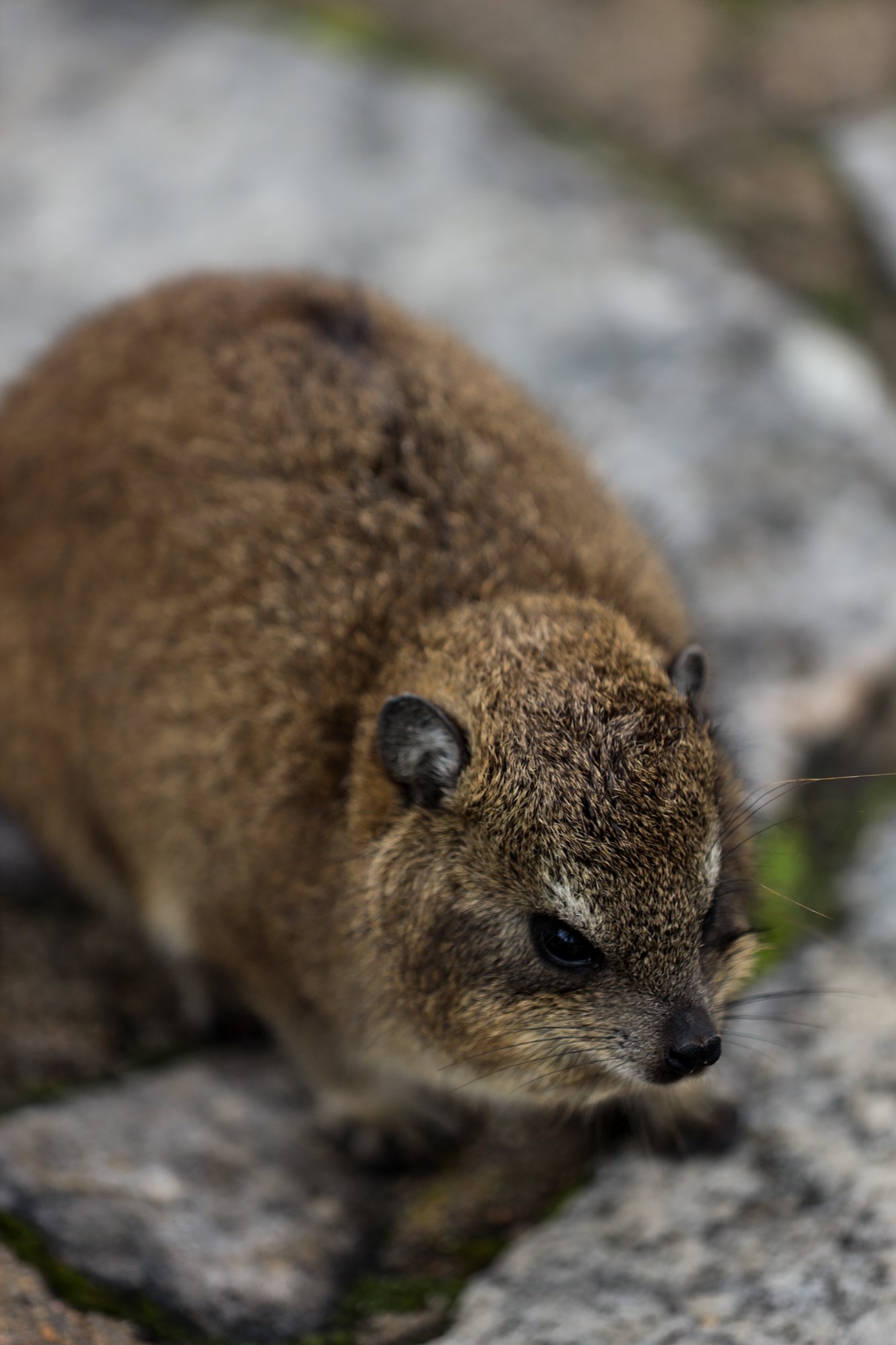 A photogenic dassie on Table Mountain.
Photo credits: Paul Mardy