This morning sitting alone in my garden, it occurred to me what a gift it is to have all of you, from both orchestras, in my life. You have become for me a single community of beloved musicians and friends, all likely, at one point or another, to suffer isolation, fear for the future and losses of some kind, as we all are. I miss you all terribly. I have given up trying to predict what is going to happen, instead, I thought I might share with you some of my experiences and thoughts from a world of possibility, because along with the suffering that so many are experiencing, and the anxiety of not knowing what Is going to happen, is, of course, a tremendous opportunity, the way an unwritten score or a blank canvas is both terrifying and an exciting invitation.
I have put things in this letter that I thought might bring some value or a moment of pleasure. You might even be inspired by something you see here to start making tracks on something of your own. Think of it like a magazine that you dip in here and there over the coming weeks. Don't miss the Petrushka story. If you have a young person in your life - student, niece, friend, pass it on to them, especially if they have started to play music. It is sure to open some doors, as it has for Natasha.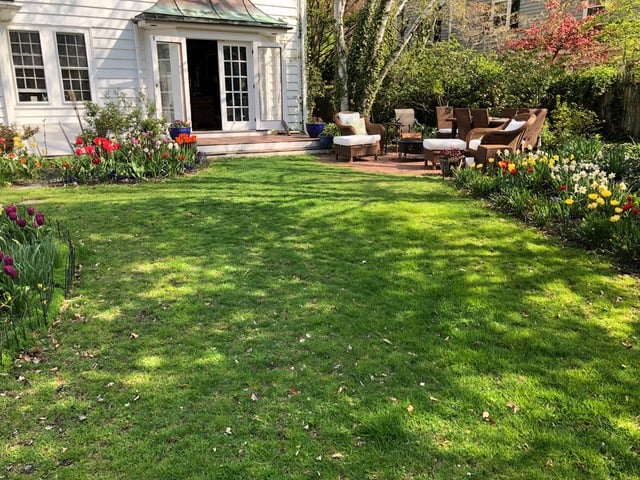 But first let me answer two frequently asked questions:
HOW ARE YOU?
This is the question that we are asked most often - and not in the usual casual way. A casual, flat lined "how are you?" is no longer a plausible way of greeting a person. It is a phrase that carries the weight of life and death, like the somber opening of the funeral march of the Eroica symphony. That is especially true for those of us who have passed 80 and it is therefore often delivered with doleful eyes, cocked heads and pained emphasis, even over the phone.
So, let me report that I am extremely well. Thank you.
That is due to a number of factors: the most notable of which is that I have not left my
home for any purpose since the BPYO concert in Symphony Hall on March 12th. I
have a beautiful home (and garden) and so, being under house arrest is no great
hardship. I have three people, all of whom are maniacally committed to the most
rigorous practices of anti-covid protection, and stand at the door like three Valkyries,
making sure that I am protected, fed and safe - Luzia, my Brazilian cleaning lady of 22
years, who comes three times a week and leaves with every surface gleaming
spotlessly; Amanda my wonderful and meticulous assistant, who comes in each day at
9.30 and Rachel who is a house guest on the third floor.
HOW HAVE YOU BEEN MANAGING DURING THE COVID EMERGENCY?
Rachel came into my life in an odd way, a story which is, perhaps worth telling, because
it is so much part of the possibility world in which I have chosen to live and which I
share with you in as many ways as I can. As many of you know my front garden is
gorgeous.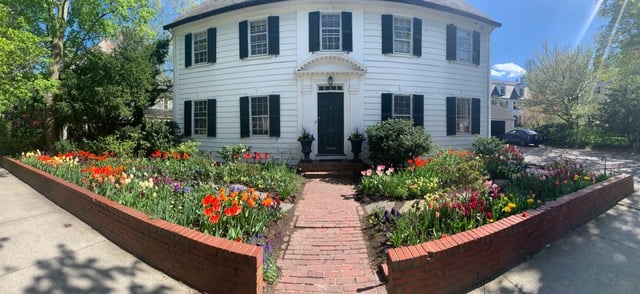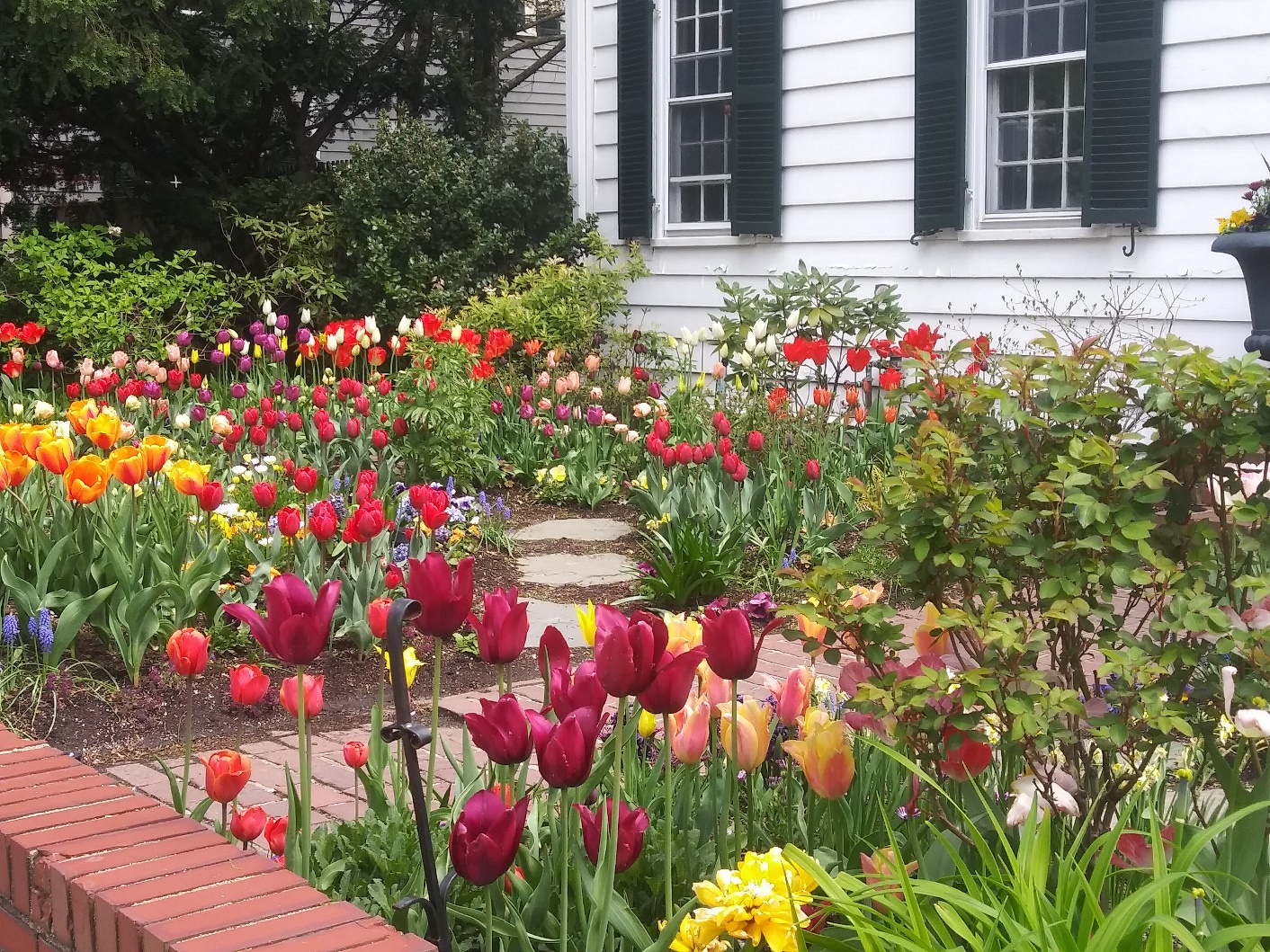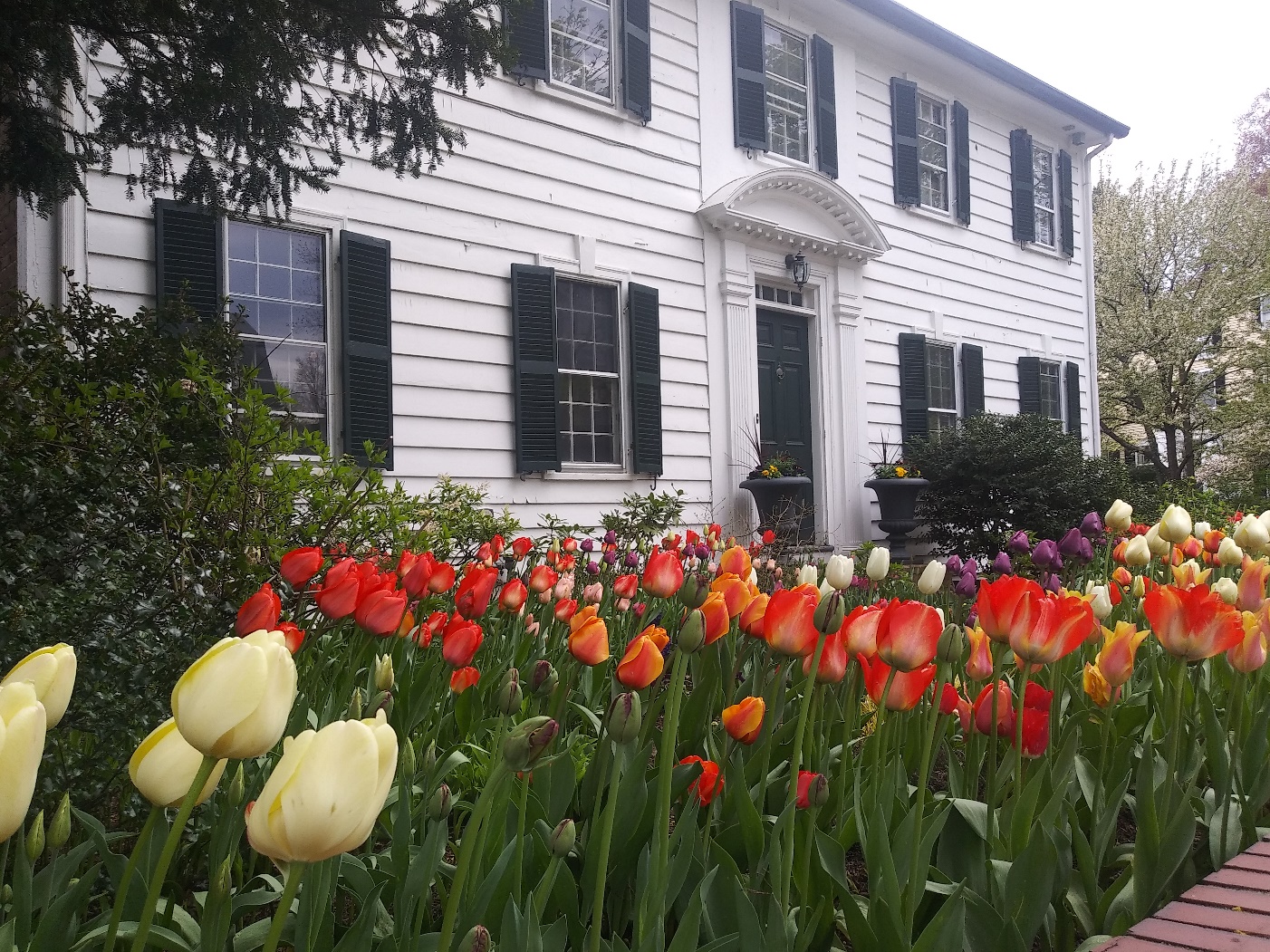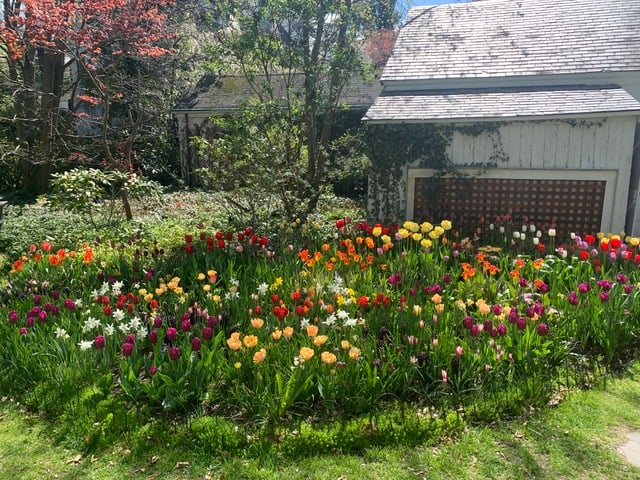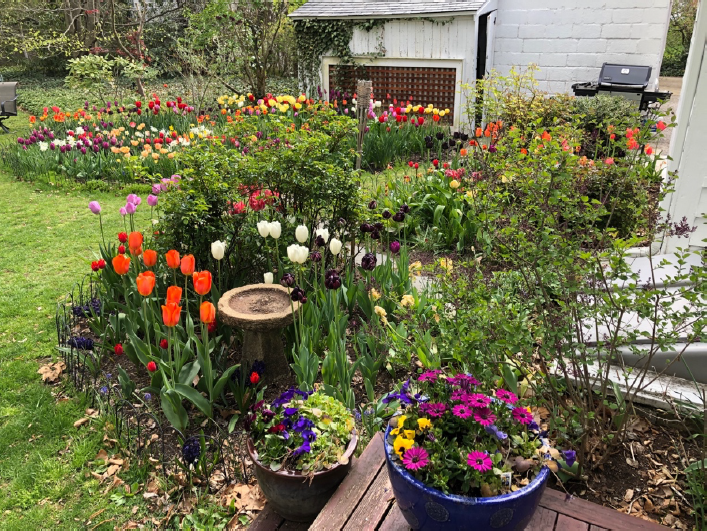 So, in order that the citizens of Cambridge not be deprived of the pleasure of viewing it,
last spring Jenny Talbot, my gardener, put a notice in the front garden reading:
MORE BEAUTY IN THE BACK,
PLEASE PEEK
As a result, I often had random people wandering into my back-garden, many of whom
turn up at Sanders Theater or Jordan Hall, because, like flies caught in a spider's web,
few were allowed to leave without a flyer for an upcoming concert.
One day last June two women dropped by to peek, while I was having lunch in the
garden. I offered them some wine and then, after more delightful conversation, a little
lunch. The elder one was a lawyer from San Francisco, the other was her daughter,
Rachel, out on a leisurely walk with her mom along Brattle Street, after celebrating the
end of a graduate program at Harvard Law School. Rachel, an executive coach, had
several clients waiting for her in New York, but no desire to return there. During her
year studying at Harvard, she had fallen in love with Cambridge. Well, as it happened,
my assistant of seven years had just left, so I needed a temporary assistant and I had a
room on the 3rd floor. So, it was arranged. Rachel helped me as a volunteer over the
summer, until Amanda my new assistant came on board.
When Covid-19 arrived Rachel generously offered to take over doing all the shopping, so
that I didn't need to leave the house. She also loves to cook, so I am the beneficiary of
that too! She just got a puppy, which is adding a lot of delight to our lives.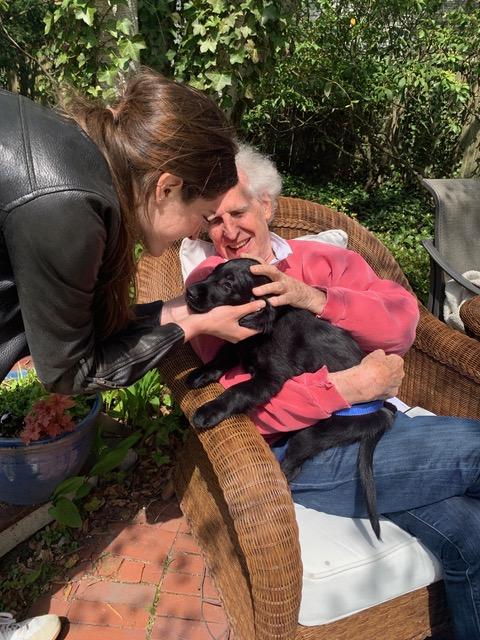 Rachel, Beau and Ben
Rachel will be taking Beau with her when she moves into an apartment in
Boston on July 1st. It is lovely having a furry creature in the home for a few
weeks now that I am not traveling, or even leaving the house. I have all the pleasures
of a pet, without any responsibilities!
Just think if she and her mother hadn't taken up that invitation to peek. Never
underestimate what can come out of a spontaneous decision.
Rachel and Amanda have become fast friends. Rachel has just returned from standing
at the finish line cheering Amanda on completing a solitary half marathon (13.1 miles)!
Amanda is a serious athlete, as well as a member of the first violin section of both the
New England Philharmonic and Mark Churchill's Symphony pro Musica.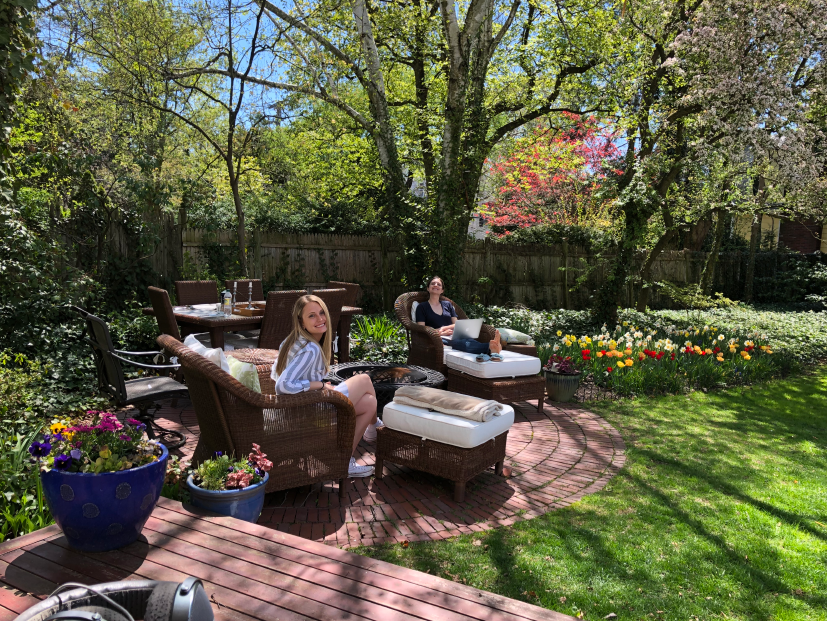 Amanda and Rachel
Talking of athletics, one reason I have been able to maintain good health is my Peloton
bike. I usually get to do 7-9 miles a day.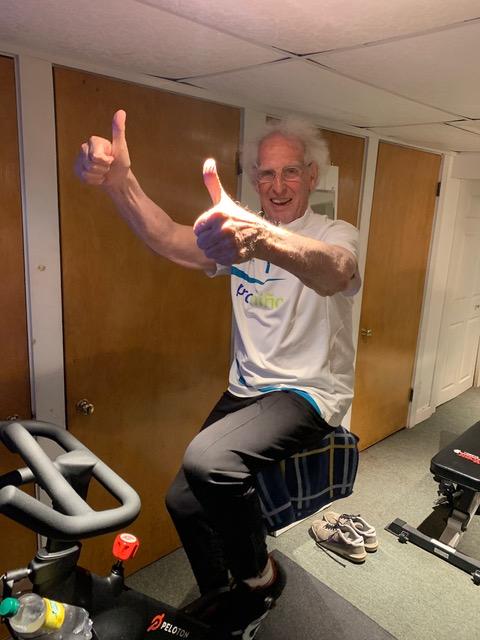 9 miles later
VALERY GERGIEV COMES TO HEAR BPO
Valéry Gergiev came to Boston to visit his son, who is studying at NEC. As Chairman of the Jury of the Tchaikovsky Competition he had awarded a prize to Lucas Debargue, our soloist for the week, so he was happy to be able to accept our invitation to come to the concert on Sunday. His presence caused quite a stir amongst the players, because whatever controversies he may stir up politically, he is one of the most formidable figures in the music world. After the concert he chatted with several of the musicians praising them profusely for the passion and intensity of the music-making and remarking on the rare spirit in the audience. Later at dinner, he spoke in detail with admiration about each section of the orchestra and said to me: "90% of performances of classical music have little value because they just deliver information. Only a very fewmove the soul and make a real difference. This was one of those concerts!" On the spot he invited Lucas and me to come to perform the same program as part of the White Nights Festival with the Mariinsky Orchestra in St Petersburg this May. The performance would have been May 27th, but of course it has been postponed. He has assured us that it will be rescheduled as soon as concerts come back. There was an amusing moment at the dinner: I suddenly turned to him and said: "I'm 81. How long should I keep doing this?" Without a second of hesitation he answered: "Three years, and then we'll talk." So that was decided.
He took both BPYO CD's (Mahler 6th and 9th) and the 40th anniversary box of BPO
recordings to listen to when he got back to Russia.
He wants BPYO to make its next tour to Russia: "I will arrange everything!"
He sent this message to all of you from his Dacha:
A VIDEO MESSAGE TO BPO FROM VALERY GERGIEV
Here is the concert
BPO PERFORMANCE AT SANDERS THEATER, FEBRUARY 23rd 2020
KODALY, DANCES OF GALANTA; LISZT PIANO CONCERTO #2, (LUCAS
DEBARGUE); DVORAK 7th SYMPHONY.
Gergiev has worked with almost every major orchestra in the world (he told me he
had conducted in Japan 120 different times). To have impressed him so much is a
huge achievement. Congratulations BPO!
BPYO FINALE
THE FINAL BPYO CONCERT in SYMPHONY HALL BEFORE THE PANDEMIC
STRUCK
The BPYO concert on March 12th was the last music to be heard in the revered sound
space of Symphony Hall for a very long time. There was much discussion in the days
leading up to the concert whether it should be cancelled. Few of us, of course, had any
idea of the impending catastrophe. The BSO were still planning to go ahead with their
children's concerts the following day and the Celebrity Series had one the following
week, so it seemed safe to proceed with our concert. However, on the day of the concert,
everything changed. At 10 a.m. Governor Baker announced the lockdown for the
following Monday. We received the OK for the concert, but the general public would not
be admitted. In the event, only a few parents and friends were allowed into the hall.
Fortunately, Elisabeth had managed, at the last minute, to arrange for the concert to be
live-streamed (at one point over 5,000 people were listening around the world). It was
sad to have the last concert of our season performed without an audience, but
fortunately the orchestra rose to the occasion when I asked them to act as audience as
well as performers. Assisted by the small band of parents and friends, they unleashed
such wild applause, stamping, whistling and shouting after each piece that listening to
the tape, you might be convinced that a standing-room-only audience had been in
attendance.
Here is a link to the entire live-streamed concert, including my remarks to the orchestra
at the beginning about the importance of live performance, including a rather touching
story about my father's unwillingness, in his old age, to listen to any music on the radio,
if it wasn't played live; also my detailed play-by-play (with sound effects) for the
Symphonie Fantastique, addressed to the far-flung live-streamed audience and a
farewell message addressed to the departing members before the traditional
performance of Nimrod at the end.
Symphony Hall Concert March 27th
But there's more:
PETRUSHKA EXPLAINED FOR A 10-YEAR-OLD
One of the members of the viola section, a senior at Sharon High, had invited some of
his teachers to come to Symphony Hall for the concert, but when the audience was
barred he contacted them during the afternoon to ask them instead to watch the
livestream. The next day he got a letter from his English teacher, Mrs. Weishaar:
Dear Matthew,
My daughter (10) and I just watched the Petrushka piece. It was beyond lovely. Her reactions: "sad, cool, suspenseful;" then, "I felt it - how Petrushka felt;" and finally "really, really good and talented." Throughout the piece she was rooting for Petrushka to win the ballerina. I asked why, and she replied: "I just know that they belong together!"

I felt much of the same but gave more attention to how the music created all those feelings she identified. I also imagined the hours spent rehearsing and thought about what an amazing experience you have shared with your fellow musicians. I was really touched at the end when the musicians stomped their feet for the effect of what should have been thundering applause from the audience. It was an eerie reminder that you were playing to an absent crowd in such a grand hall.
When Matthew shared that letter with me, what specially struck me, apart from the impossibly cute comment from the young lady, was her mother's question about how music can create emotional reactions in a ten-year-old. With all the unexpected time on my hands, I decided to put together and then record a detailed description of the ballet, so that a 10-year-old could be enabled to get behind the story and come to appreciate the music.
Here's the video of the performance of Petrushka, with the surtitles explaining the
story, now clearly readable at the bottom of the screen
First watch the video of the live-streamed performance of Petrushka
Then listen to the Soundcloud playlist with the explanation and an edited audio
recording of the performance and a surprise.
When I started writing my explanation I, of course, did not know the girl's name, so I
put "Linda" in as a place holder. Then I thought, "This is a Russian story. It couldn't
possibly be Linda, it must be Natasha." Imagine my surprise when I asked Mrs.
Weishaar her daughter's name, to be told that it was Natalie, the American form of the
Russian Natalia, or Natasha. So, for this very Russian project, Natasha became her
name. I imagined that as this explication of Petrushka went out to other children
stranded at home with their parents and teachers looking for inspiring material, that
Natasha was going to become like Christopher Robin, helping to introduce other
children to Petrushka, the Ballerina and the Moor, instead of the stuffed animals in the
Winnie-the-Pooh stories and that is what led me to the idea of adding the "surprise."
Here is a lovely letter from Mrs. Weishaar and the beautiful and touching "white sheet"
from Natalie herself:
Dear Ben,
I am writing on behalf of Natalie, who thoroughly enjoyed your narrative explanation and the surprise. She prepared a "white sheet" for you which I have attached. She wrote it by herself and means every word of it! This experience has been very meaningful to her and me, and we have enjoyed our time together listening to you and your performers. You seem to be a natural at reaching out to ten-year-old's. She was able to follow along with your explanations and reacted with surprise, wonder, and joy when you become particularly passionate in your descriptions. We plan to share your lessons with some of our friends and other teachers because we expect that they and their children will learn from and enjoy it, too.
Dear Mr. Zander,
Hi, I've heard that you have some of your students write "white sheets". So, I'm going to do a white sheet on Petrushka and how I understand it. I loved that when you explained it, you really felt it as much as I. You made me understand the piece as well as get to know Petrushka, the Moor, and the Ballerina.
Although I still don't know what the Ballerina saw in the Moor. In my head the characters come to life and I see everything. I also loved (spoiler alert) and you made the characters dance in my head again. Now if you could guess, what do you think happened to the Moor and the Ballerina? Did they get married? Did the Ballerina marry Petrushka's ghost? Thank you so, so much for getting in touch with me and my mom. It has really changed my life. I'm sure you've spent a long time doing the recording just for me.
Thank you,
Natalie Weishaar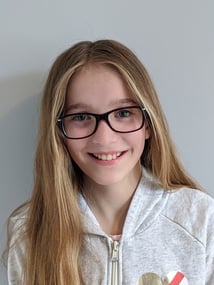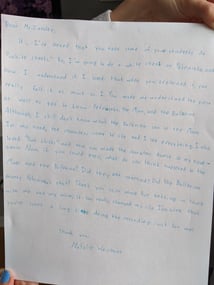 PETRUSHKA PERFORMED BY THE BPO
I included the BPO recording of Petrushka because I felt it would be interesting for
Natalie to hear a performance by a professional orchestra as well. I had two to choose
from: In 1998 a live performance, with Stephen Drury representing Petrushka in the
concertante piano part, along with his extraordinary performance of the Ravel piano
concerto, was issued as a commercial disc and was included in the CD collector's bible:
The 1999 Penguin Guide to CD's with the following encomium:
……...a remarkably compelling account of Petrushka which is extraordinarily vivid in detail, yet everything is placed within natural perspective. Stravinsky's score glows in its natural colours. The Boston playing is refined, yet the ballet's narrative is most atmospherically conveyed. The result is uncommonly satisfying.
That live performance of Petrushka in Jordan Hall elicited this sentence from the
Boston Globe's critic:
Zander and the orchestra were alive in every measure as storytellers and scene painters, reciting the swirling, madcap joys and virulent nastiness of "Petrushka" with searing intensity and sharply focused gesture. The winds shimmering ostinati, the glinting edge of the concerted brass, Kathleen Boyd's flute incantation and the trumpet solos of Jeffrey Work were especially delicious; but the whole performance left you feeling as though you had been struck by lightning - dazzled with all your molecules rearranged.
Isn't it refreshing when a critic really lets fly with a full emotional response? It makes
live music seem so very exciting.
PETRUSHKA PERFORMED BY THE BPO TWENTY YEARS LATER
The BPO performed Petrushka again with an almost entirely different wind and brass
section in 2017 with the orchestra's resident pianist Rasa Vittkauskaite playing
Petrushka and Elmer Churampi, 1st trumpet of both the BPO and BPYO, just before he
became Associate first trumpet of the Dallas Symphony Orchestra. Antonio Oliart's
state-of-the-art recorded sound provides an even more vivid impression.
You can judge for yourself which you prefer. White sheets welcome.
ISMAEL'S INVALUABLE CONTRIBUTION
The Petrushka project would not have been possible without the help of Ismael
Sandoval who inserted all the musical examples. Ismael will be moving on to his new
job as Assistant Conductor of the Chattanooga Symphony and Music Director of
the Chattanooga Youth Orchestra.
He has won the affection and respect of everyone in the organization. We will be very
sad to see him go.
When the Chairman of the Chattanooga search committee called for
a reference, I began by speaking about Ismael's preternaturally cheerful disposition. It
is all too rare in this pressured world of young conductors to find one with such an
optimistic outlook. I cannot wait for him to unleash his enthusiasm and
encouragement on the musicians of the youth orchestra in Tennessee. Apart from the
innumerable ways in which he supported me and the orchestras as Assistant
conductor, there are two occasions that are specially imprinted on my memory: one is
the occasion when he led the chorus of homeless women, of which he has been the
conductor. The energy and fervor with which he led them out of their despair to a place
of confidence and joy was deeply inspiring. For Ismael music is a natural expression of
human capacity - he will bring that gift everywhere he goes. The other occasion was
watching the quiet expertise with which he led a performance of Carmen in the most
confined of circumstances, guiding the singers and the small orchestra with infinite
care and expertise through the tricky score with absolute confidence, while looking
over his shoulder!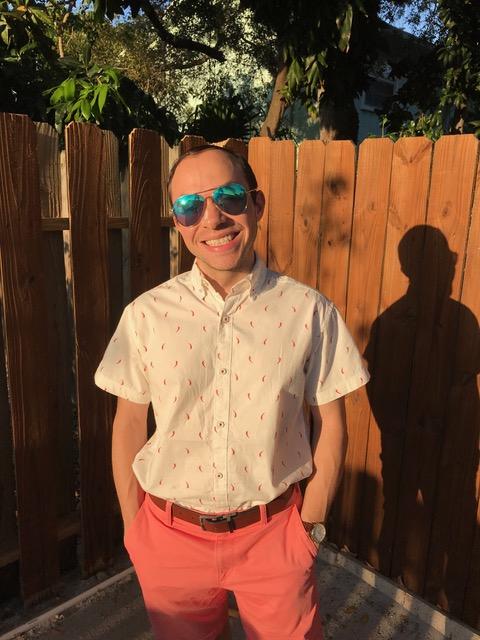 Ismael in full Florida mode (we will miss that wonderful smile!)
Another person who played a crucial role in this project was the Australian conductor Scott Wilson, who was a familiar figure at our rehearsals since October. Scott came over from England with his wife Becky and 2-year-old Winnie, to create and manage the website of The Benjamin Zander Center which will be launched later this summer. Scott is an experienced conductor and teacher and has been a valuable advisor to me in rehearsals wearing his other hat as the Zander Fellow. At the concert on March 12th he sat in the balcony of Symphony Hall next to videographer Dave Jamrog, guiding the cameras to pick out the relevant soloists, so that we could identify the instrumentalists as they revealed the characters in the story.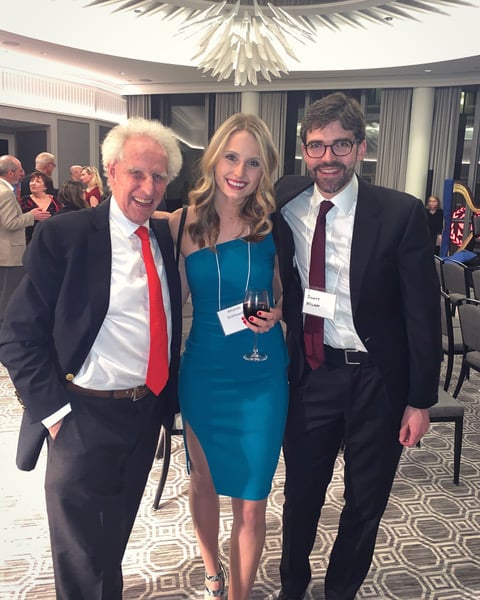 BZ, Amanda and Scott at the Four Seasons Hotel at the fundraiser for the since canceled BPYO tour to South Africa
CAN CONDUCTING BE TAUGHT ON ZOOM?
It starts with Ingrid
I get a lot of emails from unknown sources these days. Last month I received this
amusing letter from someone in Australia:
I quote it in full because each phrase seems to add to the portrait of this remarkable
young woman:
Dear Mr. Zander,
I hope this email finds you and Roz well and healthy and enjoying concocting marvelous possibilities in a time of profound challenge and opportunity.
My name is Ingrid Martin and I am a full-time freelance conductor working in Melbourne, Australia - and a HUGE fan of your work.
Two conductors are working in 2020 when COVID-19 hits...
Conductor 1: "Situation hopeless, we can't have rehearsals, concerts or travel
anywhere". :(
Conductor 2: "Glorious opportunity! We can learn conducting from anyone, anywhere, even in pajamas!"
My wife and I were re-listening to the Art of Possibility audiobook yesterday (10+ years after my first read), when possibility tapped me on the shoulder and said:
Why couldn't I just ask Ben Zander for an online lesson?'
How I got to asking this of you...
At age 24, when my conducting teacher showed our class a documentary about your work I sat transfixed, crying as you worked with a young blonde soprano (also crying!) mimicking the voices in her head - encouraging her to be herself, vulnerable and personal, to connect with honesty and humanity to her audience. Voices I'd heard and told myself many times, having trained and worked as a doctor before pivoting to music. I felt illegitimate, unworthy and like I hadn't ticked the right boxes.
Reading The Art of Possibility that year (2009) led to my first truly profound musical experience with an extraordinary group of young students whose lives and community had been devastated by bushfires. We made the vision; 'million-dollar moments every time we play' and this happened.
Alongside your work, and that of the late mime-artist and conducting pedagogue Bud Beyer and many others, I've been working to make deeper, more human connections with and between musicians and audiences. Revisiting your book this year has been refreshing and invigorating, and I'm helping others apply ideas like 'How Fascinating' to teaching and conducting.
Your work has transformed me as a person, and my life as a conductor, teacher and leader and doctor (when I was still practicing).
If nothing else, I would like to thank you (and Roz) for your generous and loving
contribution to the world.
Online Conducting Lesson?
Like all of us, all my rehearsals and performances have been cancelled, so I wanted to take the opportunity to further my learning.
Given we don't have our normal schedule of rehearsals and performances I wondered if you might have the time for a 60-minute online conducting lesson on Zoom/Skype/Google Meet?
I know you probably have plenty of other work going on - but why not ask?
I have specific ideas (musical and philosophical) I would like your advice on, but am also pretty enamoured of having a conversation and seeing where possibility takes us!
Could you please let me know if you would be open to this, and if so:
the fee payable (could pay over PayPal, via an agent/management or other website - whatever works for you)
a suitable time
process for communicating re: plan/content of the lesson
I look forward to hearing from you.
Keep safe & well.
Ingrid Martin
Conductor
www.ingridmartin.com
This is, of course, a letter that could only have been written at this precise time. Zoom is a new platform; conductors have more free time; the pandemic has created a refreshingly new dynamic in human relations - conducting lessons between strangers (even in pajamas!). How could I resist a communication so deeply rooted in The Art of Possibility? "Glorious Opportunity!"
I responded immediately that I would be delighted to try, though I didn't have the
slightest idea how it could work. A lesson with no music? I was intrigued. I explained that I have never charged for private lessons, because my cello teacher Gaspar Cassadó had taught me for five years without charging my parents a penny. He told my anxious father, after his frequent enquiries: "If I charged you what I thought my lessons were worth, you could never pay it." A time was set - 7 p.m. in Boston and 9 a.m. in Melbourne. The "lesson", if that was what it was, lasted two hours and was one of the more stimulating encounters I have had. We sat opposite each other with no instrument in sight. We discussed, sang and conducted the first 20 bars of Beethoven's 5th. What was so remarkable was that Ingrid's image was so large on the screen that I could see every detail with absolute clarity, as if she were sitting right opposite me. No distractions, no orchestra, no sound, no wasted energy managing the players, just the essential gestures representing the music.
Afterwards, I asked Ingrid to send me a white sheet:
Dear Ben,
What a week it has been! Our lesson gave me so much food for thought (as you'll read) that it's taken me a week to process everything, grieve a bit, and also experience some wonderful changes, which you'll read about in the attached: Lessons with Ben #1: I'm Diffident!?
I'm going to write something like this after each lesson, however many we choose to have. I'm very excited about the changes you've inspired and what you've helped me see in myself.
Feel free to share this (wholly or in part) with whomever you think might benefit.
I am also going to send you an "A" letter, which I am very excited about.
Love & thanks,
Ingrid
Then today I received another communication from Ingrid. Those of you know the chapter in The Art of Possibility "Giving an A", will appreciate its power:
It's been quite a remarkable few weeks - so much to share!
I finished my "A" letter today, which I've attached for you.
Much love and thanks for the change our lesson catalyzed within me! Looking forward to talking soon.
Ingrid
INGRID'S "A" LETTER:11 May 2021
Dear Ben,
I got an A because I went on a challenging and rewarding journey of learning how to be fully myself. Before, I was afraid to share my artistry, opinions and self with the world. I hid from uncomfortable things, and ran away from making others uncomfortable too.
I realized this fear was holding me back, so I decided to ditch it!
Now, I am fully myself in the world and in my music-making. I'm not afraid to show people who I am and what I believe. I am unapologetic about what I have to share. I know that I have a unique and valuable contribution to make.
I am able to fully express myself and all my emotions, rather than running from them or stuffing them away. Now I speak honestly, unflinchingly, and listen openly to others.
I am certain and confident of my value to myself and to others. I stopped judging myself, and let go of my fear of discomfort and mistakes. In fact, I now embrace mistakes as a vital part of growing and learning.
Each day I wake up enthusiastic about learning something new. In the past I was daunted, but now I am excited! I jump into scores with curiosity and wonder at what I will discover. I know that each minute I spend brings me closer to understanding the musical gift a composer has entrusted to me.
I know I'll never know it all, and that used to scare me. Now, instead of being afraid, I'm joyous that there will always be something more for me to know - a never-ending artistic bounty! And as I learn, I know that each day I'm growing - and that I couldn't get where I'm going, or be who I am without all the days that have come before.
After many years living small -
A tender, fragile, sapling
I've now grown into my true form
A sleek, strong, majestic tree
When the wind is blowing a gale, I bend but don't break.
With each storm I weather
My roots grow deeper and I grow stronger
I hold myself tall and upright with these roots
I am beautiful
Giving shade, protection, and comfort to those around me
While staying true to my nature
Every day, slowly but surely,
I keep growing upwards and outwards,
Reaching toward possibility
With love,
Ingrid
THE ZOOM CONDUCTING CLASS- Simón takes over
A few days after my session with Ingrid, a former conducting student, Simón Zerpa,
having just seen a successful conducting class on Zoom, called to ask if I would be
willing to do one myself. Fortified by the experience with Ingrid, I readily agreed,
provided he would arrange it.
274 conductors registered, so Simón set up two classes back-to-back with the group
organized more or less equally - one on Friday evening for 90 minutes and the other the
next day, Saturday afternoon for 2 hours, both of them focusing on conducting
Beethoven.
VIDEO OF SATURDAY CONDUCTING CLASS
The class started with a short explication of some aspects of Beethoven's musical
language - music, as I am always stressing, is a language, with its own grammar - with
examples from the first movement of the violin concerto.
The coaching part of the class focused on the first movement of the 5th symphony, the
opening of the second movement and the slow movement of Eroica.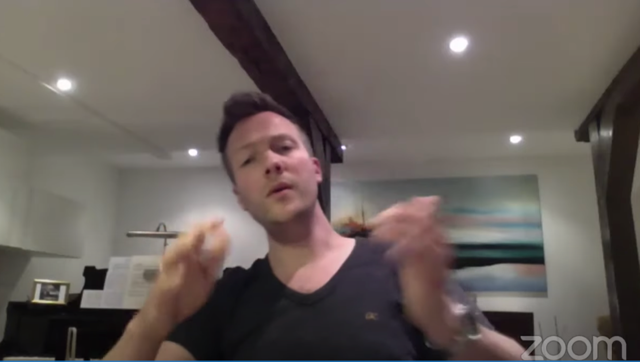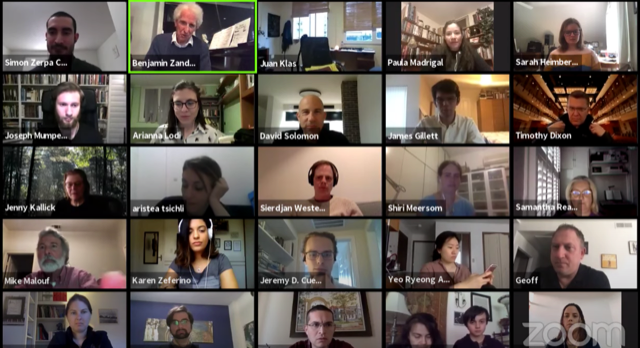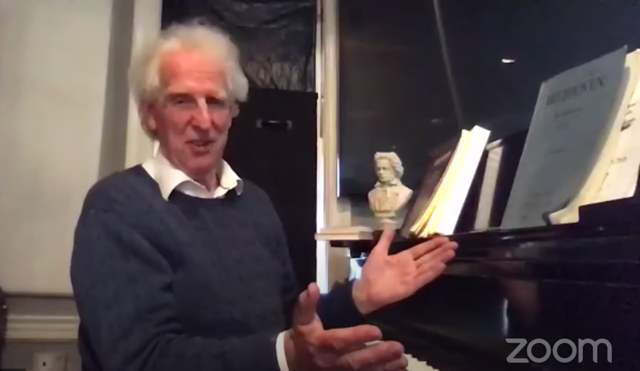 Here is a video of the full two hours
If you just want to get a sense of what was going on, try from around minute 50.00 to
56.00
CONDUCTORS' "WHITE SHEETS"
A reading of the white sheets from many of the conductors suggests that, in spite of the
absence of any actual music making, this might turn out to be a viable means of
exploring some aspects of the art of conducting.
The white sheets that I received in the first batch, were sent out to all 274 participants,
with this introduction acknowledging their inevitably somewhat repetitive nature:
Dear Zoom conductors,
The white sheets I received from you were uniformly constructive and positive
and full of insight. They moved me and buoyed me and gave me countless new
ideas, so I want to thank you all for putting the time, heart and energy into
them.
It is also amazing and delightful that out of the isolation from the pandemic a new
far-flung community has emerged, held together by mutual seeking, from just two
hours of common experience. The appreciation you all articulated for my work
may strike you as a little redundant as you browse through the letters, but each of
you had an authentic experience that you wanted to share, and I'm grateful for
that.
I have added some comments and stories that were inspired by what you wrote.
We have undertaken something important. Let it move forward. BZ
Here are a couple of white sheets with my comments:
Dear Simón,
Thank you very much for making this special masterclass possible for everybody
around the world. The organization and communication were perfect. Thank you.
BZ: Yes, let's all thank Simón. The idea of the class and its realization were
entirely his. I can hear a loud cheer and clapping from 274 conductors.
Just as my father created a university in the internment camp, Simón has created
a new possibility for conductors.
I was very glad that I applied for this interpretation class. It was much more than interpretation, much more than "just music", it was about making contact. That's the most important thing in life but also the most important thing in conducting. Sounds very simple but, not so easy. I try to be in the moment when rehearsing but my mind gets in the way sometimes. Sometimes we are so busy with all sort of things or feeling insecure or tensed with a new orchestra. But when you connect with the orchestra and the music in the moment the reward is huge, addictive. This is what I miss most these days. What I also found great is when you talked about optimism, being the most important thing to bring to the orchestra as conductor. I loved that you said that, I'm a very optimistic person but again I sometimes forget that, especially when I have the feeling that I have to prove myself and try too hard. Lucky, I know that I do that so it's a ongoing process and keep you in my mind will help for sure! Your enthusiasm talking about music and just being honest I found very inspiring. It helps me a lot working with these emotions. It would be great if I could see you work with your orchestra or somewhere around. Would it be a problem to attend one of your rehearsals sometime in the future? Or is there a live masterclass to go to?
Again, thank you for being willing to share your thoughts and love for music. I felt lucky that I could conduct for you, I will work on the eyebrows more :)
Best wishes,
Frans-Aert. (the Netherlands)
BZ: Frans-Aert, you make a great point about human contact being at the heart of
conducting. The "voice in the head" is very powerful and very devious. It's no
good pretending that it will go away, it won't. It's lurking in the dark and then it
pounces when it is least welcome: "You're not good enough!" "Do you know how
many conductors there are who are better than you are?" "You haven't prepared
enough." The bad news is that the voice goes on and on, until you die.
The good news is you can get it to be quiet by saying to the voice:
"Thank you for sharing, I'm busy!" But then, of course, you have to have something so compelling to be busy with that is more powerful than the negative voice.
As having a baby is, for many people, a powerful enough reason to give up
smoking.
"You connect with the orchestra and the music in the moment, the reward is
huge, addictive." That is a compelling purpose.
We are all missing that these days, but it will come back. My dream is that when
we get back to making music, we will all be clearer about our purpose.
"Leadership is identifying the purpose hidden in the chaos of the moment."
Here is another one which I found especially illuminating:
I would like to share with you two separate thoughts I had regarding our Zoom masterclass.
The first one is about the concept of conducting without having musicians responding to your movements.
Watching the different conductors in the class conveying their interpretation with no immediate musical feedback was very eye-opening for me. It made me realize how much one can learn and judge about a conductor just by watching him on mute. As a cellist I could instantly relate to your story about the "Charades" game you played with your first wife and I could easily see in my mind the exact pose any cellist would assume before the Schumann concerto or the Haydn. It also reminded me of a game I once played with my cello professor Micha Haran, where he asked me to conduct something without telling him what it was and without singing and to my amazement he very quickly recognized both Beethoven's Pastoral Symphony and Brahms' violin concerto. This concept brought me to wonder whether we could consider adding this platform as an alternative pre-screening video audition to allow talented aspiring conductors, who are not fortunate enough to have easy access to an orchestra, the opportunity to compete against those who are. If conducting is first and foremost about knowing the score to its core and knowing exactly what you want and how to convey it, wouldn't it be interesting to test the ability of an aspiring conductor to convey under the extreme terms of having only his imagination and internal hearing to rely on? Furthermore, wouldn't it level the playing field between countries and populations that have more limited resources?
BZ: This is brilliant. It should be instituted immediately. The first time I met
Gustav Meier, in the waiting room at the Chicago airport, he said he was happy to
meet me but instead of shaking my hand, he asked me to conduct something.
Just like that. Sitting in a chair, I conducted some Beethoven, a phrase or two of
Brahms - small gestures, like a conversation. That was enough. He wanted to get
to know me. What better way? There was a similar exchange when I arrived at
the age of 15 at the Pensione in Florence, when I started my studies with Gaspar
Cassadó. Before I was shown my room, I was asked to take out my cello to play
to the staff. In reply, the head waiter sang a Donizetti aria and his wife, the
chamber maid, sang, I seem to remember, something from the Barber of Seville.
Perhaps, in this Covid age, as hand-shaking disappears it will be replaced
with conducting! I was delighted when you told the story of Micha Haran, since he was the cellist in the Israel Philharmonic who I had mentioned in the class as having written 5 pages of white sheets! What a Mensch! Incidentally it is a tribute to both of you that he was able to recognize the Brahms violin concerto and not be confused with the first movement of the Second Symphony, since they are virtually identical,
(tempo, character and key), except that the symphony begins with an up-beat and
the concerto with a down beat. That might have been the giveaway.
Second thought I had was regarding your mention of optimism and leadership in harsh times and the conductor's role as the orchestra's spiritual leader. For that I have a very heart-warming story that happened to me last November and that has changed the very essence of how I look at the meaning of being a conductor and what sort of leader I aspire to become.
A year ago, I decided to organize a tribute concert to my parents who were both at a very advanced stage of Parkinson's disease. A concert seemed to me the best way to express my appreciation and admiration for them, to display my father's amazing work as a comedian and filmmaker and to show to my mother how much impact she has had on her colleagues in the Israel Philharmonic Orchestra by inviting them to participate.
The concert was mostly chamber music but there was one piece that combined all the players - the Mahler 4th Finale.
Throughout the planning I was all the time concerned with not imposing too much on the already extremely busy musicians. To me it seemed as though everyone was working only for my parents' sake, and didn't realize the incredible affect the concert would eventually have on them as well.
A day after the concert one of the violinists called to thank me, saying that she had never in her life experienced such a concert in which every note was played out of pure
love. That the atmosphere in the hall as so moving and inspiring. The pianist wrote to me quoting the clarinetist "thank you Shiri for a lesson about love". Their reaction was extremely inspiring and I started to wonder- Could all concerts be filled with such love? and how can I as a conductor lead towards such an important goal? A month and a half after the concert my mother passed away and I suddenly realized the amazing gift I had given to her friends. I had given them a chance to reconnect with her after so many years of separation and to say goodbye. This Idea gave me a lot of comfort.
Thank you for listening to my thoughts now and also 18 years ago when my dear Mother Ruthy the double-bassist introduced me as her young daughter aspiring to become a conductor. I vividly remember your enthusiasm and encouragement. Thank you.
All the best,
Shiri (Amir) Meerson
BZ: Shiri, I find this story very moving. What makes it so compelling is that you
are not at all absorbed with yourself in the actions you describe. YOUR STORY IS
AN EXAMPLE OF SOMEONE ACTING PURELY AS A CONTRIBUTION. We
musicians are fortunate in that we dwell in an environment that supports us to
become contributors, just as water gives life to fish and air supports flight for
birds.
*****
If you are curious and motivated to learn more, click on the URLs for the rest of
the white sheets (unedited).
You will meet fascinating people and find links to several interesting recordings.
THE FIRST BATCH OF CONDUCTORS' WHITE SHEETS (with my comments)
THE SECOND BATCH OF WHITE SHEETS FROM THE CONDUCTORS (with
Here is a comment about the white sheets from a Life Coach who was eaves-dropping
on the session:
"I teared up many times while reading these empathic,
insightful, true, honest, vulnerable and inspiring communications".
Sierdjan Westen: Facilitator / Coach / Interventionist
BEETHOVEN VIOLIN CONCERTO
Brian Bell, with whom I have had so many good on-air conversations over the years on
WGBH, has initiated, together with Scott Wilson, a podcast in which we will explore
some of the works that we have performed.
The first one is about Beethoven's Violin Concerto. Here it is with Liza Ferschtman's
tradition-breaking recording with the BPO.
followed by the performance from Sunday in Sanders Theater
Jonathan Blumhofer, in his wrap-up of the year's best performances in ArtsFuse, chose
this performance as the Best Solo Performance in Boston.
(Note the runner up)
Best Solo Performance
"For rapport between soloist and orchestra (and/or conductor), the fall of 2019 brought
two mesmeric programs from the Boston Philharmonic Orchestra. My favorite of those –
by a hair – was Liza Ferschtman's account of Beethoven's Violin Concerto in
November. Augustin Hadelich played the same piece with the Boston Symphony in
September. Then, it was beautifully done, but sterile: his interpretation took no risks;
parts of it were even a bit sleepy. Ferschtman, on the other hand, brought the music to
life with a panache and vigor that should be a model for all violinists navigating these
well-trod pages."
BEETHOVEN VIOLIN CONCERTO, LIZA FERSCHTMAN AND BOSTON
PHILHARMONIC, CONDUCTED BY BENJAMIN ZANDER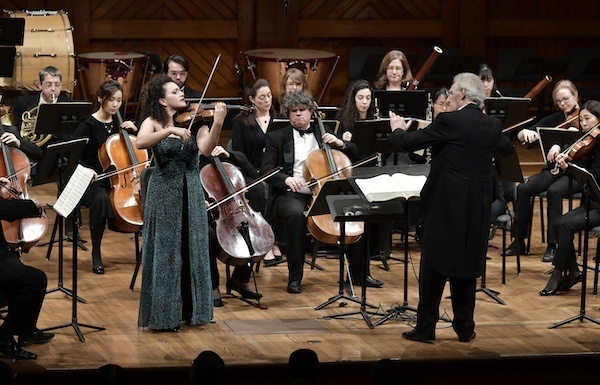 The runner-up in the category of Best Solo Performance was Alessandro Deljavan's
Brahms 2nd piano concerto on October 20th in Sanders Theater.
Arts Fuse: "The BPO's October concert series featured Alessandro Deljavan in a fullbore,
tempestuous interpretation of Brahms's Piano Concerto no. 2. Brimming with
color, character, and an impeccable sense of musical shape, Deljavan's reading was
bracing – which, given the sometimes-stultifying frequency with which the Brahms
Second is played in these parts, says something'."
Listen to the performance of Alessandro Deljavan with the BPO
No one in BPYO will ever forget the experience of playing Mendelssohn's Violin
Concerto with Stefan Jackiw in Symphony Hall. It was like seeing a familiar painting
restored to its original colors.
Listen to the performance of Sefan Jakiw with the BPYO
WHAT WILL WE PLAY IN THE NEXT AVAILABLE SEASON?
No one knows what the landscape of classical music performance will be, but we continue to plan. I have had a fascinating time, as I always do, fashioning an exciting and balanced season.
You might be interested to know what I have been dreaming of:
Beethoven's 9th in Boston and in Carnegie Hall in October! It seemed a most fitting culmination of Beethoven's 250th, but as Elisabeth pointed out that 200 musicians in busses and hotels, let alone on the stage of Carnegie Hall was unlikely to be sustainable. The piece that it seems could best capture the radiant glory of the Beethoven is the Bruckner 8th, a work I have long wanted to perform and record in Symphony Hall. One of our Board members remarked that it was an honor to be part of an organization that had Bruckner 8th as Plan B. For the second program I have asked Liza Ferschtman to return to play the Berg concerto, with the Webern Passacaglia and Brahms 4th to complete the program. I was surprised to see that the other BPO (Berlin) has scheduled the same two pieces for their Symphony Hall concert in November. I wonder if either orchestra will be able to realize the plan, because of the recently imposed two-week quarantine for all foreign entrants.
For the third concert we have the Rumanian cellist Andrei Ionista, winner of the 2015
Tchaikovsky Cello Gold Medal, playing Shostakovich 1st cello concerto followed by
Rachmaninov 2nd Symphony. The final concert is to be the Mahler 3rd held over from
this year.
BPYO is to start with Anastasia Kobekina playing Elgar Cello concerto (listen to this
three-minute excerpt and you'll see why I wanted to bring her
here: https://www.youtube.com/watch?v=vF69DbeF8WM
and Shostakovich 5th.
For the second concert we have Anna Federova playing Rachmaninov 3rd concerto
with Daphnis 2nd suite and Mathis der Maler, with the final concert ending with
Tchaikovsky 6th.
We are waiting patiently to find how much of this will be possible and busy
thinking about other things that might be.
Here are a couple of other enlivening experiences I want to tell you about:
ZOOM CONCERTS
MOZART the pathological optimist
The Pathfinders are a group of Danish entrepreneurs and business types who have
travelled several years in a row in groups of 12, to work on transformation with Roz and
to attend BPO concerts. In late March I was invited to speak to about 600 Pathfinders in
my very first Zoom event. I chose to speak about Mozart's optimistic and positive
outlook. Failure or defeat were not part of his vocabulary. He was never depressed by
setbacks and always put a constructive and positive interpretation on whatever
happened. "My concert was a splendid success from the point of view of honor and
glory, but a failure as far as money was concerned. Unfortunately, some Prince was
giving a déjeuner and the Hessian troops were holding a grand maneuver, but…I was in
such good form…they implored me to give another concert next Sunday." Towards the
end of Mozart's short life, after he had suffered the death of four children, serious illness
and repeated professional and financial disasters, his optimism actually rose! I also told
them that my father, while interned, as a German Jew by the British on the Isle of Man,
during the war, started a "university" with 46 classes running every week, without a
single book, piece of chalk or paper.
Then I took them through a movement of a Mozart piano sonata, explaining, bar by bar,
how Mozart tells a story, almost like an opera. It was wonderful to feel all those eager,
curious people, as if they were sitting right beside me at the piano bench, in my music
room in Cambridge. When I played the movement through at the end I sensed, even
from so many thousands of miles away, an open heartedness and focus in the listening,
that probably could not have been possible without the stories and the detailed
exploration of the music, before they heard it.
Some comments from Denmark:
"I am one of Christer's friends in Pathfinder – and my husband and I have so enjoyed the past hour in your company. It was wonderful, uplifting, charming, beautiful, wise and like a fairytale in multiple dimensions. I learned new things about Mozart and his music – and I really enjoyed the translation into human emotions. You made our evening very special here in Copenhagen. THANK YOU!"
Tina
"Thank you so much for a great event. I love how you explain how you see the piece of music. For me it gives a whole other dimension to it. So, when you in the end play it all it's a totally different experience than it was before you explained it. I hope for a next time, and until then I will watch your YouTube videos". 🙏
"Fantastic to be in your music room, and at the same time enjoy the view of Storebælt! Thank you for a beautiful experience!"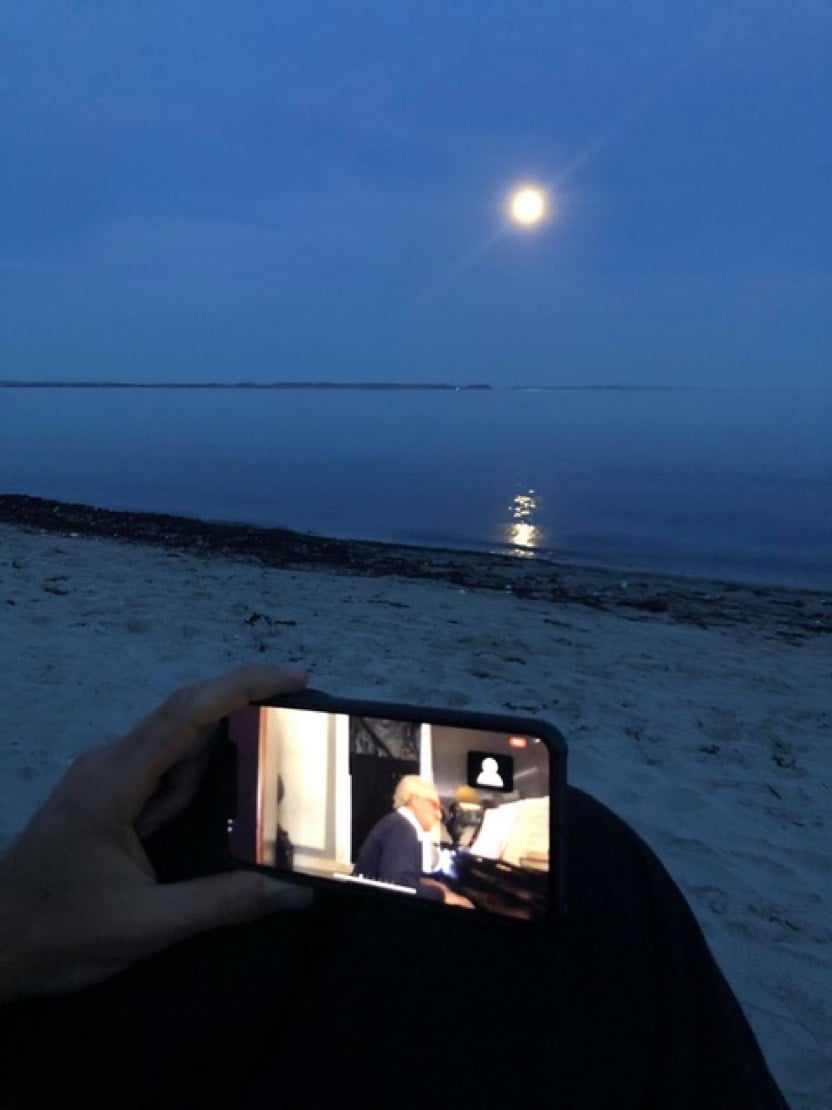 The Treasurer of the BPO Board, Tom Raffa, inspired by this, arranged a similar event for his company, Marcum. He offered to match any donations to the BPO. Just before I played the same Mozart movement at the end, I asked all those listening to notice if, when it finished, they felt uplifted, with a lighter mood, calmer breathing and a more open-hearted spirit. If so, they should contribute accordingly. 40 of them contributed, to raise a total of $7,000! Tom is planning to suggest to some of his CEO friends that they could offer such an event at their company. It may prove to be a good way of fund-raising for the BPO.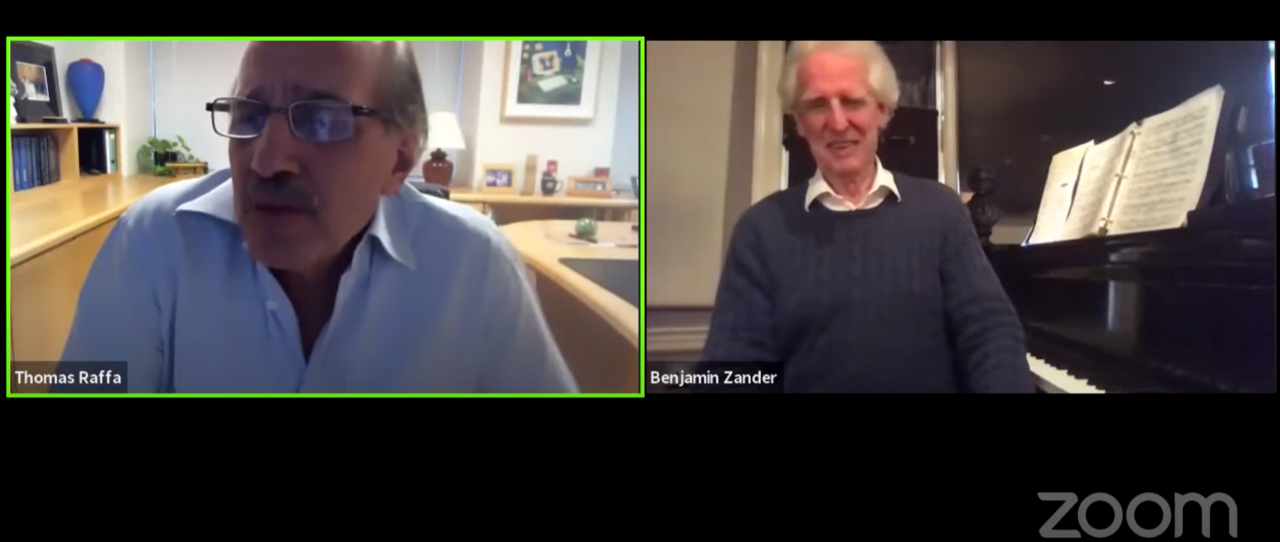 OTHER NOTES:
I am going to be the key-note speaker on July 7th for the opening of a Chinese
summer program, all on Zoom.
After a planning meeting yesterday, I sent one of the the Directors a copy of this
letter to give them a sense of our organization.
Today I received her reply. It was my dream response, because it showed how
she had embraced the Petrushka experience and shared it with her whole family -
and will pass it on to their friends.
Dear Mr. Zander,
Thank you so much for sharing the music with us. We played the BPYO concert at dinner time and whole family listened. It was so moving when you talked about the story of your father. Athena asked if we can listen to BPO version too. So, we did.
And we scheduled a time tomorrow to listen to the rest of music with the link you sent in your email. This will be a weekend full of music.
With your permission, we would like to send the BPYO final concert link to our friends and families, thinking that they might enjoy it as much as we do, and as 10 year-old Natalie did.
Thank you again and we may come along to enjoy your Summer Music Festival in front of your flower garden if the stay home order is lifted by that time.
All the best,
Lynnelle
Then the next day this from the other Director.
Dear Mr. Zander,
I am attaching a picture that my daughter (coincidentally also 10-year-old) showed me this morning. It's on the back of a notepad that she drew yesterday. To give you a context, this is a girl who claims that she "hates drawing" and "hates playing the violin". And to be honest, I do "force" her to go to drawing class and practice violin everyday.…. The immediate reaction after I saw the drawing was that "this is a miracle" and the miracle happens because, I think, Friday night and yesterday, we learnt about Petrushka together and listened to only 5 minutes of the concert and 5 mins (to be exact) of your SoundCloud recording (she ran away afterwards). But only 10 minutes of listening enabled her to put conductor, violinist, ballerina and other elements in a drawing. It's amazing. We will keep the 5 min listening every day and see where it leads her (us). I really want to thank you for the great influence you gave to our family!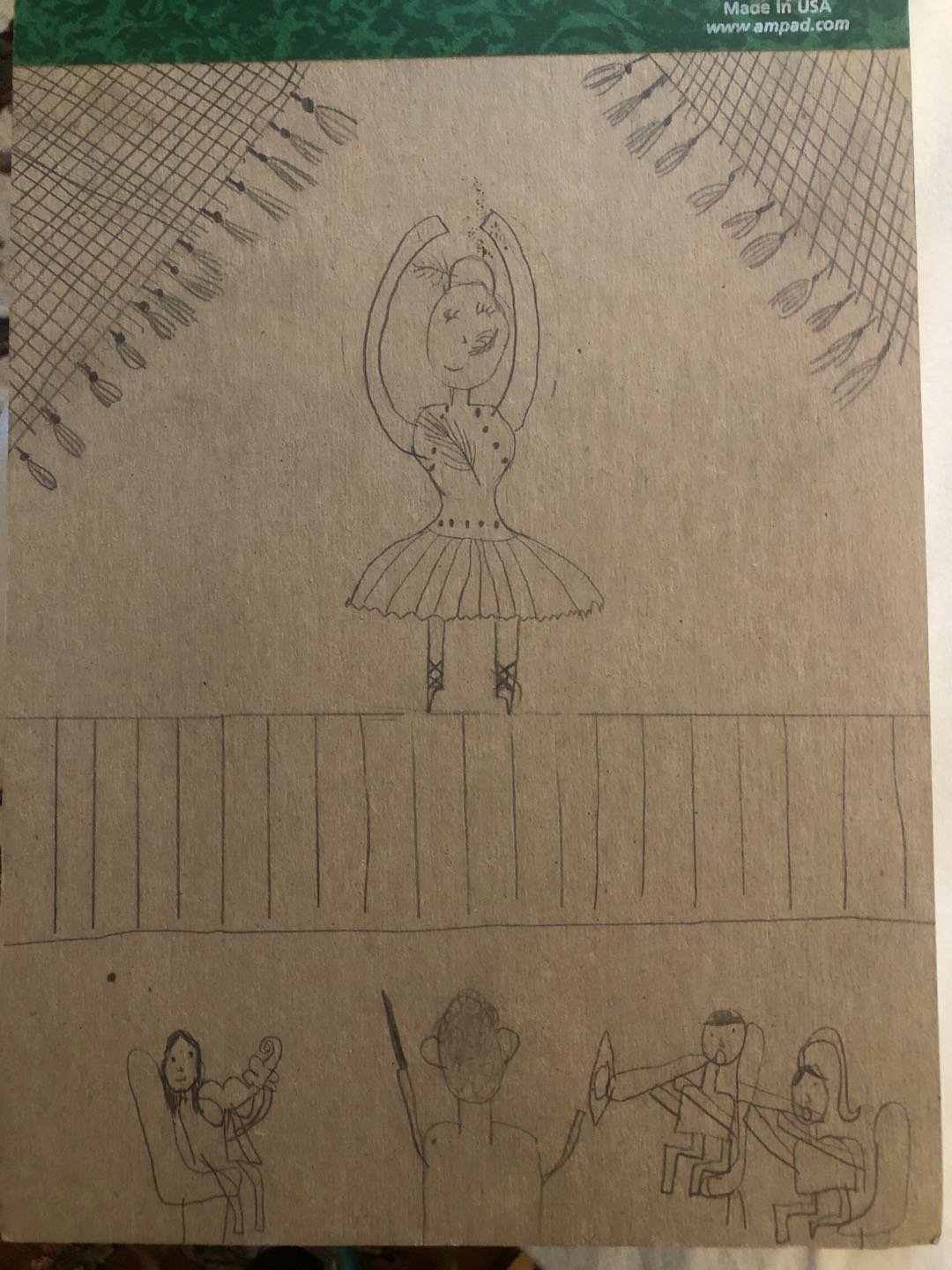 CONCERTS AMONGST THE FLOWERS
Rachel suggested that I should invite some BPO players to make music in my driveway. Velleda Miragias, our Associate Principal cellist tried to get a group together at a few hours' notice last Sunday, but in the end only she could come.
She played Bach for an hour. It was magical! Everything seemed to stop on Brattle street. Passersby stood entranced, some sitting on the wall, some over the other side of the road. Several cars stopped and rolled down their windows so they could listen. Rachel and Amanda have offered to help us make this an on-going event this summer - after all we aren't going away to summer camps and festivals for the first time. Let's give Cambridge a lovely mini Summer Music Festival!
Velleda has a group lined up for the following week. Masks, social distancing, no bodily contact. (Contact Amanda if you or a group would be willing to play, even for a short time ag@benjaminzander.com )
It obviously gave Velleda as much joy as the passersby. People are so hungry for LIVE music. It's like eating fresh fruit after a diet of only canned food.
Dearest Ben,
This totally made my day.
Love the spontaneous nature of how this day went and quite frankly my soul
needed it more then I knew!
It was good to see you, your absolutely gorgeous garden, and what a sweetheart that
Rachel is. Love her initiative!
So happy to hear about the updates concerning Gergiev. How encouraging.
Especially during those disconcerting times, those mean all the more. My very best to
you, and thank you for that uplifting sunny Sunday.
Love,
Velleda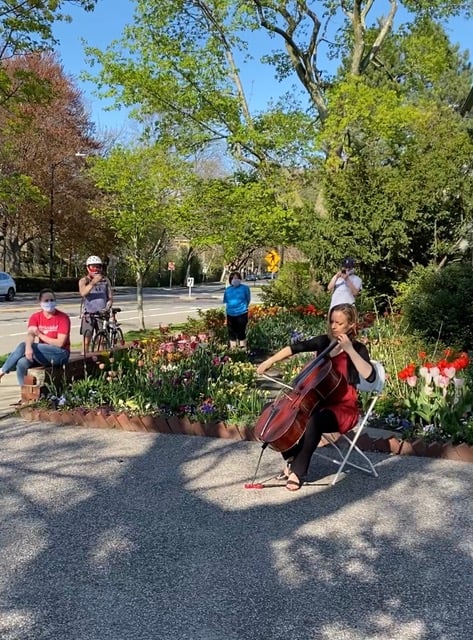 Velleda playing Bach at 140, Brattle Street, Cambridge
In Conclusion:
Here's a note from one of our long term BPYO members, Henry Ayanna, the only member to get into the orchestra at the age of ten. He is about to enter his senior year and his seventh as a member of BPYO.
Dear Elisabeth, Mr. Zander, and BPYO,
Glad to check in. I hope everyone is doing well! I'm certainly planning on returning next fall, and it was a real shame this season had to end. As I told lots of people this year, I was beginning to feel more invigorated after rehearsal than before it, despite the (4 hour) length! During this break, I've been able to practice more, and am currently spending around 3-4 hours a day practicing scales, Bach, Paganini caprices, and the Korngold Violin Concerto. And I've been listening to Mahler's second at least twice a week. I find that Mahler can be a replacement for living in nature, so if I'm holed up in my house, Mahler is my way of getting outside.
And Mr. Zander, I read The Art of Possibility during this quarantine, and I feel that the frame of reference of possibility is such a resource in these times! We can either be afraid of what we can't control or be the masters of what we can, which your book has helped me realize.
Sincerely,
Henry
Huge Thanks and congratulations to Elisabeth for keeping the spirit of BPO and
BPYO alive through her frequent communications and posts with the world at
large. She is guiding the ship through troubled waters and has netted a
government loan which will help us moving forward in the next several weeks.
Deep gratitude also to our Board Members who continue to support us with
a fervent belief in the value of what we are doing.
Sending warmest wishes to every one of you.
Please keep in touch.
Ben Zander