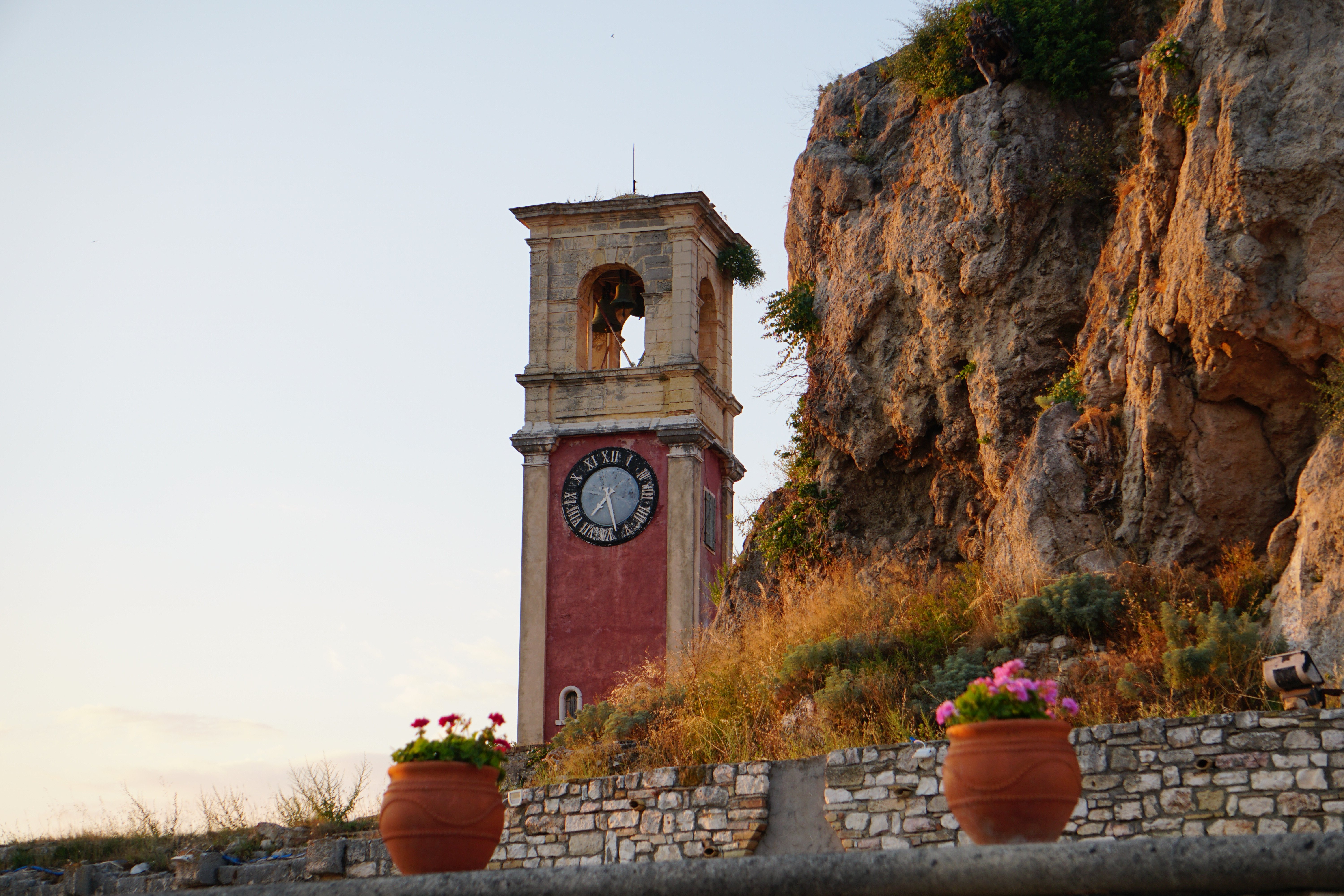 Beneath the Old Fortress in Corfu at sunset.
How does one sum up a trip like the one we just took to Greece? If, as BPYO music director Benjamin Zander insists, the orchestra's tours aren't just larks that a hundred teenagers take for kicks, what are they, then?
Well, there's no hiding the fact that this trek across the Atlantic was a lot of fun. True, it involved a lot of work, much patience and flexibility, plus a good deal of stamina. I think of the orchestra's rehearsing the evening after our interminable drive from Athens to Thessaloniki as one of the turning points in the experience, one that revived some exhausted spirits and propelled the group through the next ten days. But there's no getting around the fact that, probably to a person, our two weeks together were a blast.
What made them that?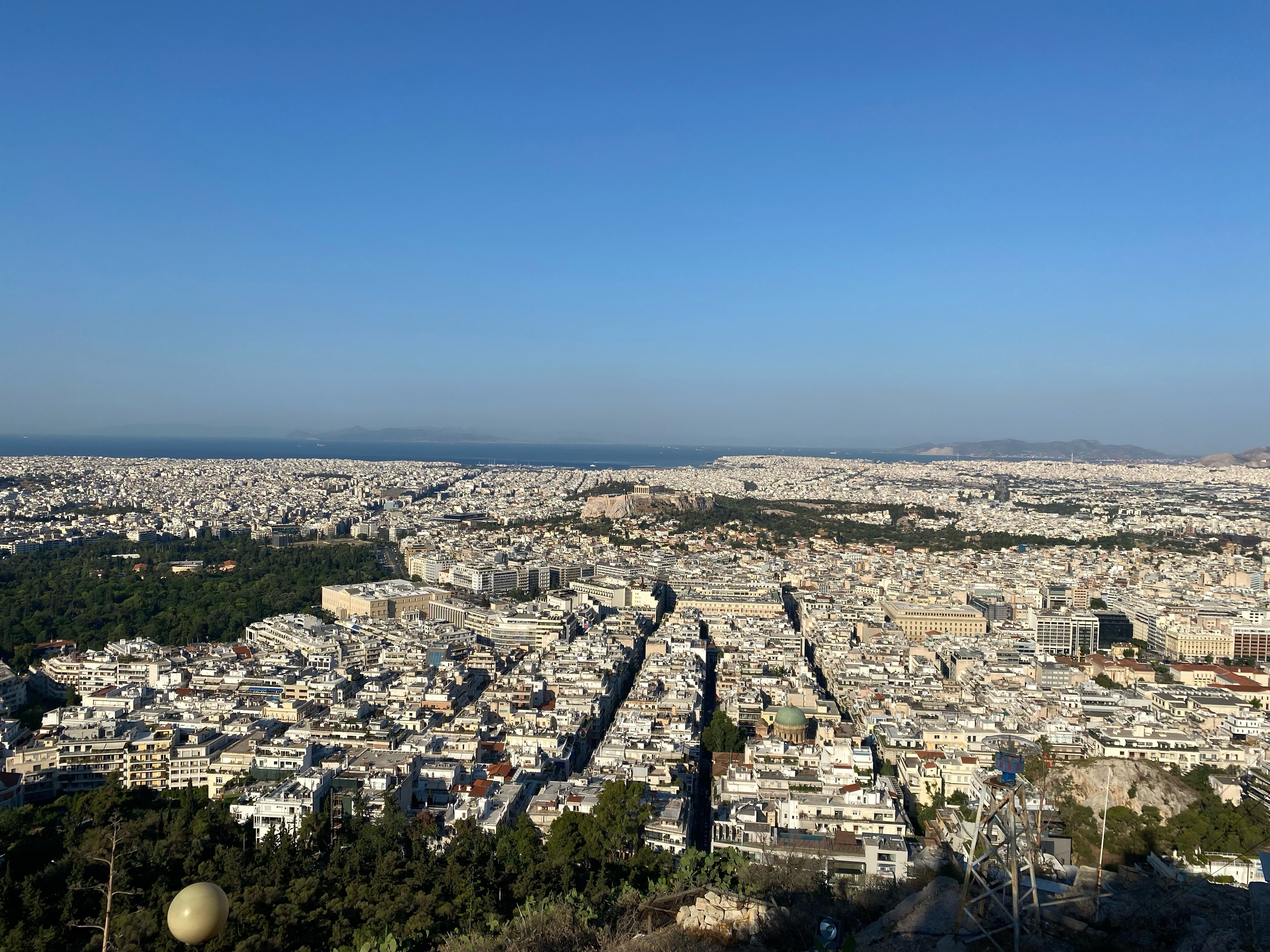 Looking down towards the Acropolis from atop Mount Lycabettus in Athens.
The country, for starters. Only one of our number had ever been to Greece previously, so the place was new to virtually all of us. And, while some of what we saw was iconic, visiting the Acropolis or the Temple of Apollo or sitting in a 2500-year-old amphitheater at sunset is anything but business-as-usual.
Aside from a couple of hallowed sites in Vienna, I'm not particularly sentimental about old buildings or sweeping views. But, especially for a musician, there is something decidedly emotional about looking down into the Theater of Dionysus and trying to grasp just a few of the implications of the place on Western music – from ancient philosophers musing on Melos to the 17th-century's Doctrine of the Affections to Gesamtkunstwerk and beyond. Or of first capturing the view of a valley filled with countless olive trees and cypresses and framed by towering peaks. Or of watching the play of the ocean's colors off the coast of Corfu. Tour books and websites try to capture the wonder of these things but being there to experience them in-person is a thing unto itself.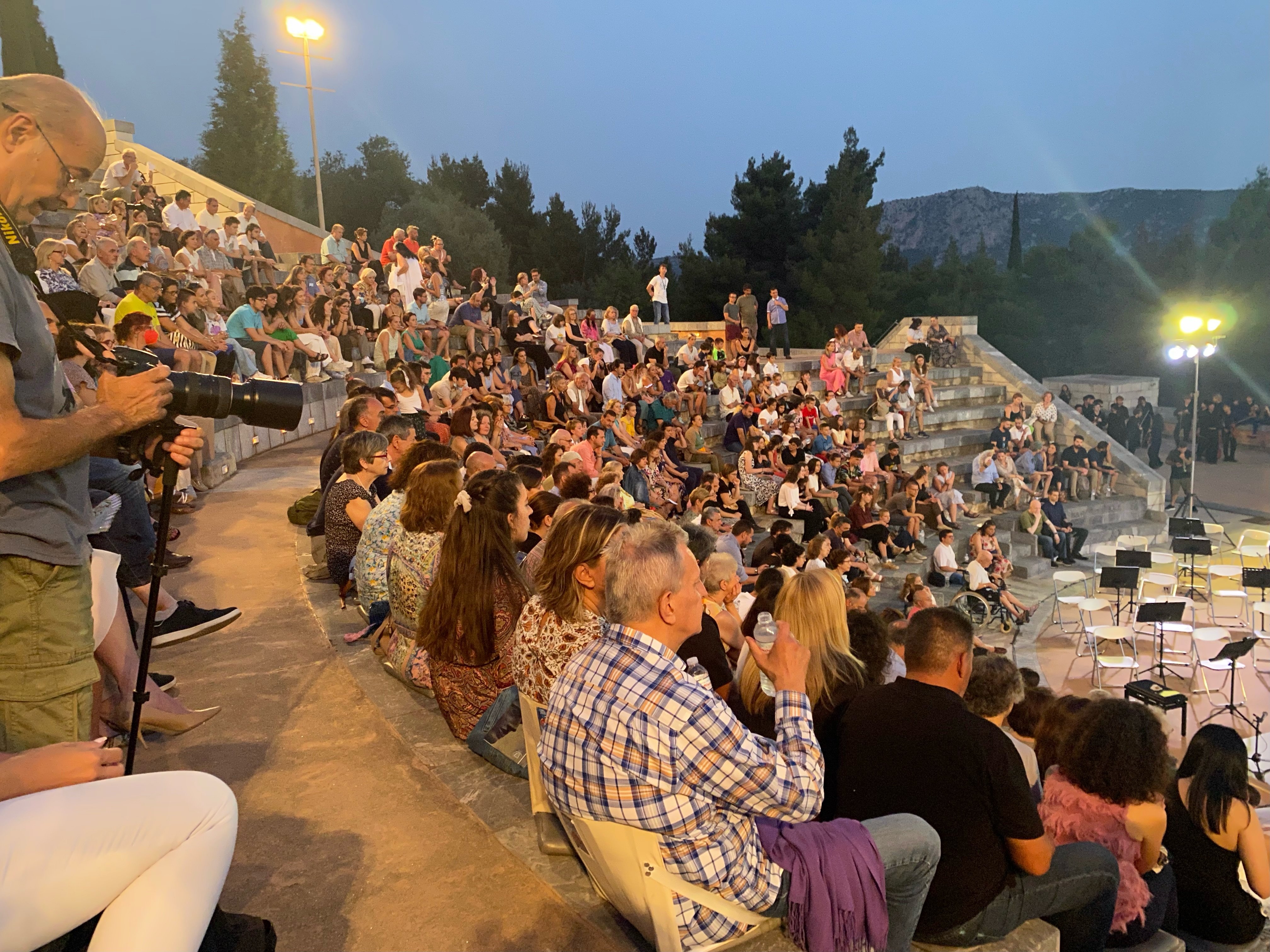 Some of the BPYO's audience at the Frynihos Open Air Theater in Delphi.
More meaningful than that were our interactions with the people of Greece. Having travelled a bit to this point in my life, I can safely say I've never been to a friendlier European country than this one. From the time we arrived, players in the orchestra were commenting on the generosity and warmth of our hosts: the willingness of shop owners to give discounts on sandwiches or provide free bottles of water; the eagerness of strangers in the street to engage in conversation; the receptivity of passersby to check out the orchestra's concerts. Ben Zander has a fantastic story about how, after he lost his hat during a boat ride, the skipper went back out to sea, found it, and returned it to him at our hotel on the other side of the island the next morning. That's maybe an extreme example, but not far off the mark of what the rest of us encountered, whether in a big city like Athens or somewhere much more rural, like Ioannina or Delphi.
Given this, it's perhaps unsurprising that the BPYO's audiences were, to a concert, excellent. True, one reason for their attentiveness, we were later told, had to do with Ben's spoken introductions to the orchestra's offerings, a phenomenon that evidently doesn't happen in Greece. Even so, the crowds who came to hear the orchestra were unfailingly big, focused, and responsive. Yes, some venues might have been more satisfying from a listening perspective than others, but even the last concert in Patras – with its ferry horns and fireworks – boasted a listening public that, to borrow a favorite family phrase, did a commendable job of "keeping the main thing the main thing."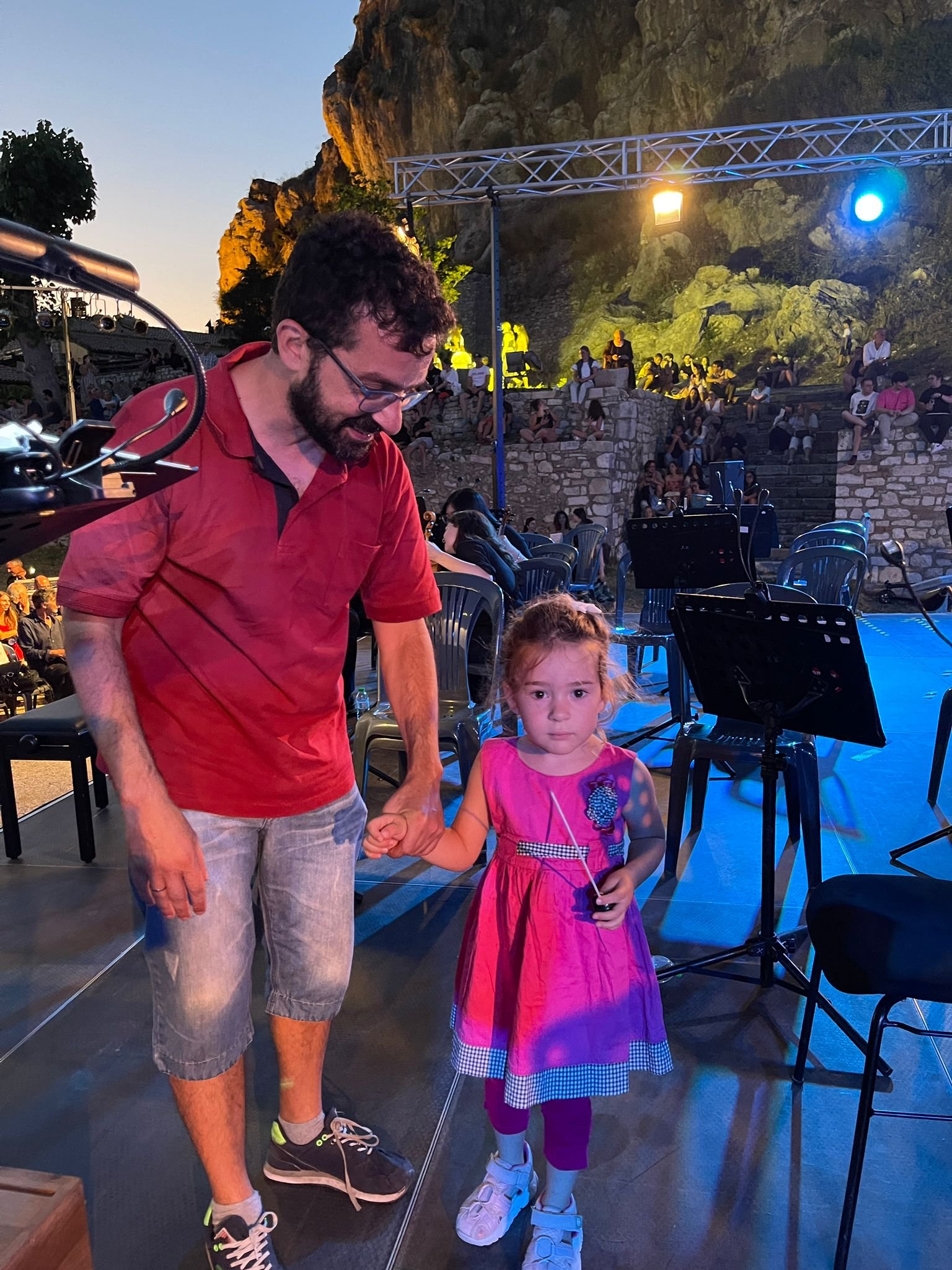 A young fan onstage during intermission in Corfu.
And that points us towards what really made this tour both so much fun and significant – the music itself. This was one of the rare times the BPYO took two full programs on the road: the 2019 trip to Brazil featured Rachmaninoff's Piano Concerto No. 2 across all nine concerts and, in 2018, Mahler's Ninth Symphony anchored the group's travels around Europe. Here, though, we had a pair of substantive and highly different lineups.
Yet they fit together seamlessly. I firmly disagree with the contention that Shostakovich is warmed-over Mahler, but, at times, both composers speak with a related accent, so it was fascinating to catch the similarities and differences between the Mahler Fourth and Shostakovich Fifth Symphonies in such close proximity over these last two weeks. The solo selections, Tchaikovsky's Rococo Variations and Elgar's Cello Concerto, complemented each symphony flawlessly and to tease out the connections between them – as well as the curtain raisers (the Festive Overture and La valse) – was, musically, highly stimulating.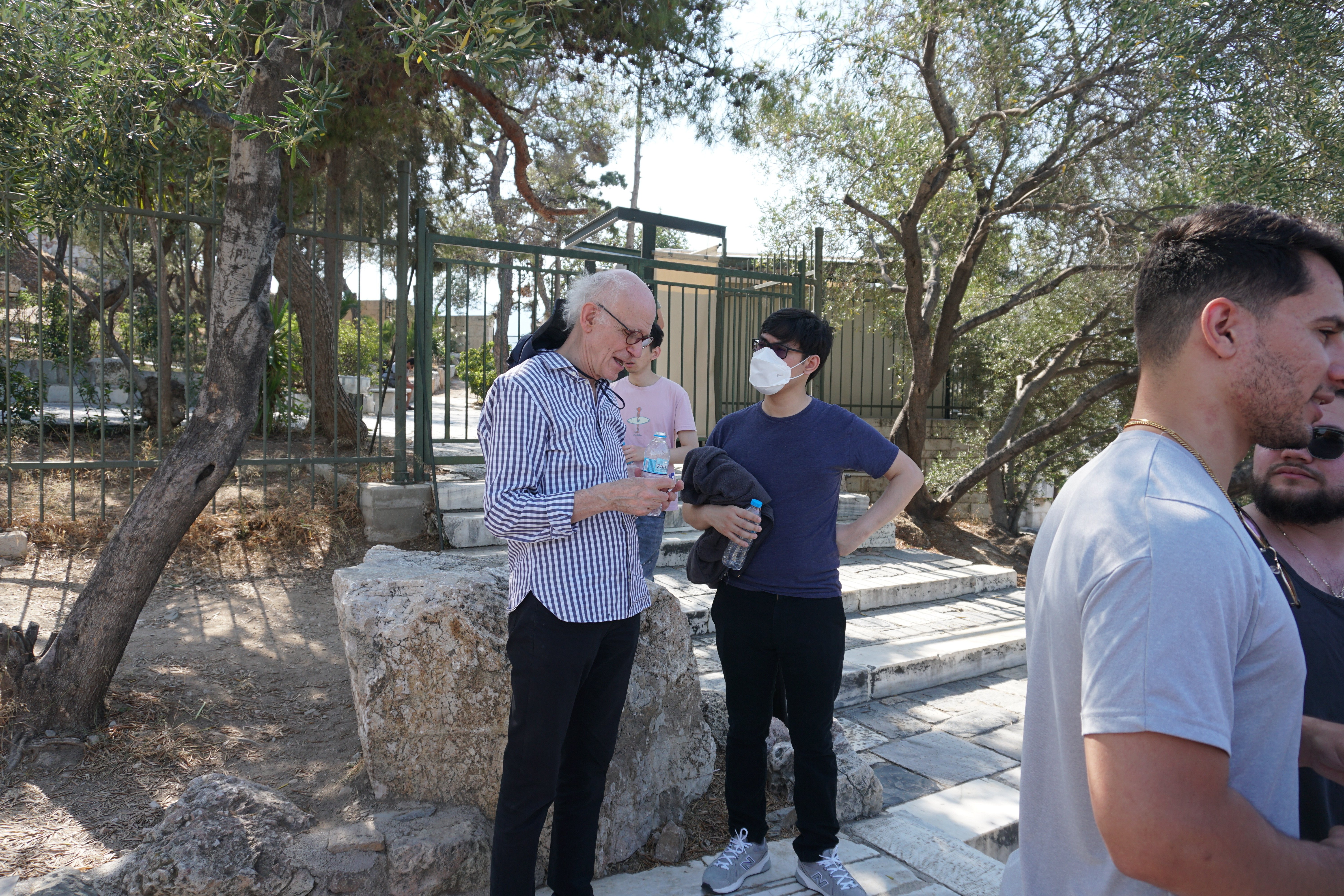 BPYO senior advisor Mark Churchill (l) and cellist Zlatomir Fung (r) in conference on the way up to the Acropolis.
So was the thrill of being on the road with Zlatomir Fung and Sofia Fomina. Zlatomir is a genius-level talent: a brilliant musician as well as extremely well-read and -versed on any number of topics. He's also a complete mensch, one of the nicest, most engaging, funny, and humble people you might ever meet. To occasionally get to chat with him (his ability to make friends with, seemingly, everybody in the BPYO was extraordinary) and hear him play for two weeks was an absolute delight.
Sofia's a marvelous Mahler singer; I would gladly have traded out the three Shostakovich concerts (and I love Shostakovich Five) for the chance to hear her sing the finale of the Fourth a few more times. Alas, that wasn't in the cards. Regardless, she thoroughly connected with Ben and the orchestra over these days and, in the process, revealed an endearingly down-to-earth personality: I'll not soon forget the charge she led to the buses during the thunderstorm in Thessaloniki (which culminated in a quiet refrain of "Singin' in the Rain" from her seat once we were finally safe from the deluge).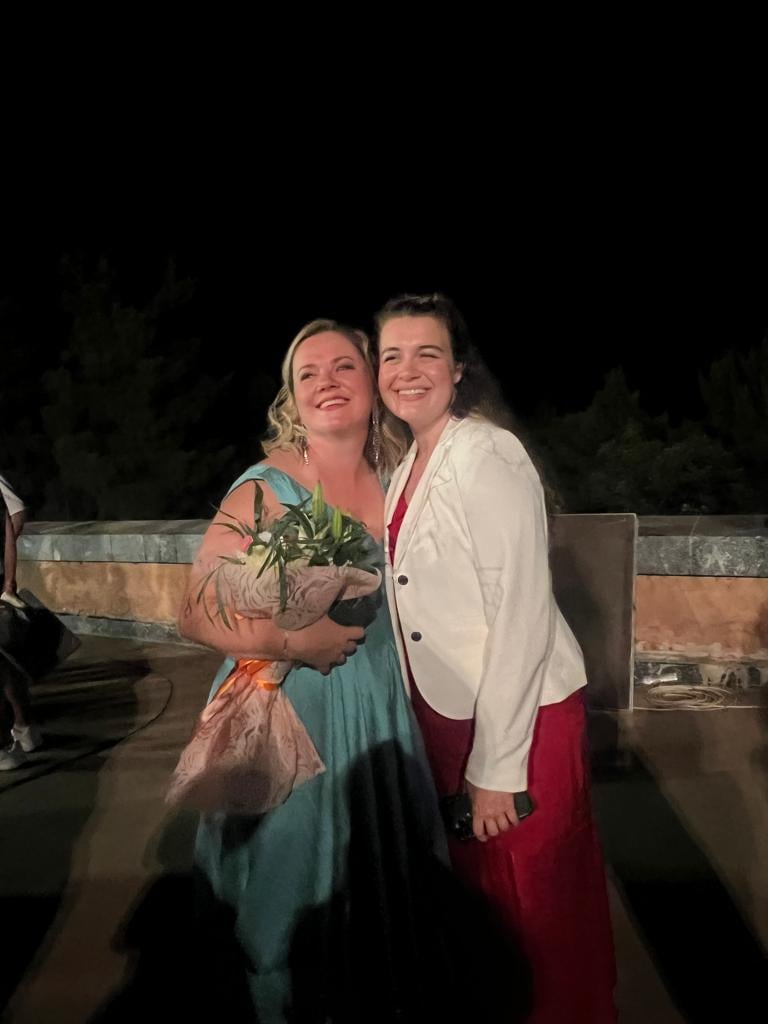 Soprano Sofia Fomina and chaperone/violinist/BPYO alum Greta Myatieva together after the orchestra's concert in Delphi.
The BPYO's handful of exchanges in Athens, Thessaloniki, and Corfu proved likewise memorable, particularly the middle one, which involved a young conductor named Thanos overcoming his jitters to lead some spirited Mozart.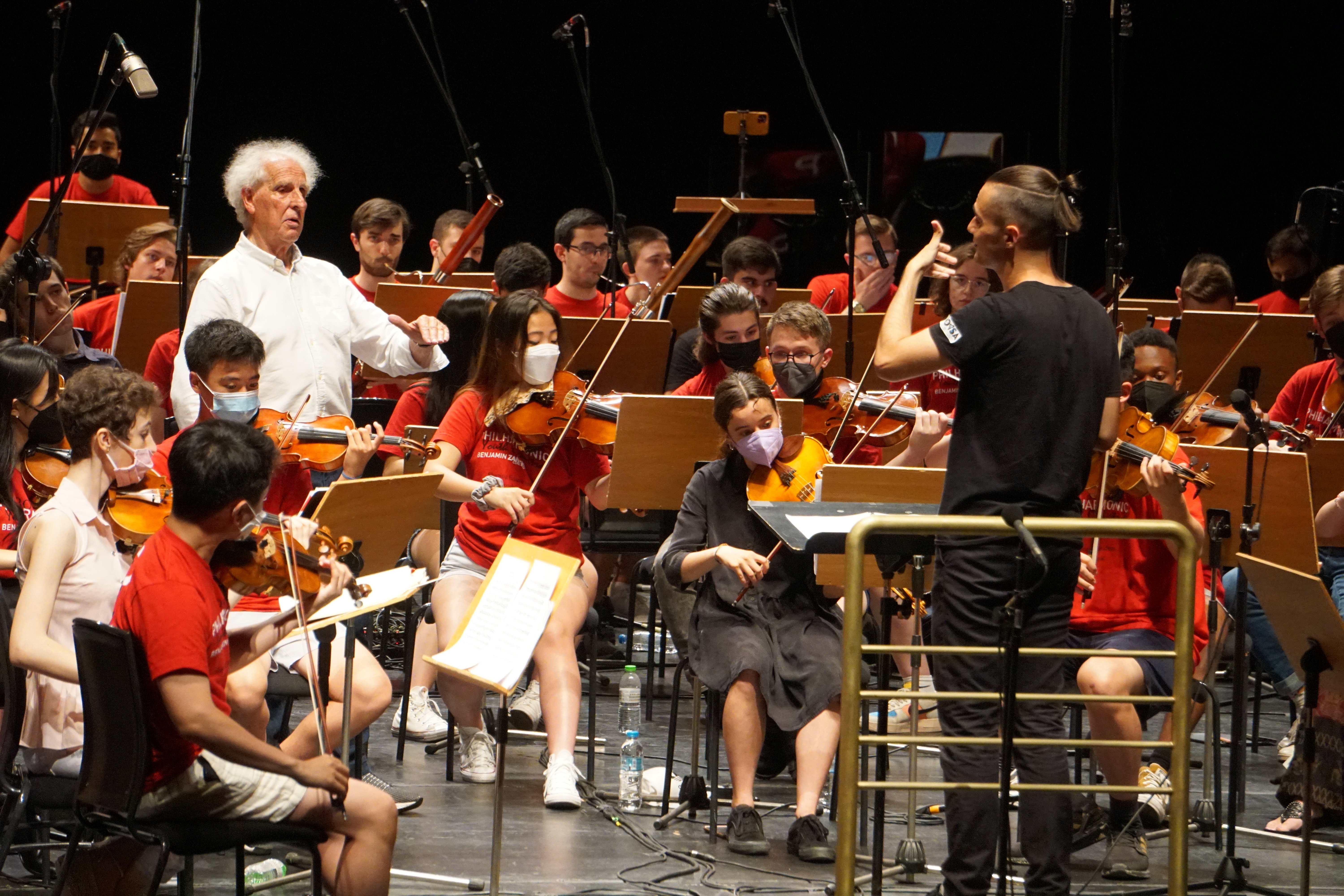 BPYO music director Benjamin Zander coaches Thanos in the first movement of Mozart's Symphony No. 35.
One of the true quirks of this tour was that, after Thessaloniki, there were no subsequent rehearsals, just sound checks at each of the outdoor venues. Yet, somehow, the performances didn't flag, either expressively or technically. Quite the opposite: they seemed to get stronger and stronger. Indeed, the last pair of concerts (which alternated the two programs) were, arguably, the best-played of the entire season going back to Boston. Even the finale in Patras, with all its acoustic deficiencies, revealed an ensemble that you could see (if not always hear) was playing with the utmost confidence and flexibility.
That the BPYO's unity on stage was largely reflected off it was remarkable, though maybe it shouldn't have been too surprising. This season's collection of personalities was a conspicuously fine one. Outside of some positive COVID test results, there were no serious hiccups during our journey, no complaints from the kids, no bad behavior. This was, rather, a hundred teens (or thereabout) who were, to a one, considerate and responsible.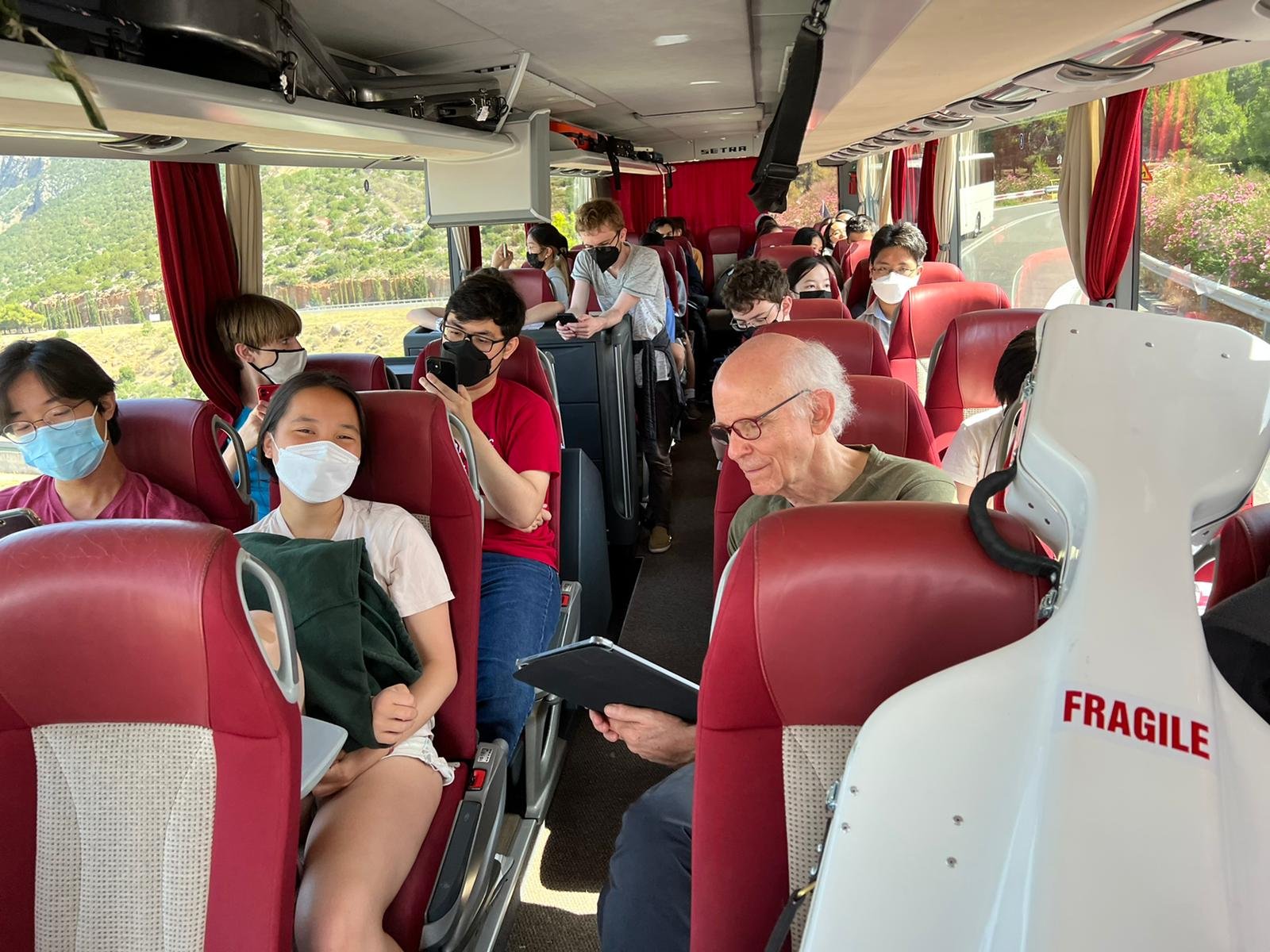 A reading of Shakespeare's As You Like It (because, Zlatomir) on Bus 1.
Our hosts noticed. Georgia Kardaki, the tour's lead manager and someone who's been in the business for twenty-five years, was astonished at the BPYO's excellent behavior, as well as their musical ability. Even people who didn't interact with us for two weeks felt that something special was afoot: Ben's tour guide in Athens, having just spent a few minutes in the orchestra's company, noticed an aura of "goodness" that seemed to emanate from them.
Since so much of what the BPYO does is rooted in Ben's philosophy of Possibility – which, to put it rather basically, means engaging creatively, outwardly, and fearlessly with day-to-day obstacles and challenges – as well as his awareness of practicing intentionality, this is, perhaps, to be expected. After all, there's often a distinct sense of a journey, both musical and personal, being undertaken by the orchestra from the start of the season in September through to the final concert on tour in June. And here we were wrapping things up.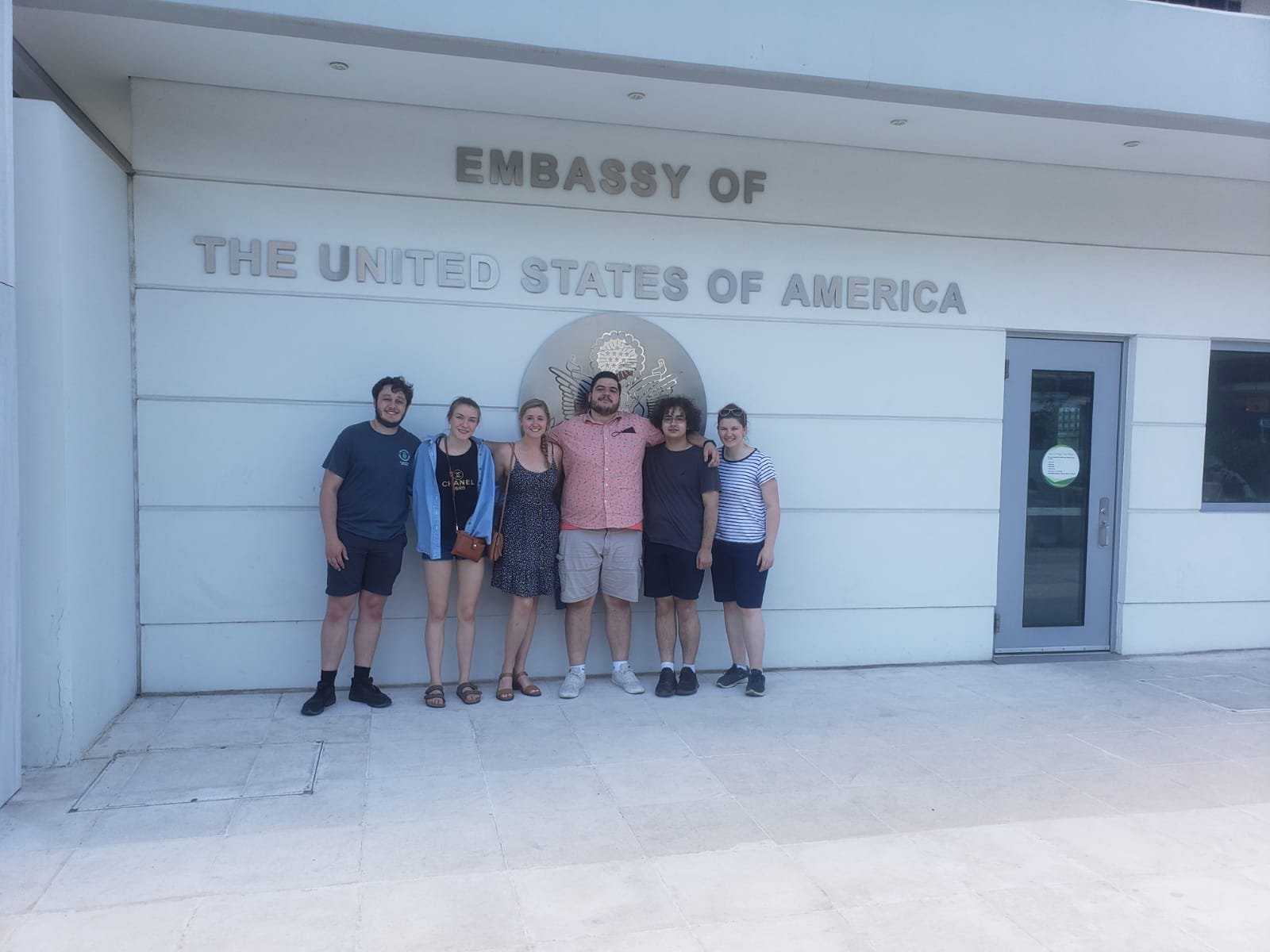 Truly home-away-from-home: members of the BPYO bass section and harpist Shaylen Joos (far right) pay a visit to the American embassy in Athens.
Even so, to note how everything culminated during this tour – the intensity and excellence of the music making, the concentration of each performance, the exceptional day-to-day rapport among orchestra members (and, for that matter, soloists) and the public, the good nature that permeated two weeks on the road in a foreign country – is to note something very special. And rare.
The common denominator in all of the above was, of course, Benjamin Zander, and it's appropriate to take a moment to talk about his relationship with both the players and the music. It's not going too far to say that Ben is the heart of the BPYO: he is the orchestra's founder and conductor, as well as its guiding force, philosophically, artistically, and materially.
Taking together the institution's focus on the repertoire, on Possibility, and on developing the next generation of young leaders, one can see that the group is something of a summation of his life's work. To be sure, Ben's ability to connect with and inspire a hundred-some talented teenaged instrumentalists, musically and personally, is an astonishing gift. It's touching to see the lines of communication between them opened through written White Sheets, in conversation during tour meetings, or simply over breakfast in a hotel restaurant.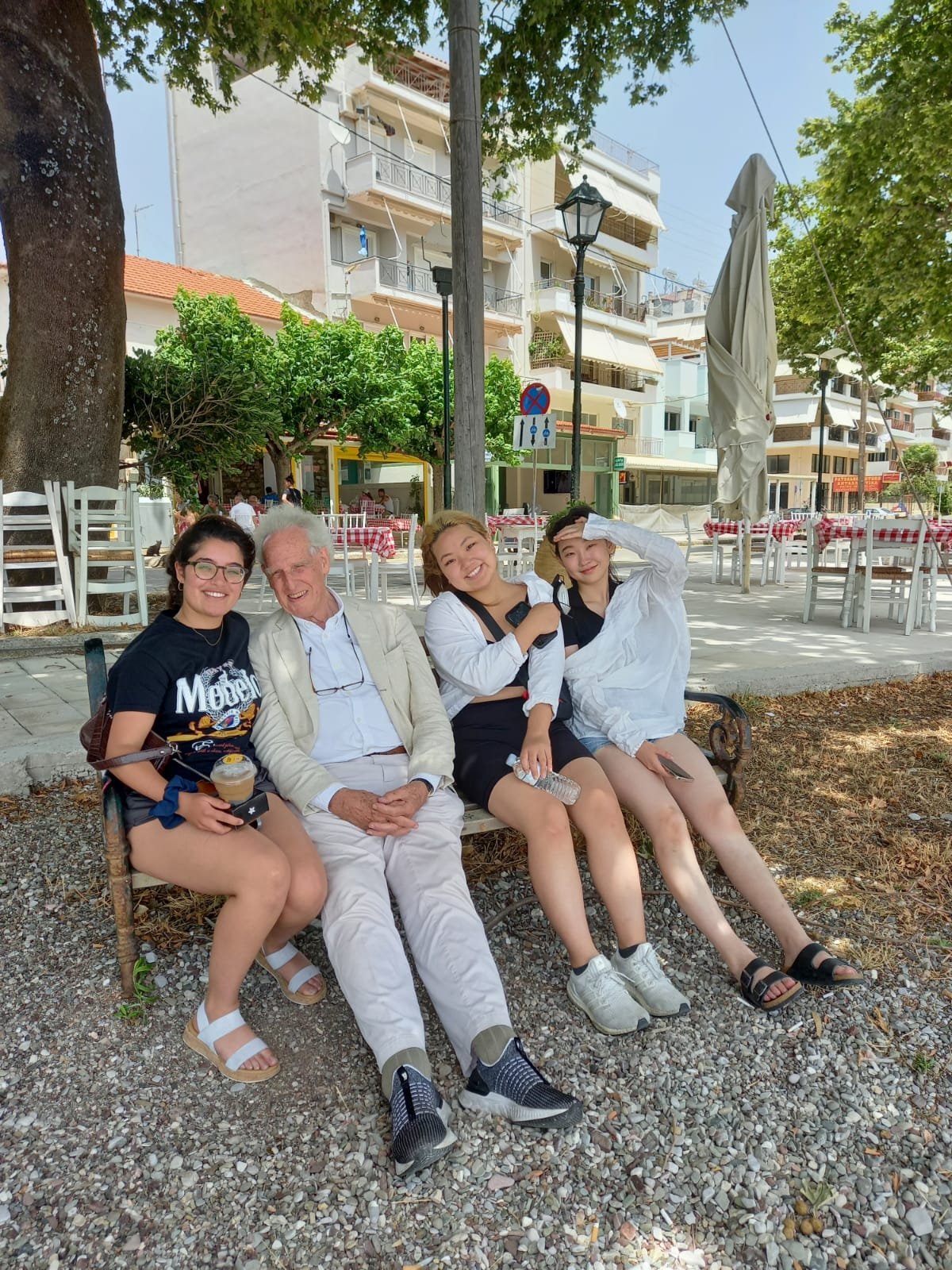 BPYO music director Benjamin Zander with members of the orchestra during a lunch stop in Lepanto.
On stage, these musicians don't just give their all; rather, they regularly evince a freshness that simply doesn't exist in professional orchestral circles. If there's one thing that makes this group so special, this is it. After all, orchestras that play well and even youth orchestras that play well aren't exactly scarce – yet the BPYO's ability to combine technical rigor and interpretive depth with a visceral strain of passion and purpose is singular (a recording engineer at our Thessaloniki concert noted as much: he said he hadn't heard a better orchestra playing in that hall during his twenty-five-years working there). And this quality derives directly from Ben's contagious enthusiasm for his work.
That he remains, at eighty-three, at the top of his game, was firmly evident this last season in Boston: the BPYO's concerts featured, I thought, their most consistently expressively-satisfying playing yet (and I've been following the group more or less regularly since 2015). The same can be said of each of the tour performances.
Both of the symphonic interpretations drew deeply from Ben's experience with the late-Romantic canon. While his Mahler is rightly held in high regard, this tour's Fourth Symphony was conspicuously fine: a miracle of smartly-judged tempos, bold colors, characterful solos, and chamber music-like transparency.
Shostakovich's Fifth is, in spots, much the opposite: forceful, dense, loud. Yet Ben's take on the piece is anything but blunt. On tour, moments in it (like the Allegretto's refrains) were playfully phrased. The Largo always featured playing of intense fragility alternating with episodes of surging power. Nor was there ever the sense that the finale's coda was anything less than a cry of defiance. It was, in a word, a compelling interpretation and one that left a deep impression on the audience each time the orchestra played it.
So did the cello-and-orchestra offerings. I'll not soon forget the extraordinary unity of tone, texture, and feeling Ben, Zlatomir, and the BPYO conjured in their Athens Elgar Concerto – I'd rank it right up with the best things I've heard from Ben since I came to Boston nearly twenty years ago (this includes the BPO's 2016 Elgar First Symphony and last October's Bruckner Eighth, plus the BPYO's 2018 Shostakovich Tenth).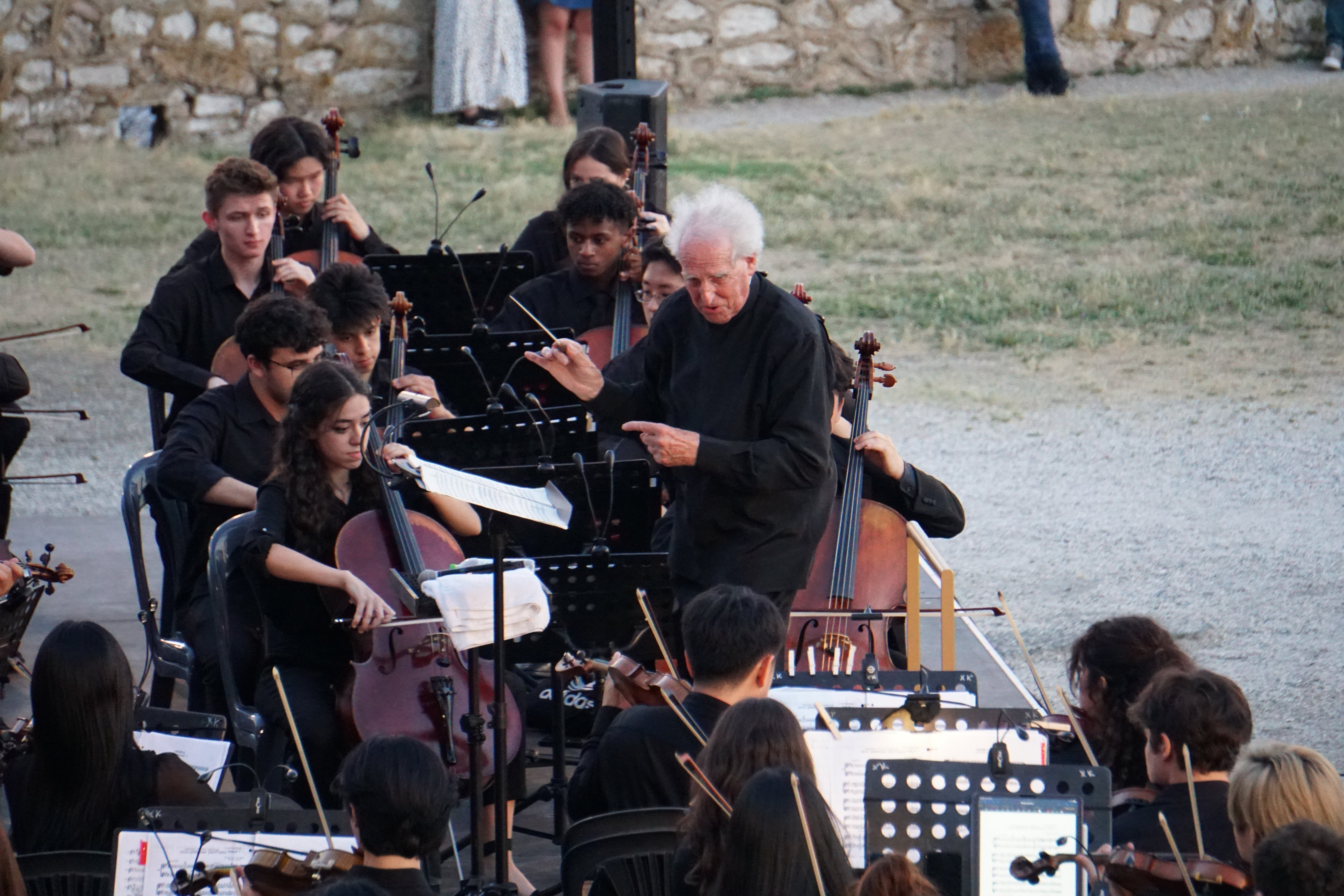 Benjamin Zander conducting the BPYO in Shostakovich's Festive Overture in Corfu.
Their Rococo Variations, too, started in a strong place but grew in flexibility and style with each subsequent iteration. To watch Ben, Zlatomir, and the orchestra engage with each other in this music – and there really was a sort of familial quality each time through the piece: it was almost like one was eavesdropping on an agreeable, intimate conversation – was to be a party to some uncommonly purposeful music making.
One might say the same of La valse, which is fast becoming a BPYO staple (it was last taken on tour in 2018). There are basically two ways to read this piece: as a brilliantly-scored, slightly off-kilter waltz or as one of the most harrowing tone poems in the canon. Ben (correctly) takes the latter view – but he doesn't stint on the music's beguiling color schemes. As a result, his approach to it is strongly directed as well as sumptuous. Thanks, in part, to the dryness of our outdoor venues, on this trip one heard the score in a completely fresh light and the experience was invigorating.
Taken together, then, these pieces (plus the Shostakovich Festive Overture) functioned at an extremely high interpretive level. Indeed, each tour concert was a profoundly fulfilling artistic statement from Ben and the orchestra, as meaningful as any you'd expect from a top-tier ensemble at home in London, Paris, Boston, or Los Angeles.
A couple of days after our return, Ben was still marveling at just how well things coalesced when we debriefed on the musical aspects of the trip over the phone. During our chat, he noted just how satisfying this tour was "musically and humanly." So much of its success, he observed, grew out of his relationship with the players and their collective engagement with the repertoire – his ability to grant them expressive freedom, say, and their willingness to step out of their comfort zones and play to their full potential. By last Saturday night, conductor and orchestra had, in Ben's words, "reached a pinnacle of understanding, freedom, and ease with the music." One trusts there are many more chapters yet to be written in this particular story; even so, this was an uncommon alignment, as those of us who regularly follow orchestral performance were keenly aware.
*****
At one point in our conversation, Ben mused that "all the different stories [from the tour] are tied together by the music."
So they are. And everybody's got a story. As I was reminded after we got back from Brazil in 2019, there is no single telling of an orchestra tour; rather there are hundreds, each of which amplify and echo one another, combining, if you get the opportunity to hear enough of them, into a rich and, oftentimes, touching tapestry.
Accordingly, the accounts that have emerged in the BPYO's end-of-tour White Sheets range widely.
Violist Christopher Broyles noted, among other things, a deep connection he's drawn between the slow movement of Mahler's Fourth Symphony – which the composer described as a portrait of his oft-ailing mother "smiling through tears" – and the memory of his grandmother beaming while he played for her before leaving for Greece.
Trumpeter Cody York recounted how an unforced error in Athens (dropping his mute during La valse) paradoxically resulted in a newfound willingness to take bolder risks in his playing.
Perhaps most affecting was a note from violinist Audrey Sun. During our tour meeting in Ioannina, she had talked about finding "joy and pure freedom" anew during the tour. Her White Sheet continued exploring this theme, rooting these feelings in the love the players feel for each other, as well as, for her, the wonder of playing several concerts under the spectacular Greek night sky.
Those two things, joy – Schiller's "spark of Divinity" – and freedom have, of course, been sorely lacking for most, if not all, of us at one time or another these last several years. Yet they're also the foundation of one of Ben Zander's favorite concepts: transformation.
Now, transformation is a tricky metric to quantify. Who knows how long it lasts, how deeply it lodges, or what, exactly, is transformed?
Ben determines transformation by the number of "shining eyes" that he sees. And there were lots of those, both among our number and the BPYO's audiences, during the last two weeks. Indeed, it seems safe to say that for many (most? Maybe all?) of us on this trip to Greece, there was, at some point or another, a moment or maybe a couple of seeing or understanding the world and our places in it afresh. Perhaps they were along the lines of Audrey's "joy and freedom"; perhaps they looked somewhat different.
Regardless, it's these moments, I think, that are this tour's key takeaways, experiences that – though they may appear small in hindsight – might be carried on, developed, and built upon, one email, one phone call, one conversation, one concert at a time.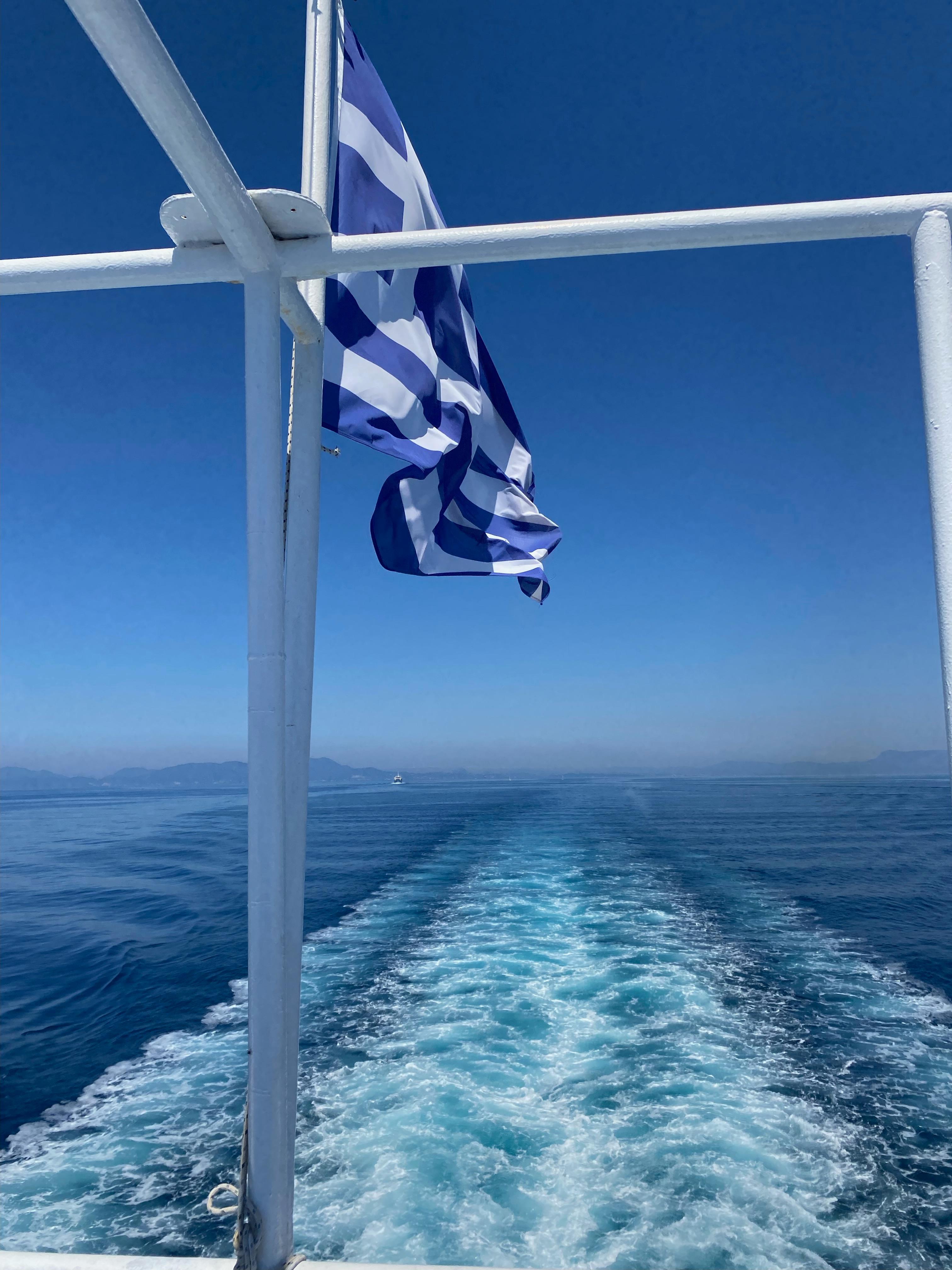 On the ferry departing Corfu.
Photo credits: Alfonso Piacentini, Deb Ramsay, Johan van Zyl, and Jonathan Blumhofer.