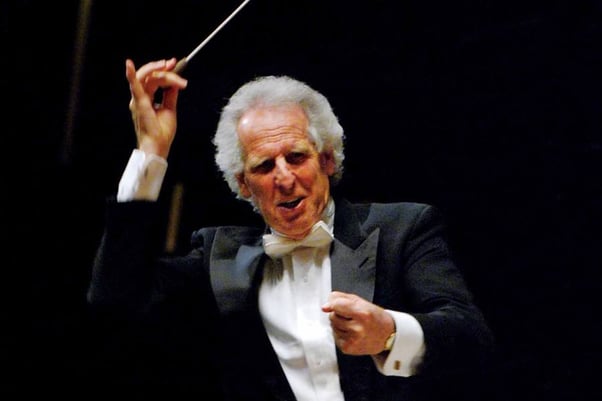 A Message from Our Music Director

Beethoven Violin Concerto

The Beethoven concerto has probably undergone, in the past 40 years, the most radical rethinking of any piece in the classical repertoire. It's as if there are actually two Beethoven violin concertos - one is the popular piece that all the great violinists have performed and recorded over past 100 years and the other is the piece that Beethoven actually composed. The story begins right here in Boston in 1979. For the first concert of the newly formed Boston Philharmonic I wanted to present a really revolutionary event–a performance of the Beethoven concerto shorn of all its traditional romantic encrustations. Because the Beethovian tempi demand extraordinary technical virtuosity, I called Itzhak Perlman, and asked him to perform it. Itzaak, at the end of a fifteen-minute phone conversation, in which I expounded my discoveries, replied: "That's very interesting, Ben, but I prefer to play it the way Isaac plays it." (Isaac was, of course, his mentor, Isaac Stern).
Thwarted in my attempt to land a world class virtuoso to be the advocate for this new view of Beethoven's violin concerto, I turned instead to a hot young local violinist, the son of George Zazofsky, assistant concertmaster of the Boston Symphony and the person who had given the Boston premiere of the Berg violin concerto. George had been urging me to have his brilliant 20-year-old son Peter play the Berg with my Civic Symphony, but with the BPO about to launch, I turned to Peter to help me give a performance of the Beethoven violin concerto that would be true to the composer's intentions. Peter came to my house 4 or 5 times till we had scraped away every last encrustations of the score and before we even met with the orchestra. The performance caused a sensation. The critics raved; respected musicians hailed "a revelation"; "hearing the piece for the first time" etc.
Some objected. Joe Silverstein, Peter's teacher, stormed backstage after the Worcester performance and said to him, as if he was a naughty schoolboy: "What the hell are you doing?"
What happened next is that two roads diverged. Most violinists went on playing the piece "the way Isaac plays it" whilst others approached it the way I had done it with Peter. Roger Norrington, who had acknowledged publicly I had fundamentally changed his attitude towards Beethoven's tempi, coached Joshua Bell into playing the piece in essentially the same way I had with Peter and some others followed suit. Nowadays, you are as likely to hear what I like to think of as a "Zazofsky-like" performance of the Beethoven violin concerto as a traditional one.
I myself had an amusing experience guest conducting the Israel Philharmonic, where Christian Tetzlaff protested he couldn't possibly realize in a single rehearsal his radical interpretation of the Beethoven with a conductor he had never even heard of. He came into the piano rehearsal in rather a bad mood, which lasted only as long as the first four notes and the realization that my approach was virtually identical to his!
Since then I have performed the piece only twice, both with the BPO and both with great artists, one young, one old. The first was with the legendary Oscar Shumsky, formerly concert master of the NBC orchestra under Toscanini. Shumsky had no interest whatever in my radical view of the piece and played a sublime performance of the "Isaac" interpretation which I dutifully accompanied, without the slightest complaint. Next was Stefan Jackiw who was in a somewhat stubborn phase. Though he showed due deference to his former teacher, we struggled towards a beautiful, though conflicted interpretation of the traditional interpretation. An interesting side-bar is that this past Saturday, Stefan came back to Boston to play a rehearsal with Boston Philharmonic Youth Orchestra of the Mendelssohn violin concerto in preparation of the concert in Symphony Hall on November 24th. Stefan literally blew us all away with a performance of the Mendelssohn at EXACTLY the tempi that I have always dreamed of and am certain that Mendelssohn intended.
Here are a couple of "white sheet" responses from two members of the orchestra after Saturday's electrifying rehearsal:
First this from Elias Medina, a senior at NEC who is playing first oboe in the concerto and 4th oboe in the Mahler 1st, which only appears in the Finale:

Dear Mr. Zander,

I write this with an incredible amount of gratitude. Playing with Stefan Jackiw was an amazing experience that rekindled so much love for playing music in just one hour! His playing, his zest for life, his passion, and his optimism, combined with yours - an absolutely surreal combination that brought me out of all the troubles of my daily life. I feel so fortunate to have waited throughout that Mahler rehearsal just to be able to witness and hear everything that happened during the Mendelssohn tonight. It has changed my life. I don't know how else to thank you for such a profound moment. I immediately began to want to sing through my instrument and create the most seamless lines just like our incredible soloist. This feeling has left me so inspired.

Thank you so, so much,

Elias
And this from 14 year old first violinist John Qiu

Dear Mr. Zander,

Wow. I am just amazed. Today's rehearsal was another reason why I love this orchestra so much. Stefan's playing today turned a piece which I found boring and overplayed into a piece of hidden intricacies and wonderful messages. Not to mention, his playing was to die for. I loved his tempo for the first movement, with his crisp bowings and playing. The second movement was interpreted in such a... correct way. It just made sense, the way he played. It was so clean and pure.

I'm really excited for this concert, and I'm definitely going to drag some of my friends along! They'll thank me once they hear Stefan's playing!

Thank you so much!
John
But back to Beethoven. Whereas orchestras everywhere are playing wall-to-wall Beethoven this season to commemorate the 250th anniversary, BPO is playing only a single Beethoven work - the violin concerto. I had watched on YouTube a performance from the Concertgebouw by the extraordinary Dutch violinist Liza Ferschtman - already a star in Europe, though almost completely unknown in the States. She plays the "Zazofsky" version of the concerto on this video with such élan, subtlety and radiant warmth that I knew I had found an ideal partner for another Beethoven concerto performance. She will play the Beethoven this Thursday, Saturday and Sunday afternoon.
Yesterday's piano rehearsal with Liza and the evening rehearsal with the orchestra more than fulfilled my expectations. I am excited beyond the usual limitations of decorum!
The Rachmaninov Symphonic Dances coming after intermission, with its gigantic romantic orchestra, makes the most brilliant possible contrast to the intimate chamber orchestra for the Beethoven. The juxtaposition of the Rachmaninov, inspired and informed by the recently discovered recording of the composer playing the work on the piano, together with the Beethoven, will make this concert one of our most thrilling ever. Please come and join our excitement and tell your friends about it!
Ben Zander