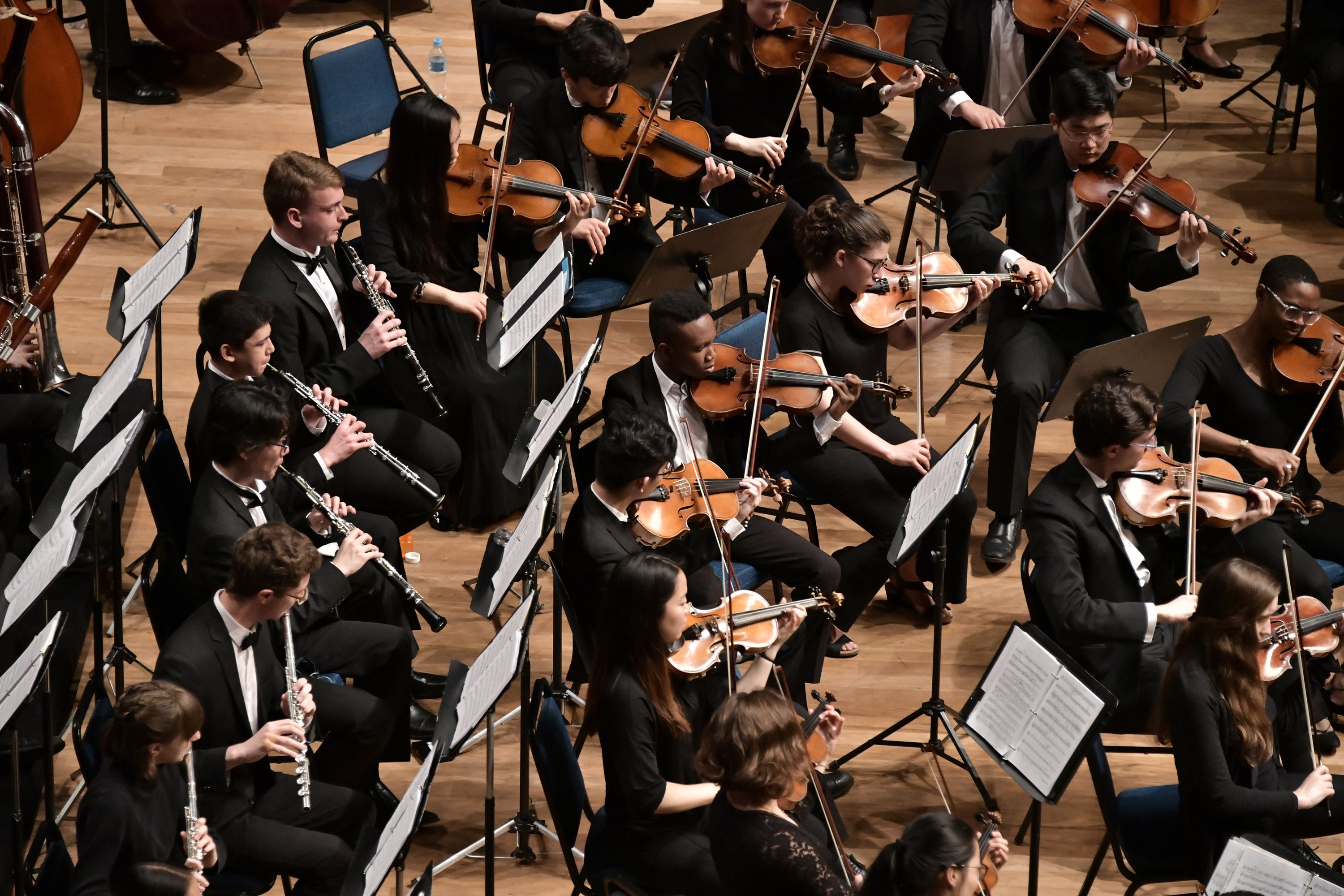 Boston Philharmonic Youth Orchestra 2019 Tour – Curitiba & Endings

A sixteen-day international orchestral tour takes a lot out of you.
"I gave all that I had to give," BPYO principal second violinist Greta Myatieva said after Saturday night's concert in Campinas, "And then I gave all I didn't have." That was Day Nine.
By the time we arrived in Curitiba on Thursday, the last stop of the orchestra's Brazilian trek, pretty much everyone was feeling drained.
Yet the remarkable thing about the BPYO's time in Brazil is that, despite the exhaustion and sickness that have gradually descended on the ranks, the orchestra's energy and enthusiasm haven't flagged. Indeed, its playing in performances and exchanges have remained at the normal, high standard.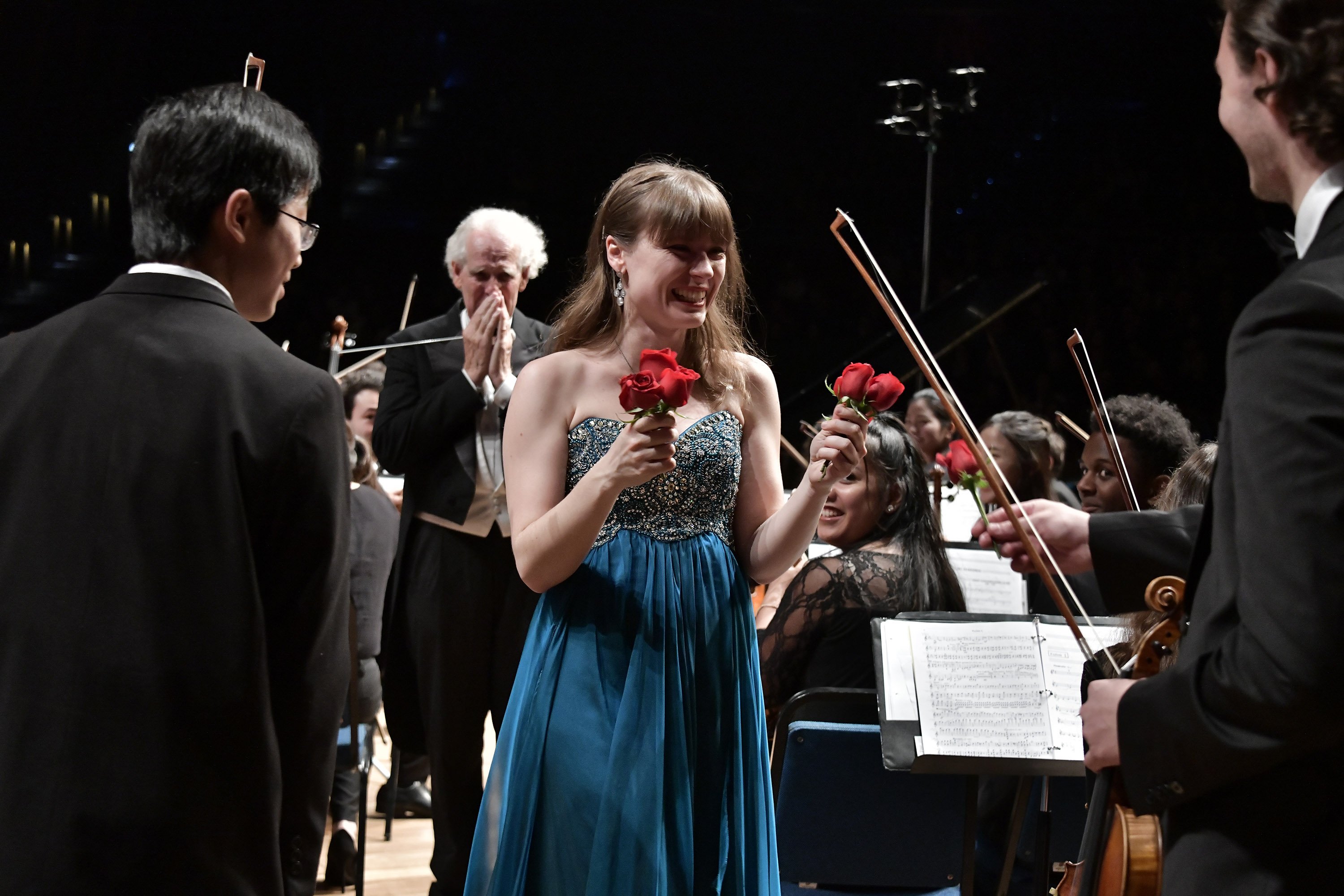 Anna Fedorova receiving her roses after playing Rachmaninoff's Piano Concerto no. 2 in Curitiba's Teatro Positivo
So it did at Curitiba's cavernous Teatro Positivo, where we arrived on Thursday afternoon for our last rehearsal and concert in Brazil.
It was a bittersweet time. Exciting, yes, since the end of the tour was in sight. But the Curitiba performance also marked the end of the BPYO as we know it: several members of the orchestra (including leading players like Greta, principal cellist Zach Fung, and bassoonist/contrabassoonist Nathan Muz) are departing its ranks for college and/or other life adventures after we return to Boston.
The rehearsal was, accordingly, a bit subdued. Benjamin Zander made a reference to the ensemble's retiring members and then advised the fatigued group to "reserve everything for the performance of a lifetime."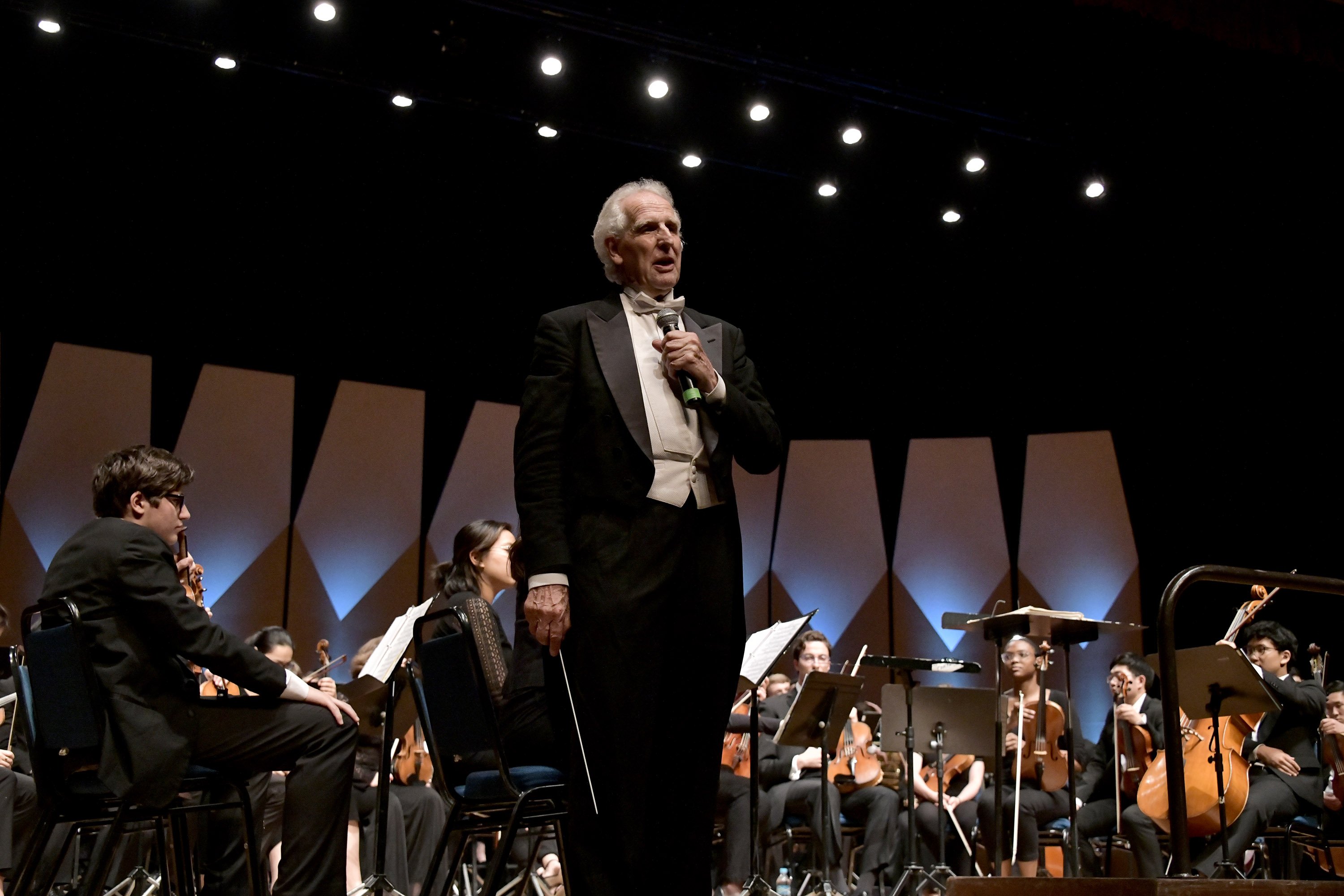 Benjamin Zander addressing the audience at Curitiba's Teatro Positivo
They followed that instruction with gusto.
Their Meistersinger Prelude was full of color and sweep.
Then Anna Fedorova took the stage to give one last, transfixing account of the Rachmaninoff Second Piano Concerto. It's been one of the real delights of my musical life to hear Fedorova perform this piece these nine times and, at this point, my arsenal of adjectives is all but depleted in attempting to describe her way with the piece.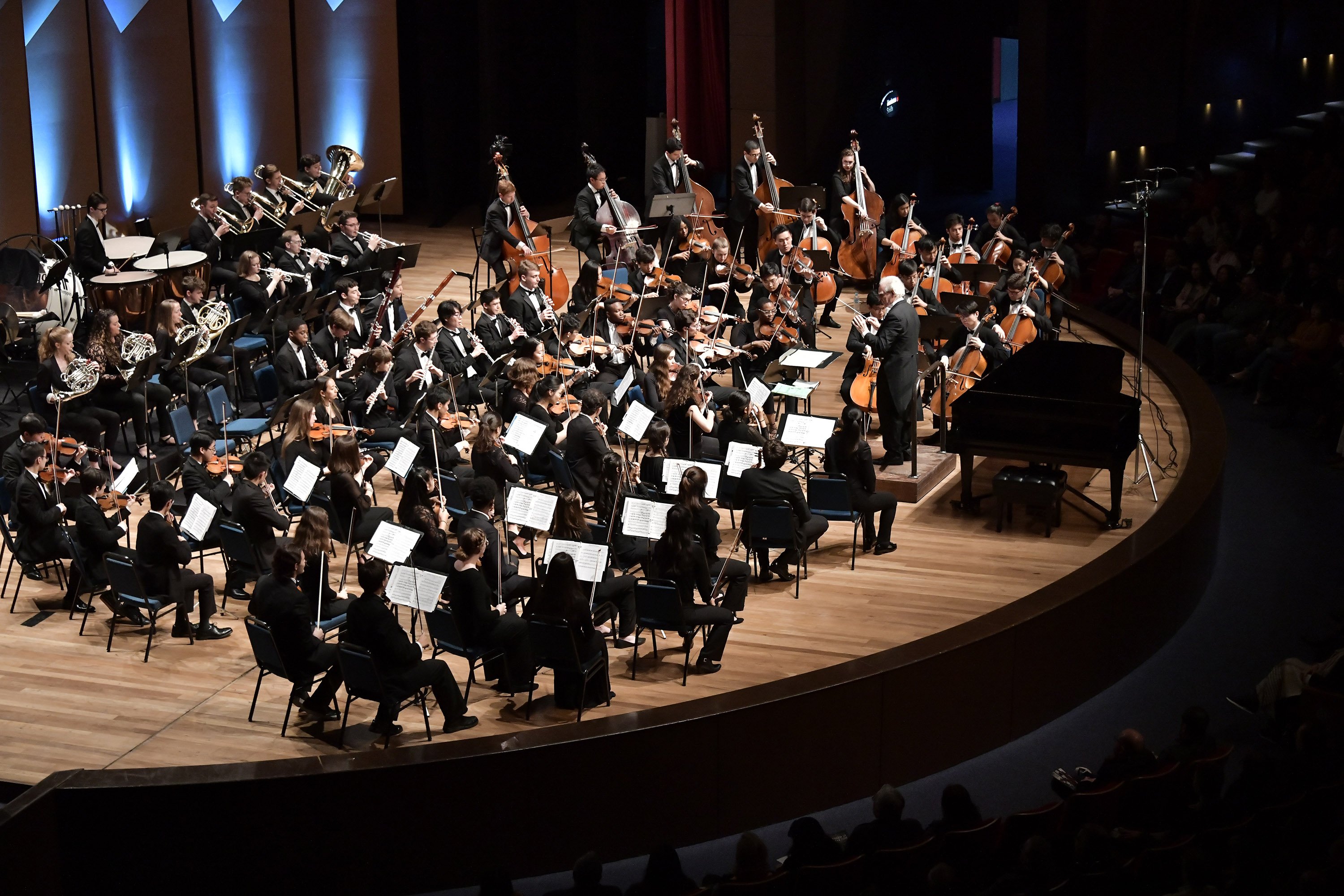 BPYO playing Wagner's Meistersinger Prelude in Curitiba's Teatro Positivo
Suffice it to say, Thursday's account was radiant from start to finish. It was also overflowing with drama, passion, intensity, and joy. Afterwards, she gave a final encore and, as she was leaving the stage, was presented with a dozen or so red roses from members of the violin section – a classy surprise masterminded by second violinist Ilya Yudkovsky. (View a video of Anna receiving her roses on our Instagram account)
Following intermission came Shostakovich's Symphony no. 10. After a four-night hiatus, the Tenth actually sounded freer and more comfortable in Curitiba than it last had in Ribeirão Preto. Yes, there were a couple of raw spots, but, for emotional intensity and character, you couldn't have asked for a more gripping reading. For my ears, it was their defining performance of this masterpiece all season.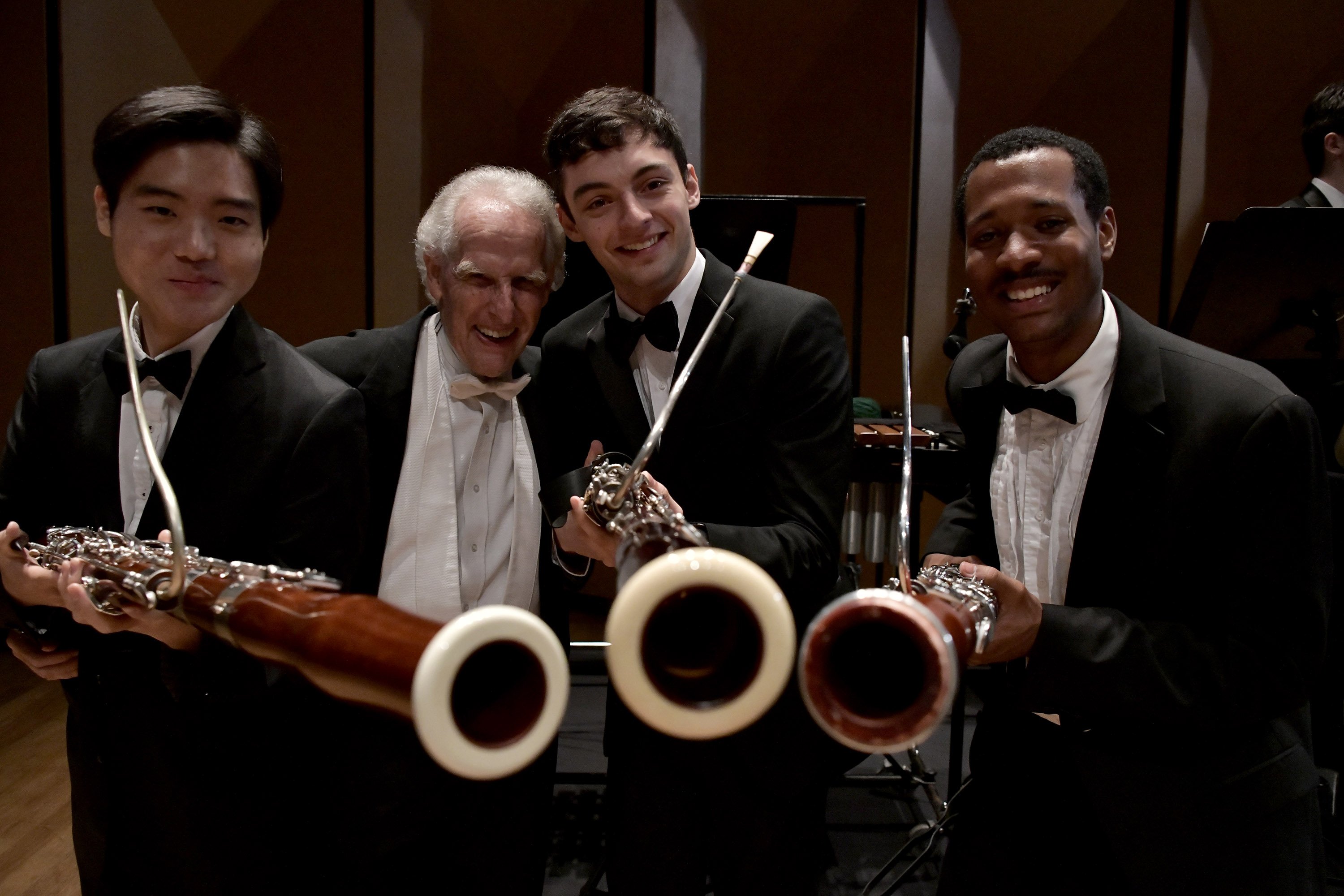 Benjamin Zander and the BPYO's bassoon section: (l to r) Carter Jaehyo Namkung, Nathan Muz, and Kai Rocke
Thursday's audience of more than 2000 (in a 2400-seat theater) agreed. They may have been one of our cough-happier lots, but this was as fervent and enthusiastic a crowd as we've had in Brazil, cheering and clapping loud and long. Zander led the usual encores: an exuberant Stars & Stripes Forever followed by a conspicuously moving "Nimrod."
And that was it: the BPYO's 2019 tour (at least the concert portion of it) was over.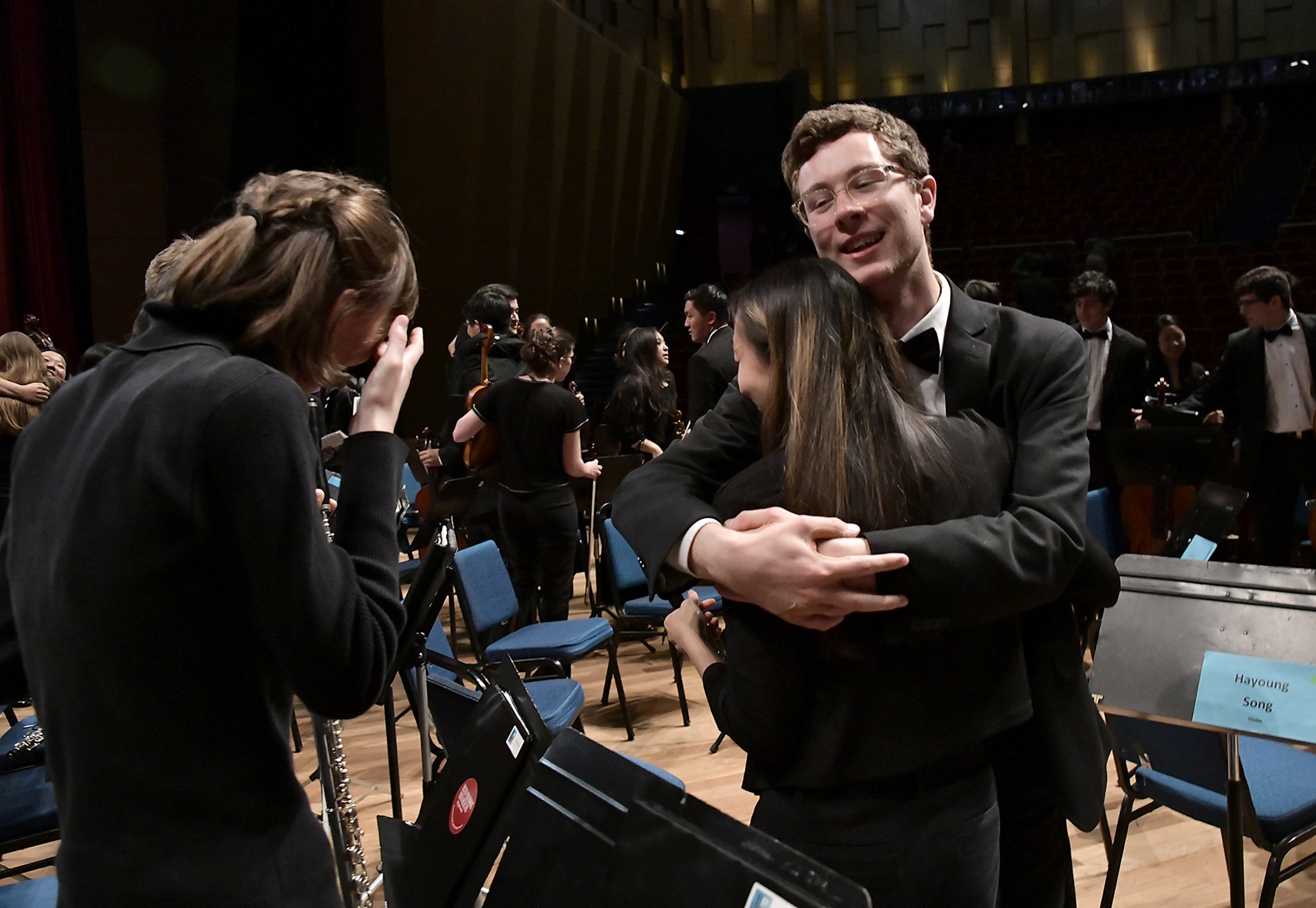 BPYO flautists post-"Nimrod": (l to r) Hannah Caris, Lily Josefsberg, and Hunter O'Brien
Almost immediately, the stage dissolved into a sea of emotion: relief, joy, sadness – it was all there. Embraces were exchanged. Tears flowed freely. Laughter echoed across the hall. Countless photographs were taken.
On our flight to Curitiba earlier in the day, I'd been sitting next to BPYO trumpeter Dan Vengler. In the course of chatting with him and co-principal bassist Sarah Wager, Dan had pointed out just how impressed he was with the combination of individuals that make up the orchestra. "Benjamin Zander's a charismatic guy," he said, "and he has a good sense about people. Most people in the sections work well together and we've got a nice mix of personalities."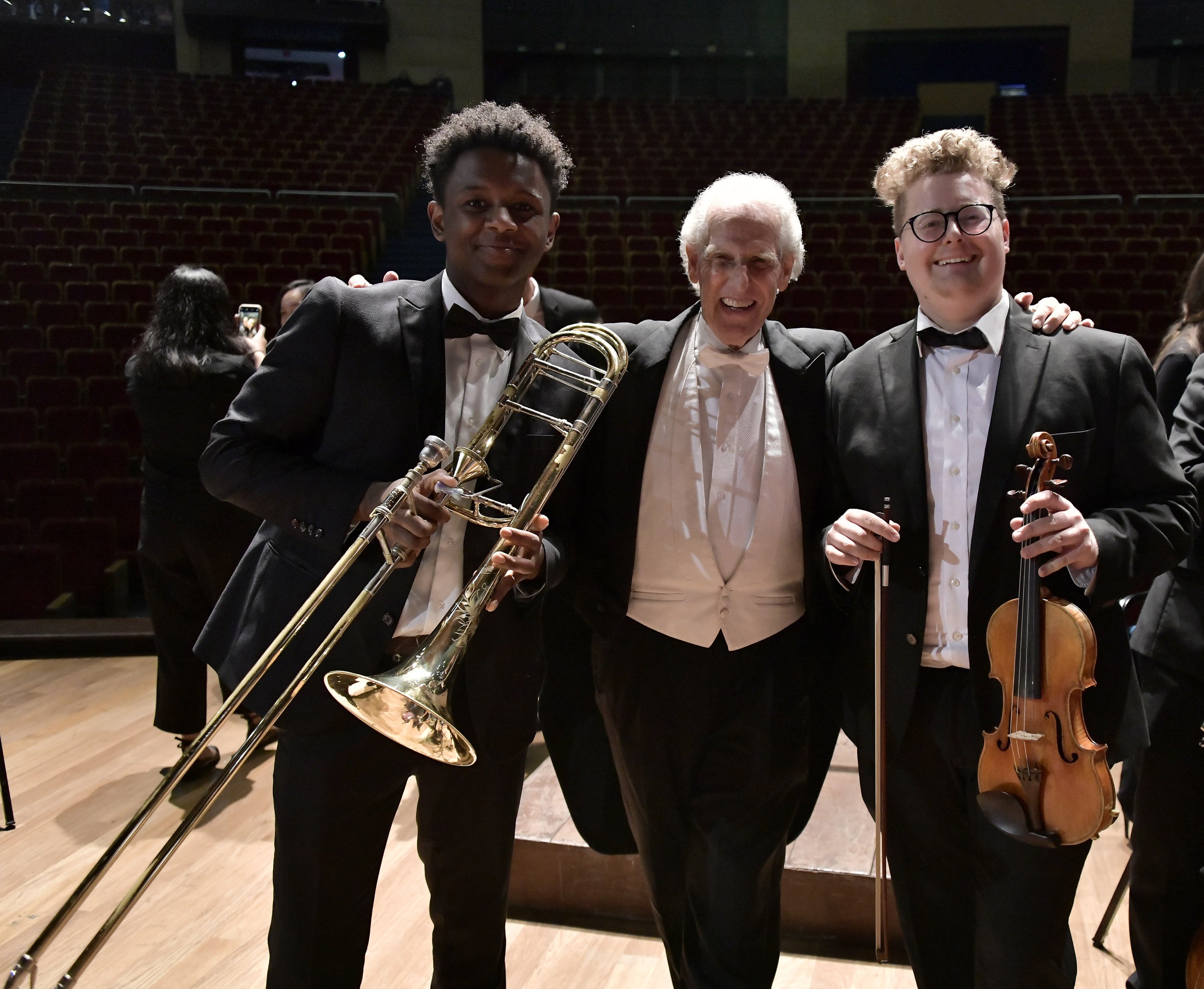 A world turned upside-down: Benjamin Zander with BPYO violinist Kerby Roberson (l) and trombonist Quinn McGillis (r)
He was right, of course, and, throughout the tour, you could see this dynamic playing out: not only does the BPYO make music together at a high level, but they band together intensely on a personal level. The scene after Thursday's concert gave a sense of just how profound and insuperable the bond between these kids is. A couple of days before, Ilya (the aforementioned violinist), talked about the unspoken love the orchestra members feel towards one another. Here it was expressed vividly, not by a few players but by everyone. The episode was, from my perspective, the most beautiful and moving one in a tour that had been full of them.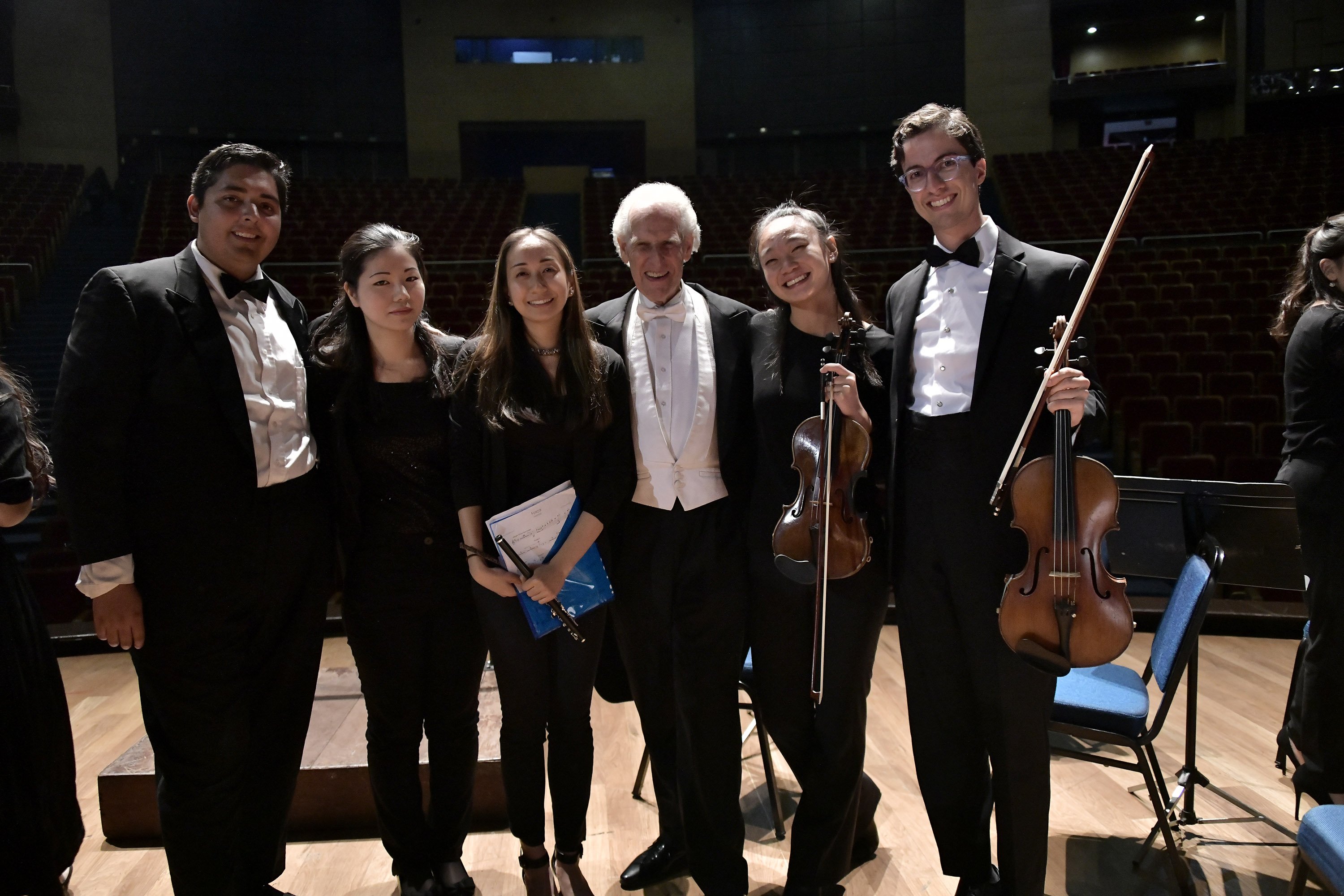 Zander with BPYO members from the first year -7 years ago! (l to r) Robert Oldroyd (percussion), Mitsuru Yonezaki (violin), Lily Josefsberg (flute/piccolo), Emily Chen (violin), and Nicholas Gallitano (viola)
We spent about an hour onstage after the last notes of "Nimrod" faded and then, like in Rio, the stagehands insisted we leave so they could close things down for the night.
So we loaded up on the busses and headed back to the hotel for one last midnight Brazilian dinner, followed by a final tour meeting.
In the latter, Zander made a point of thanking everyone involved for making what he described as the "most enjoyable tour" he'd led a success. The orchestra, he said, was "the most respectful, cohesive group" he'd worked with and singled out several individual players for their leadership and character.
He praised Anna Fedorova for her musicianship, generous spirit, enthusiasm, and willingness to put herself through so much the last fortnight. "The only other musician I've ever worked with," Zander said of her, "who gives himself so fully and completely to the music is Yo-Yo Ma."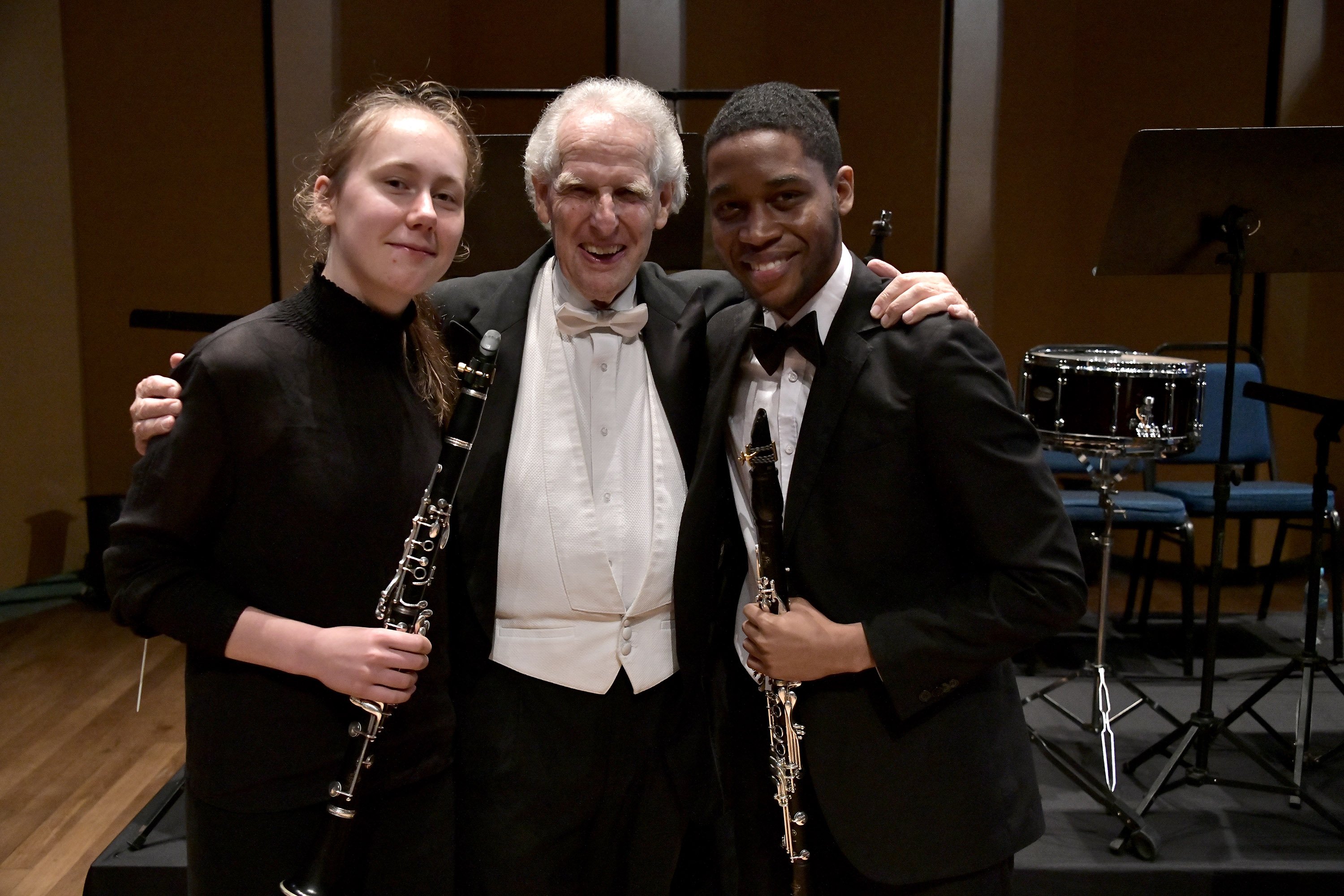 Zander with BPYO clarinetists Tekla Nilsson (l) and Paul Mardy (r)
And he acknowledged the behind-the-scenes team that arranged the tour and allowed it to thrive.
BPO managing director Elisabeth Christensen organized and coordinated the entire enterprise. How she did it all – arranging transportation and concert venues beforehand, keeping 110 people in the know while on the ground in Brazil, providing a listening ear to anyone in our big entourage who had a question or a concern, ensuring that all of our stuff made it from one location to the next, and so much more – without once losing her cool was miraculous. Yet she managed it, and brilliantly: talk to anyone in the BPYO who's been on multiple tours and they'll tell you that Brazil 2019 was the smoothest, best-run one yet. Somewhere in the world it's theoretically possible that there might be somebody who can do Elisabeth's job as well as she did; nobody, though, can do it better.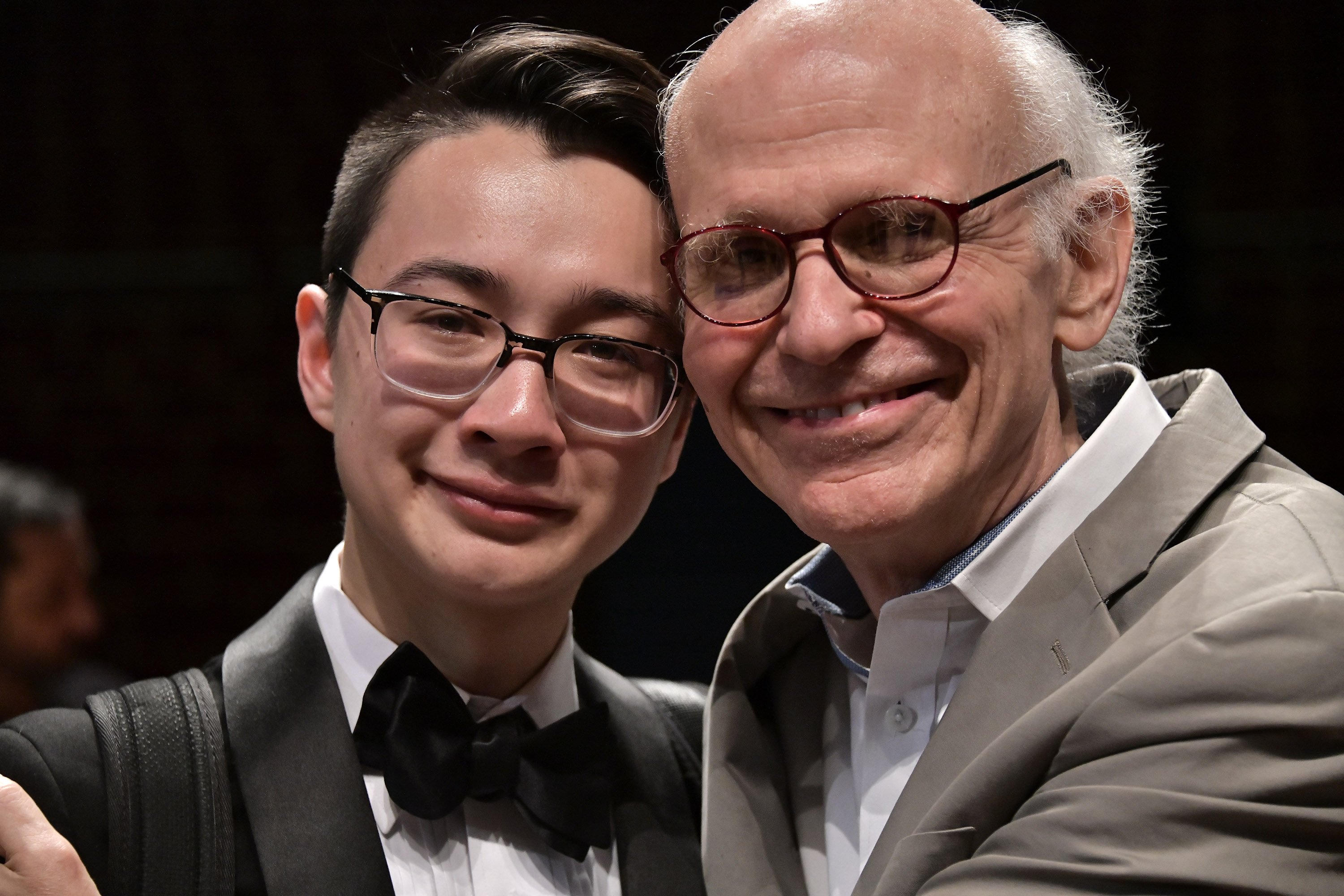 Violinist Ilya Yudkovsky with BPYO senior advisor Mark Churchill
Then there's Mark Churchill. Now the BPYO's senior advisor, Mark is one of Zander's oldest friends: they first met in the 1960s and have worked together, in one capacity or another, pretty much ever since. If you've ever met him, you'll know that Mark is one of the humblest, most sincere, self-effacing, beneficent people you'll ever meet. He's also a pillar of wisdom, insight, and knowledge. I had several opportunities to talk with him over the course of our trip and found Mark a thoroughly inspiring conversationalist – a raconteur par excellence.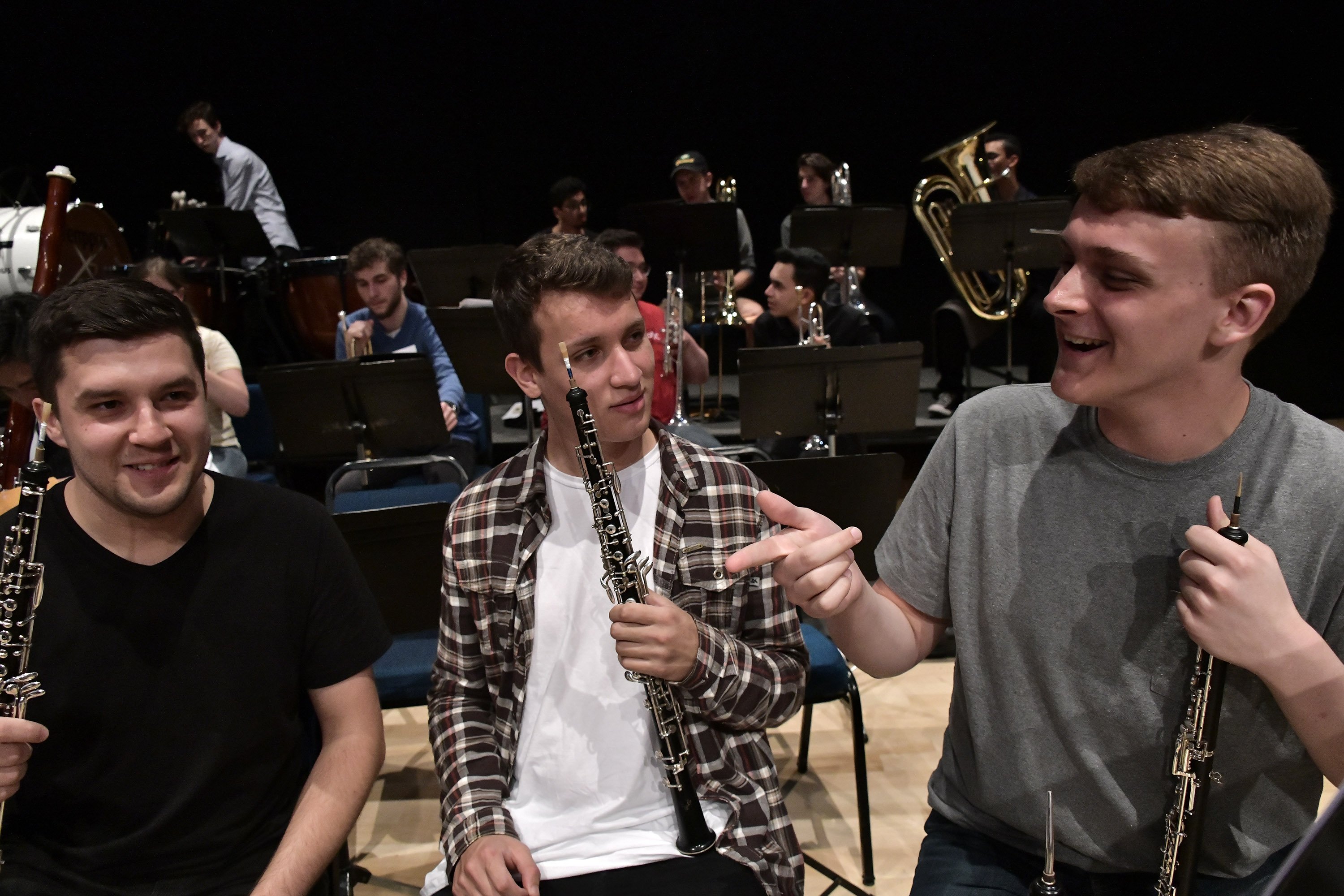 BPYO oboe/English hornist Cameron Slaton with two Brazilian colleagues
That we were in Brazil to begin owed much to Mark: before we left, Zander described the tour as, essentially, a tribute to his long career as a teacher and the time he spent studying and working in South America, generally, and Brazil, in particular. Appropriately, the BPYO's exchanges – which resulted in some of the trip's most touching and lasting memories – were arranged through Mark's contacts with El Sistema and other music institutions in the cities we visited.
Also, among the team of adults were six chaperones – Kysha Bradshaw, Derek Beckvold, Isabel Carton, Steve Herbert, Robert Jordon, and Deb Ramsey – who melded into the group seamlessly. To have them around was a joy.
Andrew Lan was our tour physician. He had his hands full with (mostly) coughs and colds that a good percentage of us were dealing with by trip's end – but, thankfully, nothing much more serious than that. Turns out he's also an ideal person to have around if you're up for exploring new places and plays a pretty mean violin, too.
Dave Jamrog was our excellent videographer and Paul Marotta our superb photographer. It was a true pleasure, for me, to hang out and get to know both of them a bit: they're as dedicated to and accomplished in their respective fields as Zander, Churchill, and Christensen are in theirs.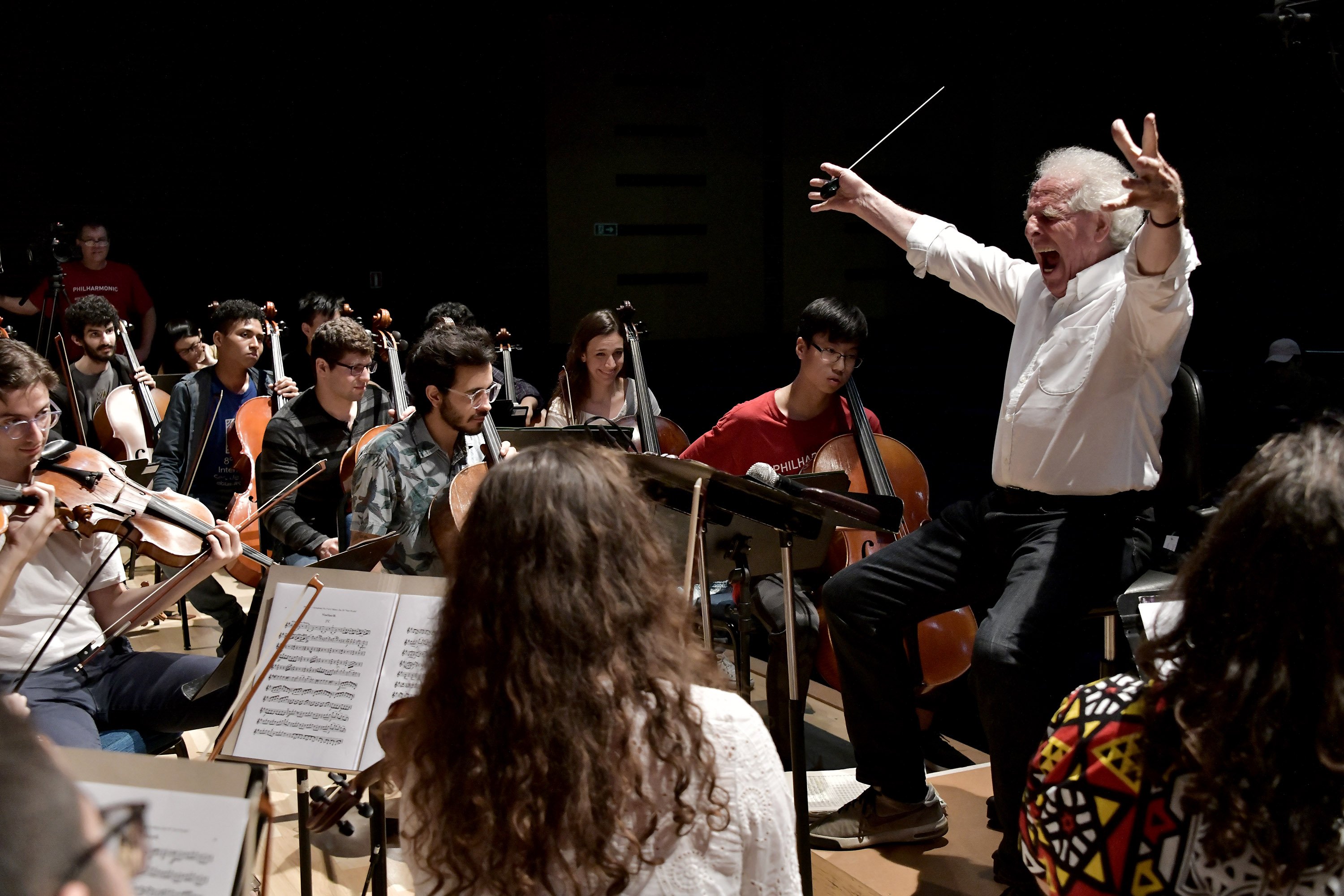 Zander rehearsing Dvorak (and channeling his inner Leonard Bernstein in the process)
Once the meeting concluded, it was late to bed (if you were so inclined) and too soon to rise. Then we had a couple of hours to pack, fit in some last-minute souvenir shopping, grab lunch, and head off to the tour's last two activities: an afternoon side-by-side and a conducting masterclass at the Universidade Positivo.
Andrew Lan and I joined the viola section for the side-by-side and got to experience a no-holds-barred Zander rehearsal of the New World Symphony's finale. It was invigorating – the man's intensity and attention to detail after sixteen days on the road and next-to-no sleep is inspiring – even as it seemed to sap my remaining energy! No matter: everybody was in high spirits, especially the members of the university orchestra who joined us and we managed (from my not-entirely-objective viewpoint) a pretty snappy account of the piece.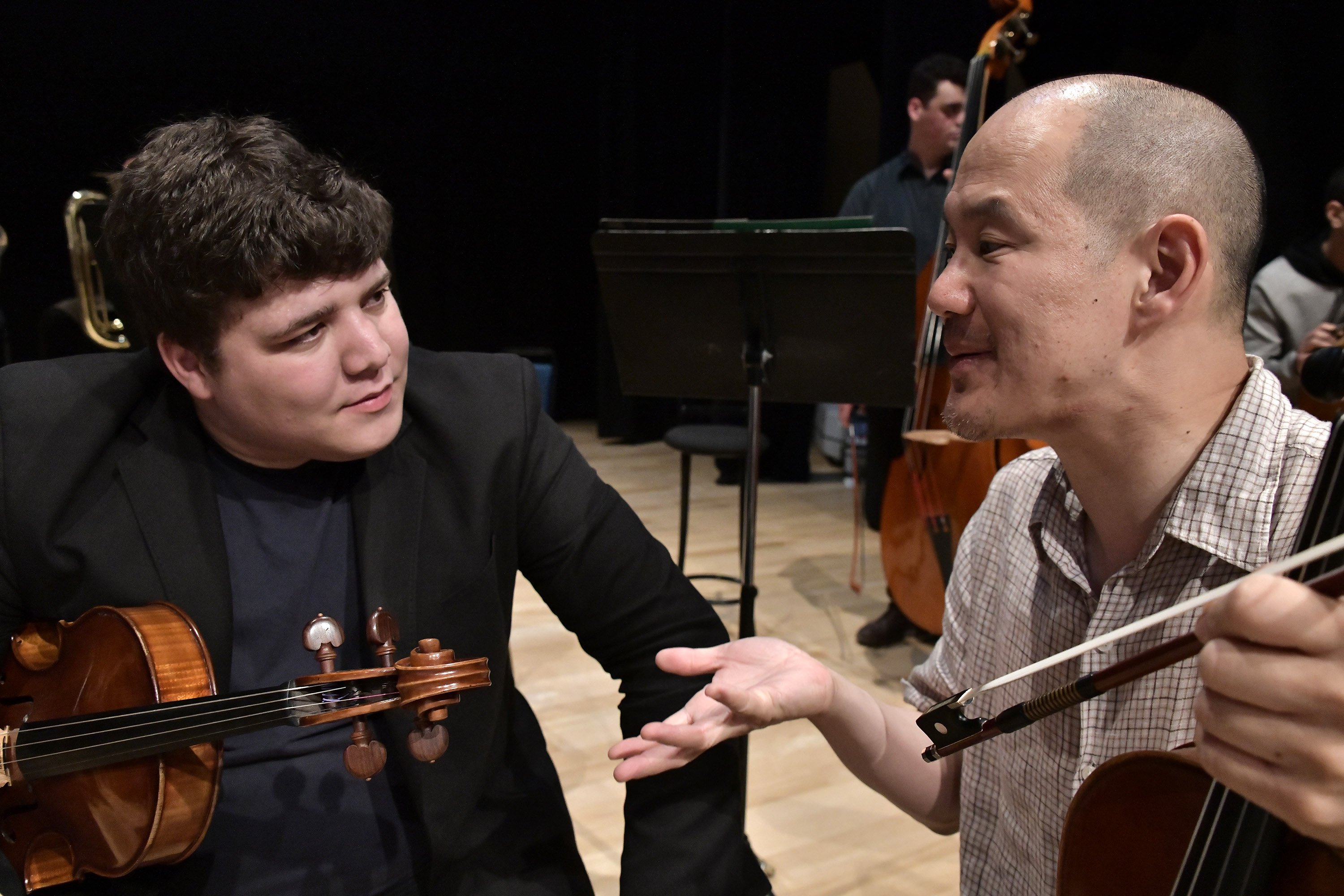 Tour doctor (and honorary BPYO violinist/violist) Andrew Lan with a Brazilian colleague
After the master class, we were off to the airport and the long flight back home.
*****
And that was the BPYO's 2019 tour to Brazil. In just over two weeks the orchestra traversed more than 14,000 miles and played nine concerts in eight cities. By my conservative estimate, the total audiences for those concerts numbered around 11,000 (not including those who came to the exchanges and open rehearsals). And, in our six side-by-side exchanges, we played with and for another two hundred-some Brazilian musicians.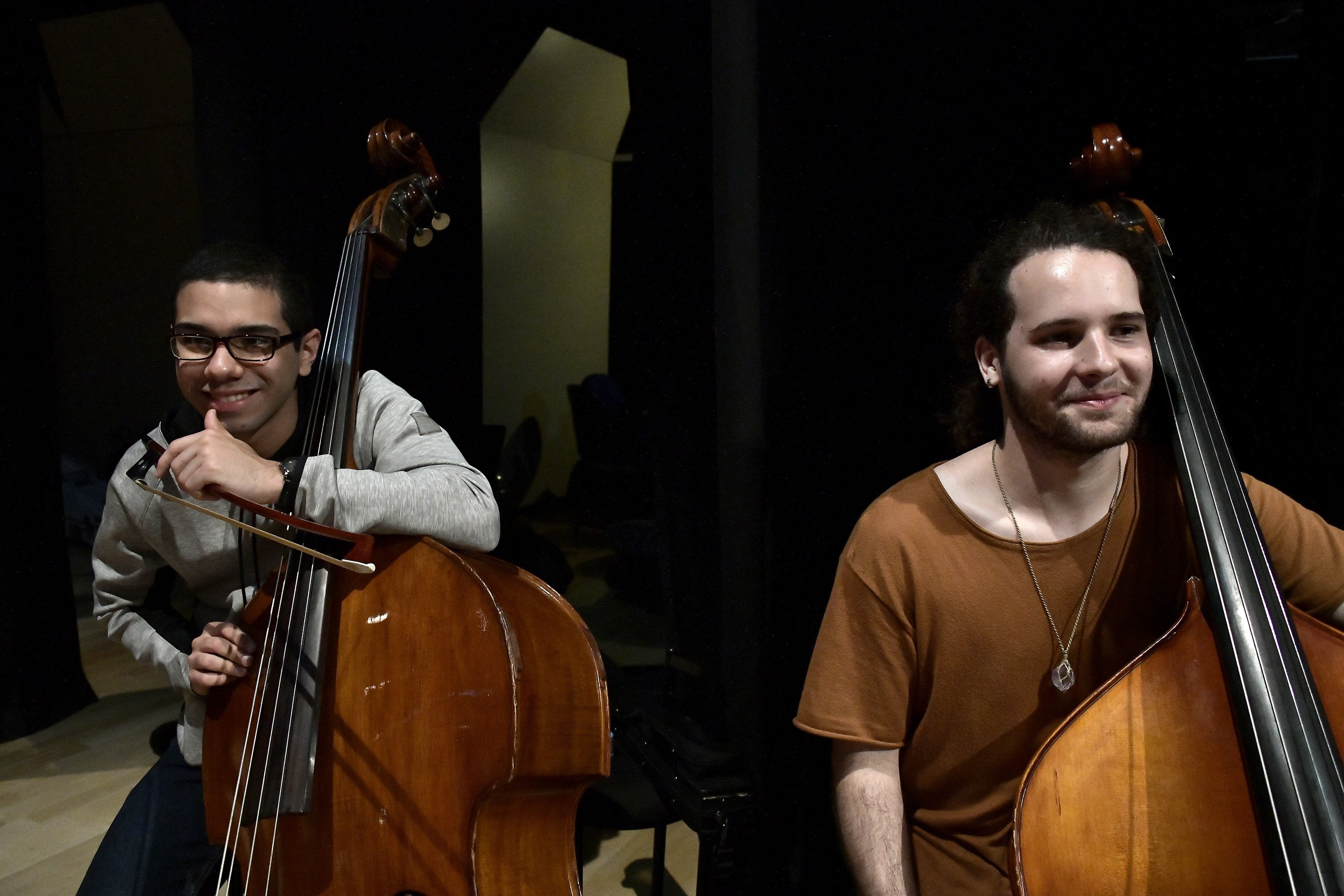 BPYO co-principal bass Luis Celis with a Brazilian colleague
What conclusions – if any – can one draw from it?
I've already talked about the massive enthusiasm we encountered from our Brazilian audiences. How that continued throughout the tour is something that will stick with me for a long time to come.
There are no two ways around the fact that there's a native curiosity about music in Brazil. As a result, we drew impressively-sized and engaged crowds to our concerts in every city we visited. While there is some sort of classical music network in Brazil, I'm still unsure of its extent and reach. Indeed, there were more than a few times when we'd hear that our concert was the first time someone (or several people) in our audience had heard an orchestra live – or classical music, for that matter (such was the case with one of our bus drivers in Rio, who came to our concert there).
That said, our audiences were decidedly mixed, age-wise. I'd say at least a third to one-half of our hearers in each city looked to be aged forty and under – and there were usually a good number of children present, too. It was so refreshing to see so many young concert-goers. For all the not-unfounded concern about the state of the arts and music education in the U.S., there are a few things, I think, we can learn about general musical interest from our brothers and sisters in Brazil.
As far as the BPYO goes, I came away from this trip as deeply impressed with them as ever. As a musical entity, they're one of the elite ensembles in the country (while we were in Belo Horizonte, Boston Magazine named the group "Boston's Best Classical Ensemble" for 2019).
But as a social experiment they're even more remarkable. What Benjamin Zander is endeavoring to do with the BPYO is to create a generation of leaders by engaging these young musicians as artists as well as enrolling them in his personal philosophy of "possibility" – namely, enabling them to take creative advantage of whatever situation in which they find themselves (musical, professional, personal) to positively affect those around them.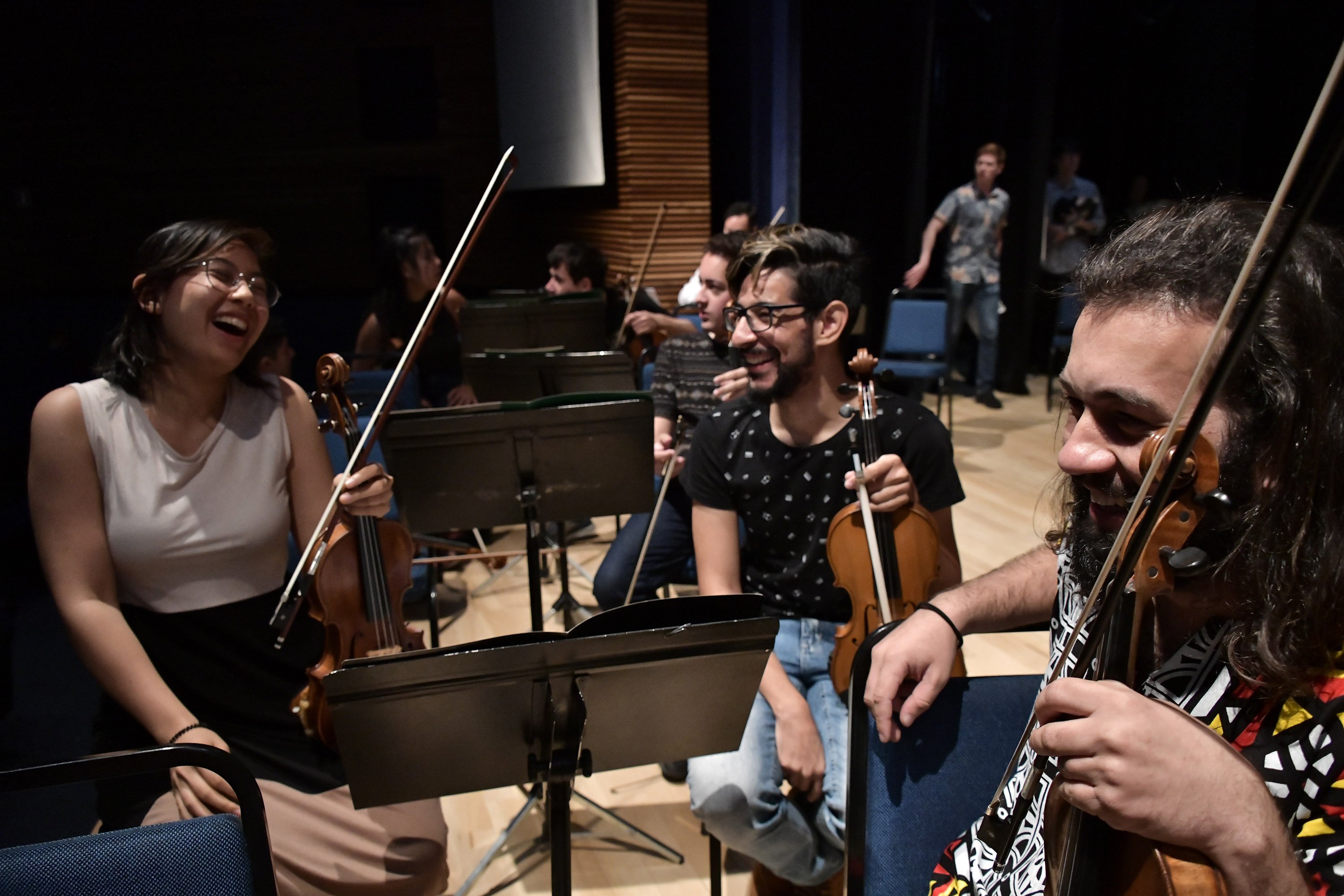 BPYO violinist Victoria Pan shares a laugh with two Brazilian colleagues
Teaching the selflessness and awareness this process requires is a tall task and sometimes a daunting one. But to see the musicians of the BPYO in action in Brazil – how willingly and instinctively they engaged with their cohorts at the exchanges, or how gamely and flexibly they went along with last-minute changes to the tour itinerary – was as refreshing as it was heartening. Surely, observing and spending time with members of this young generation, as Zander said several times during the tour, is enough to give one hope for the future.
*****
"Where are the shining eyes?" is a recurring Zander refrain and we heard it more than a few times these last two weeks. What are those eyes? They're ones that radiate enthusiasm, wonder, and enrollment in the task at hand.
The fact is, we saw a lot of shining eyes in Brazil.
They were in the audiences who came to our concerts, responded with thunderous ovations, and then thronged to meet Zander and the orchestra after performances. They were there in the locals we met outside of concerts, as well: the shop owners, hotel workers, waiters, bus drivers, and others who went out of their way to make us feel welcome and at home in their beautiful country.
We saw them, too, in the musicians we met during the side-by-side exchanges, from NEOJIBA and São Paulo to Ribeirão Preto and, especially, Porto Alegre. I'll not soon forget the little girl I saw in that last city watching Kai Rocke, one of our bassoonists, toss off, by ear, the Brahms Hungarian Dance no. 5: her eyes were all but popping out of her head!
The children who populated our open rehearsals (and, occasionally, side-by-sides) were similarly taken: from the kids who got to "conduct" The Stars & Stripes Forever to the little boy sitting on his mom's lap, clapping along – perfectly in time – to that march in Ribeirão Preto.
And you couldn't miss the shining eyes in the BPYO. Like Paul Mardy's, after he knocked off the dazzling clarinet runs in the last movement of the Shostakovich. Or Mark Macha's while he was giving an impromptu trumpet lesson in Porto Alegre. Or Thomas Juhasz's whenever he had his oboe in his hands. Or Luis Celis' when he was playing The Stars & Stripes Forever or showing off his bass to the curious kids who clamored onstage after an exchange or…well, let's face it: Luis' eyes are shining pretty much constantly.
Maybe Anna Fedorova put it best. In a note to Zander after our last concert, she wrote that, on this tour "I felt so loved, taken care of, surrounded by so much warmth…nothing would be able to top this experience! Sharing [the] stage with you almost every day was [the] greatest privilege and joy…I can say that experience of us playing together I can't compare with anything else – it was just pure happiness every moment!"
So it was.
Photos by: Paul Marotta and Paul Mardy