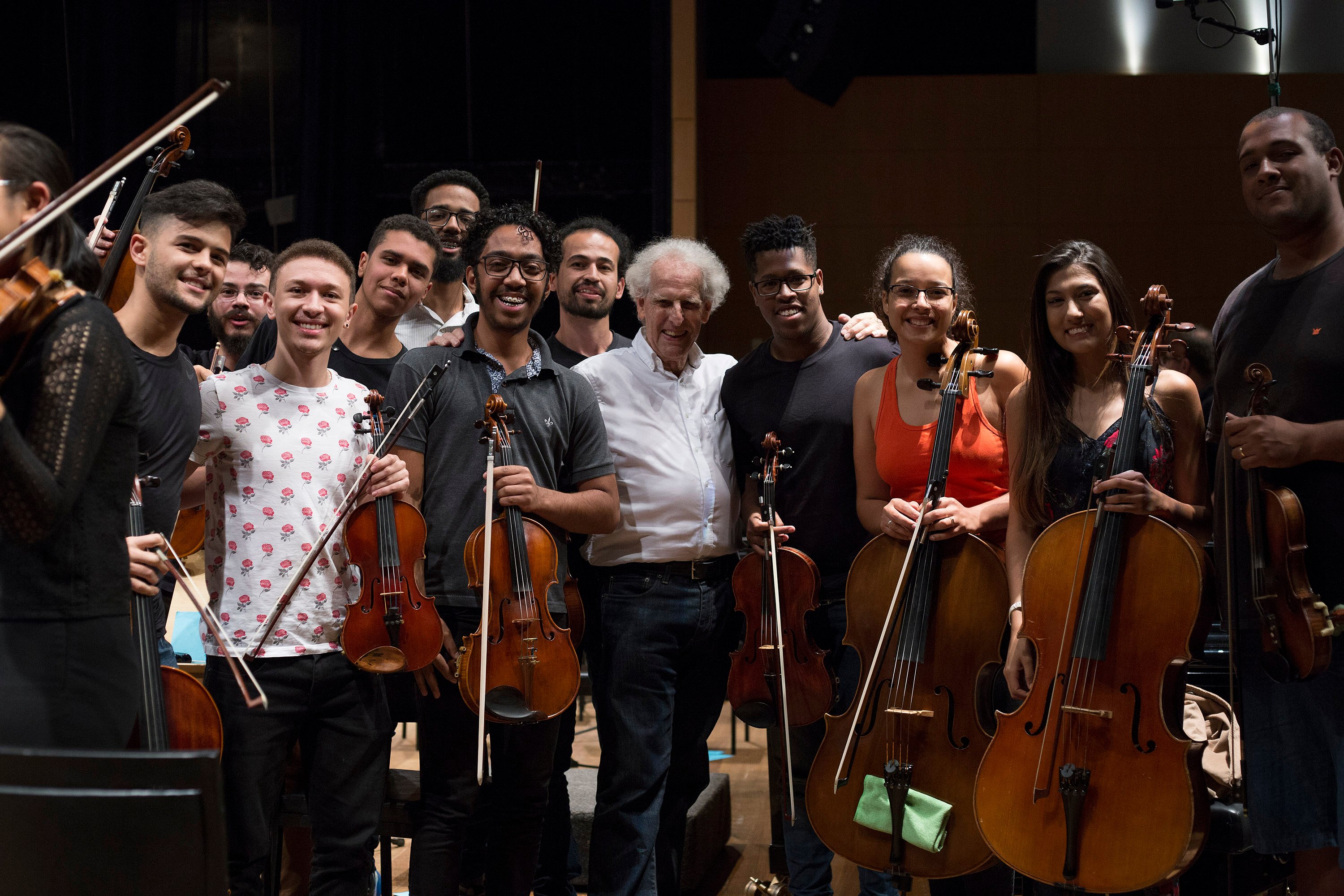 Boston Philharmonic Youth Orchestra 2019 Tour – Belo Horizonte
After the intense emotional and musical highs of Porto Alegre, our two days in Belo Horizonte provided a welcome respite. We arrived there late at night on Monday but had Tuesday morning off. Most of the group took advantage of the free time by sleeping in: when we met for lunch at 12:30, a fair amount of discussion among the orchestra revolved around how long it took people to get out of bed (11:30 was the latest I heard).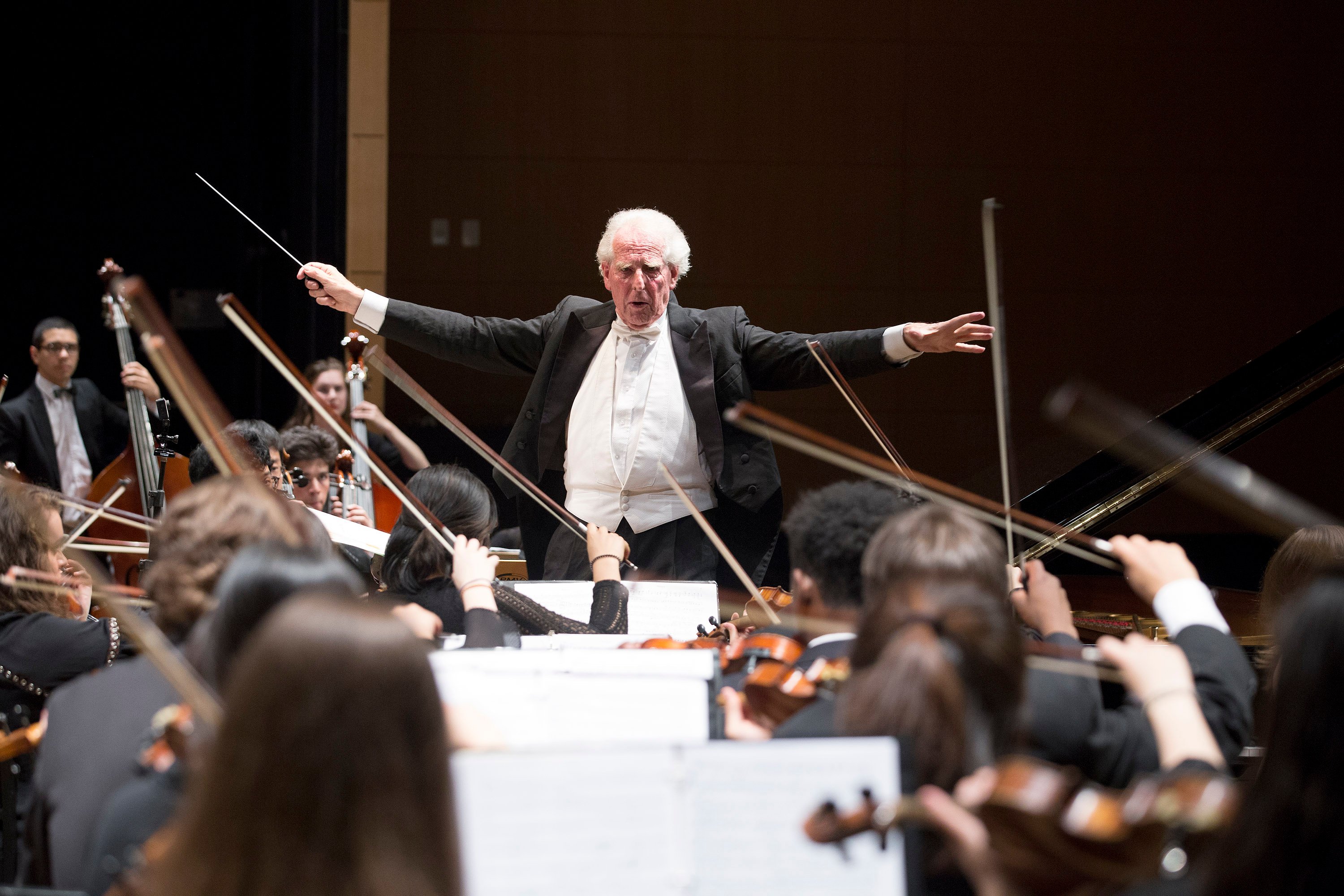 Benjamin Zander conducting the BPYO at Minas Tênis Clube
Tempting as sleep was, I couldn't bring myself to pass up the opportunity to play the part of the tourist (at least for a little while), so I headed out that morning with our intrepid tour doctor, Andrew Lam, who's made a point of finding shops and interesting spots to visit in just about every town we've been to thus far. The two of us, plus Paul Marotta (our excellent photographer) and BPYO violist Sanghoo Lee, took a walk to Belo Horizonte's Mercado Central, which was about a mile-and-a-half hike down one of the city's main thoroughfares.
The stroll gave us a great sense of our part of the town, which is a bit like a Brazilian Paris: full of plazas, parks, tree-lined boulevards, traffic, and people. Like most of the cities we've visited, Belo Horizonte boasts a big population – 2.5 million live here – but, unlike many places we've been, it doesn't feel too densely packed (it was, one should point out, the first planned modern city in Brazil).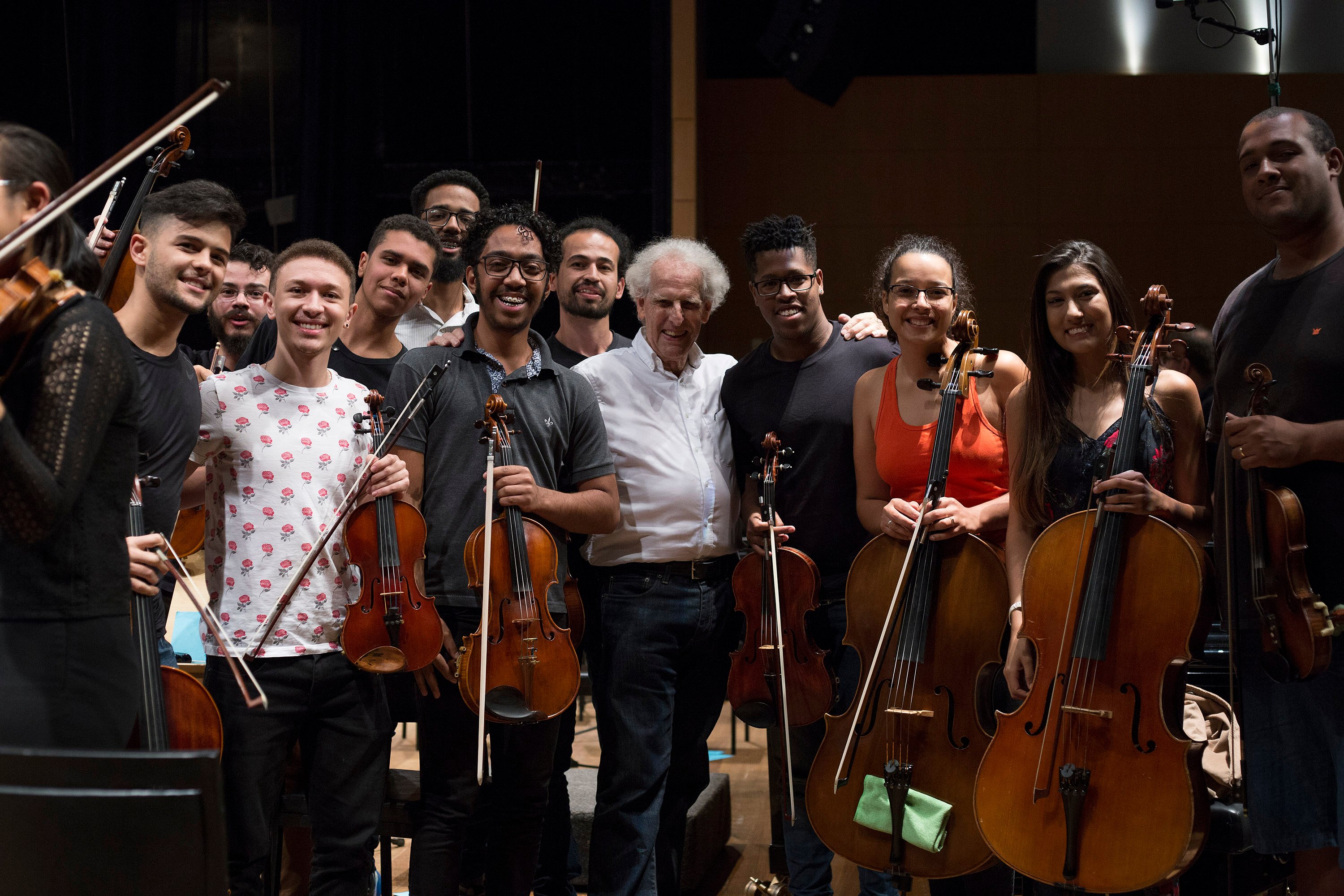 Benjamin Zander with Belo Horizonte musicians
The market, though, does. It's an extraordinary spot, taking up about a square city block. While we didn't have time to explore the whole thing, the glimpse we got was impressive: suffice it to say, you can find pretty much anything you'd need there, from cheeses and meats to home appliances and animals (one corner of the complex even had a swan for sale!).
We all picked up some goodies and then our quartet trooped back to the hotel to go to lunch and, in the afternoon, the BPYO's open rehearsal in the Minas Tênis Clube. This isn't any old tennis club. It's another big complex (which takes up another good part of a city block), with restaurants, tennis courts, beautiful swimming pools, and a concert hall (among other things).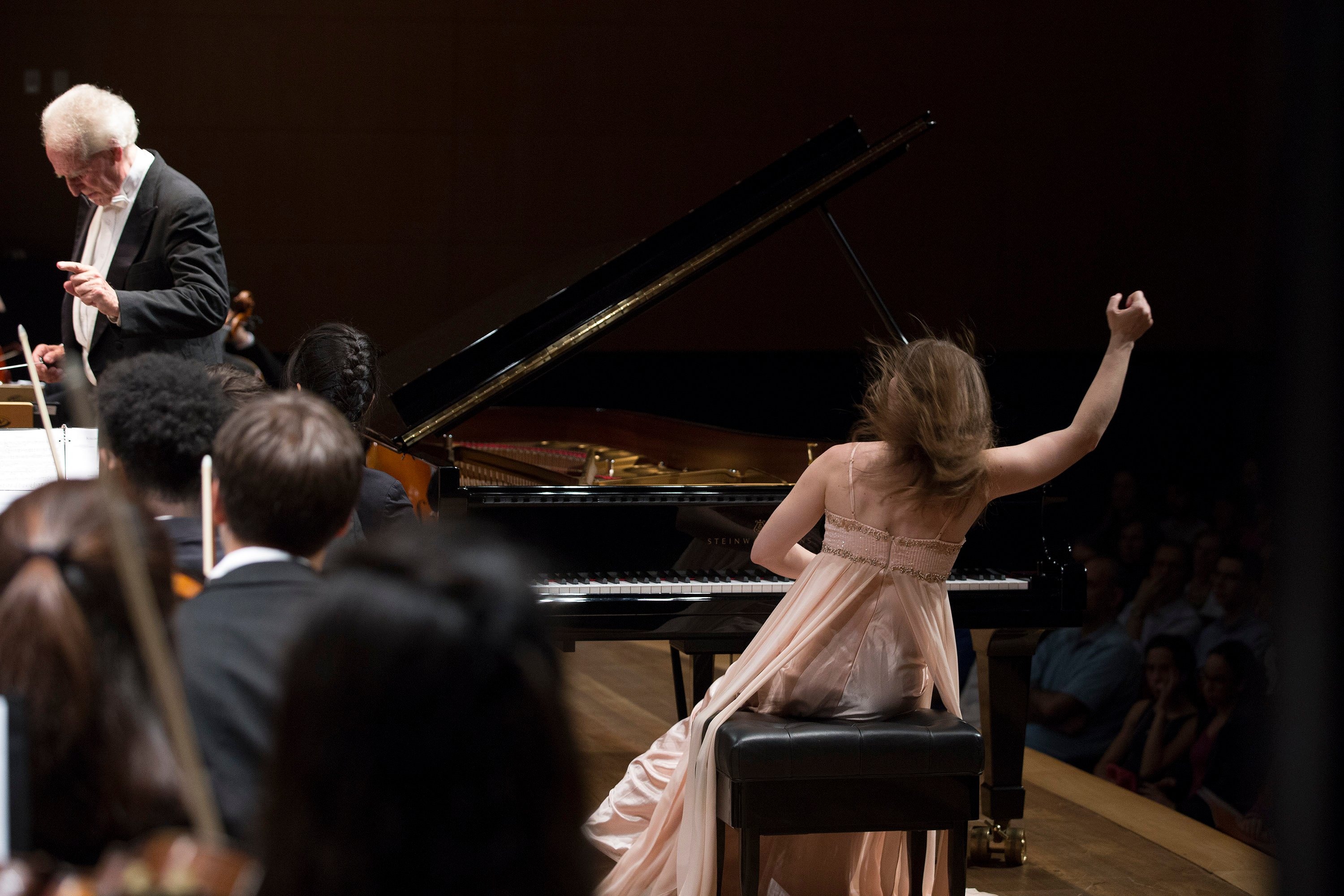 Anna Fedorova playing Rachmaninoff at Minas Tênis Clube
The hall was considerably smaller than our Porto Alegre venue, seating around maybe 800: no amplification was needed here! In the audience were several local music students, several of whom enthusiastically joined the BPYO in a run-through of the New World Symphony's last movement at the end. Afterwards, they swarmed orchestra members sitting in the hall with picture requests (which were enthusiastically accepted – the aura of celebrity that's surrounded the BPYO at every stop on this tour of Brazil is something really special and has been fun to observe).
After that, it was dinner at the Clube and then came our seventh concert of the tour, which consisted of Weber's Euryanthe Overture followed by the usual Rachmaninoff and Dvorak.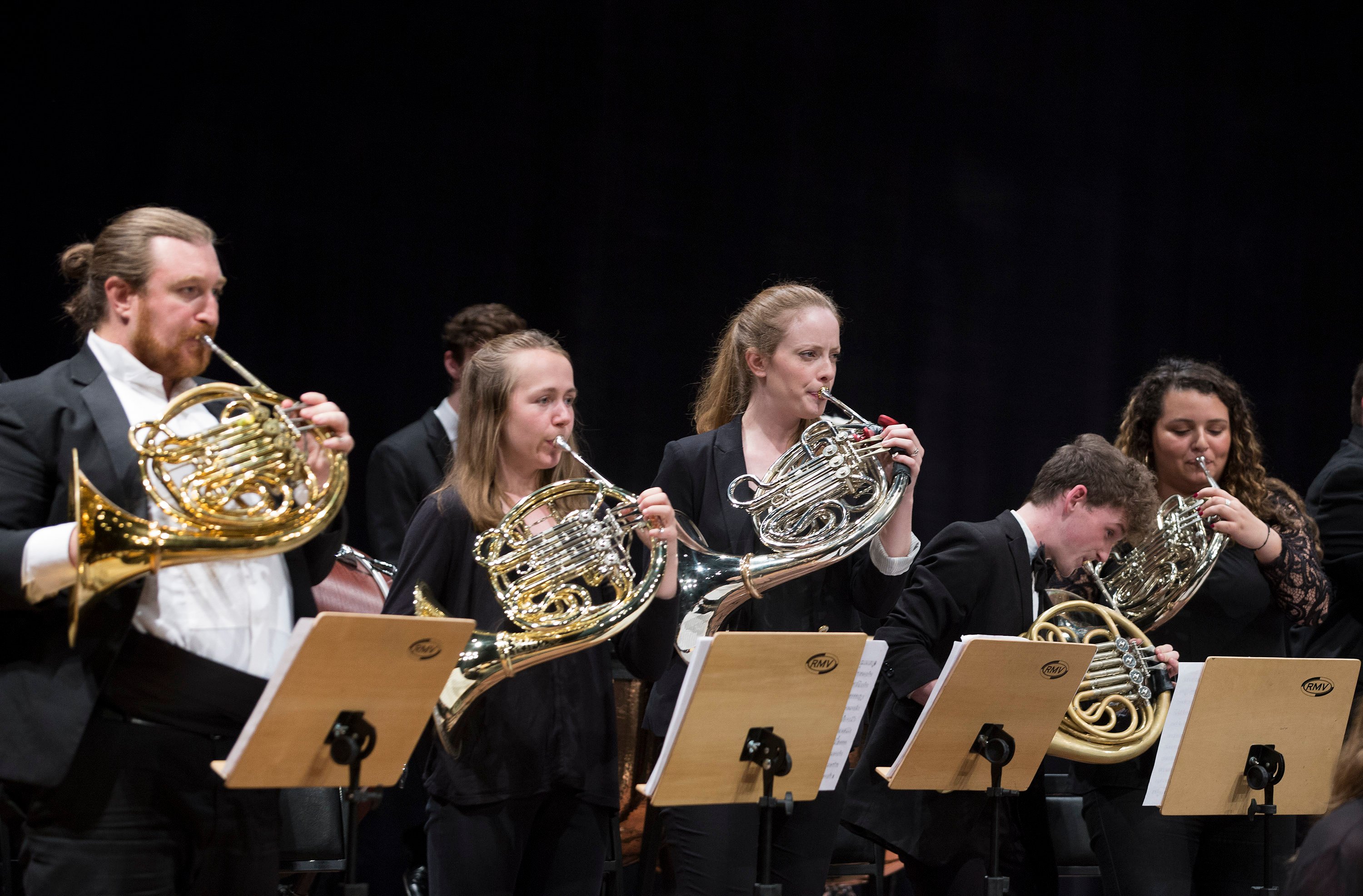 BPYO horn section - (l to r) Nick Rubenstein, Maria D'Ambrosio, Paige McGrath, Jonathan McGarry, and Isabel Carton - playing The Stars & Stripes Forever
The Weber, which we hadn't played before yet in this country, sounded great in the hall: incisive and lively, the woodwind runs near the end coming over with pristine clarity.
Dvorak's New World Symphony also sang fervently. It's been particularly interesting to hear how the BPYO's playing has grown in this piece over the last several nights. Tuesday's performance was particularly clean and expressive.
It's also been conspicuously rewarding to hear Anna Fedorova's interpretation of Rach Two develop and gain a new sense of freedom and flexibility as we've proceeded through Brazil. The Belo Horizonte concerts (we played two on consecutive nights at the Clube – the only time that's happened this trip) felt about as free and expressive as one could have wanted.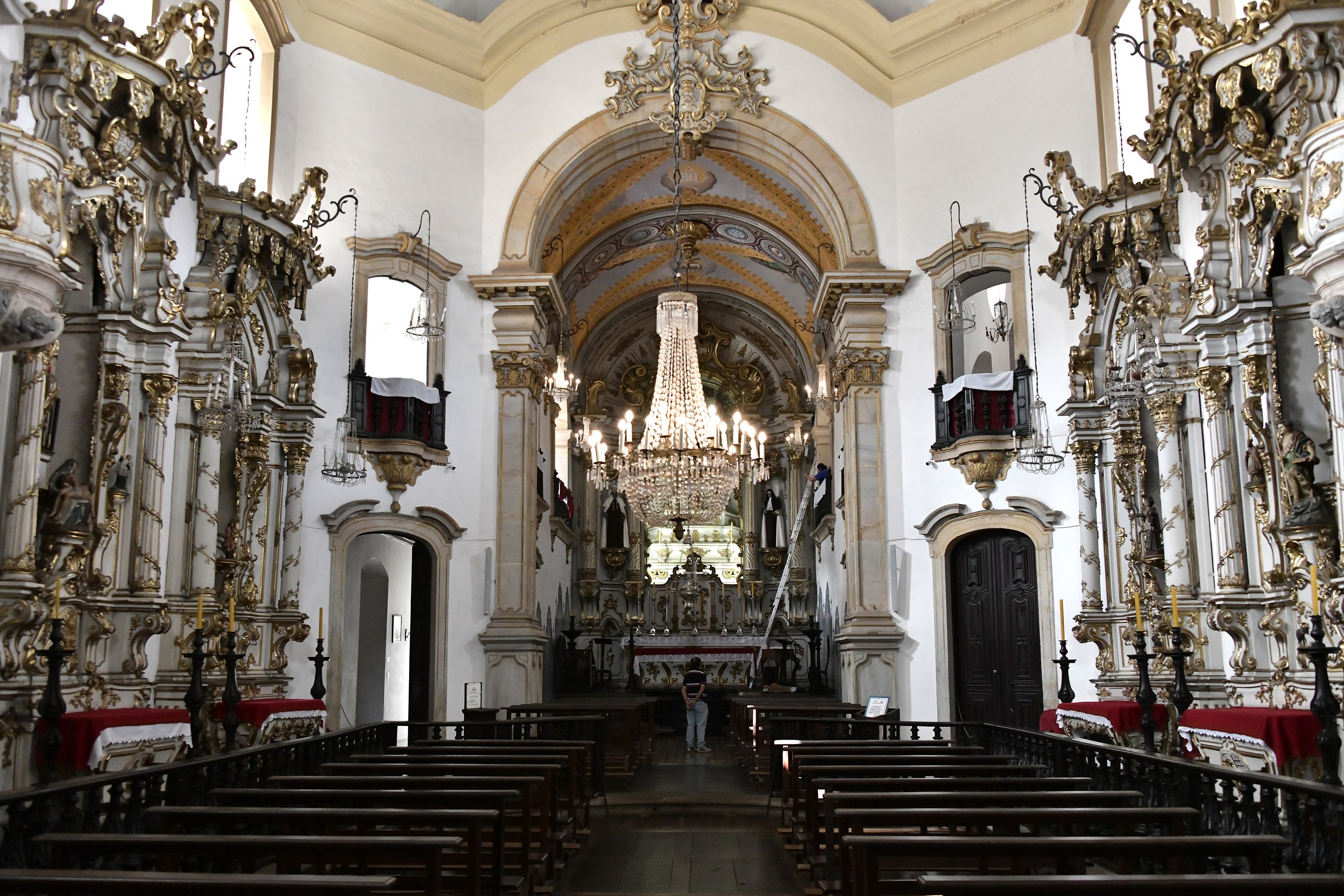 Interior of St. Francis of Assisi Church in Ouro Preto
Her way of shaping the music's lines, particularly figures that recur between movements (like the cascading arpeggios that open the piece and transform as the concerto unfolds), is striking but discreet: her ability to tease out subtle shadings of color and character on each of the piano's she's played (and not all of them have been of the same quality) is extraordinary.
The freedom with which she mines the Concerto's expressive depths is also amazing. In Wednesday night's performance, for instance, there was a songful quality to her reading that I hadn't heard before, Rachmaninoff's lyricism shaped with the utmost naturalness and ductility.
Of course, the orchestra is integral to this process and, across these concerts, it's been captivating to observe the BPYO's responsiveness to Fedorova's playing. True, they can easily be overshadowed by the piano in this piece. But on this tour, they've been as equal to Fedorova's playing as any orchestra with a world-class soloist in tow could be, performing every night with the utmost attentiveness, sensitivity, and tonal warmth.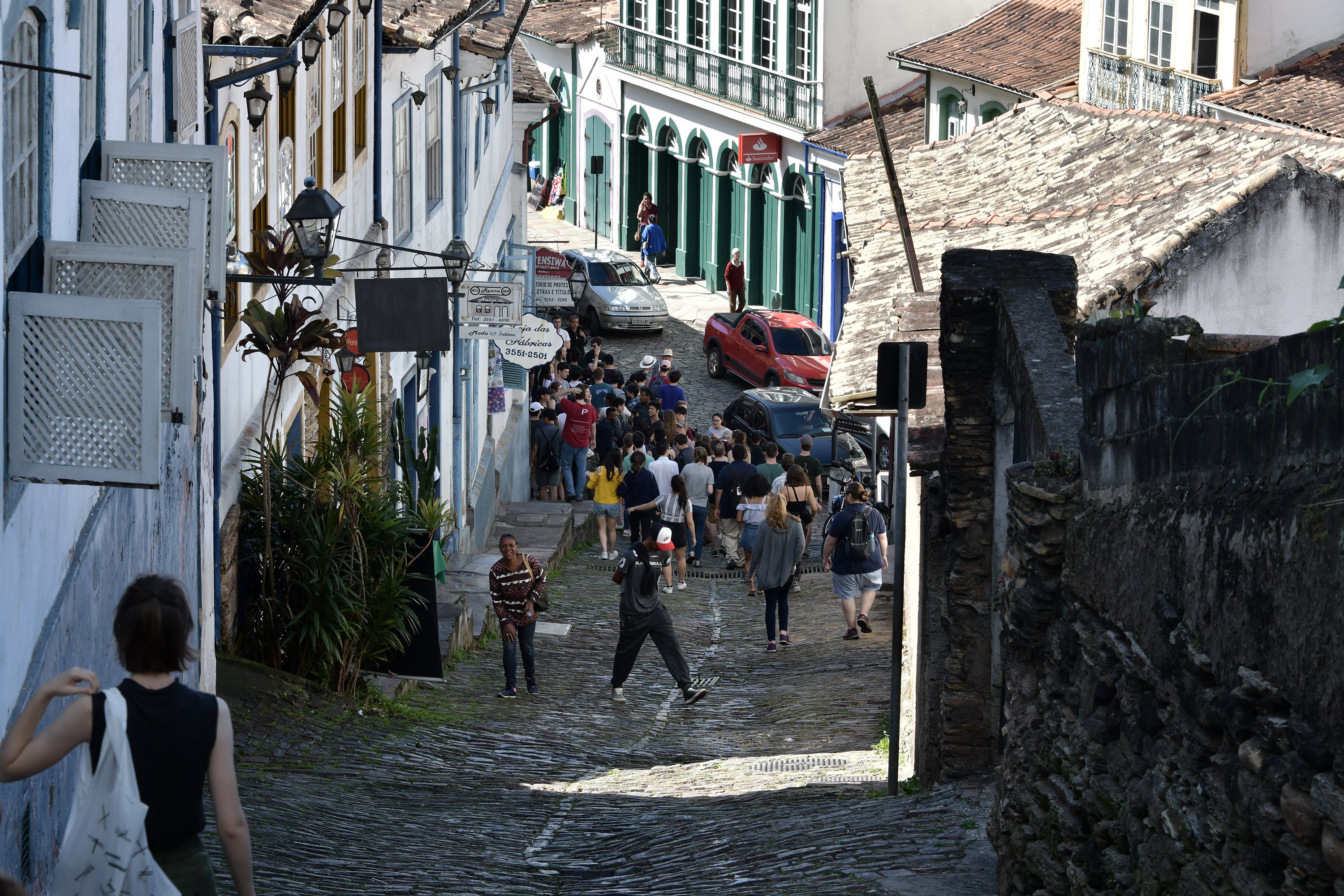 Ouro Preto street
I asked Fedorova about this – how her experience working with the BPYO in the Rachmaninoff has evolved over the tour – after we had left Belo Horizonte. "It's wonderful," Fedorova said. "[Now] everyone knows the concerto very well. We can all be free – we don't have to think so much about notes and entrances. At this point [in the tour], it's easier to be connected and really become one system."
How does the BPYO stack up as a responsive accompanist? "Oh, they're terrific," she told me. "It doesn't always work to be the soloist who says, 'Everybody follow me and just do as I do.' Here we're really like a giant chamber ensemble – and that's my favorite way to play concertos."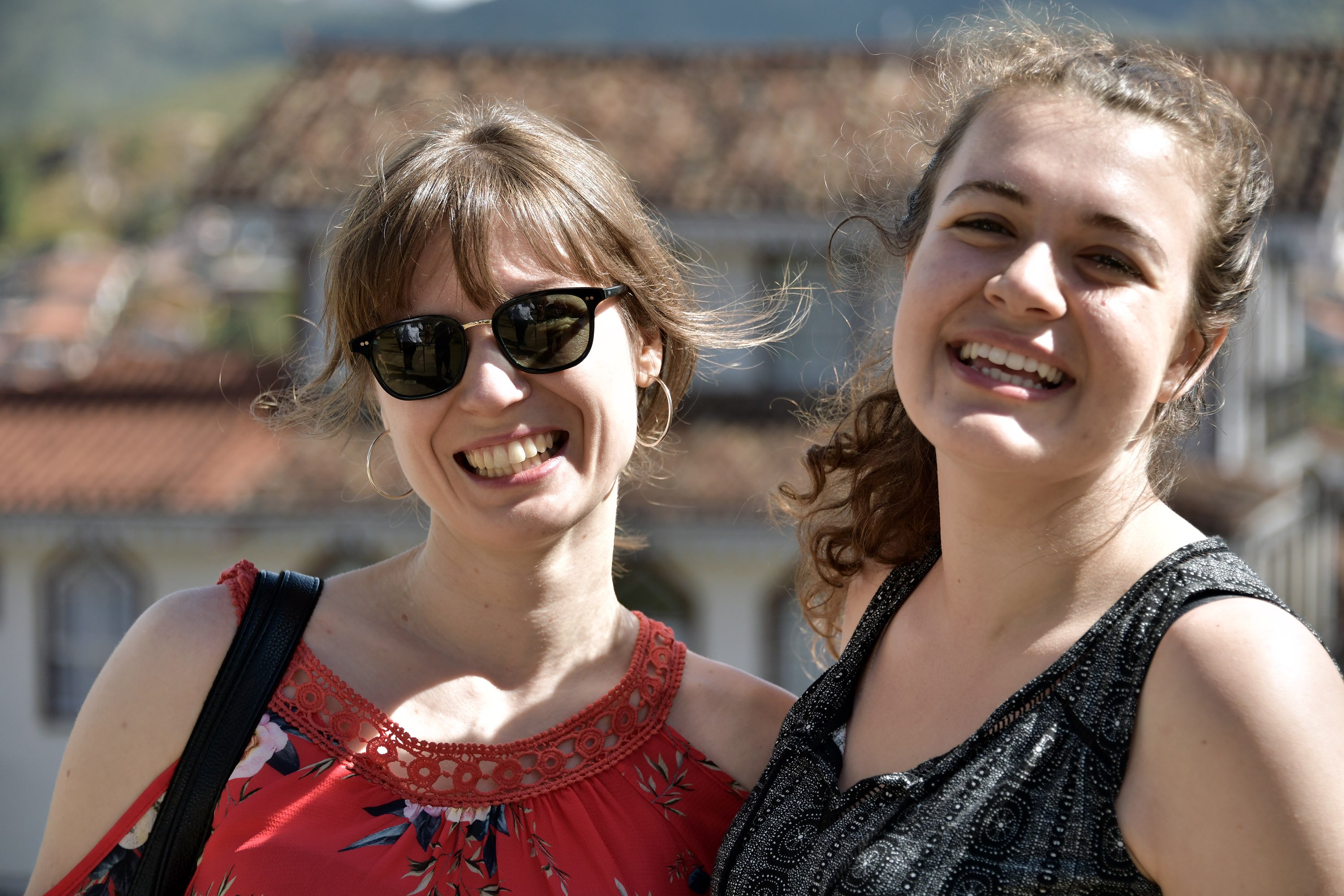 Anna Fedorova and BPYO violinist Greta Myatieva
We spoke, too, about how her approach to the Rachmaninoff has changed over time. Her shift in thinking about the concerto owes a lot, actually, to Zander. They met, officially, through Fedorova's fiancée, Nicky Schwartz, a bass player and former Boston Philharmonic member who now plays in Amsterdam's Concertgebouw Orchestra.
"Ben was invited to a dinner in February [2018] at Nicky's parents' house [when I was visiting] and, when he came, he announced that I was playing with his orchestra in November!" she recalled with a laugh. Apparently, he had heard her recording of the Rachmaninoff, called her agent, and booked her for that concert. When they met to rehearse beforehand, Zander was quick to share all of his insights into the piece.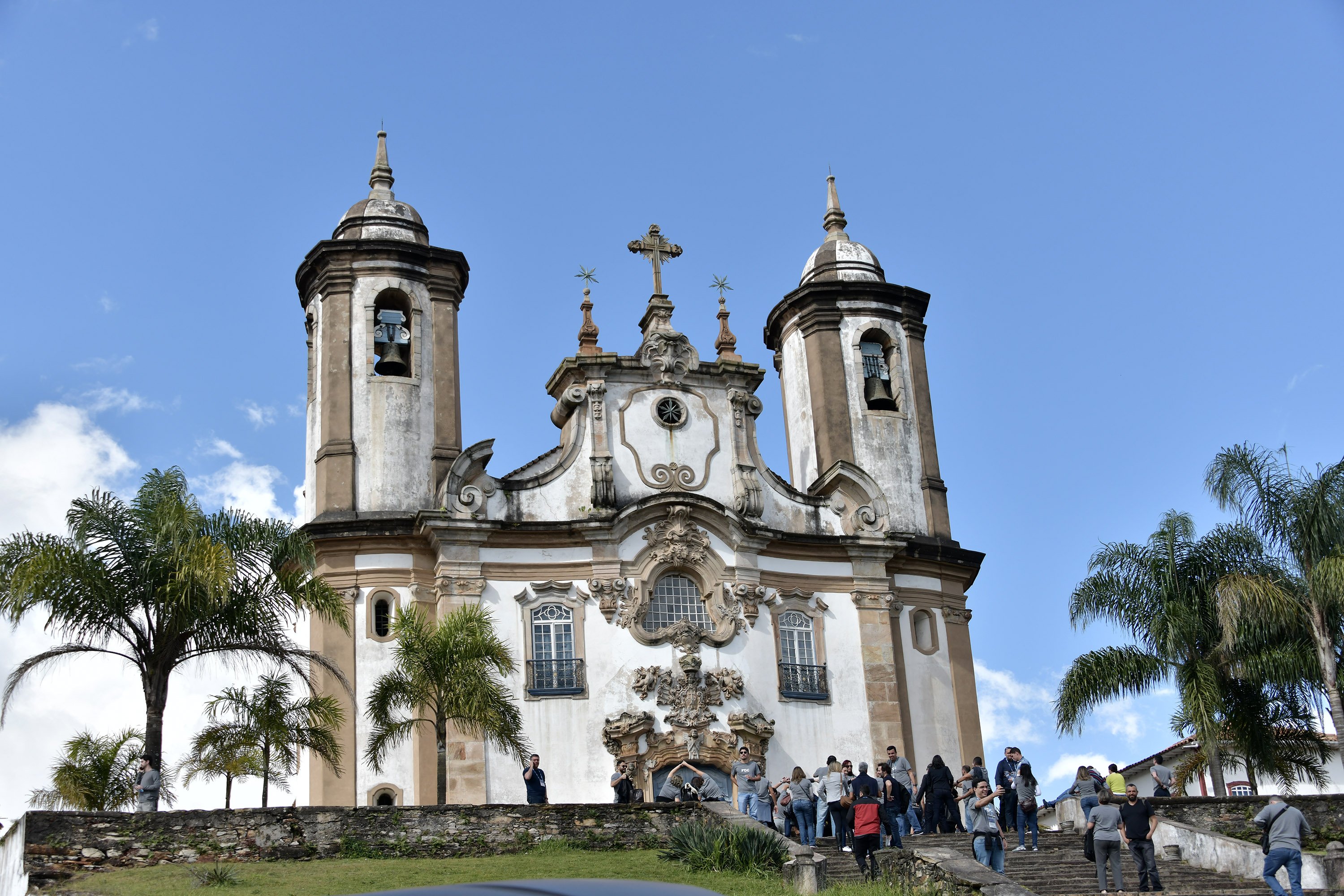 Exterior of the St. Francis of Assisi Church in Ouro Preto
"From the first moment we met in Boston, he talked about his view of the piece, and I was happy to take a fresh look at it," Fedorova recalled. "His ideas worked very well and some of them actually fixed some spots that had been problematic for me. That gave the piece a new life."
In Brazil, the quest to keep the music fresh hasn't let up. "We don't talk a lot about details, but there are little changes between concerts," she said of her conversations with Zander. "Tempo changes, phrasing changes – things that keep the piece always fresh, never boring. It never repeats itself, performance-wise."
Indeed it hasn't, and how that interpretive freshness has, in turn, influenced the orchestra's playing is one of the memorable musical highlights of our journey.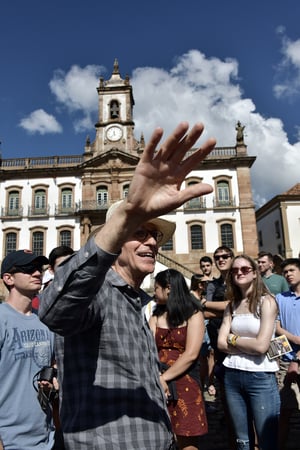 Between the two Belo Horizonte concerts, our group spent a good part of Wednesday exploring the colonial city of Ouro Preto. Once one of the world's most important gold-mining centers (at its peak, something like 70% of the world's gold came from Ouro Preto's mines), it's now a World Heritage site, with museums, churches, shops, restaurants, and a dizzying array of narrow, looping, brick-paved streets to explore.
We've had a packed schedule these last couple of weeks: concerts, exchanges, masterclasses, late dinners, and all of that. Accordingly, rest and relaxation has been in rather short supply, so having a few hours free to poke around this extraordinary town was a very well-received gift. (Pictured left: Mark Churchill, socio-geographic Meisterlehrer)
Of the several groups that ventured hither and yon across Ouro Preto, I stuck with Mark Churchill's. Mark is the BPYO's senior advisor and a longtime friend of Zander's (they've known each other for almost half a century). He's also deeply knowledgeable about South America, having spent a good part of his career studying and teaching across the continent.
As we walked around, he found us a local guide and acted as translator while we visited various sites (including the St. Francis of Assisi church and the Teatro Municipal, the oldest theater in the Americas) and grabbed lunch. It was about as perfect and non-stressful a way to pass an afternoon as we've had in Brazil – even if the hike down and up the big hill to the bus was equivalent to forty-plus flights of stairs.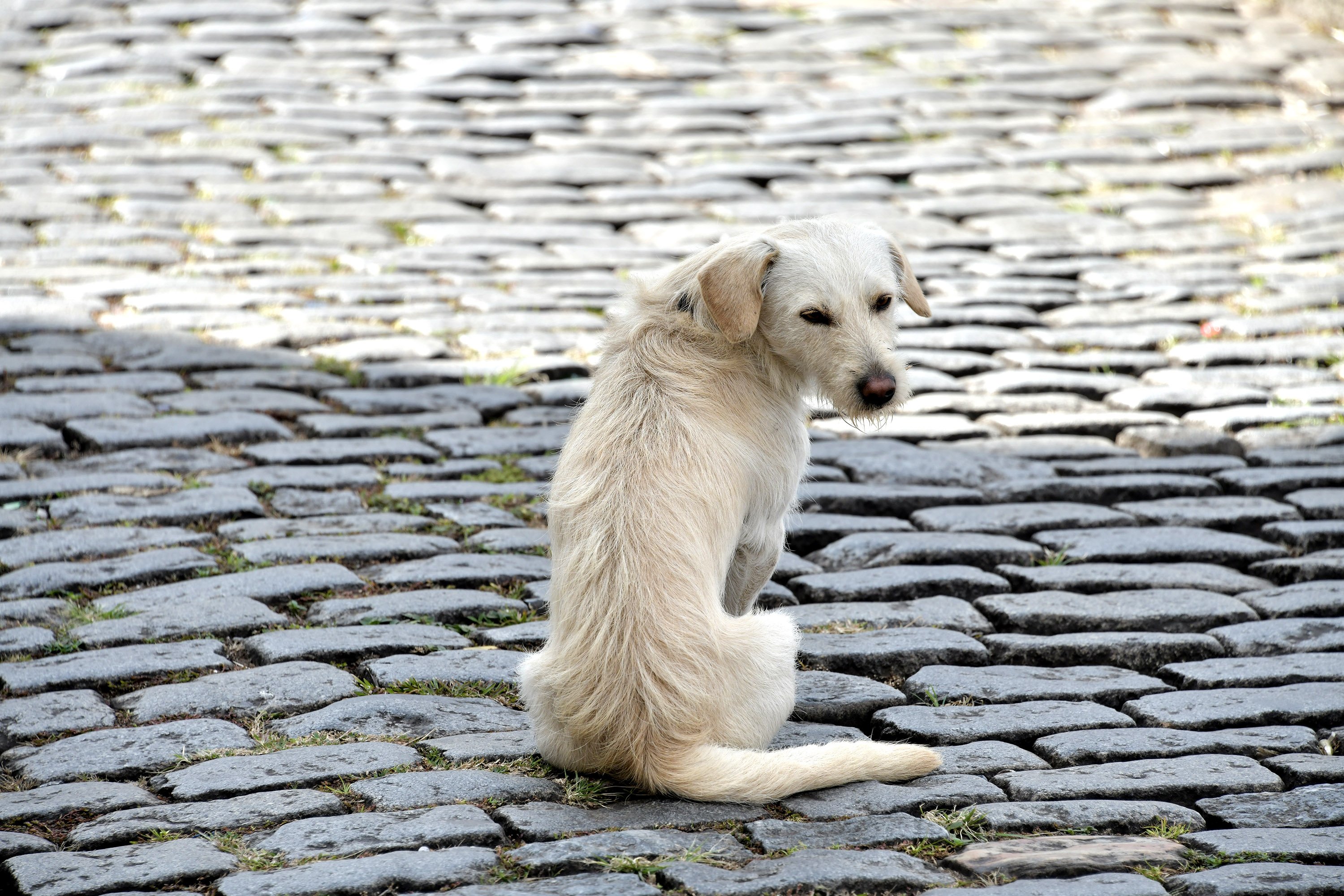 Ouro Preto dog
The players certainly seemed to have enjoyed themselves: they were loose and happy even after we tramped back up the steep mound.
"I thought Ouro Preto was so quaint and beautiful," violist Julia Moss told me the next day. "It was my favorite place that we went to in Brazil and one of my favorite places I've been to in the world. And our visit came at the perfect time in the trip."
Some players were taken with the surreal beauty of the place.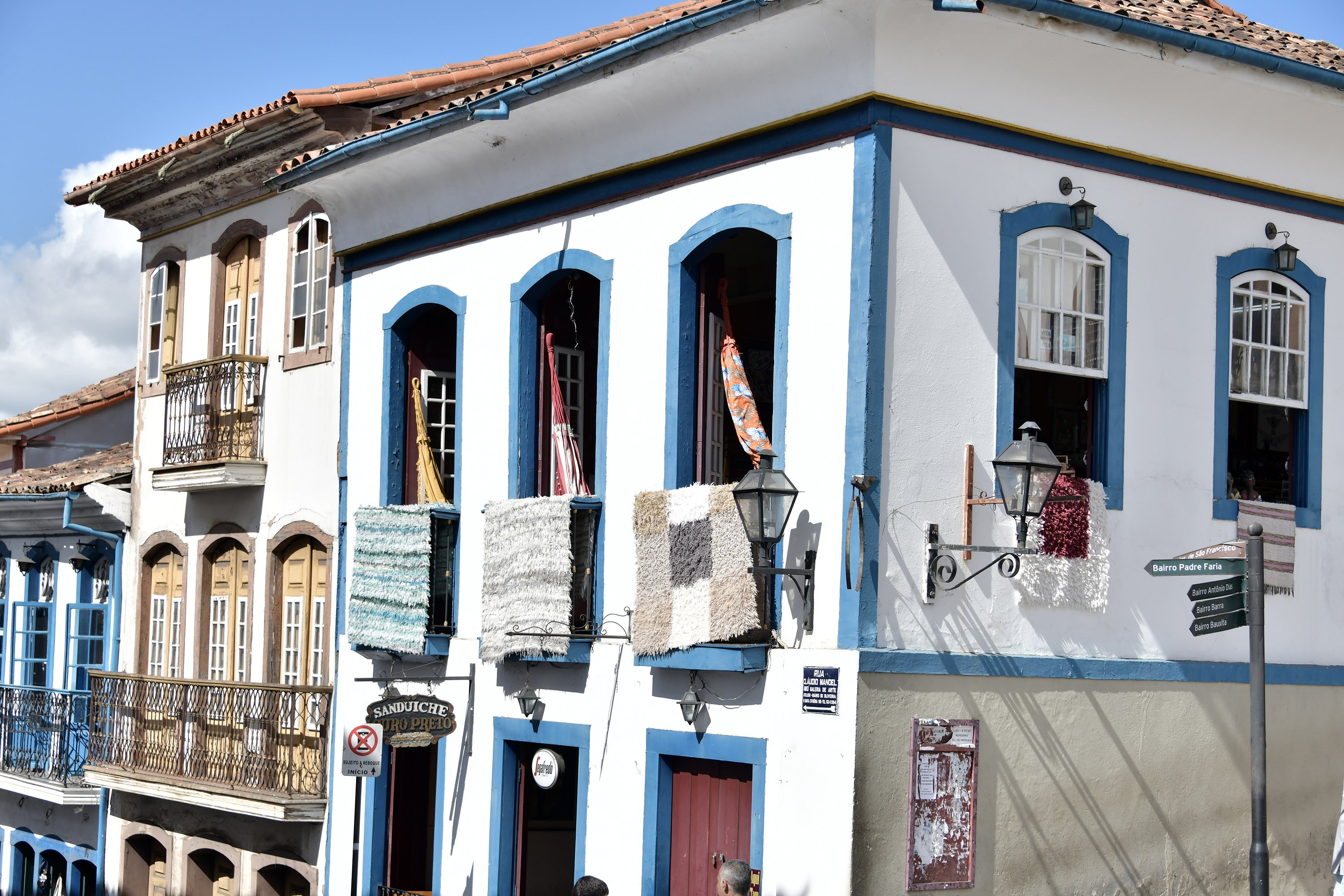 Ouro Preto buildings
"The town was so colorful," violinist Simeon Radev told me. "It seemed so mythical – almost like something you'd find in a fairytale."
And, for at least one, it reminded of home.
"It actually reminded me of Utah," percussionist Robert Oldroyd said, "all churches and mountains."
Either way, Ouro Preto left a mighty impression on the group and stands as one of the non-musical zeniths of our time in Brazil.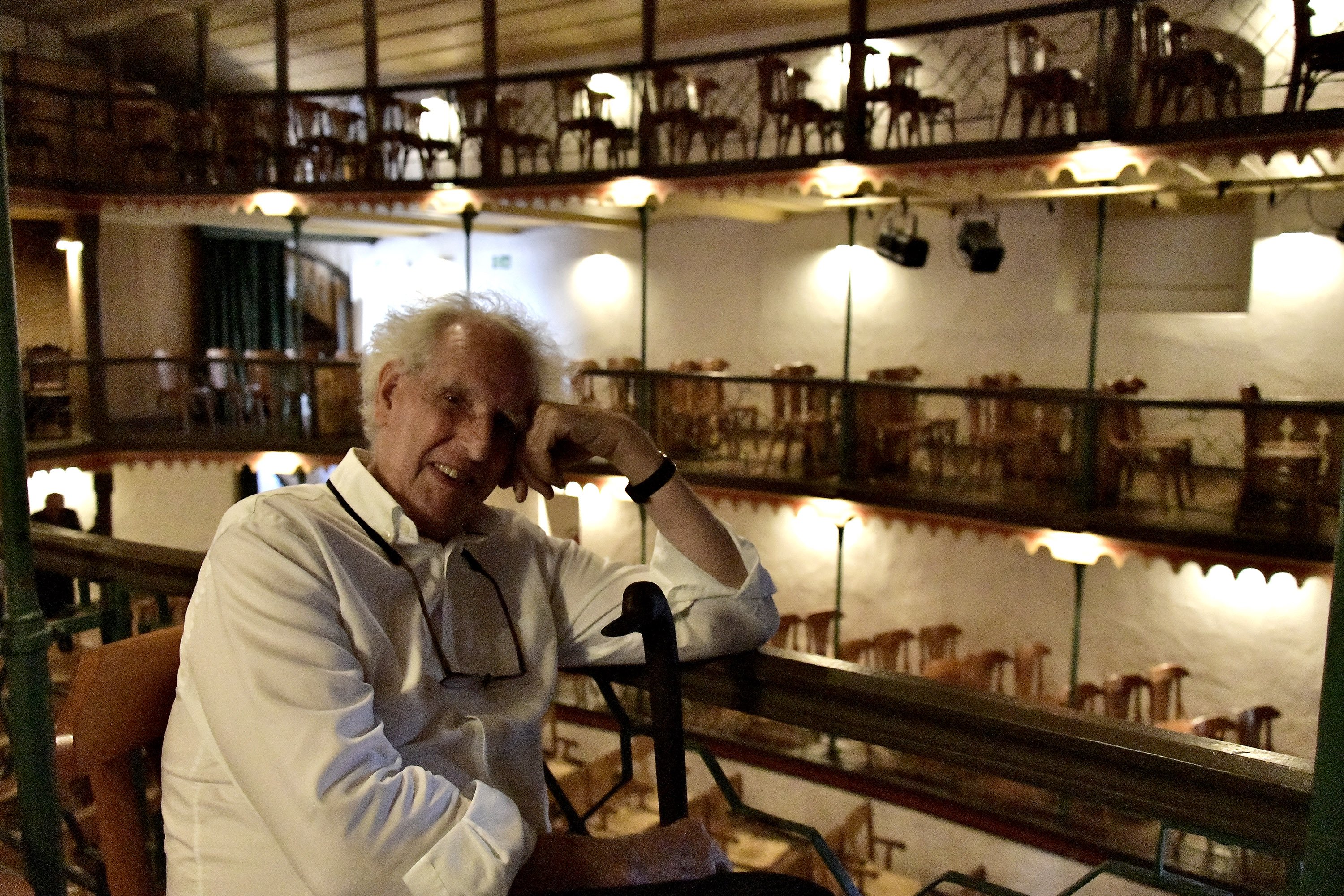 Benjamin Zander in Ouro Preto's Teatro Municipal
Photos by: Paul Marotta and Paul Mardy