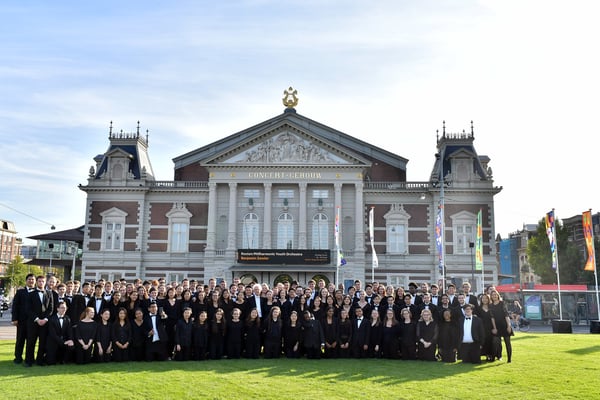 AMSTERDAM – As the pilot of KLM flight 1846 taxied his plane towards a gate at Amsterdam's Schilphol Airport, the voice of the pilot came over the loudspeaker. She noted the presence of 50 members of the Boston Philharmonic Youth Orchestra onboard and wished them well for their forthcoming concert in Amsterdam's celebrated Concertgebouw.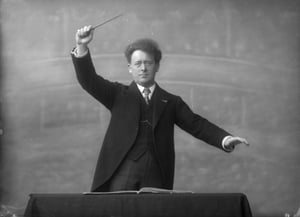 Her good wishes were more than fulfilled tonight in the glorious hall where Mahler found his most loyal and fervent advocate in the music director of the Concertgebouw Orchestra, Willem Mengelberg. Mahler's music wasn't neglected in his lifetime, but it was not popular in Vienna where he lived; instead it first found its audience in Amsterdam. Today Mahler's name is on a plaque in the central position on the front of the balcony in the auditorium. On the stairs leading down to the performers' dressing room, there is a photo collage; in it Mahler appears to be keeping company with Ella Fitzgerald. Finally, down the hall from the conductor's room, there stands a bust of Mahler by his sculptor daughter, Anna.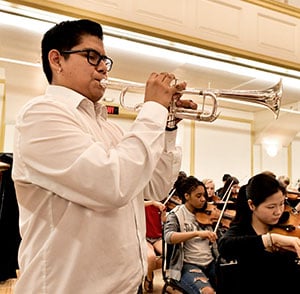 The concert tonight was superb and shot through with deep emotion. Final tour concerts usually are – each configuration of players dissolves on this occasion after its nine months together. Some members will return for next season, others will scatter. Many will be involved in summer studies and music-making in festivals across the United States. Others are going on for advanced instruction in schools throughout America and Europe; at least one of them will embark on a full-time professional career. The Peruvian principal trumpet, Elmer Churampi will begin his job as assistant principal trumpet with the Dallas Symphony. Some orchestra members will move on to different kinds of activity in the musical world, and several of them want to become conductors. Some may even leave music, although after their experiences in the BPYO will never leave them.
I think the current manifestation of the BPYO is the strongest in its history; under the guidance of founding conductor Benjamin Zander and a lot of other dedicated people, this has become a real orchestra, the equal of some professional ensembles one could name (but won't), This doesn't happen overnight, and how it does happen is amazing - nine months of Saturday afternoon rehearsals, a handful of concerts, and an ambitious tour with challenging repertory. Hard work is involved, which is also a lot of fun; the same can be said about personal growth through orchestra friendships and making music together. It is sad to see so many of these people go, but reassuring to know that they will be representing high standards and important values for the rest of their lives because of their experiences in this ensemble. And next year will bring some new faces, new talents, new ambitions, and high hopes.
The Concertgebouw is an impressive building located across the street from a park and an alley that stretches to two of Amsterdam's major museums, the Van Gogh Museum and the glorious Rijksmuseum. The concert hall opened in 1888, a dozen years before Boston's Symphony Hall. It is a bigger building with more spacious halls, galleries, and offices and it seats 1,974 people. The exhibits in the many hallways are interesting – there are large portraits of the orchestra's music directors (in particular, Bernard Haitink who has played a substantial role in the history of the Boston Symphony), busts of some famous musicians (Vladimir Horowitz and the Dutch soprano Elly Ameling) and paintings of other luminaries.
Curiously both the Concertgebouw and Symphony Hall were modeled on the same building, Leipzig's Gewandhaus, which was bombed and destroyed during World War II. But they don't look much like each other either in exterior or interior. The Concertgebouw is more square than rectangular, although it is rounded at one end. An unusual feature is that the conductor and soloists come onstage down perilous-looking stairs that descend from the balcony level. And the balcony pretty much sweeps around all four walls – part of it can be used for choruses, although those seats are often on sale, giving part of the audience the opportunity to face the conductor and the orchestra below them. The acoustics are commonly believed to equal those in Vienna's Musikverein and in Symphony Hall and this is certainly true if you are seated in the balcony; BPYO players and staff report that the acoustic is less consistent downstairs.
---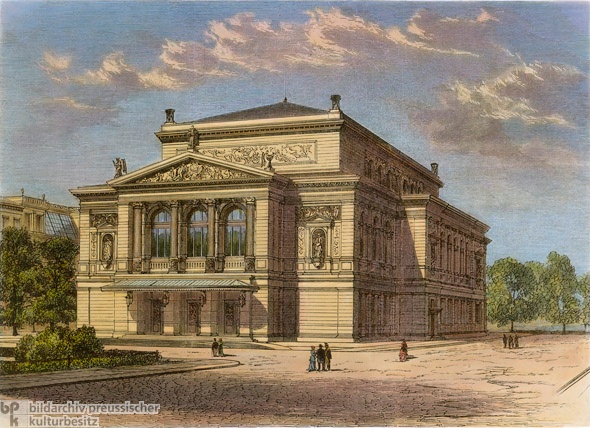 Artist rendering of the Leipzig Gewandhaus concert hall.
---
There was some concern when the BPYO administration learned that the concert was not sold out – the staff had assumed that it was, but in but in fact only about 20 per cent of the tickets had been sold. A professional marketer was brought in and Zander and the players vigorously "enrolled" a lot of people they had encountered on the street – including Zander's Uber driver and his daughter, who had never attended an orchestral concert before. The balcony population was small, but the main floor was substantially full – and substantially enthusiastic. This was the most vehemently responsive audience of the tour – it had listened attentively and the eruption of applause during the standing ovations at the end was volcanic.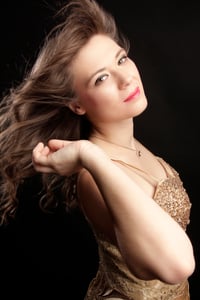 The audience included one of Amsterdam's prominent musical couples – the pianist Anna Fedorova and her husband, the cellist/bassist Nicholas Schwartz, who is a member of the Concertgebouw Orchestra, and a former member of Zander's youth orchestra at New England Conservatory. More than 17 million YouTube viewers have watched Fedorova's performance of Rachmaninoff's Piano Concerto No. 2 so far; she makes her Boston debut next season playing that concerto with Zander.
The performances tonight require celebration rather than commentary – at least at 4 in the morning, which it now is. George Butterworth's The Banks of Greenwillow has come a very long way since the orchestra first sight read it in Boston late last month. Zander, who usually flouts convention, made conventional interpretive choices here, but it may be that alternative choices would not have worked as well. The performance was polished, suave, and very pretty. Ravel's La Valse is always a surefire hit with an audience; it is not always performed as well as the BPYO played it tonight, and Zander allowed even more seductive rubato this time.
The main piece, again, was Mahler's Ninth Symphony. I remain partial to the performance the BPYO played in Pecs, in the Czech Republic, but this one was experienced, assured, tight in ensemble, both in drawing and exuberant in emotion. The solo playing was full of imagination and the group effort inspiring to watch and to hear. This symphony is a tough nut to crack for the players, the conductor, and the audience, but when a performance is this committed, the audience becomes a participant too by listening actively. Zander provided his usual alert commentary and once again said that Mahler himself could not have foreseen the day when an orchestra of young people could master its difficulties and convey its message as completely as this one has.
In vigor, volume, and sustained length the applause surpassed that in any previous performance of the tour, with roars of approval for all the principal players and sections of the orchestra as Zander gestured for them to rise and for Zander himself – who was greeted by foot-stomping from the players.
This was followed by the inevitable encore, the "Nimrod" section of Elgar's Enigma Variations, played extremely slowly as if everyone was reluctant to hear the tour end and close a short but major chapter in their lives..
Afterwards there was a melee onstage as players took each other's pictures on the podium and all over the platform – individuals, groups, sections. Then they headed for a celebratory dinner across the street in a museum hall – beautiful plates of steak and fish tartare, a saffron-infused vegetable risotto, and a rich chocolate confection for dessert. Zander announced a sweeping series of "thank- you's" and then everyone headed for the buses and the hotel. One early group would be leaving at 4 AM for the airport, and it was already well after midnight.
There is much more to write about the tour, and I will do so once I get home, sleep for a day or two, and boil all the clothes in my suitcase. While it is sad to see so many of these gifted young people go, it is also reassuring to know that they will be representing high standards and important values for the rest of their lives because of their experiences in this ensemble. And, as always, next season will bring new faces, new talents, new ambitions, and high hopes.
STAY TUNED FOR MORE STORIES FROM THE 2018 BPYO EUROPEAN TOUR AND CHECK OUT OUR ACCOUNT ON
SMUG MUG

WHERE YOU CAN PURCHASE PRINTS FROM OUR EUROPEAN ADVENTURE!
WANT TO CATCH ALL OF THE AMAZING MUSIC HAPPENING NEXT SEASON? THEN CLICK THE LINK BELOW AND PURCHASE YOUR BPYO SEASON SUBSCRIPTION!