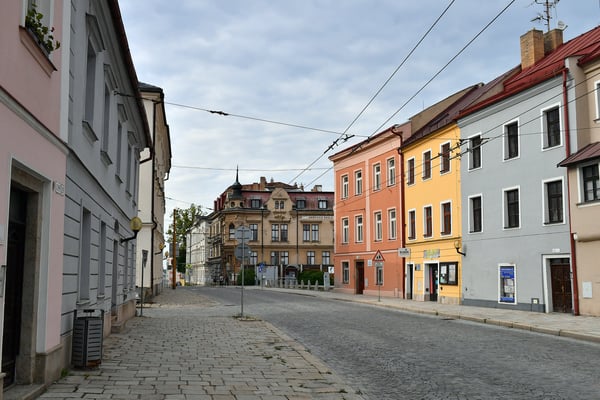 PRAGUE - At one point during the during the bus drive between Berlin and Prague today we entered a short tunnel in Germany. We were told that when we emerged from the other end we would be in the Czech Republic. But I don't believe we needed to be told. It was absolutely clear that we had entered another landscape as surely as we had crossed a line on a map. These were the hills and forests of Bohemia, interspersed with fields dotted with cows – a landscape that looks exactly like the like the way the music of Smetana or Dvorak sounds.
There are multiple influences simultaneously present in nearly everything Gustav Mahler composed, and today's experience reminded us that some of those influences came from his childhood in Bohemia. People tend to think of Mahler as Viennese because his advanced musical studies were there and some of the most celebrated chapters as a composer and conductor unfolded there. But he was born in Kaliště, a small village which lies between Prague and Brno in the Czech Republic and he grew up in Jihlava, a larger town not far away.
Kaliště is still a small town – population 200 – and it still lies off the beaten track, midway between the cities of Prague and Brno. It took skill and experience and even a bit of daring for the three drivers of busses conveying the Boston Philharmonic Youth Orchestra to get us there over the steep hills and narrow, twisty roads. There was always some vehicle, or some peril, to dodge. At one point we had even arrived in the wrong village and needed to wind our way up and out, and the drivers had to make a U-turn so tight it was basically a rotation.
There was trouble at lunchtime too. The little Moevenpick restaurant was not prepared for the simultaneous arrival of 135 people, so a number of us adjourned to the filling station across the parking lot for a more modest meal. Rather than stand in line some of the musicians played frisbee; trumpeter Arthur Abbate, I was told, is on the Tufts University frisbee team; I didn't need to be told he plays like a champion – I saw him do impossible things with my own eyes.
Finally we did arrive at Mahlers' birthplace; it was interesting, fun and rewarding to be there, particularly at this time, because there was a children's festival going on. The village is as picturesquely pretty as a photograph on a calendar. The walk to the Mahler cottage takes you uphill past little ponds and large weeping willows. The address was No. 9, and it was one of the larger structures in the village, bigger than the church, in fact. It housed not just the Mahlers but also the family businesses, a distillery, a shop, and an inn. The new baby lived there for only six months before the Mahlers moved to larger quarters and greater economic opportunities in Jihlava. There is no doubt that the first musical sounds the new baby heard were his mother's lullabies and roistering country music in the inn, cow bells and the songs of birds. All of them made their way into his own music.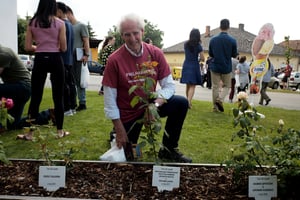 After the Mahler's left it, the Kaliště property remained an inn for more than a century. In the 1930s the original structure was destroyed by fire. In 1937 it was rebuilt according to the original plan while remaining in private hands. Only in 1996 did the village buy it and develop it as a tourist attraction. The building now houses an assembly room with a concert platform and smaller rooms with exhibits, and there is a beautiful garden and a rosarium. Conductor Benjamin Zander and his Boston orchestras had arranged to donate a new rose plant but the curator died before the arrangement could be completed – a very Mahlerian development.
The exhibits include photographs of musical celebrities who have visited the site, copies of manuscripts – Mahler's revisions to Beethoven's "Coriolan" overture and a page of his own Symphony No. 7. There are some letters about Mahler and the birthplace from a few prominent conductors like Sir Georg Solti, and Sir Charles Mackerras. Zander was disappointed by the failure of the rosebush plan but he and the orchestra did find a lovely way to pay a tribute. The conductor sounded a D on the (out of tune) piano and the group burst into the old round song "Frere Jacques" from which Mahler developed the slow movement in his First Symphony. Mahler transposed the song into the minor key, making it mysterious and haunting rather than cheerful, and that is how the BPYO sang it. A lovely sound hung in the air.
Mahler himself would certainly have enjoyed the children's festival. Along the path up to his home there were pony rides and carnival games and even a shooting gallery ("Welcome to America," one of the musicians remarked). Something I had never seen before was a large clear-plastic balloon attached to a rope. A child climbs into it, and a supervising adult pushes it into the pond, so the kid can splash around to his heart's content without getting dirty – or even wet!
One of the dominant features of Mahler's life was how much he adored children. He grew up surrounded by younger siblings, not all of whom survived infancy – his mother bore 14 children; he doted on his own children, and one of them also died young. So it is entirely fitting that one of the memories a visitor takes away from Kaliště is the sound of children's laughter.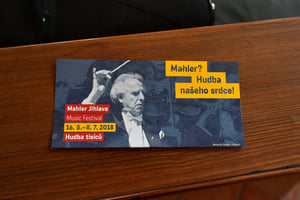 The busses then took us on to Jihlava, where the orchestra would play Mahler's Ninth Symphony in a summer Mahler Festival in the city, more than a dozen concerts, most of them small-scale although the Brno Filharmonie opened the festival this year with the Fourth Symphony and some other programs featured Mahler songs. The schedule also featured early music, chamber music, and recitals with an emphasis on Czech composers and on Czech performers. A photo of Zander was on all of the programs and posters, so he and the orchestra were visible all over town.
The BPYO's concert took place in a church just a short walk away from the huge cobblestoned city plaza and away from the small but informative and attractive Mahler museum that has been established within the house where Mahler lived until he was 15 and left for advanced musical study in Vienna. More to the point, in Mahler's time, military barracks stood behind the church and the sounds of band music and marches emerged from there and haunted Mahler for the rest of his life. There were performances going on in the plaza and one of them was by a Mongolian throat singer; if Mahler had heard that, it might have gone into his music as well . . .
The museum had closed by the time a small group of us arrived, but an attendant was still visible inside and she graciously allowed us in. There was some art by a descendant of Mahler's as well as a special exhibition devoted to his wife, Alma. There were artifacts from Mahler's period, including a pair of plain glasses very like the ones the composer was often photographed in. And there were exhibits of Mahler's report cards and a Latin essay heavily corrected by one of his teachers. Mahler's father was not opposed to his son's interest in music, but he was also a practical businessman. The young musician gave his first solo piano recital in Jihlava when he was only 10. But the parent also insisted that Gustav complete a standard educational program before he would allow his son to go to Vienna.
It would be hard to imagine a more unsuitable space for presenting a work of the dimensions of Mahler's Ninth Symphony than the church where the BPYO performed. The unadorned but austerely beautiful space is visually and psychologically appealing and its high-vaulted ceiling is inspiring – and echoey. The orchestra itself occupied about a third of the available room and the pews had space for an audience not much more than twice the size of the orchestra itself. The reverberation time lengthened,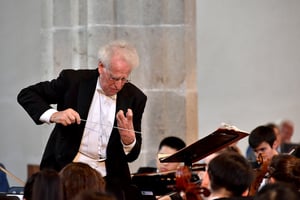 amplified and muddled every sound. But circumstances like these do not faze Zander or the young musicians who as always played their hearts out and delivered Mahler's messages; it connected with the audience and that does not invariably happen in more prestigious venues. And in an odd way it was appropriate; Mahler's music is in-your-face, and I have never felt it more literally in my face than it was here.
The audience was attentive and engaged, even a small girl who sat with her mother across the aisle from me without fidgeting for a single moment as she listened. I won't try to evaluate the details of the performance particularly during the first three movements because I couldn't hear them properly, but I did absolutely feel the impact, particularly during the final adagio. I don't know for sure whether Zander was taking it more slowly than usual, but it had a new sense of spaciousness and a richer sonic and emotional resonance. The music didn't overwhelm the space but instead bloomed within it. Some of Mahler's music arrives at the greatest grandeur of expression, but it always arose from the intimacies of everyday life. The prolonged applause at the end sounded like a great ovation in a great hall, and it sounded like a gesture of gratitude to Zander, the orchestra, and in these special circumstances, to their onetime neighbor Mahler himself.
STAY TUNED FOR MORE STORIES FROM THE 2018 BPYO EUROPEAN TOUR AND CHECK OUT OUR ACCOUNT ON
SMUG MUG

WHERE YOU CAN PURCHASE PRINTS FROM OUR EUROPEAN ADVENTURE!
WANT to catch all of the amazing music happening next season? then click the link below and purchase your bpyo season subscription!