The Boston Philharmonic has taken its Youth Orchestra on tour four times—every year since the orchestra was founded. We have embarked on these challenges that many an organization would think impossible because of our commitment to the growth and development—humanly as well as musically—of our performers: an outlook we call Possibility. We have discovered that when these young people, age 12 to 21, are given the responsibility of being ambassadors for the attitude we espouse—in terms of music-making, friendship, and respect for each other and the larger world—they leap ahead exponentially in their expertise and in their spirit.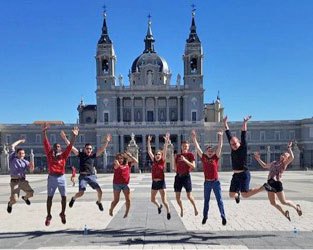 BPYO players jump for joy in Madrid (Phillip Wikina)
Despite the extravagant costs of a foreign tour with 115 musicians with their instruments, we feel that we cannot afford not to do it, considering the gains we make.
Behind every request we make of BPYO donors for support lies our conviction that everyone, the players, and all the people they encounter—the audiences, and the donors themselves—will be enlivened by the scope of the mission the BPYO carries out. We are in the business of transformation; that is, moving people beyond the concerns of competition and ego into a space of authentic contribution. Our medium is music, as it is, equally, relationship. What better stage for our mission than the concentration required for the students to get to know each other in a new environment, in the space of producing one concert after another for and with people of different cultures?
We raised the money for the year 2016 from people who responded to our cause with an energy and generosity that was a match for the passion of the young musicians themselves.
This attitude of open-heartedness can best of all be expressed in music. Just listen to the 5-minute Overture to Ruslan and Ludmila and you will hear what I mean. Every last player from the youngest to the oldest is playing every single note, and at break-neck speed. What amazing virtuosity and what exuberant joy!
The two concerts in Carnegie Hall, both played to packed houses, were thrilling occasions, as I reported in the BMInt article of June 13th. To follow the story to Carnegie Hall and listen to the performances of: Mahler's First, Stravinsky Rite of Spring, Stravinsky Violin Concerto, Debussy L'apres midi d'une faune, click HERE.
---
Off to Spain On June 13th
As we set off for Spain, one of the three flights on which we traveled was cancelled and 55 members of the orchestra were forced to spend 24 hours in Kennedy Airport. It was gratifying to hear later that everyone's spirits remained high throughout the ordeal. Someone caught BPO Conducting Fellow Kristo Kondakci on an iPhone leading a performance of "Nimrod" from Elgar's Enigma Variations in the airport lounge.
VIDEO: What happens when a youth orchestra gets stranded at the airport?
---
Terassa and Barcelona
The full group united in Barcelona in time for everyone to get on the three buses to Terrassa, a provincial town 20 miles northwest of Barcelona. On our tour was David St. George, a musicologist and formerly a music critic for The Boston Globe, who, for the past 40 years has collaborated on virtually every one of my musical projects. David has become an indispensable part of the BPYO team, attending rehearsals and coaching the orchestra members, as well as the conductor.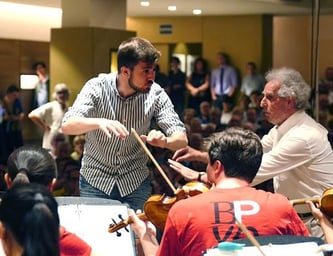 Ben Zander leads a conducting masterclass in Barcelona
David wrote a rhapsodic report about our concert in Terassa, in which he also wrote about the conducting class I gave with the BPYO playing at the Barcelona Conservatory the next evening. This came after a thrilling day of sightseeing in Barcelona, including a visit to the breathtaking, and as yet unfinished, Sagrada Familia Cathedral designed by Antoni Gaudi (see photo below).
In this excerpt from his longer article about Terassa & Barcelona, David captures the magic of our Terassa concert, played in an exceedingly difficult and dry acoustical environment. I encourage you to read David's beautifully written report in its entirety.
When the BPYO played the Debussy and Tchaikovsky in Carnegie Hall a week ago I thought they had reached an all-time high in their development, but the Terrassa performances went even beyond what they had achieved in New York, and against all odds. The unforgiving clarity of the dry acoustics made every note audible – even the slightest slip in intonation, lapse in ensemble, lack of control of quality of sound, really, any lapse of any kind would be immediately obvious. Few orchestras can withstand such close scrutiny. Yet the BPYO sounded genuinely glorious. The weight-lifting demands of Tchaikovsky 5 are a world apart from Debussy's delicate balancing act in La Mer. The orchestra managed the necessary quick-change between pieces—the differences in weight of playing, style of phrasing and general sonority were so great that they sounded almost like two different orchestras. The very opening of La Mer wasn't just soft—it was fabulously atmospheric and almost inaudible. Moments after it started the audience's reaction was remarkable—a stillness fell over the hall as if everyone had stopped breathing lest they disturb the magic. Solo playing—flute, oboe, clarinet, English horn, trumpet—was of the utmost delicacy (I have never in my life heard the high-lying trumpet part played so quietly). Concertmaster Hikaru Yonezaki played her brief but tricky first movement solo with witty deftness and gorgeous sound. Everywhere one was struck by the balance and proportion of the playing—big climaxes came only in the few places where Debussy really intended them, and then they were not just loud, but radiant. Playing with this degree of refinement is virtually unknown among youth orchestras.
And about the conducting class with the BPYO and four conducting students at the Barcelona Conservatory the next evening:
Ben's instruction was powerful and intense—intellectually intense and emotionally intense – and left all four of the conductors elated but also reeling from the force of so many new ideas. It will take time for what they learned to sink into their psyches and to become an organic part of their physical expressiveness. There is a lot for them to chew on, mull over, live with and practice. One wishes one could revisit them six months from now, to see what they have been able to make of all the new challenges that Ben's teaching has placed on them, to get them to the next level.
VIDEO: Conducting Masterclass on the Eroica, Barcelona
---
Granada
It was a huge privilege for BPYO to be included in the Granada Festival, one of Europe's most prestigious musical festivals. The week after we performed, Simon Rattle was scheduled to come with the London Symphony Orchestra. All of the festival is on that level of international excellence. The acoustics of the hall were clear, the recordings pristine and the performances by now well honed.
Here are the two short works for cello that our brilliant principal cellist Leland Ko performed: Dvorak Silent Woods and Tchaikovsky Pezzo Capriccioso.
I think this was also the most satisfying of the five performances of Debussy's La Mer: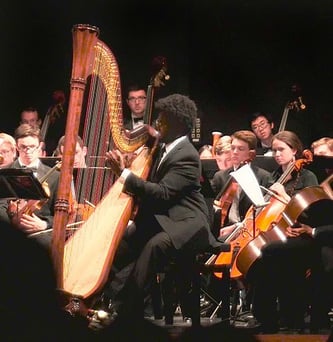 Charles Overton, harp, plays a Jazz improvisation in Huescar
Every performing organization that plays in the Granada Festival is obligated to give an additional outreach concert in one of the neighboring communities. The one that was chosen for BPYO was Huescar, a tiny Andalusian town with a population of around 8,000, about two hours drive from Granada. We were, apparently, the first orchestra ever to play there.
I don't think any of us expected the concert in the little town of Huescar to turn out to be one of the highlights of the tour. But it was, in several important ways.
Indeed, I sensed that there was a shift in the whole group after we were in Huescar. It was as if we moved into Possibility, as a state of mind, rather than something to practice and improve on.
Let me explain:
It had been a last minute decision to go to Huescar, and so our reconnoitering team had not been able to make an advance visit to the venue. When we walked in to the converted church we were horrified to realize that the stage was much too small for the BPYO.
"How could they have thought that we could play a concert here with such a small stage," I fumed. I of course regret this momentary lapse in the spirit of Possibility that had guided us unfailingly thus far. If the leader goes off track it is likely to have a bad influence downstream.
Fortunately, there are others in our organization who can be relied on to keep the spirit of Possibility alive, even in trying circumstances. As Roz Zander reminds us: "Possibility is always only one sentence away."
The "one sentence", in this case, was a firm utterance from our wise and experienced Senior Advisor, Mark Churchill: "Everybody off the stage!"
Methodically, Mark reseated each section of the orchestra, placing the seven double basses along the back wall and the percussion off to the extreme side of the stage invisible to the audience. He then announced that we would split the string section in two, with one group playing the first two movements of the symphony and the other group playing the third and fourth movements. It may have been the first time that the Eroica has ever been performed with an enforced intermission in the middle, but it turned out to be the perfect solution.
While Mark and our BPO Conducting Fellow Kristo were at work rearranging the stage, I gathered the orchestra together to talk about ways we might all come to see this "disaster" as a positive experience. I reminded them of Robert Shaw's sage advice: "At every concert somebody will be hearing the music for the first time and for somebody it would be the last time." Any disappointment that some were feeling at the inadequacy of the venue was swept away.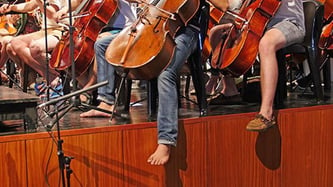 The stage is successfully rearranged
As we experienced all this, we discovered two more unexpected benefits:
The string section of the BPYO is huge—40 violins, 14 violas, 16 cellos, etc—perfect for Tchaikovsky 5th, but too heavy really for a classical symphony. For the Eroica we had decided to use two winds on a single part in all the loud tutti passages, so that the winds would be balanced with the large string section. But the wind players really don't enjoy doubling, as it tends to compromise the intonation and to thicken the textures. How fascinating it was that in Huescar, where we were forced to perform the Eroica with the correct number of strings and single winds, the textures suddenly became clear and the rhythms gained a buoyancy that they had hitherto lacked. For the first time we felt able to bring out the subtlety of the balances; once we had experienced that, the next performance was greatly improved, even though we were back to our full complement of strings.
Another important benefit was that some of the musicians found a new perspective on the value they placed on prestige. Of course they love to perform in famous concert halls with sophisticated audiences, but playing for a packed audience in an-out-of-the way place — with everyone keyed up to a high pitch of excitement at hearing a symphony orchestra for the first time—could be just as exciting and rewarding.
Violinist Cam Twarog, captured just why that was so:
Despite the stage challenge, the most meaningful concert to me was the one in Huescar. Once we got over the barrier of the size of the stage and began performing for that packed audience, I knew it was going to be a special night. People in the audience were crying during Charles's encore, which then brought tears to my eyes. Bringing the gift of music, not to mention the gift of Beethoven, to the small town of Huescar was incredible. If I were to choose one word, I'd simply say "unforgettable. After playing in that concert I felt reawakened. There was a newfound sense of community in my daily life. What an amazing feeling of playing for that town. We gave them something special that no one in that hall will ever forget!
The encore that Cam refers to was an improvisation on a well known Spanish tune that was played after a magnificent performance of the Ginastera Harp Concerto by BPYO founding principal harpist Charles Overton, who is as comfortable in Jazz as he is in Classical music.
---
Valladolid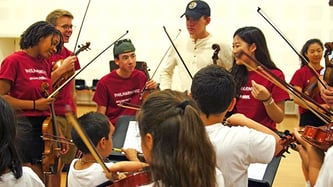 BPYO players working with In Crescendo students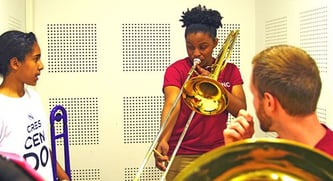 BPYO trombonist Robyn Smith works with In Crescendo students
We next traveled to Valladolid, the largest city in the northwestern region of Castile and Leon. In Valladolid there was a joyous reunion with several former students from my Interpretation Classes at NEC who are now playing in the orchestra there, including Marius Diaz, the charismatic first cellist. Marius is well known in my world because of the story that I tell so often of his auditions: simply put, when he plays cautiously and properly, he doesn't prevail; when he throws caution to the wind and plays with passion and abandon, he does! For those interested, here is Marius' story as it appears in the book The Art of Possibility: "Beyond the Fock It" It is a true life lesson.
Valladolid was the place where we had our most meaningful musical interaction with Spanish kids. I will not forget the sight of members of BPYO fanning out into rooms all around the large arts complex in Valladolid to teach instrumental lessons to 200 kids.
Later we all gathered, Spanish kids and BPYO members all together on the stage, for a joyous and rousing performance of the theme from The Pirates of Caribbean under their own charismatic conductor, after which I led an arrangement of the Finale of Brahms's 1st Symphony. What a joyous sound! The room was full of shining eyes after that. "That was my favorite experience of the whole tour!" said one of our wind players.
Yes! Teaching, they all found out, is just as rewarding and fun as performing.
That night Deanna Cirelli performed the Ginastera Harp Concerto. I want to share Deanna's subtle and brilliant rendition of this colorful work, with its intoxicating Spanish rhythms and challenging orchestral accompaniment, as well as her encore:
---
Madrid and Escorial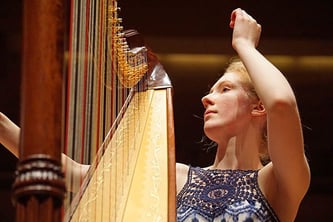 Deanna Cirelli
From Valladolid we went to Madrid to perform in the beautiful 2,700-seat National Concert Hall. I was astounded when I walked out on stage to see not an empty seat in the hall, including the choir seats behind the stage. The organizers had been right to insist that we perform Eroica in that concert. Clearly, word had gotten out about this extraordinary orchestra of young musicians from the United States. The feeling of elation and joy after that final performance of Eroica was intoxicating for everyone in the hall, not least for me.
I have struggled with the Eroica most of my life. It never seems to work perfectly—especially the Finale, which has a metronome mark bordering on the unplayable (indeed this movement is often cited as proof that Beethoven's metronome must have been broken—or that he was mad). I recorded it with The Philharmonia in London, but rejected the recording, because we couldn't quite get it. For the very first time in Madrid I felt that, at last, with the fabulous young virtuosi of the BPYO, we had finally "nailed it." Even the Finale, at Beethoven's tempo, sounded joyous and exhilarating, as he must have conceived it.
Imagine my intense disappointment when, at the post-concert dinner, I heard that, because of a misunderstanding, the concert had not been recorded. There had been only three BPYO performances of the Eroica—the one in Symphony Hall in Boston, which had fallen far short of my ideal; Huescar, which had suffered with a poor quality recording; now the wonderful performance in Madrid hadn't been recorded at all.
When the storm clouds of my frustration dispersed, I went around the restaurant discussing with members of the orchestra and staff what we could do to salvage the situation.
Every possible solution was explored, including that of changing the program for the final concert the following night in Escorial, so that the Eroica could be performed again and recorded. Our cellist, Leland Ko, generously offered to forgo the opportunity to play his solo pieces in the final concert, so that I could get my dream Eroica on record. "It's the very least I could do," he said. I was touched that these young people realized that this was really important to me and I appreciated that they seemed to be willing to do almost anything to enable it to happen.
The solution we arrived at was guaranteed to put an inordinate strain on the entire orchestra, especially the horns. It was, however, the only solution that would allow us to perform the final program at the Festival as advertised, which all of us felt was essential, and would still allow us to get a recording of the Eroica. The solution was that we decided to cancel the afternoon warm-up rehearsal for the evening concert and instead do a full recording session of the Eroica.
A top-notch German recording engineer and his son were persuaded to come back from their family vacation. They set up a full battery of microphones on the stage and succeeded in turning the excessively dry acoustics of the Escorial concert hall into a passable recording studio.
VIDEO: Recording Session of the Eroica in El Escorial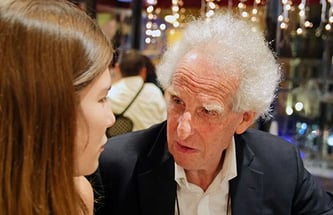 BZ talking with Megan Shusta, BPYO First Horn
Our magnificent first horn, Megan Shusta, warned me that what I was proposing would not work. To be expected to record the treacherous first horn part in the Eroica and then, a couple of hours later, to perform the huge first horn part in Tchaikovsky's Fifth Symphony—with its heart-rending but high-wire act solo in the slow movement—is an outrageous demand for a horn player of any age. It's like asking a pitcher to pitch back-to-back games. Had I gone too far? Is Possibility a license to go over the boundary of what is reasonable? I honestly don't know, but I hope when she hears the tape of her tremendous performances of both pieces and the exquisite shaping of the famous horn solo in the slow movement of Tchaikovsky 5th, that she will be able to forgive me.
Listen to the astonishing playing of all three horns in the trio of the Eroica and Megan's solo in Tchaikovsky 5th.
Special praise should also go to two other members of the orchestra for their heroism that day: first bassoonist Micah Gharavi, came to me just before the recording session, with his face white as a sheet, saying that he was simply too ill to perform, and then, through sheer will power, played anyway; and 15-year-old Nathan Muz, who stepped in to replace our ailing second bassoon and played the entire Eroica symphony impeccably without any rehearsal at all! Fortunately, he had been sitting in the rehearsals as a doubling wind player, so he knew the piece cold. But still . . .
Here is the recording of the Eroica from the afternoon of the final day in Spain.
Although the musicians were exhausted from their exertions of the day and at the end of a tour that had afforded them little time to practice—thus probably not at the top of their game technically—their music-making had found a new depth and freedom. Because of that, I have chosen to share the Escorial recording, out of the five Tchaikovsky 5th performances we played on the tour. As they threw themselves into their very last performance together of the Tchaikovsky, their love of the music and their sense of the significance of the occasion, lent a previously unachieved heroic and passionate quality to their playing.
Here is the performance a few hours later of Tchaikovsky's 5th.
It is a tradition—a sacrament, really—for us to play "Nimrod" from Elgar's Enigma Variations as the final encore. For a whole host of reasons, "Nimrod" has taken on enormous spiritual importance in the musical lives of our BPYO musicians. You will understand why by reading Reese Williams description, and by listening to their deeply committed performance:
One image burned into my mind is the performance of "Nimrod" in our last concert. Everyone was exhausted after a long recording session and a heavy concert, but every last ounce of energy left went into that performance. I remember looking up and seeing Leland with tears in his eyes, putting his whole life into his cello. And then I saw everyone else follow suit. The whole orchestra, every last person, was using every last drop of their soul to keep playing despite being in tears, despite being exhausted, despite the emotional burden of saying goodbye. That will remain in my heart for a lifetime and more.
For the "white sheets" from other members of the orchestra, reflecting on their experience of the tour, click here.
---
Coda
As I look back on the tour, I am amazed that the orchestra performed so many extremely demanding works so well. Tours are exciting for everyone, but they are also grueling. Days are long, often filled with many hours of bus travel; meals happen at irregular intervals; when not traveling there are demanding rehearsals, as well as sight-seeing, which can be thrilling, but is also exhausting, even in the awesome places that we visit, like the Alhambra in Granada. And then there are the concerts themselves, six of them in 12 days.
I am amazed that we managed to pull off both the trip to New York and the tour of Spain. For that, our deep gratitude and admiration must go to our miraculous Managing Director Elisabeth Christensen, who masterminded everything, and to the staff that she assembled. And it goes almost without saying that boundless credit must go to these young players' teachers and to their parents, who have supported them to become such remarkable musicians and human beings. And great credit as well to the BPYO coaches who worked so hard with them over many months. Thank you.
But most of all I thank the members of the orchestra themselves, for their superlative musicianship, their ability to change and to grow as they encounter fresh ideas and new experiences, their sensitivity to the collective—constantly attuned to what is best for everybody, not just for themselves. One hundred fifteen students came on the tour. It may seem unbelievable, but there was not a single incident of insubordination, bad behavior, rudeness or inconsiderateness. Nothing disturbed the smooth running and joy of the entire venture. One couldn't have asked for a more perfect demonstration of the Art of Possibility in action.
I wish you could have been there.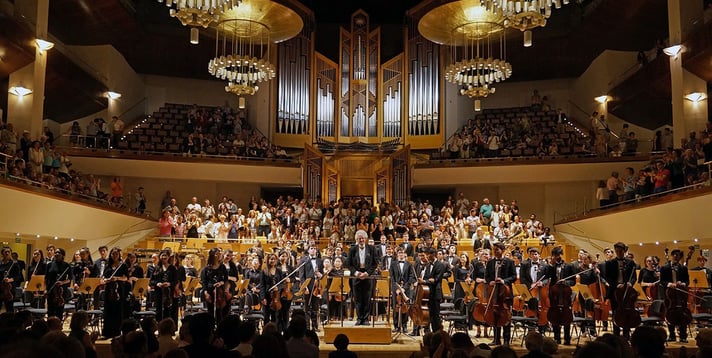 Pictured: Ovation in Madrid