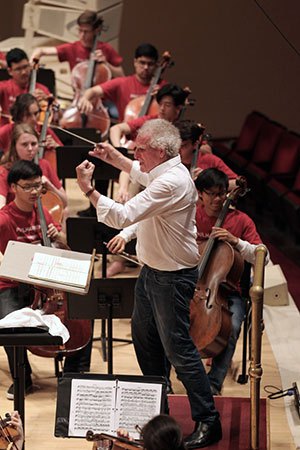 Zander rehearses BPYO in Carnegie Hall (Steven Eliopoulos)
I am taking the unusual step of creating a very detailed description of the extraordinary turn of events that led up to our concerts this past June on our tours to Carnegie Hall and Spain. I wouldn't normally give such a detailed description of the ins and outs and behind the scenes deliberations that go into deciding concert programs. The story of "making the sausage" offers some fundamental things about how the BPYO operates and how deeply the spirit of Possibility has become infused into the daily workings of this miraculous orchestra.
Everything was in place for BPYO's two week, six-city June tour to Brazil—a thousand tickets had already been sold for one of the concerts! But at the January 26th meeting of the Boston Philharmonic Board (the parent organization of the BPYO), the Board voted to cancel the tour. The news about the danger of the Zika virus had been filling the papers and one of our board members, an expert in tropical diseases, stated that he would not permit his cellist granddaughter to go to Brazil.
Usually it takes at least a year to organize a tour and here it was late January, and we had nothing in place! Everyone would have understood if we had decided to close up shop after our final concert of the season in Sanders Theater on May 8th. Yet for us, that would have been an extremely difficult call. For it isn't until we go on tour, playing concerts night after night, that the orchestra finds its true voice; it's only on tour that deep, life-long relationships between members from different sections of the orchestra, different institutions and different age groups are formed and cemented. In addition, this year many of the BPYO'S most passionate musicians were about to "graduate" at the end of the season. I think everyone in the orchestra wanted to bask in and amplify the experience of the heights we had reached as the year came to a close.
So…..Where could we go instead of Brazil?
Two years ago we played a concert in Carnegie Hall. Should we go back there to end the year? Our first concert of the season in Boston's Symphony Hall had been wildly successful. The online journal ArtsFuse, in the roundup of the year, chose that event as the Best Orchestral Concert of 2015. Not the best youth orchestra concert, mind you, the best orchestral concert, period! It had been offered free and we had turned away 500 people. If we could do that in Boston, probably we could do it in New York.
I called Carnegie Hall to ask if they had a June date open. Monday, June 6th and Tuesday June 7th were free, so I asked them to put a hold on both till we could decide which one to take
That same evening we gave our second Symphony Hall concert of the season, with Beethoven's Eroica and Stravinsky's Rite of Spring. Presenting two such overwhelming and revolutionary—not to mention technically challenging—works on the same program was risky, especially with such a young orchestra. But the concert turned out to be one of the high points in the orchestra's history. It was an unbelievable thrill for the musicians to have every single seat in the hall occupied and then, at the end of each piece, to see the audience leap up for a prolonged standing ovation. Leon Golub's extraordinary review in the Boston Musical Intelligencer captures it perfectly.
It suddenly dawned on me that instead of choosing one of the two dates and having to choose between one of the two programs to play in Carnegie Hall, we could do both!
What an audacious idea.
To be sure, three days in New York could not possibly compare to three weeks traveling and performing in Brazil, but no one could say that playing these two amazing programs in the most prestigious concert hall in America would be a letdown
Here are the programs we initially planned for Carnegie Hall:
June 6th Program
Glinka: Overture to Ruslan and Ludmila
Stravinsky: Violin Concerto (Ayano Ninomiya, violin)
Debussy: La Mer
Tchaikovsky: Symphony No. 5
June 7th Program
Stravinsky: Rite Of Spring
Beethoven: Symphony No 3, Eroica
Many colleagues thought I had taken leave of my senses.
As far as we could ascertain no youth orchestra had ever given back-to-back concerts in Carnegie Hall. Indeed a professional orchestra might hesitate to put on two such difficult programs on consecutive nights. But it would be a tremendous opportunity to get the word out about this amazing orchestra and the philosophy which lies behind the orchestra's mission: Shaping Future Leaders through Music. I decided I would give a talk in Carnegie Hall before each concert to explain the whole process of learning through Possibility. [For more, see the "Art of Possibility"]
The estimated cost of the two Carnegie Hall concerts ($400,000) would be approximately the same as the two-week tour to Brazil, since the Brazilian presenters were to have covered most of the internal costs. The Board had already approved that figure, so we didn't anticipate much resistance to the idea of switching to Carnegie Hall.
Three days later we received a call from Classical Movements, the touring company that had managed our highly successful tour to the Czech Republic, Germany and Switzerland the previous year, with an assurance that, even with so little time, they were confident that they could arrange an equally exciting tour to Spain. A few days later they delivered a proposal for a 12-day six-city tour, including a concert in the prestigious Grenada International Festival, a concert in the beautiful modern arts complex in Valladolid and another in the National Concert Hall in Madrid. To top it off the Director of the Escorial Festival had agreed to move the published starting date of the festival back by one day, so that BPYO could play the opening concert!
What A Choice!
Well, here again we initially felt we might have to choose between these two delicious opportunities. Should we go to Spain with all the cultural opportunities and amazing musical experiences that were being offered, or do we go to Carnegie Hall? In the end, inevitably, we decided to do both! I agreed to take on raising the money for Carnegie Hall to free up the Board and the parents to focus on raising money for the tour to Spain. How we raised the $940,000 to cover both tours is a possibility story in itself.
Well, you know the rest of the story of our trip to Spain, but just in case, the link to the article about the Spain tour is HERE.
A Change of Program
After our final concert in Sanders Theater, and despite the fact that we had already settled on and announced our programs for Carnegie Hall, we decided to change the program for the second Carnegie concert. The program on May 8th in Sanders Theater was:
Debussy: Prélude à l'après-midi d'un Faune
Brahms: Double Concerto for violin and cello (Hikaru Yonezaki, Violin; Leland Ko, violoncello)
Mahler: Symphony No. 1
The preparation of the Mahler had been an especially satisfying experience. Perhaps it was the total dedication of these players that made it so inspiring; perhaps it was the amount of background information that the musicians absorbed through my frequent (some would say too frequent) e-mails about the piece; perhaps it was the phenomenal coaching by the different section coaches, especially John Heiss's painstaking work with the winds and brass that led to an astonishing awareness of balance and intonation. Perhaps it was a combination of all these that caused such a stirring performance and inspired so many of the musicians to plead with me to take the Mahler to Carnegie Hall and Spain, instead of the Eroica.
For those of you who don't know John Heiss, he is a composer and teacher, revered by thousands of musicians who have come under his spell over the past fifty years at New England Conservatory. Stravinsky called him "the Pitch Doctor" after a rehearsal of Requiem Canticles, during which he identified some 50 errors in the score that the composer himself hadn't noticed! No one has a better ear than John Heiss and it is one of the privileges of playing in the BPYO that John lends his fabulous ears and musical insight to our preparation. More about John's contributions to this effort a bit later.
VIDEO: John Heiss, Meeting Stravinsky
The logistics of touring with a huge Mahler orchestra (with so many extra instruments and players) made it impractical, especially for some of the smaller halls in Spain. Besides the concert presenters were insisting that it would be far easier to fill the huge National Concert Hall in Madrid with Beethoven's Eroica than with a Mahler symphony. But there was nothing to prevent us taking Mahler to Carnegie Hall, other than the necessity of reprinting the fliers and posters. The Mahler was ready, whilst the Eroica hadn't been rehearsed since February. Moreover, it meant that more players could have the experience of appearing in Carnegie Hall.
But there was another musical reason:
The work on the Eroica Symphony leading up to the May 8th concert had been quite stressful. My long held belief is that the metronome markings that Beethoven left for his symphonies (generally faster than one normally hears these pieces played) can be — and should be — made to work. In our BPYO rehearsals on the Eroica, playing it at Beethoven's tempo markings came up against some resistance, not least because following them requires us to rethink works that are so familiar. It also makes the piece far more difficult to play. I went back and forth, pushing and pulling, sometimes urging the orchestra, like a reluctant steed, into Beethoven's sometimes counterintuitive tempi and then at other times losing heart because of the difficulty these tempi posed for the players.
The concert on February 5th came off well, but I did not relish the idea of going through that struggle again and face New York critics with a piece in a still unresolved state. We could leave the task of preparing the Eroica for the less pressured situation in Spain, so I felt a certain sense of relief at the prospect of changing the program to Mahler for New York.
The Mahler was sure to be a smash hit in New York, and is completely in my comfort zone. So we decided to switch to the Mahler. But the new program posed its own problem. The Rite of Spring and Eroica make a brilliant and illuminating pairing, but the juxtaposition of The Rite of Spring and Mahler's First Symphony was just plain weird. I do not think that those two pieces had ever before been offered together on one program.
"But wait, there's more!" as they say in the TV ads.
Debussy's Prelude à L'après-midi d'un faune in our May 8th concert had also gone extremely well, and there were intriguing programmatic connections between the Rite and the Faun. This juxtaposition would make for a fascinating pairing: both pieces created a musical revolution; both were Diagilev ballets, and both began with solos for a wind instrument (flute in one, bassoon in the other). I decided to add the Prelude to the Afternoon of a Faun!
Was I really this mad? This was truly over the top. We had already set ourselves a seemingly impossible fundraising goal and now we had set ourselves two preposterously difficult programs for Carnegie Hall. But in the spirit of Possibility, we decided to undertake this massive and risky project.
First Day At Carnegie Hall
Jumping ahead a month, a crew from CNN International greeted us in Carnegie Hall on the morning of June 6th. They had permission to interview me in the Maestro Suite and to film the orchestra in rehearsal for up to 30 minutes. The result was a segment, which was shown on CNN later that day (and on three subsequent occasions) and beamed to 350 million households around the world. My dream of letting people know about the philosophical ideas behind the orchestra was going to get an early boost!
VIDEO: CNN visits the BPYO at Carnegie Hall
The mood at the rehearsal that morning was joyous and exuberant. No musician ever gets blasé about being on the stage of Carnegie Hall, least of all 115 youngsters, most of whom have never played there and, who, if it were not for BPYO, might never do so in their entire lives. Musicians will argue long and hard about the acoustical merits of the great halls of the world, but no one questions the thrill of being on stage in Carnegie Hall.
To accommodate the needs of the CNN film crew, we started with Ruslan and Ludmila and then Tchaikovsky's Fifth. But after the break and before rehearsing La Mer, something happened that I know we will always remember with special relish. Our good friend, composer and master teacher John Heiss, who had heard our Rite in Symphony Hall in February, called me a few days before we left for New York, to tell me about one specific chord (!) that had been out of tune in that performance. He was coming to New York to attend both concerts, but would only be able to be at Carnegie for the first rehearsal. We were not meant to be rehearsing the Rite until the following day, but he wanted to be sure that he could help with that chord.
The chord in question comes just before the Dance of the Earth that concludes the first part, when the Sage kneels to kiss and thereby consecrate the Earth. 10 solo string players play a ppp chord: a violin and two cellos play a B minor chord, while two basses, two cellos, a viola and a violin play a C minor chord. Meanwhile, a single cello plays an A flat, an "enemy note" as John's son Frank Heiss calls it.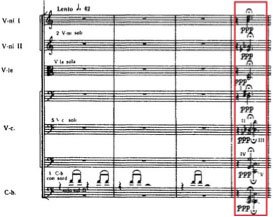 Most of the notes are played as harmonics—lightly touching the string with the left hand — which creates a wonderfully eerie sound filled with expectation, just before the roaring buffalo hoofs are unleashed in the bass drum. After piecing each harmony together separately—B minor then C minor; then the added A-flat in the 5th cello, the chord clicked suddenly and magically into place. Rarely have I seen John so happy. "I haven't heard that chord in tune in the last 50 years!" he beamed.
AUDIO: The famous chord is here.
On the following evening, the chord was not as perfectly balanced as in the rehearsal the previous morning, so in the recording (linked below) we have replaced that chord with the perfect version that had been rendered in the dress rehearsal under John's watchful ear. Please forgive us for this little sleight of hand.
Righting the Rite
John Heiss also told the orchestra that, though he had been listening to the Rite of Spring his whole life, he had still learned new things from their performance. He was especially entranced by the sheer beauty of the section that opens the second part (at 16.23). He also told us that he had become completely convinced by the tempo of the final Danse Sacrale played at the speed of Stravinsky's piano roll, which he was hearing for the first time.
In the Danse Sacrale, a young virgin is chosen to sacrifice herself by dancing herself to death to placate the gods to ensure that spring will return. In 1920, seven years after the celebrated riot that broke out at the Rite's premiere in Paris in 1913, Stravinsky prepared a piano roll of it. (The player piano preceded today's electronic keyboards; its long paper rolls with perforations representing notes, were pulled through a tracking device that in turn depressed the keys.) On Stravinsky's roll of the Rite the Danse Sacrale section is much faster than we hear it today. At that tempo it is not difficult to imagine the young virgin dancing herself to death; at the tempo which has become universally accepted, she barely seems to break a sweat!
One can only speculate that orchestras couldn't play Stravinsky's piano roll tempo of the Danse Sacrale in that era (Pierre Monteux's 1929 recording at the same tempo as the piano roll is little short of chaos). That explains why Stravinsky later marked a far more moderate tempo in the orchestral score, surely a concession to the technical capacities of orchestras of that time. That a group of 115 teenagers can now accomplish this with aplomb testifies to just how dramatically the technical and musical capacities of musicians have come in the past 50 years!
The BPYO's parent orchestra, the Boston Philharmonic, was the first orchestra to attempt the Danse Sacrale at the tempo of the piano roll in our 1990 performance in Jordan Hall, which was issued by Pickwick Records. The then New York Times chief music critic John Rockwell chose that BPO recording of the Rite of Spring as one of the "Ten Most Important Musical Events of 1992."
It is likely that the Boston Philharmonic Youth Orchestra gave the first Carnegie Hall rendition at this tempo.
Here are the last 3 minutes of the Danse: first, on Stravinsky's piano roll; then from a recording at the tempo usually heard today; and finally the same passage played by the BPYO in Carnegie Hall, at the hair-raising tempo of the piano roll.
A traditional performance:
BPYO at Carnegie:
Here is the entire BPYO performance of the Rite of Spring, of which every BPYO player should be justifiably proud:
To complete this narrative about the Rite, here is trumpeter Chris Rohlicek's reaction to that moment in Carnegie Hall:
For me, the most unforgettable part of our trip to New York was the Danse Sacrale from our Rite of Spring. It felt like the orchestra was tightrope walking across the Grand Canyon. Never have I been in a situation so electric, with everybody so intently focused on one thing. The entire orchestra's laser-like focus made the music airtight and terrifying. During that concert's intermission, I told Rebecca the camerawoman that "nothing like this will ever happen again for any one of us." What I meant by that was that we created something in that hall that existed only in that moment, and that is what was beautiful about our performance.
The Drama of L'Après-midi d'un Faune
There is a fascinating back-story about our May 8th-performance of Prelude a L'Après-midi d'un Faune, or Prelude to the Afternoon of a Faun, as we know it in English. This story sheds some light on how the Possibility model gets applied to a real situation in the BPYO.
Because it is such an important piece for flutists, we held auditions for the solo part in Faun. The BPYO is fortunate to have four exceptionally fine flutists, so it seemed only fair to give them all a chance to compete for this plum. Flute players work on this piece over a lifetime and relish any opportunity to play it with a fine orchestra.
One of the flutists, the wonderfully gifted Sieon Choi, was still in high school, so it was not surprising that she was marginally less ready than the other three. Each of her colleagues gave exceptionally accomplished renditions of the solo part, bringing out one aspect or other of the infinitely complex and intricate textures of this masterpiece. Any one of them could have given a fine performance, but in the end the panel of three judges gave the opportunity to Carlos Aguilar. Carlos is a lavishly gifted freshman studying with Paula Robison at New England Conservatory. He brings astonishing imagination and freedom of spirit to the faun's sometimes sultry and sometimes skittish nature. Carlos played beautifully in the many rehearsals and, after John Heiss tamed his most volatile tendencies in some private coaching, he was poised to do something truly extraordinary at the May 8th concert.
On May 8th, as the start time of the concert got closer, it became increasingly apparent that Carlos was not going to show up. At ten minutes to three we had to find an alternative. One of her colleagues suggested that since Sieon had been present at every rehearsal, playing third flute, she should be handed the task of playing the famous first flute part. So, Sioen, with complete sangfroid, stepped on stage for a beautiful performance of this extremely difficult piece. When it was over, her colleagues in the orchestra erupted with wild applause, but when I informed the audience that she had just played the piece for the first time and without rehearsal, they accorded her an ovation that she will be able to savor for years to come.
Here is that performance:
What on earth had happened to Carlos? Well, it turned out that he had been partying till the early hours the night before and had woken up with a hangover in a friend's apartment at half past two in the afternoon. News of the kid who missed playing Faun spread like wildfire around town. That's like a baseball player missing a game in the World Series. Carlos did show up in time to play second flute in the Mahler, but how was he going to restore his reputation after such a major faux pas?
In the professional world, he would have been instantly dismissed and never hired again. Some members of the orchestra suggested that, as a way of teaching him a lesson, he should be prevented from playing in the Carnegie Hall concerts; understandably there was concern that he might be a liability on tour: how would a 20-year-old, who had demonstrated that kind of irresponsible behavior, be likely to act in Spain?
Here was a perfect opportunity to practice Possibility, wherein when we make a mistake, we throw our hands in the air and say "How fascinating!"
In Possibility we don't shun miscreants, we rather get in even closer. In two private meetings with Carlos, I became convinced that he was deeply remorseful and embarrassed. He wanted desperately to get back on track. He assured me such a thing would never happen again. It had the ring of truth, and I believed him. At the following week's rehearsal Carlos apologized to the whole orchestra and most especially to his flute colleagues. He expressed gratitude to Sieon for saving the situation, which caused the orchestra to burst into another ovation.
I then told the orchestra that Carlos had revealed to me that he was suffering from a sleep disorder that had caused him to miss many classes and rehearsals at NEC, so much so that he was facing possible failure. Carlos had given me permission to share that information with the orchestra. I explained that someone with a handicap—we all have some—needs special assistance. In order for him to succeed, some structure would be needed to enable him to wake up in time. Two of his close friends in the orchestra volunteered to take responsibility to play that role for the remainder of the rehearsal time in Boston and later on tour at Carnegie Hall and in Spain. In the meantime, his behavior needed to indicate that it was safe to take him on tour.
I explained that in the Possibility model, which is our modus operandi, we neither punish people nor reject them. We need every player in the orchestra and we are committed always to provide support for everyone to be effective and responsible. Of course, we as an institution have to be responsible too, so that if we have reason to believe that someone is not able to control their impulses then we have to protect them and the organization.
It was an important wake-up call for Carlos. I'm happy to say that his behavior was impeccable for the remainder of the time in Boston and throughout the next several weeks, including the tour to Spain.
Our best performance of Faun was actually the one in Madrid. I wish you could hear it, but unfortunately, through a misunderstanding, no one had been hired to record that concert. However, I am happy to report that Carlos's former teacher, Elena Yarritu and her husband flew from San Diego to Madrid to hear that concert and were thrilled beyond words to hear him playing so beautifully and to a packed house of 2,700 people. On his website Carlos credits Ms. Yarritu—who gave him both free lessons and housing — with making his dreams a reality "I would be a mediocre flutist in a school band if it weren't for my teacher," he said. "She's helping me not only become a better musician but also the best person I can possibly be.
But we CAN share the recording of Carlos Aguilar playing the piece from the dress rehearsal in Carnegie Hall.
Ayano Steals Our Hearts (And The Show)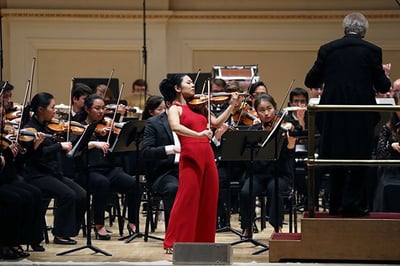 BPYO & soloist Ayano Ninomiya, Carnegie Hall (Steven Eliopoulos)
Youth orchestras often choose their most accomplished members as soloists in concertos.
Jonah Ellsworth had filled that role last year, and the year before Max Tan played the Barber Violin Concerto. This year in the final concert, on May 8th in Sanders Theater, Hikaru Yonezaki and Leland Ko, the extraordinarily accomplished leaders of the first violins and cellos respectively, gave an astonishingly mature interpretation of Brahms's Double Concerto.
I would love for you to hear their Brahms. I suspect that if you didn't know the age of these musicians, you might assume they were experienced professionals with many performances of the work under their belt:
On the other hand, it is also an invaluable experience for a young orchestra to play together with seasoned soloists of international standing. In our very first concert Alisa Weilerstein played the Elgar Cello Concerto, an interpretation that has gone on to win worldwide critical acclaim with her recording with Daniel Barenboim. Two years ago in Carnegie Hall we gave Ravel's Piano Concerto with renowned "From the Top" host Christopher O'Riley; and last year we took on the third act of Siegfried with four internationally renowned Wagnerian singers and went on tour to Europe with the legendary cellist Natalia Gutman. This year our soloist in Stravinsky's Violin Concerto was Ayano Ninomiya, who had, as a nine-year-old, played in the back of the first violins in the Youth Philharmonic at NEC. Ayano has gone on to a great career as a soloist and as first violinist of the Ying Quartet. She has just returned to live in Boston to teach at NEC.
Her take on the Stravinsky Violin Concerto has become my favorite, but her contribution was much more than just her violin playing. Ayano became a role model as well for everyone, including the brass players! Lithe and athletic as a leopard (she is a black-belt Aikido master), her warmth, her energy, her enthusiasm and that glorious smile lit up the room at every rehearsal.
Here is her brilliant and touching recording of the Stravinsky Violin Concerto from Carnegie Hall.
Mahler's First Symphony
If you listen to the following performance of Mahler's 1st Symphony from Carnegie Hall, you will be surprised to hear applause not only between the movements, but actually in the middle of the second movement! How did such uncouth behavior occur in that august space?
Well, thereby hangs a tale.
The only available date for Symphony Hall last November was a Monday night. "How on earth," I remonstrated, "can a youth orchestra be expected to get an audience in a huge hall on a Monday night?"
A solution was found. Free for All, a local foundation committed to making free classical music available in perpetuity to the people of Boston, agreed to give us a generous grant, so that we could offer the concert for free. We took out a full page ad on the front page of the Metro newspaper announcing in gigantic letters:
FREE CONCERT IN SYMPHONY HALL!
By lunchtime on the day the newspaper came out, 1,200 people had called up the BPO office to request tickets, and on the night of the concert there was a line three or four-deep stretching back from the door of Symphony Hall for a quarter of a mile down Huntington Avenue beyond the YMCA. In the end we had to turn away 500 disappointed people!
"What beauty I heard tonight!" exclaimed a white-bearded gentleman after that concert. "I am 80-years-old and I have lived in Boston all my life, but I have never made it inside Symphony Hall. I just couldn't afford it."
Subsequently, a visit to the office of Steve Roth, one of New York's most successful real estate magnates, resulted in a donation of $100,000 towards free tickets for our concerts in Carnegie Hall. Again we had the front-page of the Metro and lots of other free publicity—Critic's Choice in The New York Times, Classical Music listings in The New Yorker, as well as notice in several local journals and interviews on radio stations. The tickets were to be made available in a lottery. By the time of the first concert over twelve thousand people had written in to request tickets!
Of course, both in Boston and in New York vast numbers in the audience were first timers, not only to the concert hall itself, but also to classical music. Carnegie Hall was full of young children on both nights, because entire families could come together. No wonder there was a lot of noise during L'après-midi. But once I had explained to the audience that music sounds much more beautiful when it is heard in silence, there was barely any sound from the 2,500 people in the audience each night. And during the encore of Elgar's "Nimrod" Variation, many of these newcomers to classical music had tears streaming down their faces.
Here is Mahler First Symphony from Carnegie Hall on June 7, 2016.
But first let me explain one thing: the third movement is a round, on the song "Frère Jacques", except it is in the minor key, which makes it sound very sad. It begins with mournful throbbing in the timpani, and then a solo double bass begins the round — a SOLO double bass, for the first, and perhaps the only time in any symphony. Bass players tend to take great pride in their playing of this solo, and lavish on it their most burnished tone, and conductors are apt to encourage them to play as elegantly as possible. But that is not at all what Mahler intended here. Mahler had in mind Jacques Callot's famous lithograph of a funeral in which the deceased is a hunter and the "mourners" are the animals. Pete Walsh our wonderful bass section leader is as capable as anyone of playing it gorgeously, but I persuaded him to render it as I believe Mahler intended, rather vulnerable and sorrowful, a little Jewish, a little bit sinister. In a beautiful letter that David St George addressed to the whole orchestra after the Carnegie Hall concerts, he makes pointed reference to the effective way Pete played the solo.
I think you'll agree that these young people deserve our admiration, praise and thanks. So do their parents, teachers and coaches. Of course, a large part of our mission at the BPO is to mold artists, but we place equal if not greater importance on their personal development. Giving them the skills to navigate complicated relationships, to act as leaders and to take responsibility for the whole enterprise is really the essence of why the BPYO is such an important part of the lives of these young people. It is also the reason that the work of the BPYO inspires generous donors to provide the financial support we need to make the orchestra tuition-free—tours and all.
Working with young people has been, and remains, the focus of my life as a musician and teacher. The joy of making music with them is inestimable, and their growth as people through the BPYO experience inspires me daily. They are the shining lights of our future.


Standing ovation at Carnegie Hall (Steven Eliopoulos photo)