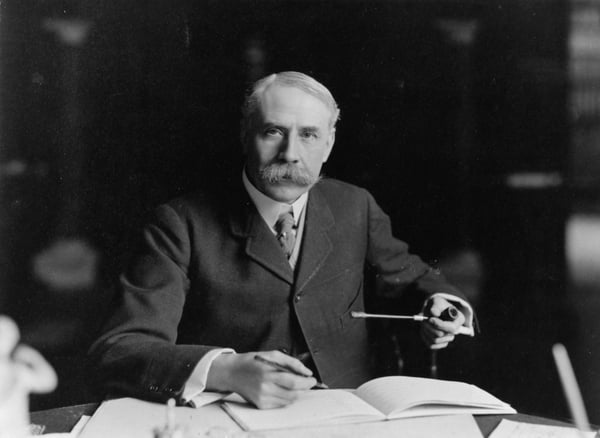 Sir Edward Elgar (1857 – 1934)
Benjamin Zander can barely contain his enthusiasm for the upcoming performance of Elgar's The Dream of Gerontius with the Boston Philharmonic and the Chorus pro Musica.
"It sounds so goddam beautiful!" he was heard to exclaim after the first orchestra rehearsal. Perhaps he was referring to one of the piece's central paradoxes: that it projects – and projects powerfully – rigorous Church doctrines in a musical language and an orchestral garb of unalloyed sensuality. The spiritual and the sensuous seem to become one, and the power of the musical ideas and their enthralling development in the course of the piece erase the paradox that one might infer from the work's absolutely sinful beauty.
This dramatic oratorio (Elgar didn't want it to be called an oratorio, but what should it be called then?) is performed in England all the time, but performances here are rare. Choruses adore it, because their part, although challenging, is so extremely beautiful and rewarding. Audiences come to it, many of them for the first time not knowing what to expect, and leave strangely moved in a way that is new for them.
The inspiring performance that the orchestra and chorus gave in 2001 is still a high-water mark in the musical memories of those who performed it and those who heard it. We had three stellar soloists back then: Anthony Rolfe Johnson, Michelle De Young and John Relyea. But not to be outdone, we have an equally extraordinary trio of soloists for the present performance.
Two of them, English tenor Robert Murray and Australian bass-baritone Derek Welton, have recently worked with Ben Zander, recording the Beethoven Ninth last spring with the Philharmonia Orchestra and performing it at the Royal Festival Hall. Welton brought an extraordinary command and sense of line to the bass's "O Freunde!" exhortation in the Ninth, and Murray sang the very difficult tenor aria with uncanny lightness, ease and grace. Madeleine Shaw is a young, gorgeous-voiced English mezzo who has sung The Angel opposite Murray's Gerontius several times. Her singing is of the utmost directness, tonal beauty and intelligence. (Click here to listen her singing Elgar)
| | | |
| --- | --- | --- |
| | | |
| Robert Murray | Derek Welton | Madeleine Shaw |
This will be an exceptional performance of an exceptional piece of music. And it's for everybody, not just fans of religious music or of choral music, if for no other reason than because, as Zander so eloquently observed," it's just so goddam beautiful"!
---
One performance only, Friday April 20, 8:00 PM in Symphony Hall.
Tickets by phone at 617 236-0999 or online at bostonphil.org