Maestro Zander and BPYO take a bow after performing Mahler's 9th in Mahler's hometown, Jihlava, Czech Republic
I have led 25 youth orchestra tours over the past 47 years each of which has been memorable in countless ways, but our 2018 tour to five countries to play in the greatest concert halls was different from all the others.
Most significantly, we featured only one piece, Mahler's Ninth symphony, a very long and hair-raisingly difficult symphony that is legendarily out of the reach of youth orchestras in levels of skill and emotional maturity.
Taking this piece "on the road," so to speak, to play day after day for sophisticated European audiences in the most prestigious halls in Europe was a stretch that many felt was simply too much pressure for an orchestra whose players ranged from age 12 to 21. However, we at BPYO have always worked with the philosophy that if you show young people deep respect, demand a great deal of them, and are willing to take risks with them, they will almost inevitably rise to meet you while discovering immense capacities in themselves.
---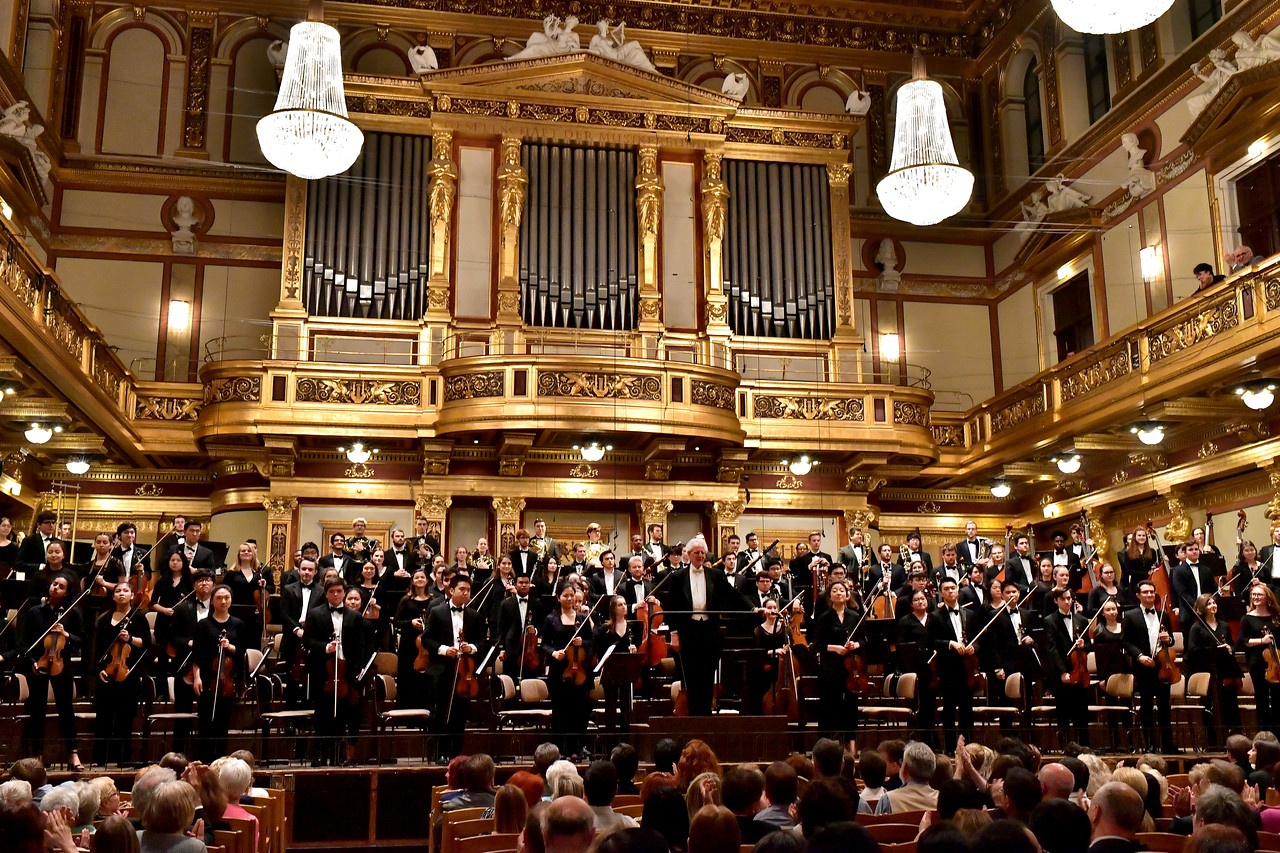 BPYO at the Musikverein in Vienna
"Our performance in the Musikverein changed everything for me. I had never felt so close to the music before and even during our rehearsal there was something in the air that made me hold my breath because the music we were producing was honestly just breathtaking." – Sophia Berry, 15 yr old BPYO violinist
David St. George, a former Globe critic, has served as my musical advisor and collaborator for the past 40 years. He has built a close personal relationship with the members of the BPYO through his attendance at our weekly rehearsals, where he frequently intercedes with his insights and coaching. He also took up my invitation to share his impressions:
"Dear Ben,

This remarkable tour of the music capitols of Europe that we have been looking forward to all year is now behind us, and I find that as I collect my thoughts, they all gravitate to the final concert. All along I had imagined that the climax of the tour was going to be in Vienna, playing in the Musikvereinssaal, for me the ultimate concert hall because of its acoustics, its beauty and its history. Interestingly, when we arrived in Amsterdam I mentioned this to one of the players in the orchestra and he said no, the last concert, in the Concertgebouw, was going to be the highpoint. (In fact, he mentioned that it was seeing a video of the orchestra playing there five years ago that made him want to join the BPYO in the first place.) I didn't agree with him as we stood there outside the Amsterdam airport talking about it, but it turned out that he was right.

And yet it isn't easy to pin down what was so special about that Amsterdam concert. All seven of the preceding concerts had been successes – there wasn't a bad or disappointing performance among them. The audiences had been hugely appreciative everywhere (even the Hungarians, with their bizarre unisono e accelerando applause).

I realized just now what made that final concert so special. It wasn't that it stood out dramatically as superior to the others – they had all been good. But it was rather that there had been a steady progression in the depth of the playing as we moved from city to city, country to country. Not only had difficult passages become more secure, but subtle expressive details had gone through a process of first being highlighted and then gradually absorbed into the flow of the piece. Over the course of the tour an element of self-consciousness was gradually replaced by a feeling of inevitability. This was most dramatically apparent in the last minutes of the final movement of the Mahler Ninth, which are notoriously difficult for every orchestra in the world. Over the course of our eight performances they had gone through a series of transformations, as if always looking for an ultimate solution. In the course of that, in the quest for ever-greater expressiveness, they had become over-attenuated, overly drawn out, with the moments of silence almost overwhelming the moments of sound. It was very clear that you were searching for something in that final page of music that you felt you hadn't achieved yet. The strings of the orchestra played their music – sublime for the audience, nerve-wracking for the players – with astonishing concentration and accuracy, but I could tell that you hadn't found what you were looking for.

It was at the last concert that the real miracle took place. All those expressive details that you and the orchestra had been working at throughout the tour – and there are hundreds of them – just seemed to fall into place with absolute inevitability, without needing to be "made" to happen. And that elusive final page, taken at a somewhat quicker tempo than any of the preceding performances, acquired a heart-wrenching eloquence and emotional veracity. It was no longer trying to achieve Mahler's intention – it was Mahler's intention.

I've been with you on all your journeys with the Mahler Ninth, right from that first one in 1978 and including the now-famous recording we made with the Philharmonia Orchestra in 1999. That concert in the Concertgebouw was your greatest achievement with this piece, made possible by a tour that allowed you to concentrate so intensely on refining your interpretation, and by the players in the orchestra, who don't know the meaning of "routine," but play as if their lives depended on it.

It was a great musical privilege to be a part of this amazing tour. Thank you.

And so, onward!

David"
---
Netherland's Radio's recording of the BPYO performance at the Concertgebouw also includes the performances from the Vienna of George Butterworth's

On the Banks of Green Willow

and Ravel's

La Valse, recorded by the Austrian Broadcasting Corporation. Both concerts will air in their respective countries during the upcoming season. In the final performance of Elgar's

Nimrod
, we took a slower tempo than usual, and with good reason. I think we were just not ready to say goodbye to each other or to bring to a close an experience of a lifetime!
---
RICHARD DYER'S BLOG #7 (short) & #8 (long)
Here is a Link to the two final blog posts from Richard Dyer on the tour, which you can read in entirety (#7: CLICK HERE & #8: Click Here).
Richard was Chief Music Critic at the Boston Globe and the Dean of American Music Critics. We are incredibly fortunate that he has volunteered to accompany us on several of our tours, sending back fascinating and colorful blog posts to those at home. His report on the tour is extraordinarily informative about Mahler's Ninth as well as the BPYO performances. It also contains his in depth observations about BPYO and what we experienced musically and humanly during this unique adventure. I am sure that there are many in the Boston audience who will be glad to savor again the unique style of writing that graced the pages of the Globe for over thirty years.
---
2018 TOUR WHITE SHEETS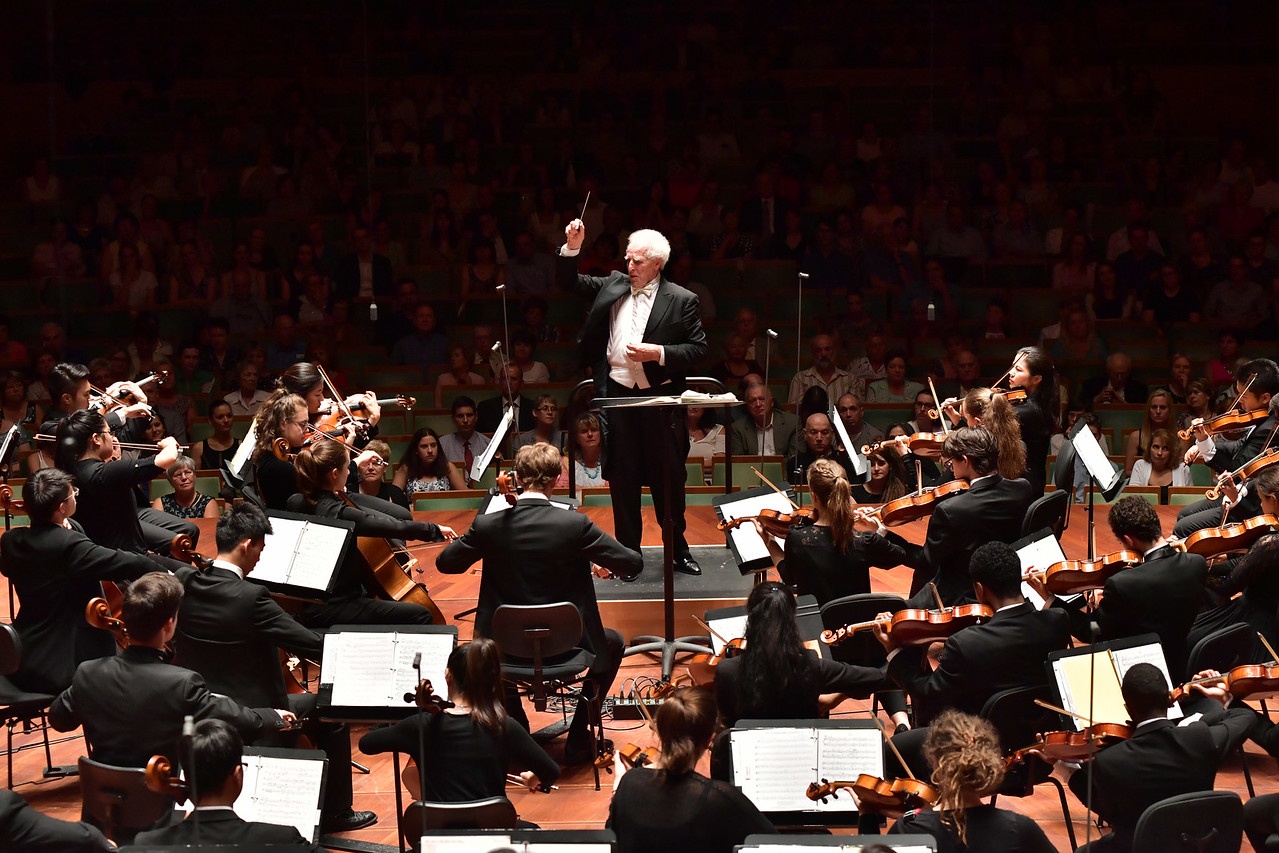 BPYO in concert in Budapest, Hungary
At every rehearsal during the year, each member of BPYO receives, on their music stand, a blank sheet of paper, called the "white sheet," so that their voices can be heard. The players are invited to write down any observation or coaching for me that might enable me to empower them to play the music more beautifully. During the months of preparation of the Mahler 9th these white sheets were often used by the musicians as an outlet for the deep emotional reaction to the music that they experienced at each rehearsal.
When the orchestra returned from tour many of them wrote a final white sheet expressing their gratitude and reflecting on the experience. If you notice an unusual eloquence and passion in their writing, you can be sure that a deep engagement with great music and frequent opportunities for expression in writing, provide a clear path to heightened awareness.
I have extracted some passages that shed light on the tour experience and, as I often do during the year, I have added comments of my own.
Let's hear first from one of the youngest and then one of the oldest BPYO members.
John Qiu joined the violins last September at age 12:
"Dear Mr. Zander,

You've given me, a 13 year old, lucky violinist a chance to really feel music and to do things at a level transcending the boundaries of everything. I was able to play Mahler in the very place where Mahler conducted; that was one of the best experiences in my life, and it will always be up there. So thank you, so much, so much that I can't even express how thankful I am.

Nothing prepared me for the sights, the feelings, the emotions. I cried at the last performance, and came extremely close on every single other performance. My grandchildren will hear about the relentless energy and emotion that came from you, every single day, and every single concert, without fail. They'll hear about how even when your eyes are closing during rehearsal, and even when you're about to stop, you have to keep going.

I got to talk to a lot of people, and formed a larger tribe with different people1. I couldn't go completely out of my way to talk to new people, but I got close. Sometimes I wish I was a different age, so I could meet different, amazing people, like Mitsuru, who I will probably never talk to again2. It makes me sad that I didn't have the chance. I'll take chances and risks; that's something I've decided because of tour.

I'll never forget feeling tingling throughout my whole body and on the verge of tears while playing Nimrod. I'll never forget when we switched the orchestra around and I got to sit next to Frank John, the tuba player. I'll never forget hearing Frank in the 4th movement, and feeling like I was being lifted up in that gorgeous brass chord.

I loved every bit. I won't ever forget it. Thank YOU!

Love,

John"
BZ: One of the constant themes during the year and especially on tour, was the breaking down of the barriers between the "tribes" of age, instrument, height, gender, collegial affiliation and country of origin. There is a long way from a shy 12 year-year-old boy to an experienced, professional 21-year-old young woman. At my English Boarding School the younger boys were not allowed to address someone even just one year older! How far we have come! This season John will be "a different age" and ready to leap boundaries at the first rehearsal.
Aria Cheregosha, a senior at New England Conservatory has been in the BPYO for three years:
"Dear Mr. Zander,

I am listening to our beautiful recording of Mahler's 9 that we played in Amsterdam while I write this white sheet (email) to you. One recording that I would always listen to was the Berlin Philharmonic with Herbert von Karajan and I truly believe, that our performance is so much more full of life. The depth of sound and array of emotions we are able to capture, ranging from extreme pain and sorrow, to fury and rage, to beauty, peace, and acceptance is extraordinary. Every nuance is executed with such delicate care and you can feel that each member of the orchestra is playing from their soul. Listening to it now is transporting me back into Mahler's world, which then became our world. And what a special world it is to be a part of. I could feel our understanding of the piece mature with each performance, each hall bringing a new, unique atmosphere for us to gain inspiration from, and by the time we had our last performance in Amsterdam, I was brought to tears several times as I became engulfed in such beautiful music and overwhelmed by the intense energy I could feel radiating from all of my friends and colleagues around me.

Being a part of this tour was extremely moving - I learned so much about myself, our orchestra, you, the music, and the world. Seeing all of the beautiful countries we visited and playing in the most glorious halls was humbling and truly an honor. I will never forget this tour for as long as I live. The BPYO family is truly special. Nowhere else can every member of the orchestra have an equal role to play. I believe that is why the level of our final product of this Mahler was that of a professional symphony orchestra. One thing that really spoke to me about Mahler 9 was just how intricate it is. Just like life, it is filled with so much complexity. I was a little worried that audiences might be confused by the grandeur of it all, but with our growing understanding, and with your talk before each performance, I could see with my own eyes that the audience members were loving it! One moment that stood out for me was during our performance in Vienna. Somewhere in the last movement, I looked out into the audience (I had been crying at this point) and could see several people brought to tears as well. I noticed two men in particular gazing up at the ceiling, as if they were looking up at God in awe. The energy in every hall during the last movement was breathtakingly haunting...and after the final note had been played, although no one made a physical sound, the hall echoed with sounds of the spiritual and metaphysical, brought on by the history of each hall and the magnificent music of Gustav Mahler. There are no words to accurately describe this experience without undermining it. All I can say is that it was divine.

I honestly feel forever changed after this tour and after performing Mahler 9. This entire experience has opened my mind and my heart in many different ways. Thank you, Mr. Zander, for gifting us all with this unforgettable opportunity. I am forever grateful.

With spirit and love,

Aria Cheregosha"
BZ: The world will be a richer place when Aria and others like her, go out as professional musicians and teachers.
Telden Lopes-Lotufo, first violin, will be a senior in Arlington high school
"Being able to trace Mahler's life on our tour was extremely special to me. Each place had a new story, his story. Each hall, with its different architecture, acoustics, and decorations, all individually had a special feeling that always made me warm and tingly on the inside. At the beginning of the tour, I envisioned that playing Mahler's 9th Symphony a total of eight times would be extremely tiring. However, I was proven wrong when I realized that my understanding of this extraordinary composer grew. Every single time we played the symphony, the stronger I would connect and understand the deep story that was woven through his music. The music became so powerful and emotional, that by the final concert in the Concertgebouw, I was shedding tears through the last page of the fourth movement, all the way into Nimrod.

Telden Lopes-Lotufo"
BZ:
Telden points out that the journey was designed as a kind of pilgrimage through Mahler's life, from his birthplace to his grave, with performances in some of the cities where he had been the Music Director – Berlin, Prague, Budapest and Vienna, and finally the one place where his music was well-received during his life-time – Amsterdam.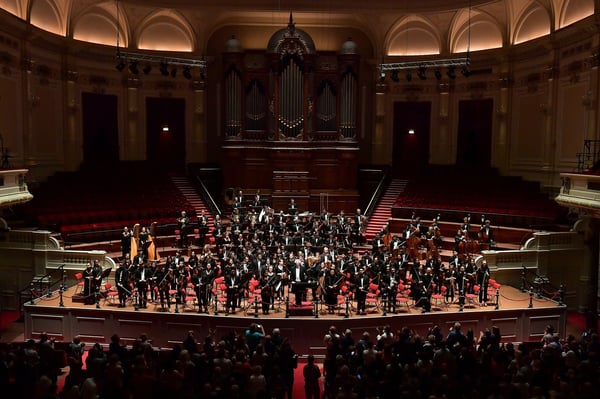 BPYO receives a standing ovation at the Concertgebouw in Amsterdam
Sarah Wager will be a sophomore Bass player at Boston University and was a member last year of the National Youth Orchestra U.S. Her comparison with that prestigious institution is interesting.
"The BPYO tour was simply life-changing. I have been on other tours before with my youth orchestra back home and NYO, but they do not even come close to how fantastic, exhilarating and eye-opening the BPYO tour was. I want to thank you very sincerely for all the effort you have put in to creating such an amazing opportunity for us. The tour was like a miracle—it almost seemed impossible, yet concert after concert, we pulled off incredible and emotionally-driven performances. Because of the various summer festivals I've done, I've been introduced to very many different groups of people, and I can say with complete confidence that the people who make up the BPYO, as well as the administration, are some of the best people I've ever met—friendly, kind, open, and supportive. I've never been with a better group of people in my life. If you will allow me to compare to NYO's tour last summer—which was the most similar tour I've been on—I would have to say that at first, I was a little shocked at how much freedom we were given on the BPYO tour. Yet, the BPYO tour was far more successful. Given how many concerts we performed and all the places we travelled, one would think we couldn't pull off performances like we did. Yet I would argue that we performed with even higher intensity and emotional output than NYO, especially with EIGHT performances of the Mahler 9 as opposed to 3 performances of the Mahler. This group is truly incredible, not to mention that the people of BPYO were far more welcoming and happy to introduce themselves to you and talk with you anytime, anywhere and share life experience and memories*.

Thank you again so, so much for this opportunity, and then of course for arranging for us to have lunch with Nicky Schwartz! It's not often we get to sit down with someone who is so incredibly successful, and has been in our shoes only 5 or so years prior!**

Thank you so much for everything.

Sincerely,

Sarah Wager"
BZ:
*Comparisons are invidious, but they can also be instructive. We are always striving to find a good balance between allowing freedom and keeping order. We wrestle with the same issues in our music making: freedom without discipline is chaos; discipline without freedom can lead to stultification. In general, we believe in trusting young people to be responsible. It is an ongoing discussion at BPYO. It is good to hear that one member saw the value in our approach. Fine-tuning is always required.

**Nicky Schwartz comes from Newton and used to be the first Bass player of NECYPO. He is now a member of the bass section of the Concertgebouw Orchestra in Amsterdam. He took the entire bass section out for a memorable lunch. These meetings between BPYO members and their older, revered colleagues can be life changing and were a major feature of the tour in Berlin and Amsterdam, including several master classes. Nicky will be playing with the BSO in November and has promised to come and work with the BPYO basses. His wife Anna Federova will play the Rachmaninoff 2nd piano concerto with BPYO in Symphony Hall on November 25th. Put it in your calendar! Check out her YouTube performance. It's approaching 19 million views – the most watched classical performance in history!
Suwon Kim, second violin, is going into her senior year at Lexington High School (aged 17)
"Performing the Mahler 9 in 8 different cities in 15 days is absolutely astonishing and mind blowing. My teachers and peers were surprised by this when I told them before we took flight. But the very first thing I had to say to my parents when I got back was that it was a tremendously great experience. Being given the opportunity to play in these amazing halls in such beautiful countries was a once in a lifetime chance for me. Not only that, the amount of love and music I was able to share was so much more than I expected. I told them how tours were not just done to spread music, but to make friendships, bonds, and love from them.

I was surprised by how much the people of these cities were able to listen to the Mahler 9 so well. Listening and absorbing the music is definitely not an easy task. One time, I saw a man at the Musikverein, and during the Mahler 9, I saw his eyes were closed. But it did not look like he was sleeping at all. He was in fact listening. I figured he would be listening to every little measure as much as he could to the best of his ability. I respected that and it made me delighted to see that he was not the only one.

I also felt proud of the clapping in Hungary. The fact that as the clapping got faster it represented the highest expression of appreciation moved me and made me extra proud.

The musical memories I will treasure the most are the moments our orchestra was able to put smiles on people's faces and the emotions we were able to build in them. I will also treasure that one moment Lukasz played the cello in Cesky Krumlov (pictured right) out in the streets with the guitar. I was lucky enough to watch the full experience. We were able to make a crowd watching and I was incredibly proud to be able to create interactions with the people of Europe.*

I remember the first day, we had rehearsal, we all shuffled seats and played the Mahler. I sat next to a bass player and in front of me was a bassoonist. It was indeed a very different experience. It was confusing to me at first because I was only used to hearing my section and the first violins. Now that I was surrounded by different instruments, it made me realize I wasn't really listening. My ears were hearing different parts and it was much more difficult to pinpoint where I was in the piece. But hearing the different parts made me more aware of the music. It made me realize that there are more parts to the piece than I think. Of course, there are parts for clarinets, trumpets, basses, etc. But was I really listening to them? Did I know what notes they played? As the tour went on, I decided to explore different perspectives of Mahler. To listen to what he wrote for the other instruments and think about how that would change my interpretation of the music.**

I really enjoyed going to Mahler's birthplace. The place seemed so peaceful and it made me want to sit down and relax. I think I was able to know more about Mahler as a person and not just his music. I think I was also able to really feel the emotions he felt while writing the symphony. I don't know if it is because we have been playing it so many times, but I could feel his sadness and mourning through the last movement. Specifically, my heart ached while playing the last climax of the movement. In the last concert in the Concertgebouw, as we all stood up for a final farewell, I could imagine Mahler sitting up in the balcony, smiling, nodding down at us, acknowledging and appreciating our performance. I could just imagine it, and it made me feel tremendously grateful, and honored, that I was able to perform with such a great orchestra in such great halls, known to be one of the best in the world.

I cannot imagine how our tour would have been without the people who were willing to donate and all the people who organized this tour. I was able to learn so much, make new friends and expand my musical knowledge. I guarantee that this tour will be an unforgettable one for as long as I live!

Suwon Kim"
BZ:
The rhythmic hand–clapping after the Mahler in Budapest was startling. It began almost immediately and continued for a very long time. I found it confusing and frankly irritating, because the audience could not increase the clapping in response to a particular player or section as I asked them to rise. I was told by the concert presenter that it is rather rare in Hungary and he had never seen it accorded to a youth orchestra. The speeding up of the rhythmic clapping is apparently the highest accolade of all. We never came across it again anywhere else.
*Lukascz is a jazz cellist at Berklee. I wish I had heard his improvisation in the streets of Cesky Krumlow. Fortunately someone caught a brief video. It was a magical day in an old city that conjured up thoughts of fairy tales:
*Shuffling players around in the first rehearsal was a strategy to help the musicians fight jet lag on their first day in Berlin after flying all night from Boston. It turned out to be one of those breakthrough experiences that raised the level of the awareness and listening throughout the orchestra.
One of the advantages of touring is that the orchestra is playing and developing almost every day, instead of just once a week on Saturday afternoons.
Meriel Bizri, 16, one of the first violinists, described a breakthrough she made by observing an older colleagues.
"I want to revisit a short conversation we had before tour. You told me that I did not lead in orchestra, and I struggled thinking of how to do that. I think it is so common for people to be over the top when they play, and to be visually "appealing" without having purpose in how they move. I decided to try an exercise on tour where I would try to mimic the leadership of Mitsuru, someone I greatly admire, in hopes of finding my own way to lead. Through doing this, I realized how much thought she must put into her movement; I could feel how she carried the rest of the orchestra with her, as if she was demanding our attention, making us be responsible for our entire section. By the end of tour, after countless concerts, I felt myself finding my own way of leading. I think that I have evolved as a leader, and I owe that to you and Mitsuru.*

– Meriel Bizri"
BZ:
*At one rehearsal I told the orchestra that a Porsche has its engine (energy) in the back. I asked the section leaders to go to the back, and invited Meriel and some of the players who were sitting in the back (we use rotating seating for everybody except the leaders) up to the front to lead the section. The point about the power coming from the back was certainly made, but the exercise gave Meriel a chance to show that observing Mitsuru had caused a major breakthrough in her own leadership skills. Incidentally I had a similar conversation with Mitsuru many years ago.
Now at 19, and about to be a junior at Juilliard, here is a glimpse into Mitsuru's process as leader of BPYO.
"Dear Mr. Zander,

One of the most memorable moments was the rehearsal we had on the first day in Germany, when we tried playing a section without the music and another sitting completely mixed up. The former practice showed us how well we already knew the music, allowing us to open up and listen for new voices. For me, the music on the stand served not only as something for me to check with, but also as something to remind me of the specific markings and details in the parts.*

Having seen – I hesitate to say studied – the Mahler score a few times before, I was aware of some things, but looking at the score can only tell you so much; to me, hearing the music is a lot more powerful and memorable, so the practice of sitting next to people we normally do not sit next to was extremely valuable. Afterwards, I began to study the score even more seriously, searching for parts that I was not hearing and taking note of them for future reference. Through this, my interest in Mahler grew even more (if that was even possible) and my appreciation along with it.

The intricacies of the symphony are so fascinating, but so subtle; I especially loved observing the klangfarbenmelodie, often in the wind parts – how the two violin sections, for example, would be playing two themes and the winds would be weaving in and out of one part to another. Each rehearsal and performance was a new experience – most obviously because of its new location and new performance space, but also because of the new discoveries and people I tried to connect to, communicating not only through our music making but also through eye contact.

With Love and Spirit and utmost Gratitude,

Mitsuru"
BZ:
*People are often amazed to discover that they come to know a piece from memory without actually making the effort to memorize it. However, I wonder if any orchestra has ever been asked to play Mahler 9th from memory. There is no doubt that the feeling of connection during the several minutes that we played the first movement without any music on the stands was revelatory and by all accounts continued to pay dividends for the rest of the tour.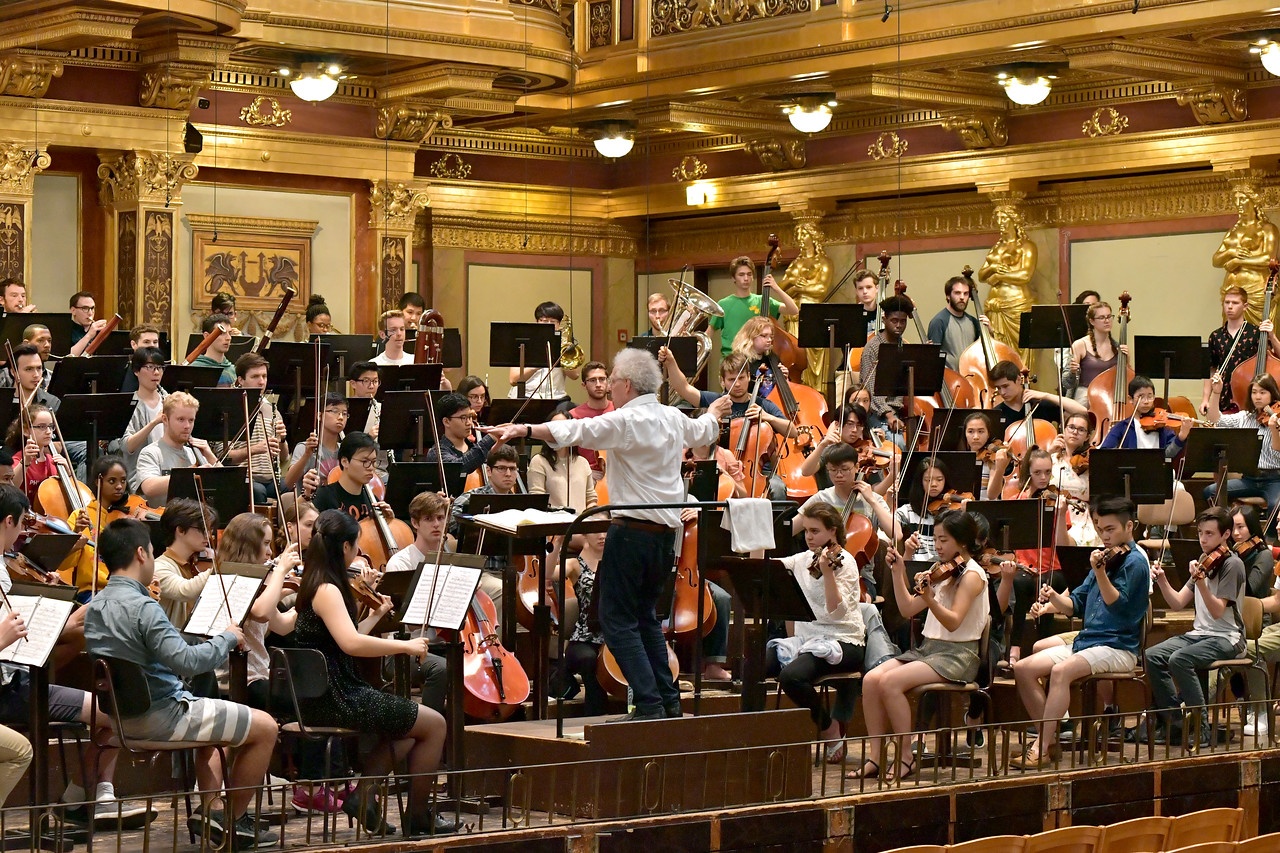 The BPYO in rehearsal at the Musikverein in Vienna
Matthew Zhou is entering junior year (16) as a member of the violas.
"Dear Mr. Zander,

This tour has been the best two weeks of my life.

Before tour started, when I was telling my friends about our tour, most of their jaws dropped. My friends were all jealous that I had the opportunity to travel abroad, and they were also amazed at how gorgeous all the concert halls we performed in looked. Once I also told them that tour was no cost to me, they could barely believe it. A friend of mine, who is a nationally ranked high school athlete, has to pay thousands of dollars for his teams and to travel to stadiums around the country.*

Even during the first night in Berlin, I began to get to know my BPYO friends in a different way and met new people as well. Spending time with people outside of a four-hour weekly rehearsal really shines a new light on everyone. I also remember in Prague I began to break out my tribe, eating dinner one night with a group of people that I had never talked to before.

During every performance of Mahler 9, I realized that my perspective on time stopped, because I felt so emotionally connected to the piece. This was especially true during our Amsterdam performance. I began crying during the first cymbal crash in the Adagio, and I was bawling my eyes out between the Mahler 9 and the Nimrod.**

I asked myself: why did I cry so much? It's not like I was about to leave this orchestra for good. I concluded that I cried so much because I didn't want this special season of BPYO to end. I didn't want to step off the stage of the Royal Concertgebouw in Amsterdam. I didn't want to say goodbye to the members of the orchestra leaving. This year's BPYO orchestra has been an especially amazing one. As I was forced off the stage of the Concertgebouw by an usher, my only thought was, "is this really over? It can't be!" After all, playing Mahler 9 with BPYO has undoubtedly been the honor of my lifetime.

From the first note of the Tannhäuser, played at half past two on September 16, 2017, to the last note of the Nimrod played in Amsterdam, BPYO has opened up my eyes as a person. I have met people that I look up to as role models, and I think I am also just a better person overall, both musically and non-musically.

Thank you so much for giving me this opportunity and for shaping me into the very best I can be.

Sincerely,

Matthew Zhou"
BZ:
*The BPYO is a tuition free organization, including the tours. This is because we don't want anyone to be deprived of this opportunity because they can't afford it. This means that everyone in the organization has to work hard to raise the necessary money. We do it with joy and enthusiasm! One of our favorite assignments is Be More Generous than you Think You have the Resources for.
**Many BPYO members report that they were moved to tears during the performances on tour. This is unusual. When was the last time you saw an orchestral musician in a professional orchestra crying on stage? There was quite a lot of excited talk this summer that Andris Nelsons stopped in the middle of rehearsing the Finale of Mahler 3rd with the Boston Symphony, overcome with emotion. We are told that crying is for the audience, not for the performers, who must always keep a vigilant detachment. When I was twelve I played the Cesar Frank d minor symphony in the National Youth Orchestra of Great Britain. On the last page I looked up from the cello section and saw the conductor, Walter Susskind, with tears pouring down his cheeks. I think it was at that moment that I said to myself: "Whatever he is having, I want that." There is a touching scene where the great English mezzo, Kathleen Ferrier had just sung one of Mahler's most moving works: It was at Edinburgh, in 1947, that she sang Mahler's Das Lied van der Erde. At the final repetitions of the word 'Ewig', her eyes filled with tears, her voice faltered into silence. In the artistes' room she was full of contrition to Bruno Walter that she had failed at the end. 'My dear Miss Ferrier,' he said, 'if we had been all as great artists as you, we should all have wept – orchestra, audience, myself – we should all have wept.'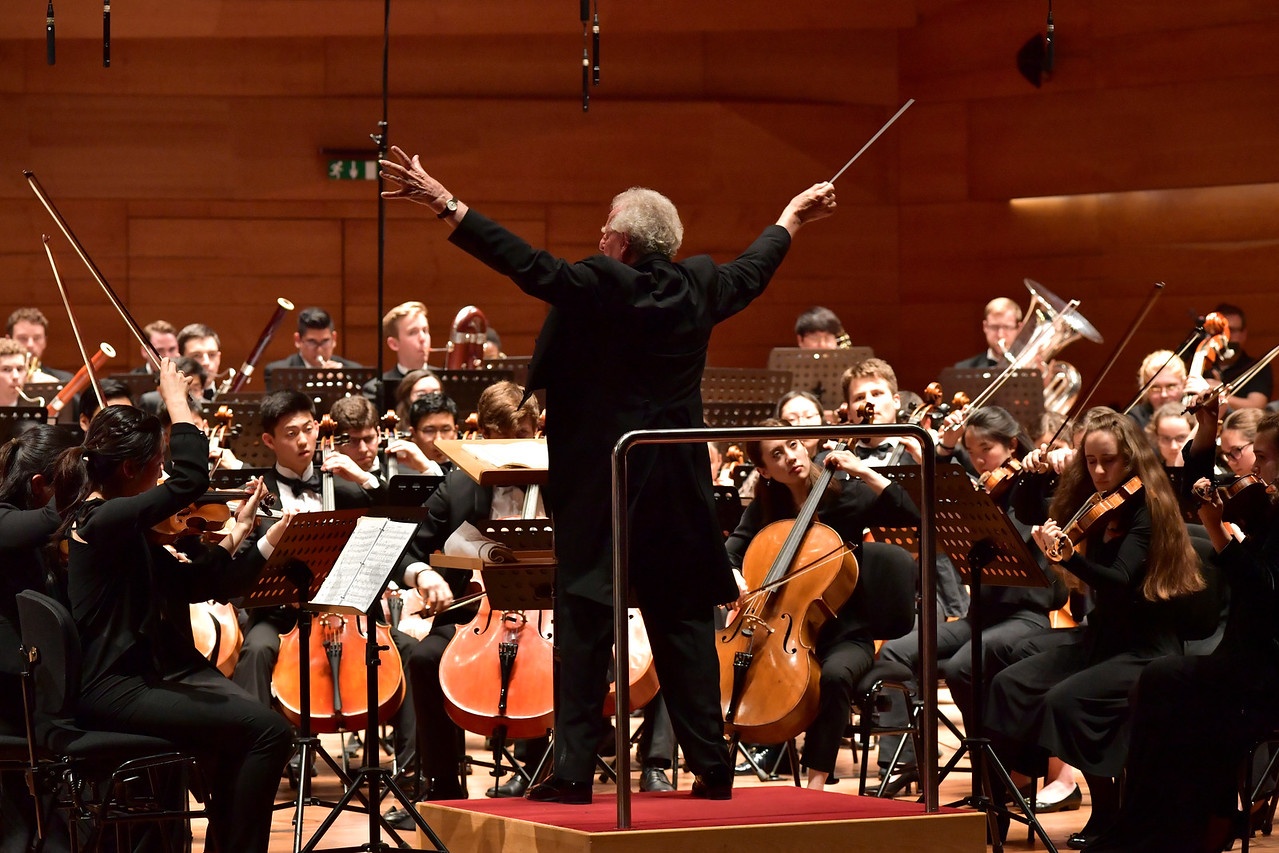 Maestro Zander leading BPYO in concert in Pecs, Hungary
Frank John, the extraordinary tuba player of the BPYO for the past 3 years is heading for Graduate School in Switzerland
"This tour was the most gratifying experience I have ever been a part of. I was basically in paradise. I was with my closest friends, playing amazing music, seeing and experiencing the most beautiful places on Earth. There was not one moment on this tour I won't cherish. The most precious musical experiences for me were our last two concerts in Vienna and Amsterdam. These were the last concerts I'd play with BPYO, and each moment in the performances were extraordinarily intense. Everyone was in the zone, pouring their hearts out That's what I felt made each of our performances so special; I have always felt that when BPYO performs, it goes far beyond just playing music. Each concert on the tour was a perfect example of incredibly passionate people coming together to create, as a unit, something more impactful and meaningful than we could have ever hoped for. Playing 8 concerts across different countries, cities, halls was incredibly taxing. But the young musicians in BPYO were not fazed, and were able to pull off each concert with a level of commitment that only seemed to grow with each performance. This was a dream come true that has given me a profound perspective on what music means to me, and I'll take that with me for the rest of my career and the rest of my life.

I wanted to thank all of the donors who helped to make this trip possible. This tour was legendary to say the least, and I thank you for all the found memories I'll look back upon when I eventually have a family of my own and tell my children, grandchildren, students, friends, family of what this trip meant to my growth as a human being. I also wanted to thank all the administration and staff who helped to make the logistics of the tour run smoothly. I know that each staff member of BPYO worked incredibly hard to make sure the tour went perfectly, and for that I share my deepest gratitude.

Best wishes!

Frank John

P.S. There was one moment when I felt you and I had a special connection during the small solo in the last movement with the rubato*. I remember particularly in the Musikverein and the Concertgebouw I played that solo as if it was the most beautiful thing I'd ever play. I remember pushing the limit on rubato, but you trusted me enough to let me go there. Thank you for that! I feel it gave me an opportunity to say my farewell to the 9th (it's the last thing I play in the whole piece!). I couldn't have imagined a better way to say goodbye to one of my favorite Mahler symphonies and to BPYO."
BZ:
*Rubato is the stretching or pulling of time. It is as crucial for performing Mahler as tomatoes are for spaghetti Bolognese. It means stealing time and we do it when a moment in the music seems to require a bit of extra space or weight. It must feel natural to the players, as if they are free to do what THEY feel. It is one of the infinite joys of the BPYO that the players are as comfortable with the elastic stretching of time, as a bunch of Italian cooks. The remark from Frank fills me with delight – it makes one dream that an orchestra of great artists could play without a conductor. We are getting close.
Nathan Muz
is a rising senior at Cambridge Rindge and Latin and a Rising Star bassoonist. Unfailingly upbeat, fabulously talented and over the last four years one of the most devoted BPYO'ers ever. He is one of those that could easily be a professional musician, but will probably explore other fields.
"Dear Mr. Zander,

While so many unforgettable events happened on this tour, the moment I will probably remember the most is playing La Valse in the Musikverein. I still can't believe how well that performance went, and that we were met with so much enthusiasm from the Viennese. The opportunity to perform it so many times so that I knew it almost entirely from memory, led me to listen across the orchestra like never before. I think it was this level of listening that led to a practically Viennese performance.

Throughout the tour, I found myself the most saddened about overall relations between the U.S. and Europe. I repeatedly felt the attitude from the Europeans that America has nothing of value to offer anymore. This made me especially glad to be a member of the BPYO. I felt that this tour, even more so than all the others, was about showing who we really are as a country.

Out of all the musical memories, I will most treasure singing Mahler's First Symphony in his birthplace. Standing in that room, I understood why Mahler's music sounds the way it does. The beauty of the scenery and the ever-presence of death—the gentleman with the flowers as a prime example—put all the parts of his life in context.*

One of the most incredible places to visit was Mozart's birthplace. It is sometimes hard to imagine him as an actual person. Seeing his flat in Salzburg and its surroundings allowed me to see how he lived, and as a result I feel much closer to him.

I'm never going to forget what we did and saw. I don't think the audiences will either.

Best Regards,

Nathan"
BZ:
*Nathan is referring to two different events. When YPO visited Mahler's birthplace in 2011, we were given the honor of planting a rose bush in the garden, alongside bushes planted by some famous musical pilgrims, such as Michael Tilson Thomas and Thomas Hampson. Elisabeth had written ahead in February to request a similar ceremony for our visit in June. When we arrived we were informed that the gentleman to whom she had written had died in March, so no rose bush had been ordered. Some BPYOers, steeped as they were in Mahler-lore and disappointed to be deprived of this highly anticipated ritual, took it as yet another Mahler story involving death.
Wanting to transform their disappointment into some meaningful experience, I went to the piano in the room in which Mahler had spent his earliest days and played the gentle timpani tattoo that opens the funeral march of the First Symphony: D – A –D – A for two bars. It was not necessary to give any instructions. Every member of BPYO knew exactly what to do. The solemn tones of the four-part round on the minor-key Frere-Jacques, exquisitely sung by 120 passionate young Mahlerians, rose to a glorious climax before fading away to nothing. It is touching that Nathan counts that moment as the single most treasured memory of the whole tour! I too will always remember that moment, so spontaneous and entirely dependent on the shared culture of those young American musicians. Looking back, it seems a more fitting and memorable tribute to the beloved master than yet another rose bush.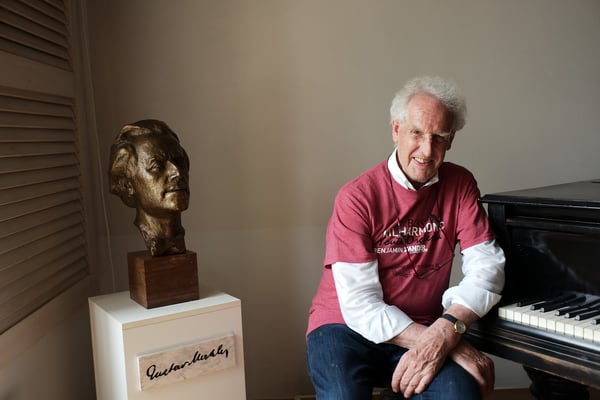 Maestro Zander at the piano at Mahler's birthplace!
Dominick Douglas is the brilliantly effective leader of the viola section. He is entering his final year at NEC (and BPYO). We invited him to run some of the viola sectionals because he has gained the respect of all his colleagues. He is heard in the riveting viola solos in the Mahler.
"A performance that stood out for me beyond words was the Musikverein. I knew it was a beautiful hall. I knew it was famous. I knew there would be so much gold. But from the second we started rehearsing the Mahler I felt the magic of the space. The thought of how Mahler cultivated so much of his musicianship in that hall, the thought that the sounds he heard in his inner ear had a direct relationship to that space, the thought that he knew what his Ninth Symphony would sound like in the Musikverein even though he never heard it performed. These sentiments were rushing through my mind while the second violins let the melody pour out into the room. The sonority washed over me and the piece made sense to me with a clarity I never would have known had we not been afforded this beautiful opportunity. Tears were uncontrollably welling in my eyes and there was a serenity surrounding the space that I had never experienced in a rehearsal. This was my favorite concert of the tour and one of the favorites of my life. The sounds of the brass rang with purity; double reeds were both chuckling and brooding, and the resonance of our collective efforts were perhaps the most truthful we have ever created. In the third movement of the Mahler, when the viola and cello have solos expanding upon the trumpet's tender theme, Annette and I made contact in a way we never had; it felt like we were speaking and conversing to each other through our instruments in a profound way. I will cherish the memories of this Hall and will be counting the days until the next time I perform there.*

With full love and gratitude,

Dominick"
BZ:
*
It is worth remembering that whereas most classical musicians dream of performing in the Musikverein – a hall where more great performers and composers have been heard since 1870, when the hall was built - very few actually realize that dream. When I pointed out to the orchestra the seat which Brahms had regularly occupied, I noticed that Dominick went straight over there after the rehearsal and played some of the Brahms Eb sonata!
Cheyanna Duran is an oboe and English horn player. Her oboe was smashed on the very first day when a metal pipe at the Konzerthaus fell on it. The management of the hall refused to take responsibility and Cheyanna was left to deal with a very harrowing situation. Fortunately, as she says, she was surrounded by the most supportive friends (the stage manager, a former BPYO oboist on leave from the Colorado Symphony loaned her his oboe), so she was able to keep up her spirits (and her spell-binding English Horn playing).
"Mr. Zander,

My tour got off to a very tough start. When my oboe was broken backstage at the Konzerthaus I knew that it would require a lot of strength to not let the incident ruin the rest of tour.

My overall reaction to nearly everything was complete disbelief. There are so many moments that I will never forget, including walking on stage at the Konzerthaus to see a nearly sold out audience, standing in Mahler's home and driving through the countryside imagining what he once saw, gazing up at the chandeliers of the Musikverein, and of course the extraordinary performance on our last night at the Concertgebouw.

Throughout the tour I tried very hard to keep my damaged instrument out of my mind. With the help of so many supportive friends in the orchestra this was possible. Somehow every performance got better and better. I can't believe how lucky I am to be in such an incredible orchestra. Just yesterday I played the third movement of the Mahler recording from Amsterdam for a friend and she could not believe that it was BPYO rather than professional orchestra. I had the same reaction! How did we sound so spectacular? I can't find a better recording of Mahler 9 anywhere.

By the end of tour I was getting tired of having different sections stuck in my head constantly and couldn't wait for a different piece to be on my mind. But when the recordings were sent, I couldn't stop listening. The fourth movement gave me back a glimpse of what it felt like at the performance. Conservatory can be extremely difficult, and can sometimes take the joy out of music. This tour reminded me of exactly why I still believe in music.

There was something very special about our performance in the Concertgebouw. I don't know how to accurately describe how it felt to play there. Everyone was playing perfectly together and in sync. There weren't 120 musicians on stage, but one orchestra all thinking, playing, and breathing as one.

Love,

Cheyanna"
Listen to Cheyanna's gorgeous solo in the Finale of the Mahler → Click Here
Clara Levrero is a perennially cheerful viola player, going off to college without any ambitions to be a professional musician. However, she held her own with her professional colleagues and brought a spirit of light and love to the section. For those not going into music, the end of the last tour can come as a sad realization that they will, in all probability, never make music at this level again. However, they will bring a priceless experience into the next phase of their lives.
"Dear Mr. Zander,

On tour I was the best possible version of myself, and that was thanks to the people surrounding me. I was overjoyed and serious and exhausted and awed and amazed and overwhelmed all at the same time. Once I met so many people from different sections, the music became deeper and more meaningful because I was listening for my friends in crevices of the music I had never thought to look in before. (1). I knew most of the triangle entrances by the time we got to Amsterdam. I'm so glad I went ahead and broke out of my tribe because it was so, so amazing.

A few quick side notes:

1) I felt Mahler's spirit in the Concertgebouw. I think Mahler came to visit. I felt him particularly strongly during the Schattenhaft and Leidenschaflicht section of the first movement. He was there, and I like to think he was enjoying himself.

2) I, and all my closest friends, cried many tears in Amsterdam. The feeling of being on that stage, with you standing in Mahler's place, was indescribable. Also, my favorite part of every concert was when you recognized all of the different soloists and sections during the bows, because I felt so incredibly proud every time.

3) My mom and I refer to the terms "possibility" and "downward spiral" almost on a daily basis. We've become so much more open as a family unit/duo and it's so much fun!!!

4) I will never love a piece as much as I love Mahler 9.

So now I'm here, a little over a month before I go off to college, and I'm still grieving the end of BPYO.

So, in short: thank you, Mr. Zander. You and BPYO have changed my life and I will never ever forget any of the experiences I had and lessons I learned in the orchestra. Thank you, thank you, thank you (!!!) and I hope we can meet again someday!

Much love,

Clara Levrero (viola) :-)"
BZ: We'll miss you, Clara!
Clara brings up a fascinating point – she claims that if you know, and preferably love, the other players in the orchestra you will listen more carefully and play more sensitively. That might partly explain why the performances got better and better on tour, as the players got closer to each other.
Annette Jakovcic is our elegant, super-sensitive cello section leader. Her solo at the end of Mahler 9th was one of the most beautiful renditions of those few bars I have ever heard in a concert or on a record (Richard Dyer in his blog said of her solo: "Jakovcic had only eight solo notes but she made them seem like a poignantly personal blessing, a grateful acceptance, from Mahler". That's a phrase she certainly could put into her publicity material!
"It's been nearly a month since the tour ended, and I've been reflecting on how meaningful it was to perform with the BPYO in some of the most beautiful halls and cities in the world. Throughout my life I've played in various orchestras, but I've never grown such a strong connection to an ensemble as I have with the BPYO. During the tour, I met so many great people and developed friendships with members from the winds, brass, and percussion section. I've been constantly inspired by members of the group, especially the younger ones that have yet to pursue their dreams at a university or conservatory - they carry so much passionate energy all the time. As a conservatory student who often feels weighed down by pressures, it was therapeutic and invigorating to be around these musicians.*

Inevitably, I started to listen and associate the sounds I heard in the orchestra with people that I met, and I was able to better communicate and connect with the other sections. It made the overall performance experience much more meaningful and it also changed the way I feel about playing in an orchestra. I know that this tour only lasted a couple of weeks, but the knowledge and inspiration that I gained will last for my whole life.

Thank you and much love,

Annette"
*Here is a passage from the Art of Possibility, which captures the problem to which Annette refers.
"We in the music profession train young musicians with utmost care from early childhood, urging them to achieve extraordinary technical mastery and encouraging them to develop good practice habits and performance values. We support them to attend fine summer programs and travel abroad to gain firsthand experience of different cultures, and then, after all this, we throw them into a maelstrom of competition, survival, backbiting, subservience, and status seeking. And from this arena we expect them to perform the great works of the musical literature that call upon, among other things, warmth nobility, playfulness, generosity, reverence, sensitivity, and love!"
BZ: One of the secrets of the success of BPYO is that it lives in an uncompetitive environment without grades or the requirements of an academic music curriculum. Every member is reminded that it is only when we make mistakes in performance that we can really begin to notice what needs attention. In fact, I actively train the members that when they make a mistake, they are to lift their arms in the air, smile, and say, "How fascinating!"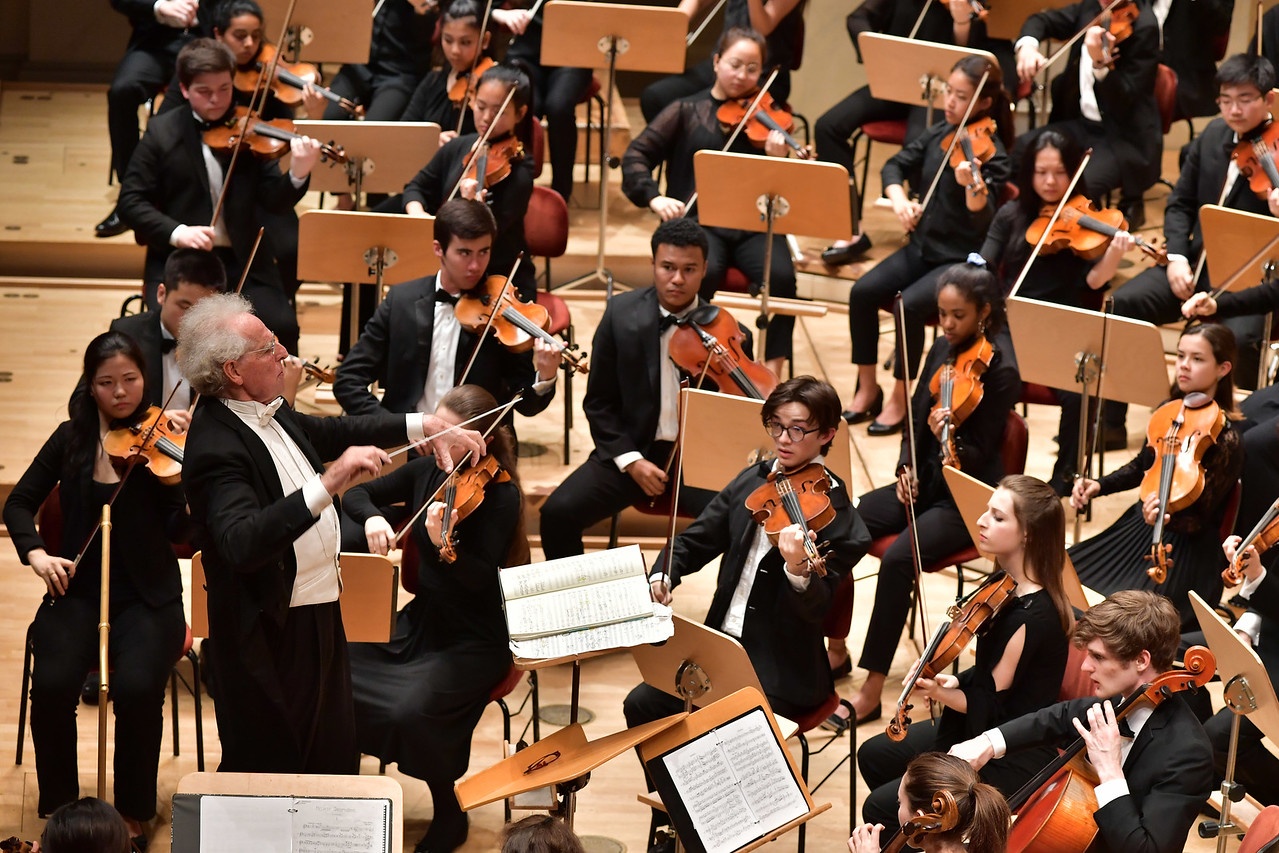 BPYO performing in Berlin
Jonathan Rosenzweig is 17 and going into senior year at Moses Brown in Rhode Island. In Salzburg he discovered the power that music has to transform a life:
" During the final section of the Adagio in Salzburg, an image appeared that would remain with me all summer. As our collective bows pulled the final notes of the symphony out of the music and into the hall, I noticed a young man in the front row. He was enthralled from the start of the piece, but only now did his jaw begin to fall above his white collared shirt until his mouth was fixed in a gaping hole. He was absolutely still, and there was so much tension in his upper body that I could see his veins prominent on his neck - his bulging eyes were not blinking. He was sweating more than I was under the lights, in my tuxedo, focusing intently on my bow to prevent it from shaking on the string. His expression of sheer awe was one that gave the impression that he was watching the sun set for the final time. You have said, Mr. Zander, that at the end of Mahler's Ninth there is a welcoming of death, and a sorrowful resignation. What I hear, and what I believe the man in the front row heard and felt as well, was the end of the world, and not just Mahler's world, but everything everyone has ever known, ceasing to exist. There is something so absolute and profound about the image of the sun setting for the final time, that it changes a person - I could see it all over his face. He was heartbroken, holding his breath, and tears streaming down his face during the prolonged silence that we held every other night during our tour.

I watched that man stand up and leave the Mozarteum after the performance, changed. The world was as he knew it before, but he, along with the almost one thousand others in attendance, did not expect to be emotionally transformed when they bought their tickets. They are among the minute population in the world to have experienced the transformative power of the BPYO, and I am grateful to have been a part of it.

Thinking back to my audition last September – I realized that is what the BPYO is about, and what I love so much about the orchestra. Not about the "fantastic, challenging repertoire," or the "wonderful people" (although both are true), but to have the opportunity to touch people in the deepest, most sincere regions of the heart, That is a feat that we get to say we accomplished and will continue to accomplish, and nobody can take that away from us. Just ask the man in the front row!

Thank you for everything,

Jonathan Rosenzweig"
For those of you who helped support the tour financially, thank you!
For those who have supported these young musicians to become the extraordinary people they have become, thank you!
For everyone else, keep the faith that our future is safe in their hands!
Thank you,
Ben Zander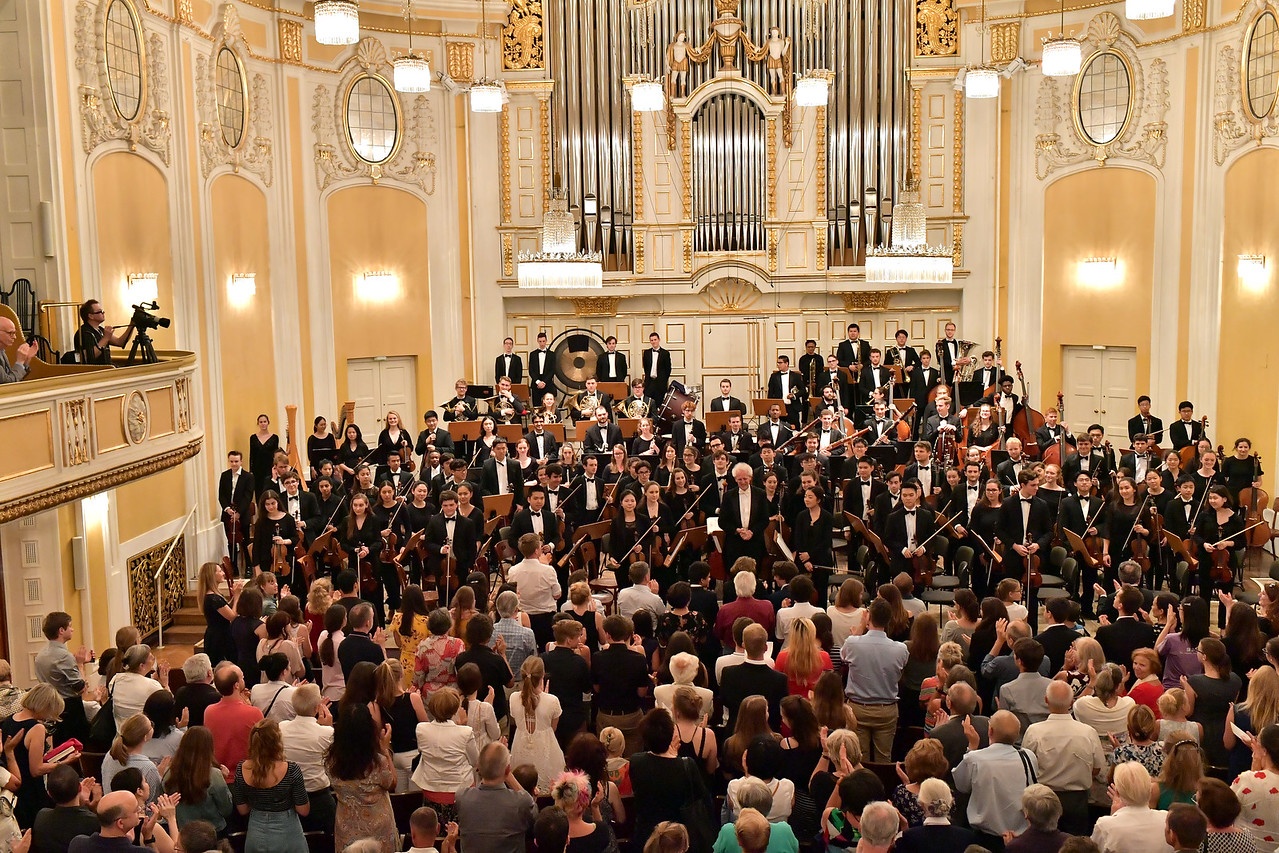 BPYO receives a standing ovation in Salzburg, Austria