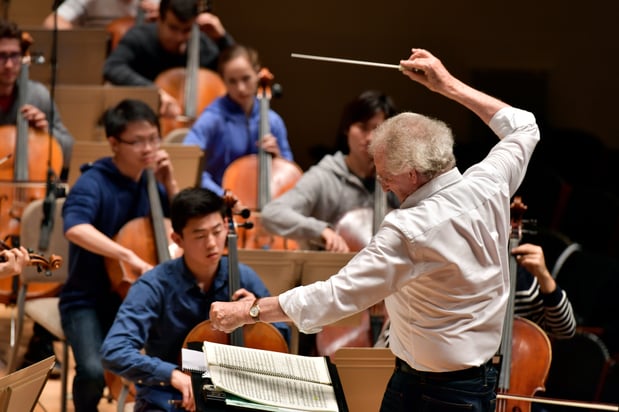 [Zander conducting BPYO in rehearsal - photo: Paul Marotta]
Dear Friends,
By the time you read this blog, the 120 members of the BPYO team will be winging their way to Lima, Perú, the first stop on our 13-day tour of South America. 105 young musicians and 15 adults will arrive late Friday evening and be up bright and early the next morning for the first event - a meeting with 100 members of the youth orchestra of Lima at 10 a.m. for a "Battle of the Bands" - where each group will perform a couple of pieces after which they will combine in a vast 200 piece mega orchestra for the Finale of Tchaikovsky's 4th symphony, Stars and Stripes, and the 1812 Overture. Then we will share with our new friends Stars and Stripes and maybe even Nimrod. I suspect we will also strut our Latin chops by playing Libertango with our trumpet star Elmer Churampi, who will be heard for the first time in his native Lima since he left as a 13-year-old to study in the States and become the most talked about young trumpeter in the USA.
Below is a video of the performance of Piazzolla's Libertango from our tour send-off concert in Sanders Theater to show that we haven't been exaggerating in our praise for this amazing kid. You will notice that a little boo-boo in the trumpet section at the very opening causes Elmer to look around at his colleagues with amused disapproval. We'll have to fix that spot at the next rehearsal and mention to Elmer that it isn't good concert etiquette to draw attention to mistakes in the orchestra! Another thing we will have to work on is the body language of the American musicians. The only person in the video who has the characteristic Latin sway in her body is our 2nd clarinetist Iseliana Mendez from Venezuela (you can see her just behind Elmer in the video). Every South American listens to their music with their bodies, not just their ears. Can we all learn to do that by the time we get back? Iseliana will have to teach us gringos. Go Iseliana!
Click on the performance, (it's only 4 minutes) - it will put you in a good mood for the rest of the day and the catchy tune won't leave you. Elmer posted a video of a rehearsal of Libertango on his Facebook page and by the end of the day it had 40,000 views and 600 comments!
---
An Exciting Encounter
If you look at the tour schedule at the end of this blog, you will see that on the first morning the orchestra is free until lunch to rest and recoup from the long journey from Boston. But those of us who have toured in South America before know that you always have to be prepared to experience sudden changes when a new opportunity arises. This chance to interact with 100 of Lima's young musicians and to offer something in return to Telefonica for all they do to improve the lives of countless children around Latin countries was too good to pass up, even though it means adding it to a three hour rehearsal in the afternoon and a concert at 8 p.m. that evening! This early on in the tour I think the adrenaline will be running freely.
The concert on Saturday is a repeat of the program we did on our send-off concert, so I think we will be well prepared.
It will begin with Hindemith's Symphonic Metamorphosis which got a spiffy rendition on Monday. David St George, our resident musical guru and my collaborator and critical ears for the forty years or so, discovered a new word on Monday, which I have never heard him utter before about a performance: "Perfect." He actually said the performance was perfect. There's no such thing, of course, but it was pretty amazing. Listen to it here:
---
Hindemith Symphonic Metamorphosis [AUDIO]
---
Undoubtedly the main purpose of this hurriedly arranged meeting with the local youth orchestra is to have the young musicians from both cultures meet together. This event was thought up by Jose Alvarez-Pallete the Chairman of Telefonica, the Spanish phone company, whom I befriended when I spoke at the company in Madrid in 2011. Their Vice President for Institutional Relations, Rafael Fernandez de Alarcón, brilliantly made all the arrangements during the last three days before we departed, even managing to arrange for it to take place in Perú's pre-eminent concert hall.
He addressed a letter to me and to Juan Diego Florez, my favorite tenor of the day and a native of Perú, who has devoted himself with passion to the development of the music programs in his country.
I think I should break off to introduce you to Juan Diego Florez, so that you will know how exciting it is to be connected with this nonpareil artist, who is such a fervent advocate for music education for the disadvantaged youth of Perú. Please don't get lost on his website listening to his unsurpassed artistry and not come back, but do listen to this one heavenly aria: Una Furtiva Lagrima. No one today sings the bel canto literature like Florez.
I especially like this video because the bassoon player makes a little mistake at the beginning and has to start over (a very rare occurrence in the professional world). His gentle smile seems to say: "How Fascinating!" And then he goes on, as if nothing had happened. A good lesson for all of us. He is practicing Rule #6!
OK...you are allowed to sneak one more Florez aria (2 minutes), but then that's enough, come back!
Here is Raf Alarcón's letter (from Telefonica) - he really has caught the spirit and vision of our whole venture:
"I am very pleased to connect two great Maestros such as Mr. Benjamin Zander (conductor of the Boston Philharmonic Youth Orchestra) and Mr. Juan Diego Flórez (Perúvian tenor). Both of you have in common your connection with Telefónica facilitated by our Chairman (Mr. José Mª Álvarez-Pallete).
More than this, I am really happy because you both have envisioned the power of music for young people, and how it can change lives for the better through educational and professional opportunities. Both the Boston Youth Philharmonic Orchestra and "Sinfonia por el Perú" are unique initiatives in this field. Given that the BPYO is visiting Perú in the coming days, we have proposed to both parties the possibility of combining talent without frontiers.
Our plan would be to facilitate a meeting between Maestro Zander and BPYO orchestra players with the Youth Orchestra of Sinfonia Por El Perú at the morning of June 17th. Could be done at the Teatro Municipal at Lima (booked by Sinfonía por el Perú).
The main idea would be to put together both orchestras and to show that music goes beyond frontiers or languages. The idea would be for the Perúvian kids to see that they have things in common with American kids, and to show that there might be some new opportunities coming from music. And, of course, the possibility to engage with Maestro Zander would be huge."
Imagine my delight when I received a letter the next morning from the great Florez himself:
"Dear Maestro Zander and all the team BYPO,
We are very excited and honored about this opportunity that Telefonica and Rafael Fernandez de Alarcón has arranged. Maestro Hugo Carrio will be contacting you first time today.
Maestro Zander, it's a privilege to have you in Perú!
Dear Ms. Christensen, thanks for organizing.
Best wishes!
Juan Diego Florez"
Sadly, Juan Diego is performing in Europe and won't be there, but the whole event is going to be filmed by Telefonica and beamed back to all their employees. I am sure he will watch it too. One day I hope we can bring Juan Diego to Boston to sing with us!
Meanwhile here is a link to the site where his inspiring work with the youth music groups of Perú is described: www.juandiegoflorez.com
---
The Send Off Concert
[BPYO performing the Hindemith at Sanders Theatre on June 12th, 2017 - Photo: Paul Marotta]
I want to point a few of the soloists since this 19 minute masterpiece is a little concerto for orchestra:
The first flute is the prodigious Carlos Aguilar, who navigates the famously treacherous solo in the third movement as well as I can remember hearing it (he is replacing our regular player Hayley Miller who played it most exquisitely last February). You will also notice here, and throughout the repertoire on tour, that Carlos is able to deliver the fullest imaginable sound on the flute - a sound that seems to fill every corner of Sanders Theater. The delicate and highly expressive oboe is Leo Kawai, a sophomore at NEC. The clarinet, Jason Russo, from Boston Conservatory, is in my view the most improved player in the orchestra this year, and the sweet-toned bassoon is local boy Ryan Turano. The horn here and in the Cesar Franck is the utterly professional and deeply musical Joe Cradler. The first trumpeter is up and coming star Mark Macha. The trombone section was Matt Ethier, Chris Boletcheck, and Zach Hass. The tuba here as in everything is the astonishingly brilliant Frank John - another of our members who is destined to occupy a chair in a major American orchestra in short order.
The percussion section has to be mentioned in its entirety because they play such an extraordinarily important role in this work: Reed Puleo (timpani) and then Neil McNulty, Noah Rosen, Mattijs van Maaren, and our two high school age players Leigh Wilson and Aidan Carey.
---
Elmer's Homecoming
[Elmer Churampi plays a solo encore of a Perúvian Song - Photo: Paul Marotta]
Saturday night (June 17, 2017) will be the first occasion that Elmer Churampi will perform in a concert in Lima since he came to America to study six years ago. The concert will be held at the Auditorio Santa Ursula to celebrate the 100th anniversary of the university. It will be free and open to the public and faculty, students and staff of the university. Elmer played in this hall when he was 8 years old, but now he returns on the brink of a major career. He recently placed in the final 3 for the first trumpet position in the Pittsburgh Symphony, one of America's top orchestras! This for a twenty-year-old is unheard of. It brings to mind the paragon Roger Voisin who joined the Boston Symphony at 17, when the competition was nothing like it is today. The excitement about the return of one of Lima's favorite sons as soloist with the BPYO is very high indeed. Elmer and I have been interviewed by several Perúvian journalists from Lima including just this morning and I can't wait to see the look on the face of his parents - he comes from an extremely poor family; his father earns his living playing trumpet in the streets of Lima - they will be bursting with pride and gratitude.
Here is Elmer's performance of the Arutiunian Trumpet Concerto at the concert last Monday night in Sanders:
I sent the tape to Tom Rolfs, the magnificent first trumpet of the Boston Symphony and Elmer's teacher at New England Conservatory. I had just written a letter to Tom to congratulate him on his fantastic performance in Mahler's 4th, so I was amused by his tongue in cheek reply to my request for any suggestions about our performance:
"No suggestions. Just an observation, which is, I'm glad I already have a job. Holy Toledo!!!! I played it for my family and my smart-alec son asked me if Elmer was better than me. Um...maybe?"
Because Elmer's return to Lima was so highly touted, we decided to scrap the Finlandia Overture for the second concert in the Gran Teatro Nacional, the main concert hall in Perú and some say in all of Latin America, and start, instead of end, the program with Prokofiev's 5th Symphony as was planned. This allowed us then to put the Sibelius Violin Concerto with In Mo Yang on the second half, followed by Elmer playing the Arutiunian again, followed of course, by Libertango.
---
In Mo Performs Sibelius' Violin Concerto
[In Mo Yang and BPYO in Symphony Hall - Photo: Paul Marotta]
InMo Yang is another phenomenon. He was the 2015 winner of the prestigious Paganini Competition, which failed to offer a first prize for NINE years, because they didn't feel they had found a winner worthy of the standard set by previous winners such as Salvatore Accardo, Isabel Faust, Gidon Kremer, Leonides Kavakos and Miriam Fried, all of whom are household names in the music world. It will also be InMo's debut in South America. What a night it will be in Lima on Monday June 19th!
Here is InMo's performance of the Sibelius Violin Concerto with the BPYO in Symphony Hall from last November:
Sibelius Violin Concerto [AUDIO]
---
Franck's D Minor Symphony - A Rarity Nowadays
[
Zander conducts BPYO in Franck's Symphony in D Minor - Photo: Paul Marotta]
The other major work we performed was the Cesar Franck D Minor Symphony. It is a controversial work, once immensely popular (the BSO performed it 262 times since its premiere in 1899), but in recent times almost completely absent from the American musical scene (the BSO has played it only twice in the last twenty years). I had never performed it with either the Boston Philharmonic or the Boston Philharmonic Youth Orchestra. It was a perfect piece for us to take on our tour, along with the Prokofiev 5th, because it involves harps, brass, has great solos for all the winds and one of the greatest tuba parts (along with Prokofiev 5th) of the entire symphonic repertoire - a great vehicle for our fabulous tuba player - Frank John who is beaming from ear to ear these days.
It is also a piece that shows off our magnificent string players - the strings virtually never stop playing!
I have an especially soft spot for the Cesar Franck because it was the first symphony I ever played. I was sitting, at age 12, at the back of the cello section of the National Youth Orchestra of Great Britain. At the first rehearsal when the cellos and basses started the first phrase, I was so awed by the sound that I stopped playing, whereupon Ruth Railton (the battle-axe Director of the NYO) took my name down in the little notebook she kept to make note of troublemakers.
The conductor on that occasion was Walter Susskind, the venerable conductor of the St. Louis Symphony, and a deeply emotional musician.
I remember looking up when the great English Horn tune from the second movement returns with the full glory of the whole orchestra in the Finale and saw tears streaming down his cheeks. I don't remember what exact words were in my mind at that point, but I think it must have been something like "Whatever he's having, I want that!" A life was changed.
In his recent article about BPYO in the Boston Musical Intelligencer, editor Lee Eiseman wrote about his feelings on the Cesar Franck, a work with which he has a deep relationship. He even provides links to important performances (Monteux, Mengleberg, Paray, etc.).
---
BPYO Previews South American Tour [ARTICLE]
---
We will play the Frank Symphony again on Saturday June 17th in Lima and on June 20th at the exquisite old European opera house in Cordoba, Argentina. The extremely expressive English Horn player in the second movement solo is Andrew van der Paardt, a graduating senior at Boston Conservatory and someone, I believe, destined to make a real mark on that instrument.
Franck - Symphony in D Minor [AUDIO]
---
Finale
We played two encores at the concert on Monday, as we will at each concert on tour: Stars and Stripes Forever and Nimrod.
It may seem like a strange thing to perform a work with such an apparently jingoistic message as Stars and Stripes. However, I think it can be seen in a different light if I take the time to introduce it.
This is what I said prior to performing it at the tour send-off concert last Monday:
"The Stars and Stripes is a flag. A flag can't speak – but it can stand for something. And this flag stands for freedom, inclusiveness, generosity, energy, optimism, justice, equality, courage, and a spirit of adventure.
America has always stood for these values, though some of them are being compromised in our country at the moment. But that doesn't mean they are lost. These values are like the roots of a tree – they are nourishing us and the world – they will not be destroyed by short term storms.
None of us likes what is going on in the political world, but it doesn't help to resist it. Instead we can take this opportunity to share with our friends in South America, especially young people, joy in life, learning, great music, deep relationships and lift their spirits.
By playing this magnificent piece, brimming with joy and confidence, we will remind all of us what America has always been and will always be. We are determined to give people hope for the future."
Stars and Stripes Forever [AUDIO]
The final work was, as always, Nimrod. Usually when we play Nimrod something is ending, but on this occasion we were all setting out together on a new adventure. I told the audience that I would speak in each city about the indelible bonds that we were making. President Trump speaks of building a wall between our nation and South America, we want to create bridges of friendship and understanding between our peoples. Nothing could express our wish more perfectly than the moving phrases of Elgar's music.
[Zander and BPYO performing at Sander's Theatre - Photo: Paul Marotta]
Ben